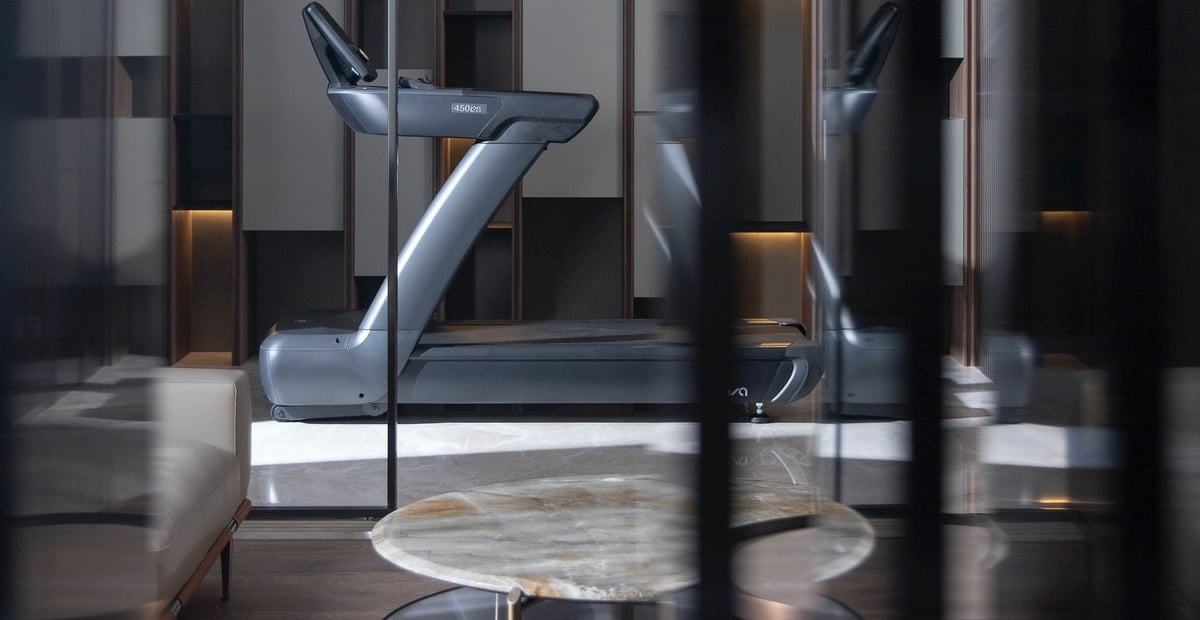 ---
---
Sturdy, reliable, long-lasting – this list will help you to find the best commercial-grade treadmill.
We're here to look at the heavy hitters. Commercial treadmills require a lot more durability, a stronger treadmill belt, a better speed range, and a host of more superior qualities. Why? Because commercial treadmills are usually found in gyms, and therefore have an incredible number of different runners at different speeds and varied body types.
It's important to note too that because purchasers of commercial treadmills are usually commercial gyms then they have to be even better value for money, but also have to aim themselves towards professional applications. And with pro environments comes a list of other features that have to be considered…
Key features like good transport wheels (usually no folding), built-in programs, a safe max user weight/weight capacity, a powerful treadmill motor and all the golden shiny qualities that could accommodate a marathon runner and new cardio trainers alike.
Let's break down this list and find you the best, most reliable commercial treadmill.
Disclaimer – This website contains affiliate links. If you find the information useful and click on a product link and make a purchase, a small commission will be earned by GymFreakz and we appreciate your support.
In A Rush?
| | My Top Pick: | The Daddy: | All-rounder: | Incline Training: | On A Budget: |
| --- | --- | --- | --- | --- | --- |
| Brand | JTX | Life Fitness | Nordictrack | Nordictrack | Sole |
| Model | Club-Max Commercial | Platinum Club Series | Commercial 2950 | Commercial X32i | TT8 Light Commercial |
| Photo | | | | | |
| Max. Speed | 25 kph | 12 mph | 22 kph | 12 mph | 22 kph |
| Max. Weight | 180 kg | 181 kg | 136 kg | 135 kg | 150 kg |
| Running Area | 154 cm x 58 cm | 56 cm x 152 cm | 56 cm x 152 cm | 55 cm x 165 cm | 56 cm x 152.4 cm |
| PRICE* | £5999.00 | £12,045.00 | £2699.00 | £3,799.00 | £2799.00 |
| | | | | | |
| Check Prices | | | | | |
*Prices correct at the time of writing
---
My Top Pick:
JTX Club-Max Commercial Treadmill (£5999.00)
Key Features
Running area: 154cm x 58cm
Cushionstep deck
Maximum speed: 25 Kph
Incline: 0-15% or 15 levels
Suspension: 8 points commercial shock system
Computer console: 10-inch LCD display
Clutter-free display
Workout programs: 24 different workout modes + 3 custom
Heart Rate Training: Yes
Power: 6 Horsepower AC motor
Safety Features: key for emergency stop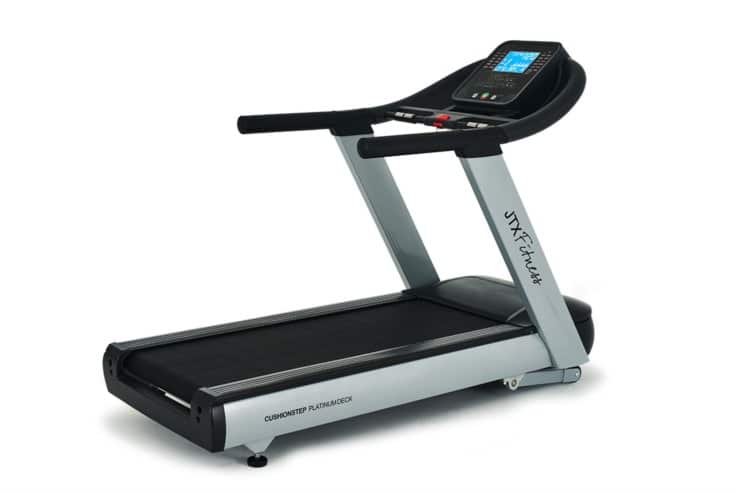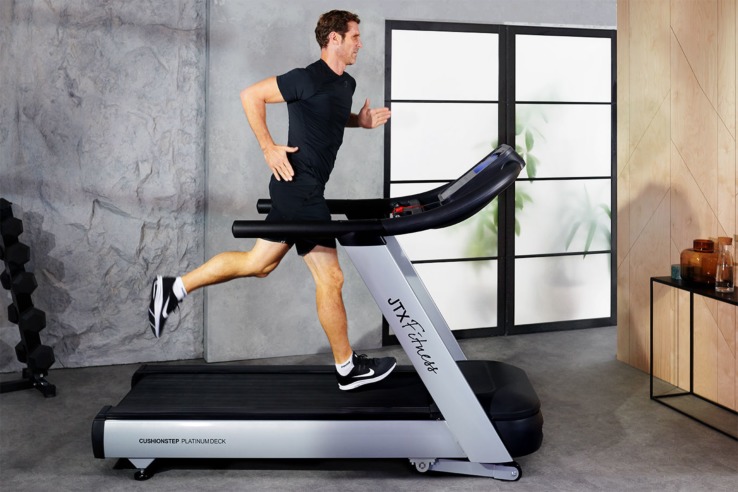 ---
Overview
Overall the treadmill turned out to be a great purchase; it has everything that I expected. Its features help make my workout sessions unforgettable. And it has all the qualities of a commercial-grade treadmill that I've come to expect.
The wide range of workout modes are closely designed to fit the needs of multiple trainers, and the flexibility to change their intensity makes it applicable for a wider audience. This requires a good incline range, a strong hp motor, and other features that makes it a heavy-hitting fitness machine.
Features like the monitors provide crucial details about your body's reception to the workout; it helps trainers achieve the desired heart rate zone and make the most of their workout, hitting their fitness goals time and time again.
Finally, if anything malfunctions in the machine, the customer support team is incredibly responsive and willing to hear and solve any problems. The procedure to file for a warranty claim is simple and doesn't serve as a barrier to your workout routine.
To sum it up, JTX club max is an excellent commercial treadmill applicable to most users but does sit at the top range of affordable machines for gym settings.
Want to know more? Read our full review of the JTX Club-Max Commercial Treadmill here.
---
The Daddy (I'll say no more):
Life Fitness Platinum Club Series Treadmill with Discover SE3HD Console (fixed) (£12,045.00)
Key Features
Brand: Life Fitness
Model: Life Fitness Platinum Club Series
Console: Discover SE3HD Console
Welded Steel Frame: Yes
Front Roller Lift Wheels and Rear Levelers: Yes
Maximum Speed: 12mph
Minimum Speed: 0.5 mph
Incline Range: 1-15%
Heart Rate Monitoring: Yes
Dimensions: 203 x 94 x 163 cm (lxwxh)
Running Area: 56 x 152 cm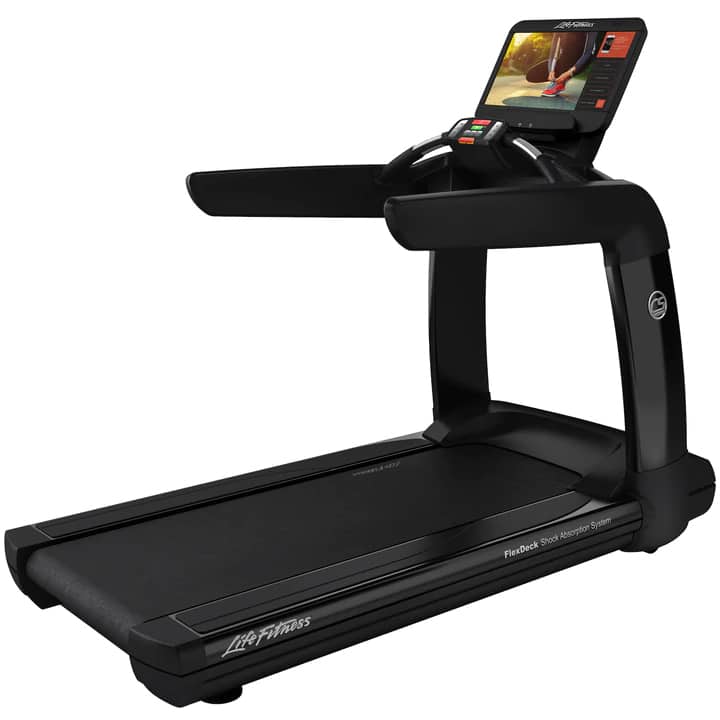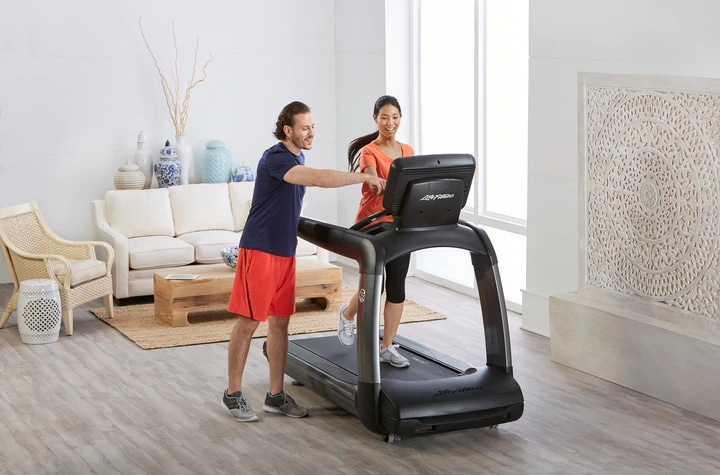 ---
Overview
This is the biggest, most heavy-hitting and top-of-the-range commercial treadmill I've run into (check the title) but not because it's my personal favourite, not because of the obvious price tag but because of the reason I'll detail below.
Life Fitness Platinum Club Series Treadmill with Discover SE3HD Console is high-quality gym equipment with advanced training options, commercial quality built, and extensive entertainment options. Like most machines in price ranges like this, it will help you smash your exercise routine in the best ways possible.
In short, it is a home exercise equipment that offers club-quality technology. Complete with key specs like incline controls, fitness tests, Bluetooth connectivity, a good stride length, and a cooling fan. It just depends on how much room you have for your home workout or commercial gym space.
If you do, then you can enjoy immersive outdoor adventures at home with this platinum club series treadmill. Its sleek design and tough build are an unbeatable combination. Specially designed for light commercial and at-home workouts, this life fitness equipment also helps you explore popular entertainment apps, create custom workouts, and join friends from all over the world with its connectivity options.
If you are running a small health club/fitness centers, or you are an avid exerciser, we would suggest you use Life Fitness Platinum Club Series Treadmill with Discover SE3HD Console for an enhanced running experience that triumphs over most popular treadmills and treadmills on the market.
Want to know more? Read our full review of the Life Fitness Platinum Club Series Treadmill here.
---
Best Commercial All-rounder:
Nordictrack Commercial 2950 Treadmill (£2699.00)
Key Features
Partial assembly required
Built-in speakers with Bluetooth connectivity
Adjustable console position
Height 165 x width 100 x depth 200 cm
Dimensions when folded height 189 x width 100 x depth 100 cm
Foldable? Yes
Heart rate monitor via hand grips
Heart rate monitor via hand sensors
Incline 15 per cent
Decline -3 per cent
Maximum user weight 136 kg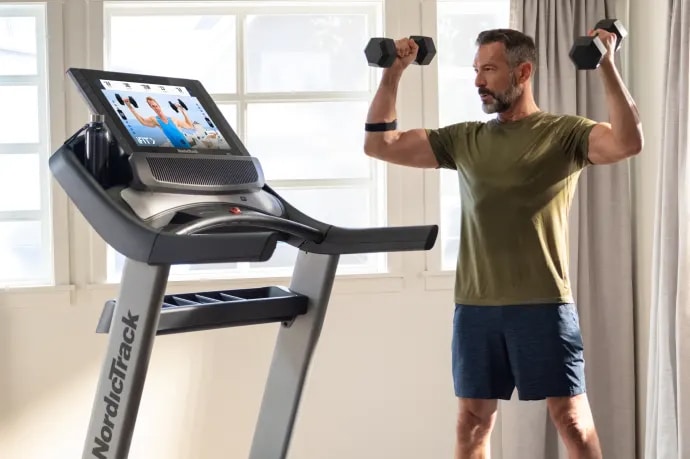 ---
Overview
This Nordictrack stands out when compared to other machines for certain. Especially in the commercial treadmill world.
The iFit addition (not to be confused with the sole fitness app) to this treadmill will incline and decline according to the trainer you have chosen ensuring you get a thorough workout from the comfort of your own home gym or the environments of fitness centers alike.
And, unlike most treadmills on the market, you can choose either comfort or road settings, an increasingly popular commercial treadmill feature. Just like built-in programs, builds that are completed with user dexterity in mind are the goal here, and we've certainly found one with the Nordictrack Commercial 2950
As you've seen, the Nordictrack Commercial 2950 treadmill is loaded with great specs for performance and entertainment, which makes this more affordable machine even more inviting. The space-saver design with easy lift assist makes it easy to use this machine whenever and wherever!
So after you get to know about all the features this machine offers it becomes very hard to resist from buying it but I can assure you, once you do it's something you simply won't regret.
Want to know more? Read our full review of the Nordictrack Commercial 2950 Treadmill here.
---
Best For Incline Training:
Nordictrack Commercial X32i Incline Trainer Treadmill (not foldable) (£3799.00)
Key Features
4.25 CHP DurX Commercial plus motor
2.5 inches precision and balanced non-flex rollers.
32 inch Smart HD touchscreen
Reinforces steel construction
22×65 inches commercial tread belt
L 76 inches width 40 inches x 73 inches H footprint
Bluetooth headphone capability
two 3 inches amplified speakers
Dual auto breeze workout fans
two water bottle holders
0-6 inch decline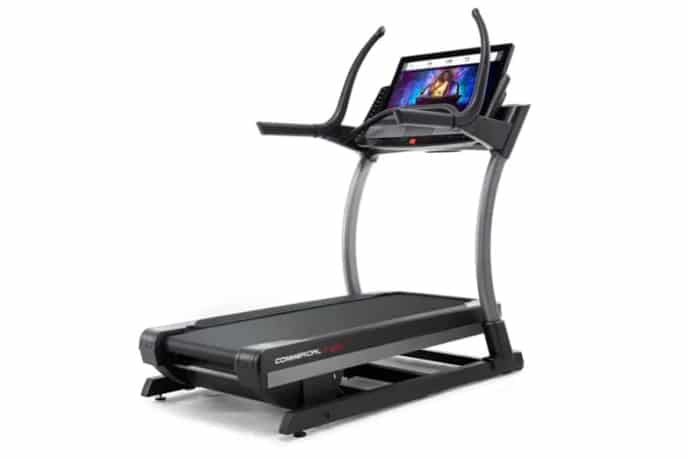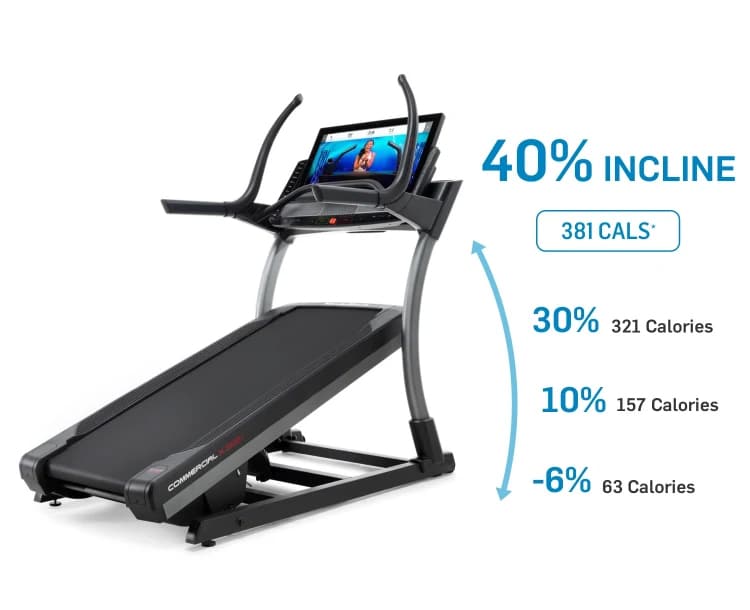 ---
Overview
When we look for the best rated commercial treadmill we often think of a high price tag, and the best treadmills often do often come with this. But commercial-grade treadmills don't have to be over £10,000. And this is an example of that.
With great incline and decline options, updated HD touchscreen, enhanced wi-fi, faster processing speed, and live trainer controls you can be sure that you can not go wrong with this treadmill, at home or in fitness centres.
With the price, this commercial standard treadmill might get you wondering that it is a bit expensive however if you take a look at all the features and its specifications you will understand that this machine is not your average treadmill! You are getting lots of things which you won't get otherwise on a normal treadmill.
With a great weight capacity, power incline, iFit subscription (training app esq) this machine offers great extras if you're appealing to those who go to health clubs, let alone its recorded use in physical therapy clinics.
The iFit subscription that is free for one month will give you a lot of time to check out all the new and latest workouts that are being conducted by elite and world-class personal trainers. There are even cross-training options you can choose from and it is, without doubt, one of the best incline treadmills!
Want to know more? Read our full review of the Nordictrack Commercial X32i Incline Trainer Treadmill here.
---
Best Commercial Treadmill On A Budget:
Sole TT8 Light Commercial Treadmill (£2799.00)
Key Features
Console 10.1″ TFT LCD Graphic Display
4.0 HP AC Motor
Speed 0.5- 13.7mph (1-22km/h)
Incline 0-15 levels
Decline 0-6 levels
10 Standard programmes
Sole Bluetooth Compatible with Kinomap
Cushioned Flex Whisper Deck
Step Up Height 20cm (8″)
Incline and Speed Quick Keys on console and handlebars
Hand Grip Pulse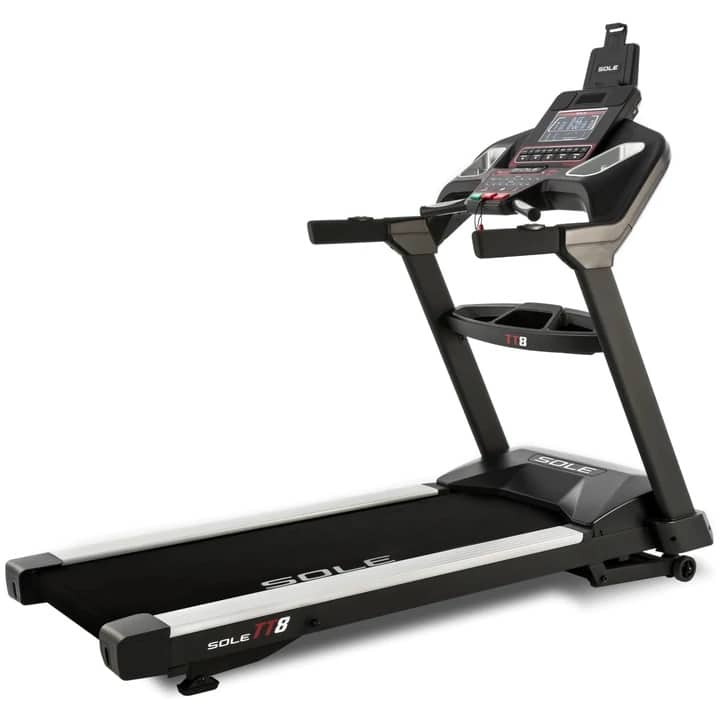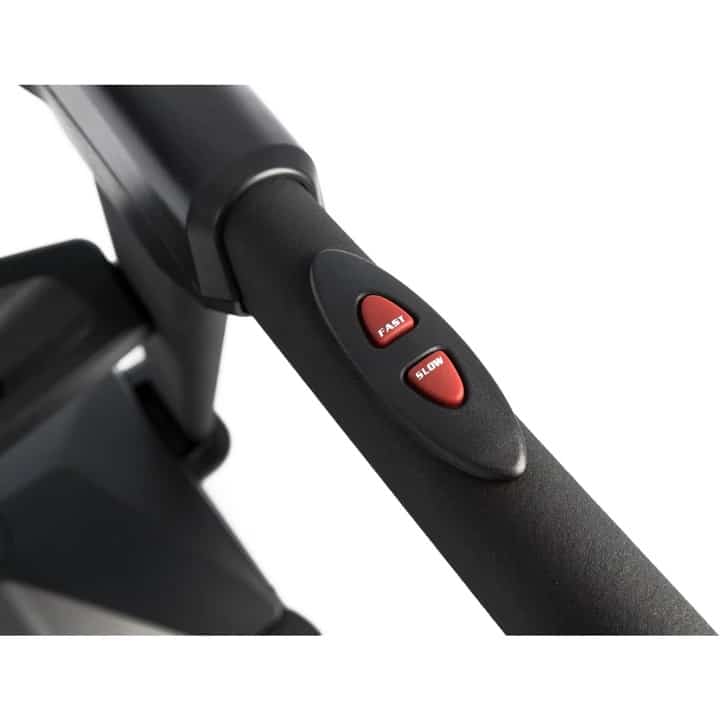 ---
Overview
This machine is what you think of when you hear the words budget-friendly treadmill, let alone budget-friendly commercial treadmill. In fact, pretty much any commercial treadmill is so expensive that to see one all the way down here can be a rarity. No wonder we included it here.
This is designed to handle office spaces, compact treadmill spaces, and health clubs alike. It'll help you to automatically adjust to a great treadmill standard in otherwise non standard environments.
With features like a good hp motor, nice speed range, nice incline and decline and more, this becomes a top pick for those wanting a new treadmill with a sensible price tag.
Remember, it's a commercial treadmill. It is easy to forget, but with that label comes a sturdy build, long life span, and a tick from me on the list as a top commercial-grade treadmill.
---
Conclusion
To conclude, we're not here for cheaper treadmills and so you shouldn't be surprised by the high price range and what commercial treadmills cost.
And, if you're worried about price range then you have to think that the best commercial-grade treadmills are that pricey for a reason – the features and builds, along with the built-in workout programs provide the best running experiences, whether you're marathon training or after a casual experience (in which case an integrated tablet holder is probably a golden feature for you)
Apple health may not be integrated to all machines but it's not about the shiny apps or integrated workouts. Think about the life span of these machines – you pay for a curved treadmill, the best compact treadmill, a folding treadmill… but that doesn't mean they'll last as long as these beautiful running machines, and personally? I wouldn't want to be paying for more and more running machines as I go.
>> Why not take a look at more of our helpful guides here. <<
---
FAQ'S
I'm a gym owner, the best commercial treadmills change all the time, how do I keep up?
It's important to equip your gym, health center or fitness club with the best equipment possible. But the best treadmill here is the most durable, the one that'll last, that looks good and ultimately you're gym members won't complain about, whether it's folding treadmills or static compact ones.
---
Affiliate Disclosure
In compliance with the FTC guidelines, please assume the following about all links, posts, photos and other material on this website:
Any/all of the links on this website are affiliate links of which GymFreakz receives a small commission from sales of certain items, but the price is the same for you.
www.gymfreakz.com is a participant in the Amazon Services LLC Associates Program, an affiliate advertising program designed to provide a means for sites to earn advertising fees by advertising and linking to Amazon.com & Amazon.co.uk. Pages on this site may include links to Amazon and its affiliate sites on which the owner of this website will make a referral commission.