---
---
Sprinting isn't the only way to burn calories – let's take a look at some of the best Walking Treadmills on the market
Let's think about walking for a second. It can feel like it doesn't push you, that it's a given in the day and that if you really want to make a difference you should be running 5K every morning.
While it's easy to think that, the benefits of walking are irrefutable. Reduced risk of heart disease, muscle maintenance and respiratory benefits all stem from walking.
If you work in an office specifically then chances are you're not getting your steps in. The above health benefits are probably then not being capitalised on as much as they should. To solve this? Buy yourself a walking treadmill, and step up your fitness game in the simplest way possible.
Walking treadmills come in a lot of variety – sometimes the treadmill lies flat (good for a standing desk), while others are fully framed and fixed but may offer great entertainment features to keep you on there for as long as possible.
Whether you're looking for weight loss, a brisk walk, or to simply tick off that step count, then you're walking in the direction with this list.
Let me walk you through it.
Disclaimer – This website contains affiliate links. If you find the information useful and click on a product link and make a purchase, a small commission will be earned by GymFreakz and we appreciate your support.
In A Rush?
| | Dripex Under Desk Treadmill: | Urevo Under Desk Treadmill: | WalkingPad Under Desk Treadmill: | Bigzzia Under Desk Treadmill: | Citysports Under Desk Treadmill: |
| --- | --- | --- | --- | --- | --- |
| Brand | Dripex | UREVO | WalkingPad | Bigzzia | Citysports |
| Model | 2 in 1 | Folding | P1 | Motorised | Electric Folding |
| Photo | | | | | |
| Max. Speed | 12 kph | 12 kph | 6 kph | 10 kph | 6 kph |
| Max. Weight | 120 kg | 120 kg | 100 kg | 110 kg | 100 kg |
| Running Area | 40″ x 16″ | 150 cm x 51 cm | 120 cm x 41.5 cm | 15.4″ x 41″ | 1150 mm x 410 mm |
| PRICE* | £399.00 | £399.80 | £329.00 | £199.99 | £199.99 |
| | | | | | |
| Check Prices | | | | | |
*Prices correct at the time of writing
---
Dripex Under Desk Treadmill:
Dripex 2 in 1 Folding Treadmill, 2.25HP Under-Desk Motorized Treadmill (399.00)
Key features
Folding mode: 1-4km/h
Unfolding mode: 1-12km/h
Running surface: 40 x 16 inch
Folded dimension: 52 L x 27 W x 5 H
Assembled dimension: 49 L x 27 W x 42 H
Assembled weight: 74lbs
Maximum user weight: 120kgs
Maximum speed for the running treadmill: 12km/h
Maximum speed for under desk walking pad: 4km/h
Stylish appearance
Dual display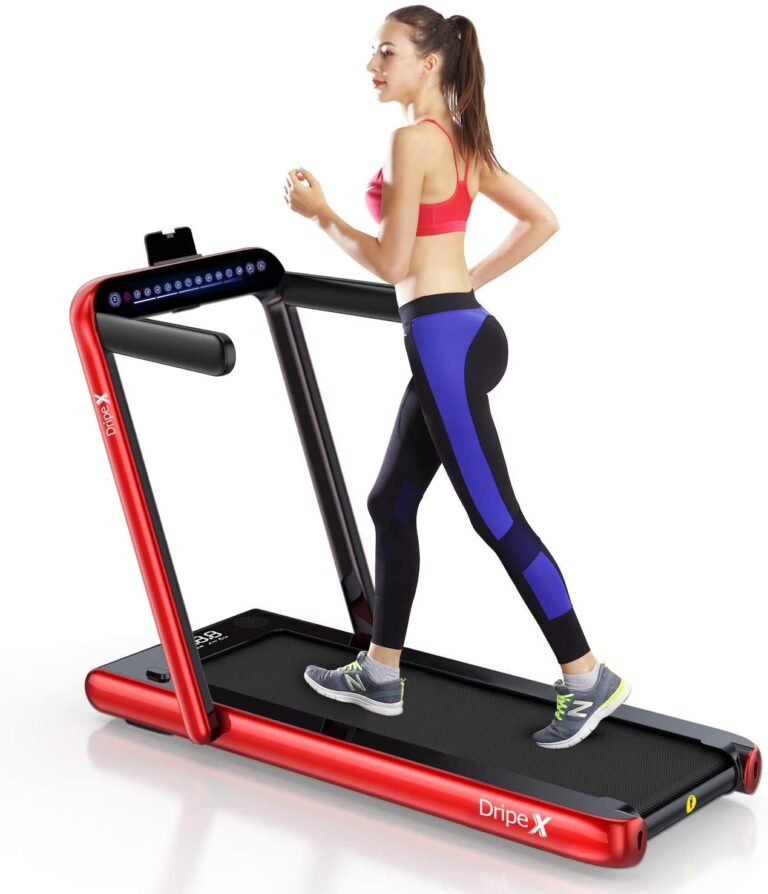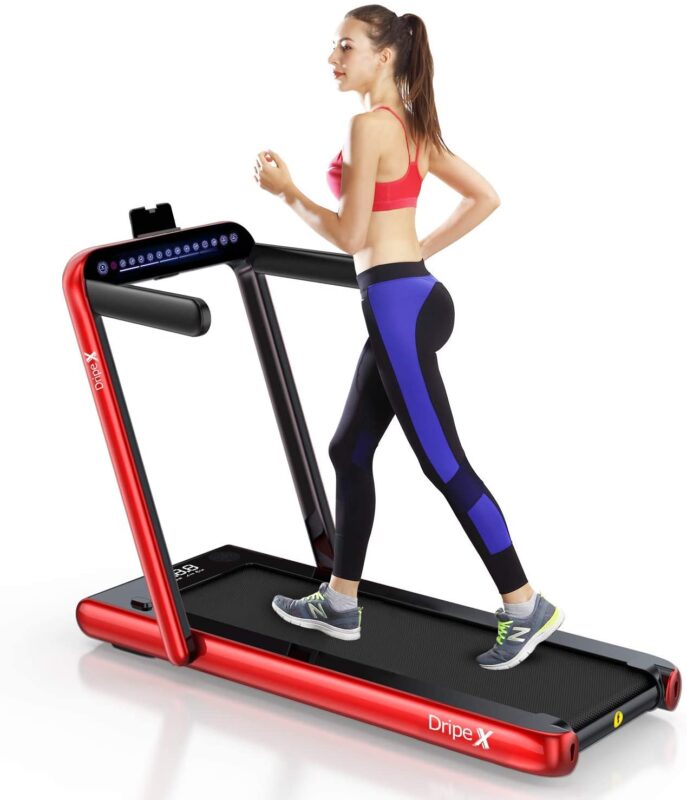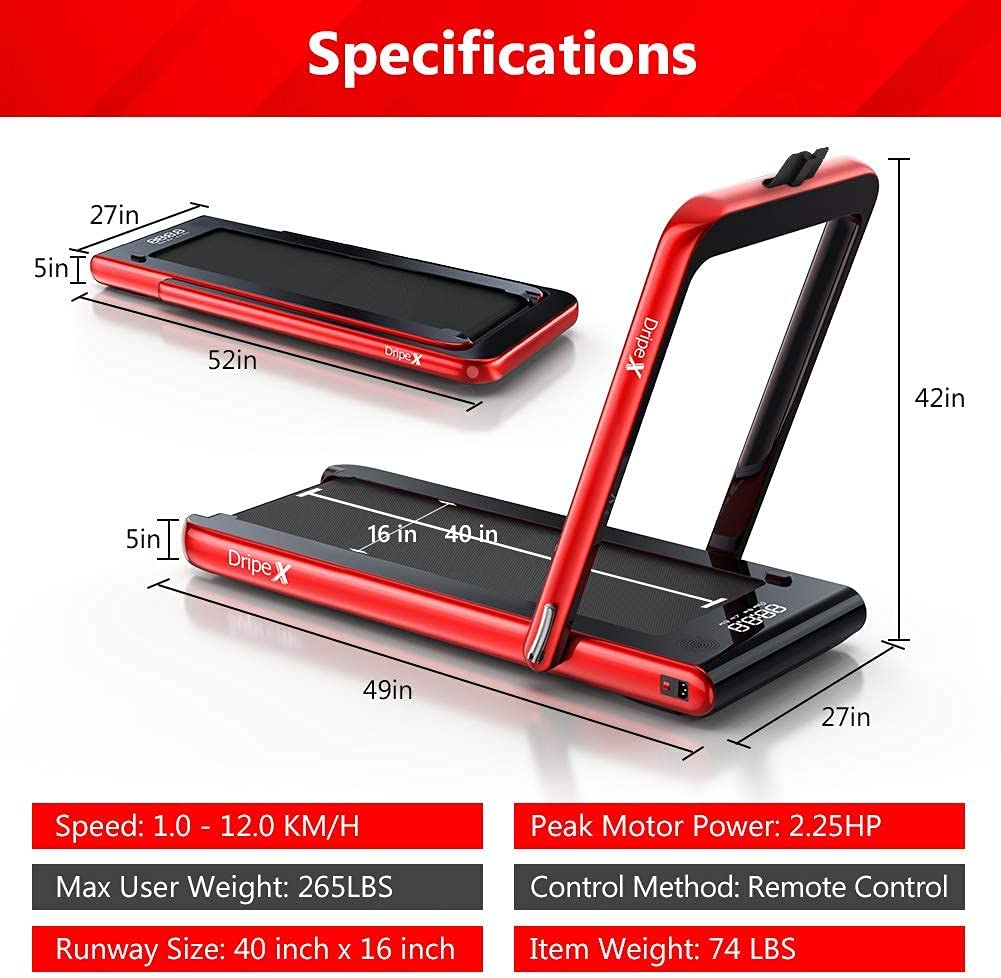 ---
Overview
If you are looking for a treadmill that gives true value to your money whilst all the while catering for walking needs then Dripex 2-in-1 folding treadmill is what you should look for.
It comes with 2-in-1 functionality; a running treadmill and an under-desk walking pad. So, let's focus on the walking pad.
The walking pad is comfortable, stylish, and supportive. Running machines have to have an element of comfort to their running decks and walking pads, and don't underestimate this when it comes to walking – the body can be strained in areas even when standing up!
Other than the above, it's the compact design that makes this treadmill unique from others.
It is best suited for those with limited space and looking for a compact folding design. If you're looking to buy a walking treadmill, chances are that you won't need a heavy-duty room-cluttering treadmill, and the foldable, compact design of this machine is perfect for an office space or even a front room!
It comes with a well-built motor powered by a 2.25HP brushless motor (perfect for walking) with low noise compatibility – an aspect of walking treadmills that should be considered.
It runs quieter than most of the other treadmills and comes with a multi-layered running belt that provides protection to your knees and joints. This makes it an ideal choice for those who live around nasty neighbours as the sound of the machine will not disturb them.
It is made with a sturdy durable steel frame which gives good balance and prevents the machine from being wobbly while running.
Want to know more? Read our full review of the Dripex 2 in 1 Folding Treadmill here.
---
Urevo Under Desk Treadmill:
UREVO Folding Treadmill for Home (£399.80)
Key Features
Black Colour Design
149.2 x 73 x 16.6 cm Size
Aluminium Frame
Speeds of 12 Kmph
Remote Control Included
Easy to Read Manual
LCD Display
2.5 Hp motor
120 Kg max weight capacity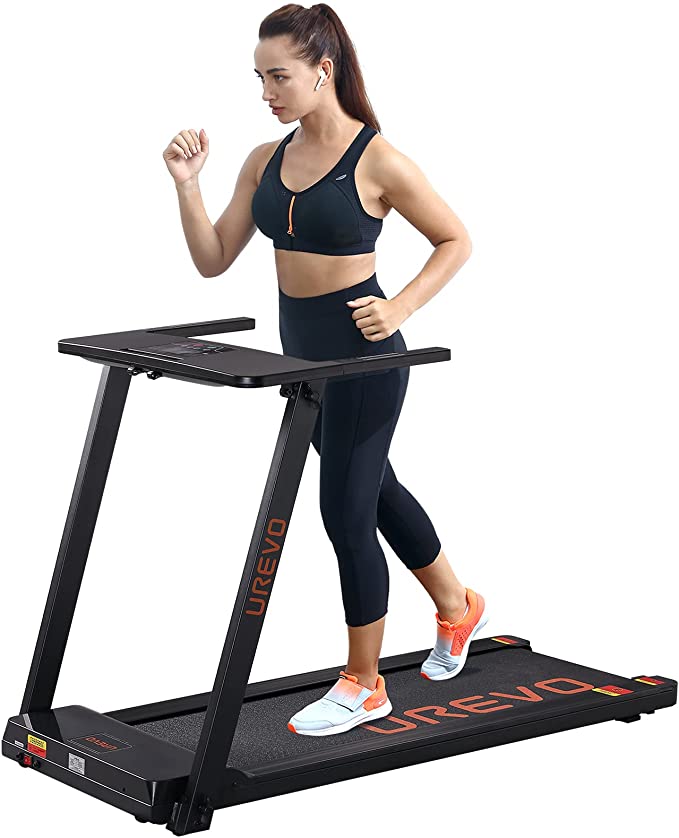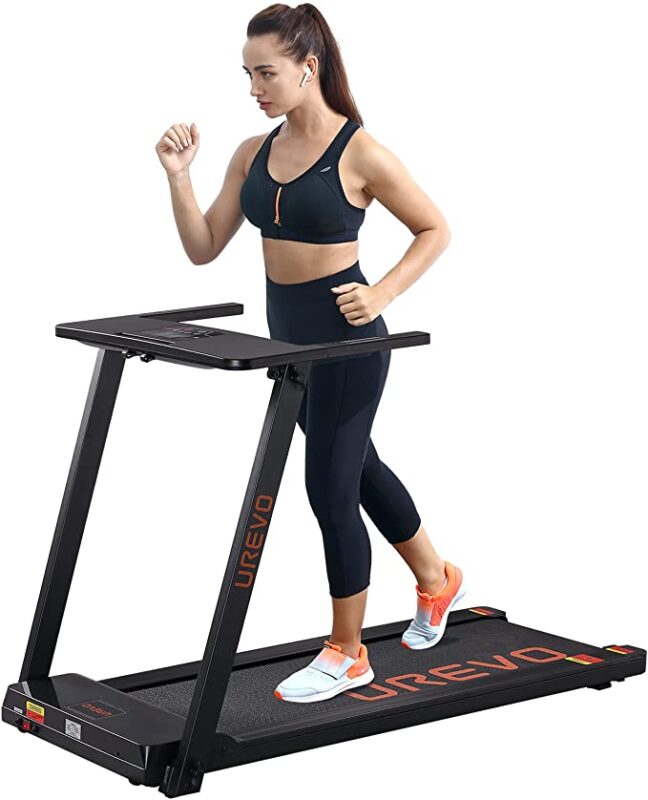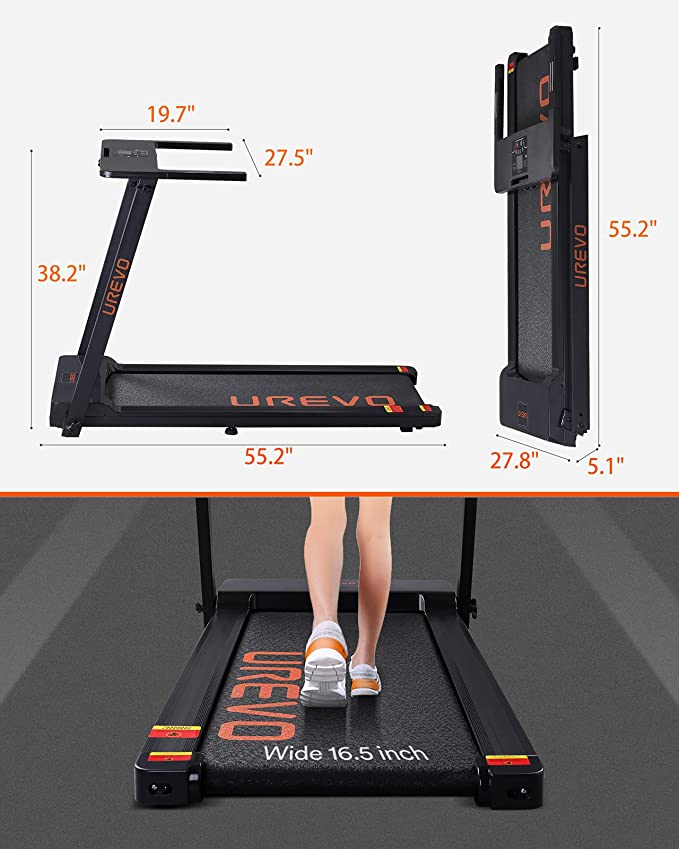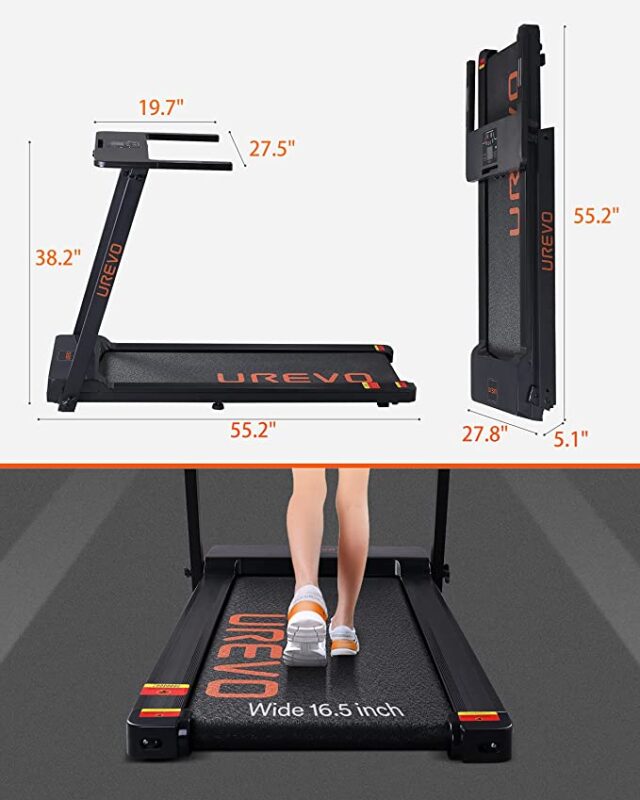 ---
Overview
This machine features both a walking mode and a running mode. This kind of variety is great for those who may be wanting to step up their game after a while. However, the slower motor limits the non-walking mode considerably.
That shouldn't put you off though – we're here for walking treadmills and this UREVO folding treadmill is up there with the best.
Great for tight spaces with a quiet motor and great folding dimensions, this machine is convenient as it is effective in losing weight.
The weight capacity (120Kg) isn't the highest but this usually isn't a problem. With a notable shock absorption system and a well-built deck, you'll be walking comfortably and effectively to stay healthy, both mentally and physically.
---
WalkingPad Under Desk Treadmill:
WalkingPad P1 Treadmill (£329.00)
Key Features
Aluminium Frame
Machine Weight – 28 Kg
1 Hp Motor
Corded Electric Power Supply
Speed Rating – 0.5-6km/h
Packed Size – 82.2(L) x 54.7 (W) x 12.9 (H) cm
Unisex
Remote Control
Max Weight Capacity – 100 Kg
Product Dimensions – 143.2 x 54.7 x 12.9 cm; 28 Kg.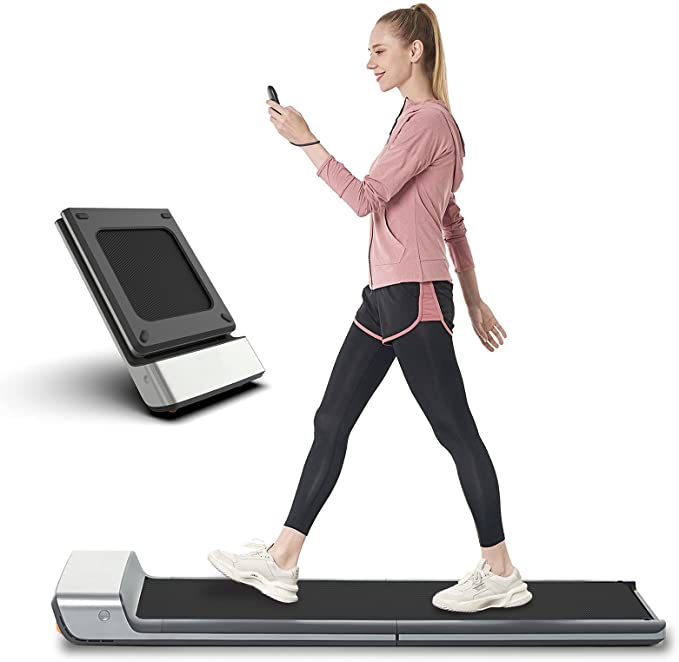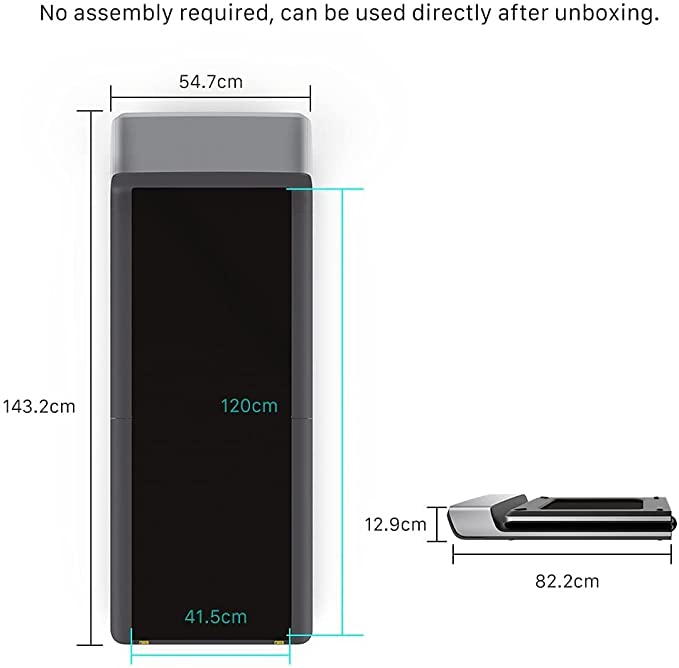 ---
Overview
There's a lot say about this machine, but the space-saving design is what makes this so unique and appealing for those looking to walk. Just think about your desk or office space for a moment – this modern-looking machine holds great aesthetic value, and even if it's not your favourite design in a visual sense then just think how little space it'll take up anyway.
While the motor is weak, very much a walking treadmill trait, the sleek design and functionality more than surpass the requirements and preferences of anyone looking for a walking treadmill.
The walking speed is beneficial and the walking deck comfortable. And with the ability to have a very light jog if you wish, this machine becomes a versatile walking treadmill, not to mention its noise reduction as a result of its design.
Unlike many treadmills, however, there is no led screen/led display, it doesn't show you your heart rate and it wouldn't exactly meet the requirements of a gym… but thankfully, it doesn't need to. It's a functional machine with incredible potential for comfortable walking and health benefits.
Personally, no matter the space, this machine will help you walk the distance without missing intense workouts or a high top speed.
---
Bigzzia Under Desk Treadmill:
Bigzzia Motorised Treadmill, Under Desk Treadmill (£199.99)
Key Features
LCD Display
Max weight capacity – 110 Kg
Motor – 1.5Hp
Alloy Frame and Other Components
Speed rating – 10Kph
Iron Grey Colour
Package Dimensions – 130.5 x 61 x 14.5 cm
Portability Features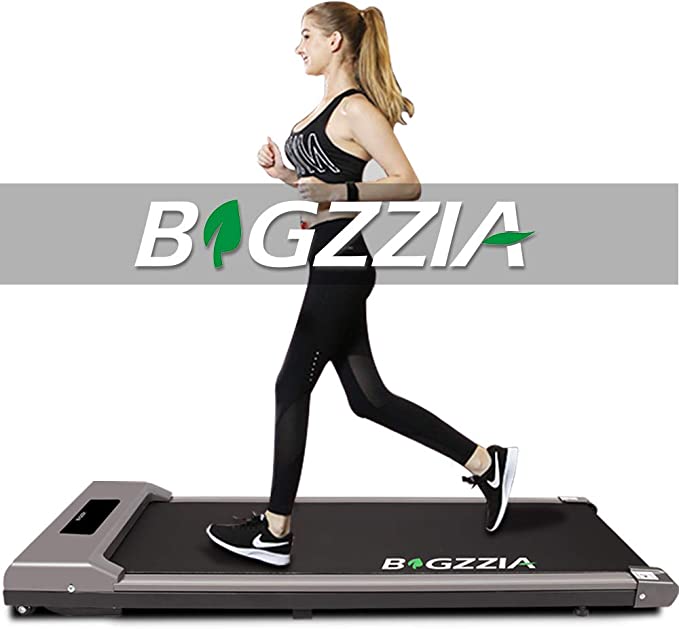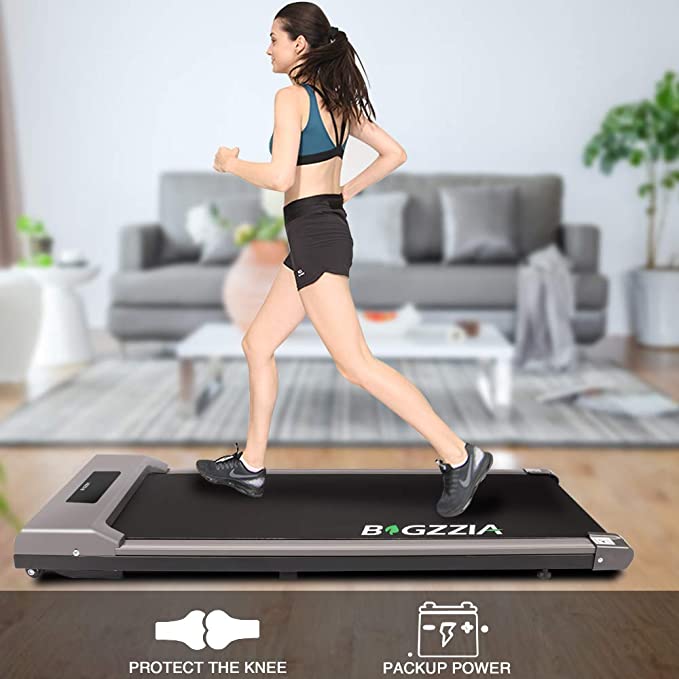 ---
Overview
Another flat deck machine, this Bigzzia Under Desk Treadmill folds, saves space, allows you to work and walk both at once, and gets you the distance you need.
Unlike the above machine, this walking treadmill does have a display and shows you critical data (all be it simple) to help with your workout. Despite the fact you wouldn't be able to see the screen if it was under your desk, having these data points can be a huge help, especially it's harder to feel the exertion from walking.
The belt is sturdy, the settings easy to adjust, and a light jog possible too. Whether you want to walk or run this machine is comfortable sleek and easygoing. Its price is incredible for the benefits that can come from simply walking.
It arrives fully assembled too so there's no hassle! And noise could be considered hassle-free too – these machines with quiet 1.5hp motors are sensationally easy going on the ears, so you don't have to worry about your neighbours or family.
In summary, it's cheap but sturdy, it's got low speeds but still quick enough, and it'll help you exercise conveniently and reliably for as long as you wish.
---
Citysports Under Desk Treadmill:
Citysports Under Desk Electric Folding Treadmill (£199.99)
Key Features
Foldable Functions
LCD screen
Max User Weight Capacity – 100Kg
154.5 x 17 x 69 cm; 27 Kilograms
Horsepower – 500 Watts
Speed Rating – 6 kilometers per hour
Colour – SM-WP1-1
Unisex
Corded Electric – Power Supply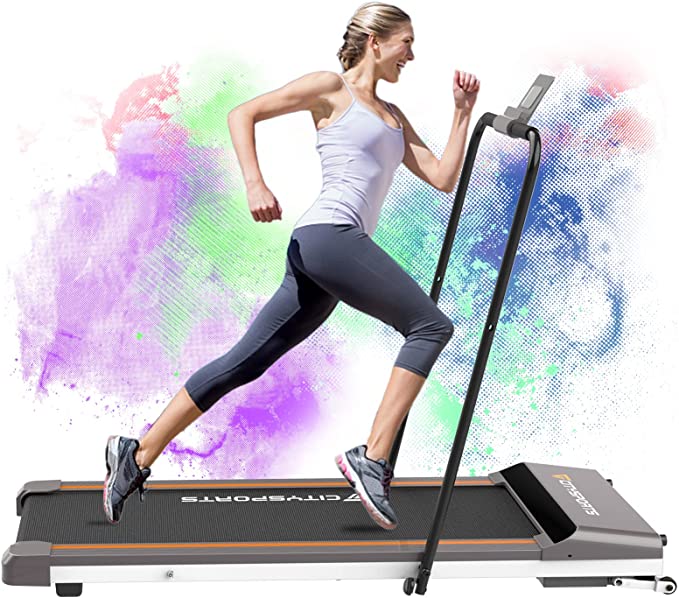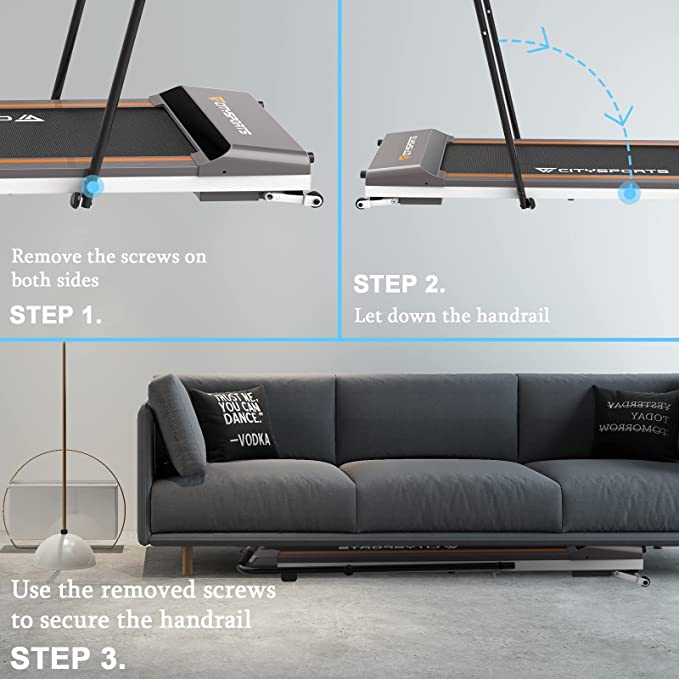 ---
Overview
Last but not least, the CitySports Underdesk Treadmill. Like most walking treadmills in this entry, this walking treadmill comes with easy-to-use, easy-to-store, and comfortable points of mention. The machine is a top-quality bit of running gear, and with easy storage and a cheap price, you can add to your own home gym with very little effort.
While I found the support bar and screen to be a little unnecessary, for the price, you can't complain. Most people will like that added functionality as it can track important stats (things like calories burned) and keep runners happy.
If you want to lose weight all the while going at average walking speed then in reality, this is one of the most cost-effective ways of doing so. In my opinion, this is the best treadmill in this category for all-round walking treadmill experiences, and with the safety features, it's a bit of a no-brainer.
---
Conclusion
Walk on over to what might be the best decision you've ever made, all the while stepping up your game from, well, not being able to walk or run in your own home or office before you read about these treadmills.
With shock absorption being so common, as is also the case with designs that allow you to easily fold these machines, it's almost difficult to know which one is right for you, given that they all weigh up so well. In a lot of cases, this sort of fitness equipment comes down to visuals and extra functionality.
Make the choice yourself, and look forward to a simple change to your general health and fitness lifestyle.
>>Take a look at more Treadmill Buying Guides Here<<
---
FAQ'S
Are they really durable though?
Yes, these exercise machines, whilst cheap, are more than durable. Besides, you'll only be testing them if you have a heavy build (watch for max user weight) or you're using them to jog more than run, so bear that in mind.
Is a brisk walk really worth it for the price?
With the cost of these machines being so low and the potential usage time being so high then, depending on how much you use it, you could end up paying 000.1 p a time over the course of your fitness life – and the health benefits far outweigh that hefty cost.
Do any come with bluetooth speakers?
No, not that we're aware of. If you want a machine with music then you'll have to provide your own speaker system, but given the low cost, that's hardly a deal-breaker.
---
Affiliate Disclosure
In compliance with the FTC guidelines, please assume the following about all links, posts, photos and other material on this website:
Any/all of the links on this website are affiliate links of which GymFreakz receives a small commission from sales of certain items, but the price is the same for you.
www.gymfreakz.com is a participant in the Amazon Services LLC Associates Program, an affiliate advertising program designed to provide a means for sites to earn advertising fees by advertising and linking to Amazon.com & Amazon.co.uk. Pages on this site may include links to Amazon and its affiliate sites on which the owner of this website will make a referral commission.