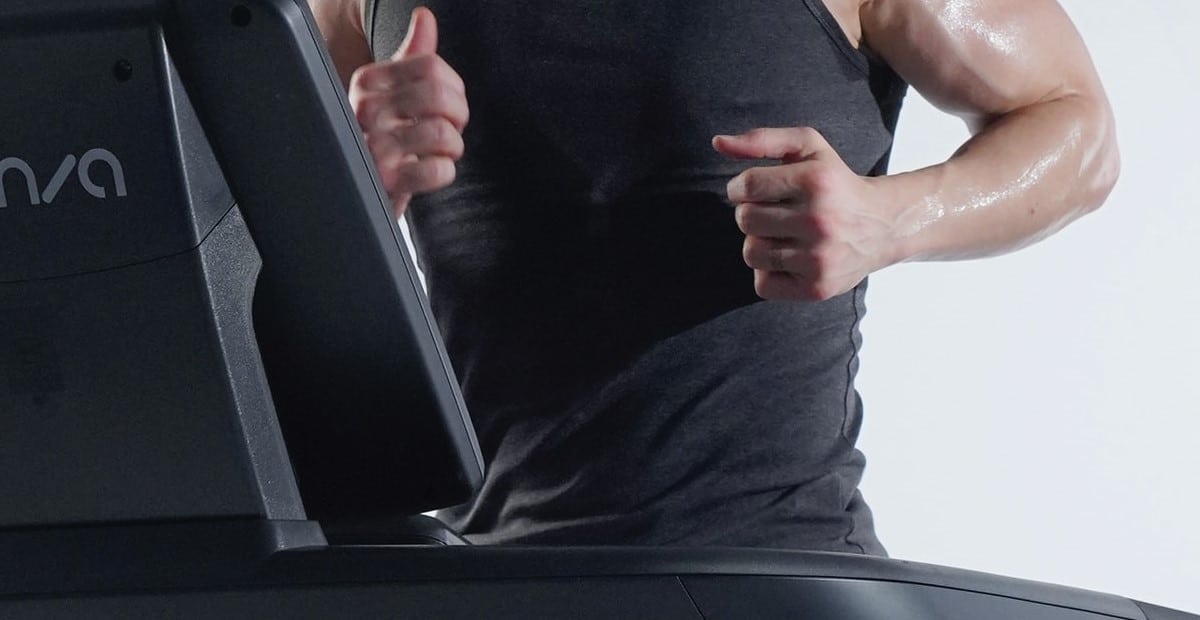 ---
---
Finding the best treadmill for the runners, without running up a high bill
They're called running machines for a reason, and while using a treadmill to walk or lightly jog is great for some, well, the clues in the name for others.
For those who want to run with the best, we'll be breaking down some of the best treadmills for running. Things like running surface durability, running deck comfort, the more hardcore manual treadmill, and other treadmill features will be at the forefront of this list.
Now, running isn't just about staying on the deck for as long as possible until you pass out, fall over and realise that flying is an option too. No – if you have the power, the fitness levels and the willingness (or even just the willingness) then you'll be taking advantage of max incline, workout data, and all the features that put you beyond the finishing line.
If you have the space too then we're going to find some seriously designed machines. From cooling fans to HIIT workouts, let's run through them all.
Disclaimer – This website contains affiliate links. If you find the information useful and click on a product link and make a purchase, a small commission will be earned by GymFreakz and we appreciate your support.
In A Rush?
| | Best JTX: | Best Spirit: | Best Life Fitness: | Best Nordic- Track: | Best Branx: |
| --- | --- | --- | --- | --- | --- |
| Brand | JTX | Spirit | Life Fitness | Nordictrack | Branx Fitness |
| Model | Club-Max Commercial | CT850 | Platinum Club Series | Commercial 2950 | Elite Runner Pro |
| Photo | | | | | |
| Max. Speed | 25 kph | 19 kph | 12 mph | 22 kph | 21 kph |
| Max. Weight | 180 kg | 204 kg | 181 kg | 136 kg | 160 kg |
| Running Area | 154 cm x 58 cm | 159 cm x 59 cm | 56 cm x 152 cm | 56 cm x 152 cm | 140 cm x 48 cm |
| PRICE* | £5,999.00 | £5,496.00 | £12,045.00 | £2,699.00 | £999.99 |
| | | | | | |
| Check Prices | | | | | |
*Prices correct at the time of writing
---
Best JTX Treadmill For Runners:
JTX Club-Max Commercial Treadmill (£5999.00)
Key features
Running area: 154cm x 58cm
Cushionstep deck
Maximum speed: 25 Kph
Incline: 0-15% or 15 levels
Suspension: 8 points commercial shock system
Computer console: 10-inch LCD display
Clutter-free display
Workout programs: 24 different workout modes + 3 custom
Heart Rate Training: Yes
Power: 6 Horsepower AC motor
Safety Features: key for emergency stop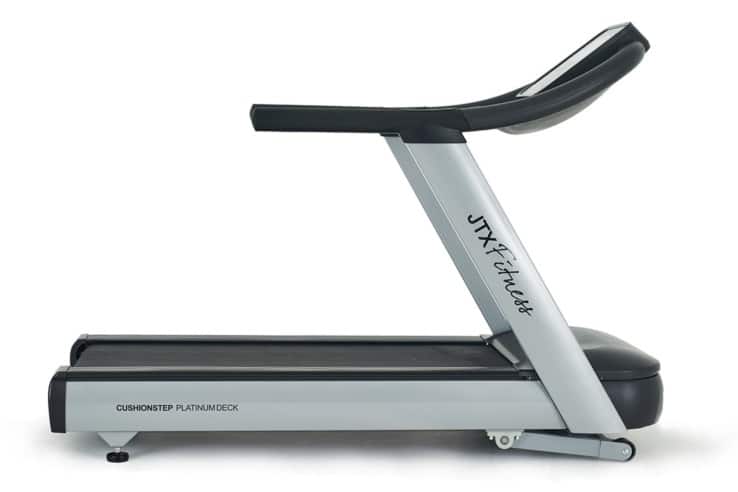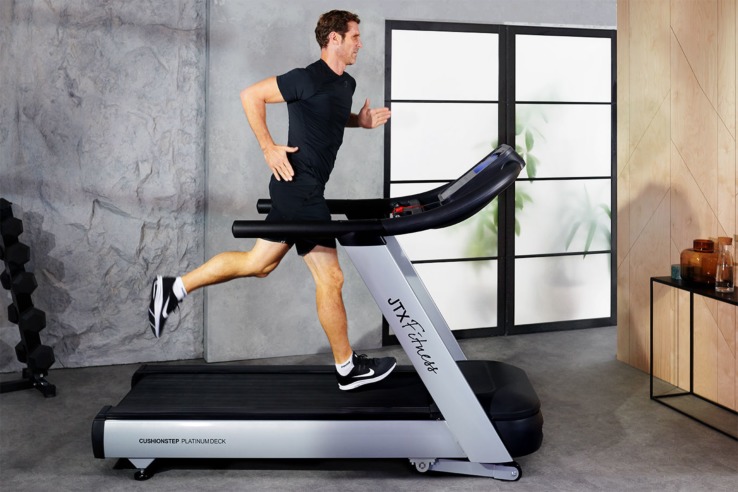 ---
Overview
This machine is at the top of the list for a reason. The wide range of workout modes are closely designed to fit the needs of multiple trainers, so no matter your running style, whether you're after hill training or flexing the incline range, then this treadmill will support you.
If you're a serious runner like me and want to track data then the monitors provide crucial details about your body's reception to the workout; it helps trainers achieve the desired heart rate zone and make the most of their workout.
Finally, if anything malfunctions in the machine, the customer support team is incredibly responsive and willing to hear and solve any problems. As runners, especially with a more affordable treadmill, wear can come around quick, so a good warranty is a good sign. The procedure to file for a warranty claim is simple and doesn't serve as a barrier to your workout routine. To sum it up, JTX club max is an excellent commercial treadmill applicable to most users.
Want to know more? Read our full review of the JTX Club-Max Commercial Treadmill here.
---
Best Spirit Treadmill For Runners:
Spirit CT850 Treadmill (£5496.00)
Key Features
4HP AC Motor
Running surface 60" x 22" (159cm x 59cm)
Speed 0.5-12 mph (0.8-19 km/h)
Incline 0-15%
Integrated Accessory Tray with bottle holder
Multi-ply Habasit ® Commercial Belt for superior belt life
Hard wax deck
Dimensions L x 84" W x 35" H x 57" (213 cm x 89 cm x 144,7 cm)
Frame heavy-Gauge, High-Steel, durable powder coat paint, Heavy-Duty aluminium console masts and side rails.
Rollers 3" (7.6cm)
Deck 1" Phenolic Double-sided wax coated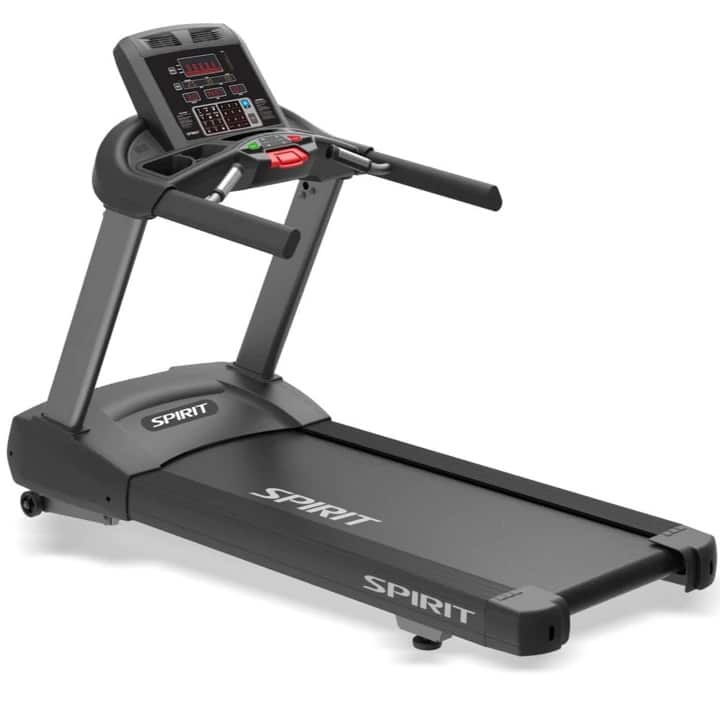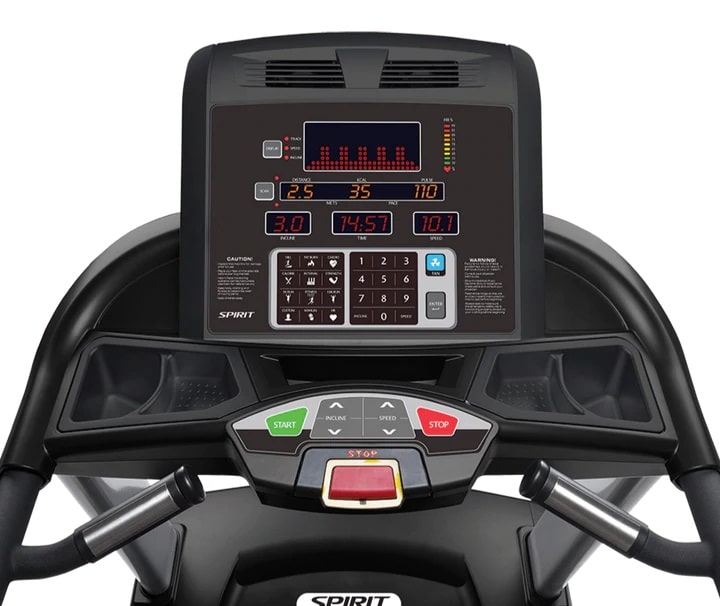 ---
Overview
The CT50 is a heavy-duty machine for heavy-duty runners. For those wanting to step up their game, push their limits and keep on burning calories then this is the machine for you.
With durable components made to last, you could be using this machine for ten hours a day for years and it would still hold up against the test of time… and your fitness regimes of course.
While it doesn't have fitness apps integrated, nor does it feature any workout programs, if you want to run, sprint, hill train, and the rest, then I'd recommend the CT50 as the most solid treadmill on this list.
Beyond the fact it's a functional treadmill with good components, its 4hp motor will see you through. A good maximum speed is definitely a consideration as most runners know, sprinting is the most efficient way to keep up those calories burned in a short space of time.
Definitely check this one out, sturdy build, good speed, and as much strength as you'll need.
---
Best Life Fitness Treadmill For Runners:
Life Fitness Platinum Club Series Treadmill with Discover SE3HD Console (fixed) (£12,045.00)
Key Features
Brand: Life Fitness
Model: Life Fitness Platinum Club Series
Console: Discover SE3HD Console
Welded Steel Frame: Yes
Front Roller Lift Wheels and Rear Levelers: Yes
Maximum Speed: 12mph
Minimum Speed: 0.5 mph
Incline Range: 1-15%
Heart Rate Monitoring: Yes
Dimensions: 203 x 94 x 163 cm (lxwxh)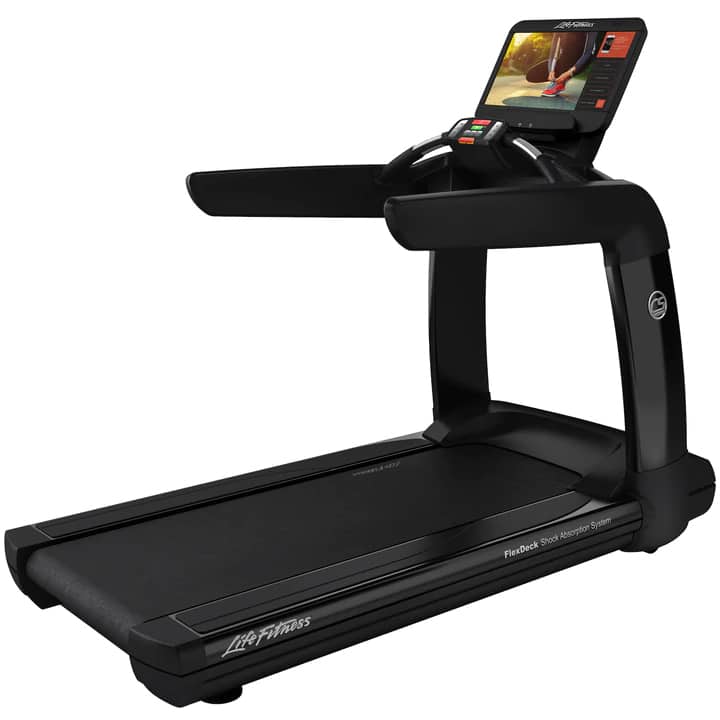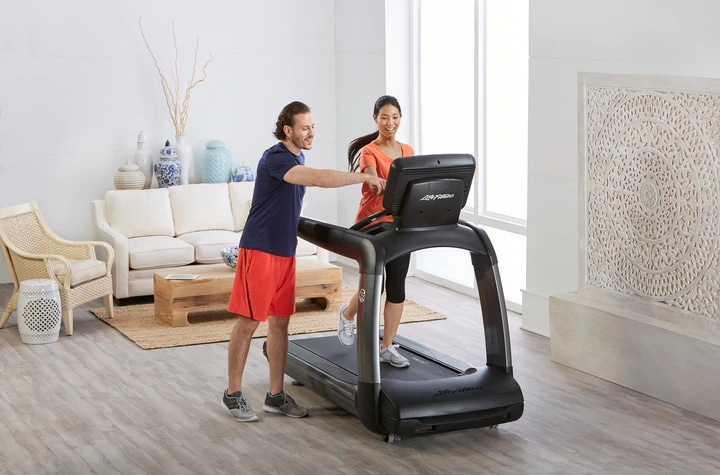 ---
Overview
This Life Fitness Platinum Club Series Treadmill with Discover SE3HD Console is a wise investment for light commercial and home gyms. But don't let the word light put you off here. This machine is another heavy hitter. With a great max user weight, comes the necessity for a great build. While the machine is big, really big, it'll be a much-welcomed asset to your fitness arsenal.
Its modern design and interactive features with experience and advanced training options, make this Life Fitness Treadmill premium quality workout equipment. And because it's so big, forgetting about incline adjustments or and iFit membership, it needs to look good for your home. So it's a good job this machine looks fantastic. 'Hats off', to the designers!
With a range of connectivity and entertainment options, it makes working out at home a pleasant experience. And that's something most runners have to think about – will a great range of tech and media help me to stay motivated or run for longer? For a lot of us, the answer is yes. With things like Bluetooth connectivity, fitness apps and iFit workouts we can be running on what's probably our best entertainment system in our home gym.
If compared to other similar treadmills in the market, Life Fitness Platinum Club Series beats them all in looks, quality, durability, modern technology, and connectivity. If you are an avid exerciser who likes to explore new workout options, the Discover SE3HD Console and you are a match!
Want to know more? Read our full review of the Life Fitness Platinum Club Series Treadmill here.
---
Best Nordictrack Treadmill For Runners:
Nordictrack Commercial 2950 Treadmill (£2699.00)
Key Features
Partial assembly required
Built-in speakers with Bluetooth connectivity
Adjustable console position
Height 165 x width 100 x depth 200 cm
Dimensions when folded height 189 x width 100 x depth 100 cm
Foldable? Yes
Heart rate monitor via hand grips
Heart rate monitor via hand sensors
Incline 15 per cent
Decline -3 per cent
Maximum user weight 136 kg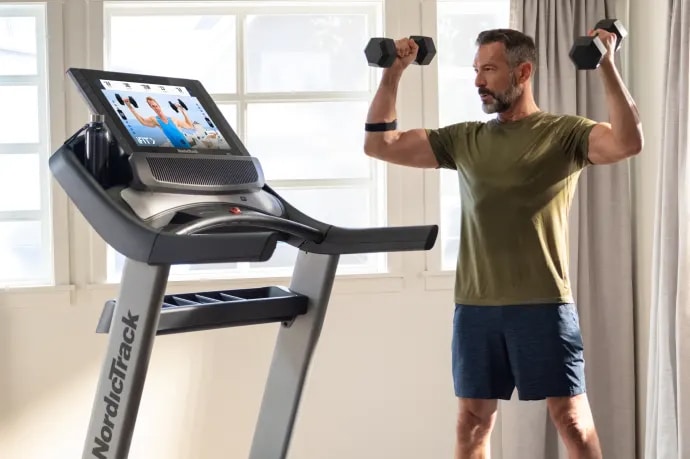 ---
Overview
For a lot of runners, indoor running just isn't the same. With outdoor running, you get the variation in terrain and scenery. That's exactly why this running machine caters for all of those issues.
The iFit addition to this treadmill will incline and decline according to the trainer you have chosen ensuring you get a thorough workout in from the comfort of your own home!
And, unlike most treadmills on the market, you can choose either comfort or road settings. As you've seen, the Nordictrack Commercial 2950 treadmill is loaded with great specs for performance and entertainment.
Something you don't have to do with outdoor running? Move or accommodate for a big running machine. The space-saver design with easy lift assist makes it easy to use this machine whenever and wherever!
So after you get to know about all the features this treadmill offers it becomes very hard to resist. If you want to lose weight and vary things up with training apps for your treadmill workouts then the pre-programmed workouts you could be using with this machine are perfect. Once you've bought this it's something you simply won't regret.
Want to know more? Read our full review of the Nordictrack Commercial 2950 Treadmill here.
---
Best Branx Treadmill For Runners:
Branx Fitness Foldable 'Elite Runner Pro' Soft Drop System Treadmill (£999.00)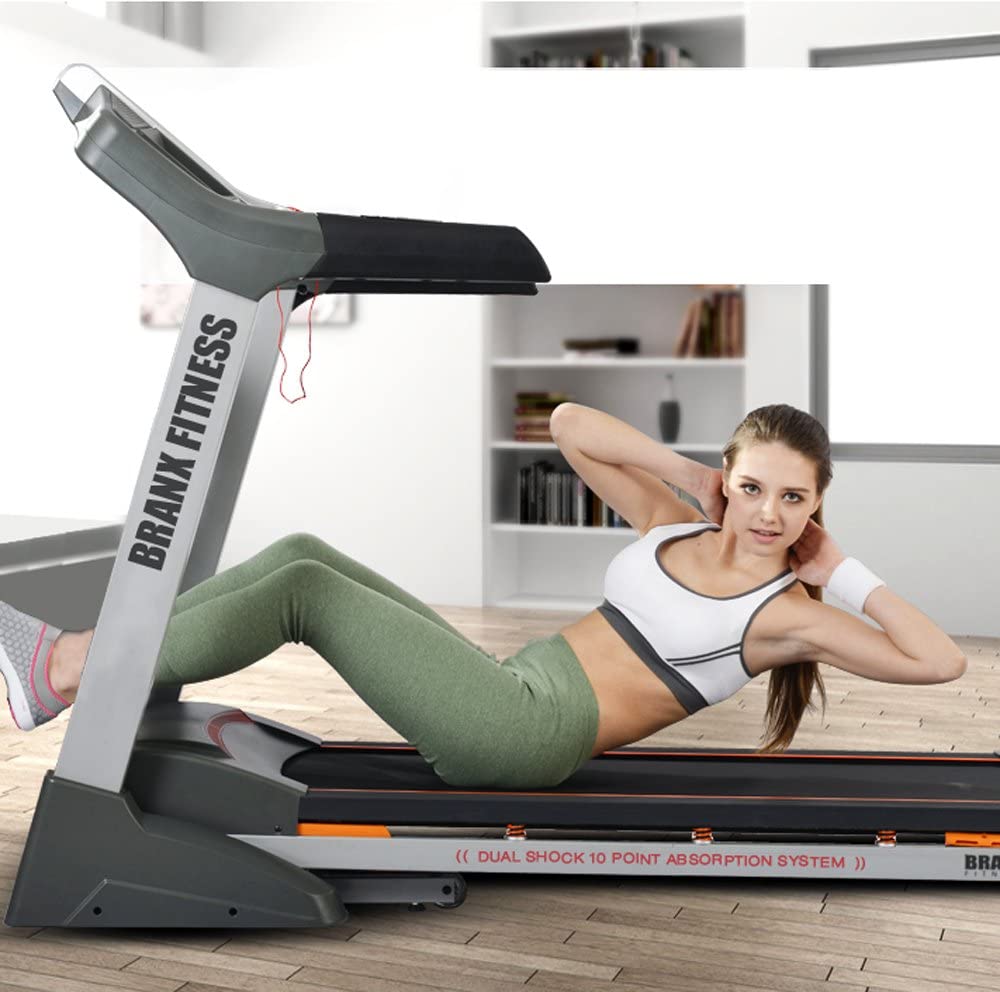 ---
Overview
The Branx Fitness Foldable Elite Runner Pro is the top-of-the-line model. However, as you can tell from its price tag, it's more along the lines of an affordable running machine. Like many commercial treadmills, it has a pretty fair price tag.
If you want a home treadmill for good money and straight-up burn calories, stay fit and keep on running then this is a great option for you. It doesn't come with the most features that perhaps the 'best treadmill' might have but if I'm honest, it doesn't have to.
I found this home treadmill to be great for simple treadmill workouts. It also made a much-welcomed addition to my home gym equipment through nice-looking and clever design making it a reasonably compact treadmill overall.
With a lot of gym treadmills, the maximum incline is rarely pushed to the limit – most indoor runners run straight. But with this machine, I found it to be very comfortable when conducting incline training.
Besides the components and usability itself, this machine comes almost fully assembled. So easy. If you're an outdoor runner looking to convert to indoor running, then this machine's ease of use may just make it the right treadmill for you.
Want to know more? Read our full review of the Branx Fitness Elite Runner Pro Treadmill here.
---
Conclusion
In conclusion, I think we can tell that these machines are solid choices for the more frequent runners in the room and comprehensively review the best treadmill for runners. From integrated tech features to straightforward, well-built running machines we've covered them all.
Don't worry if you're new to the world of treadmills, or hey even running, nobody has to have experience to use one of these machines. In fact, treadmill motors are rarely pushed, horizon fitness models providing 'unlimited workouts' are rarely met and so many other treadmills rarely have their warranty used here – in short, all of these machines will do the right job for you no matter your running background.
>> See More Helpful Treadmill Guides<<
---
FAQ'S
Do I need treadmill workouts to help me run?
Whether you're utilising peloton tread, using a bowflex treadmill, or pushing the speed and incline, we're all humans with limited motivation. Treadmill workouts can help guide and push you at the same time, definitely a plus for grim days or tired physiques.
Should I even worry about max speed?
Maximum incline is one thing, but max speed is something you'll be using for sprinting. A budget treadmill for running may have a less than powerful motor, but it doesn't mean it's not good. However, a powerful motor can be the difference between you starting to lose calories and therefore staying in shape more time efficiently.
---
Affiliate Disclosure
In compliance with the FTC guidelines, please assume the following about all links, posts, photos and other material on this website:
Any/all of the links on this website are affiliate links of which GymFreakz receives a small commission from sales of certain items, but the price is the same for you.
www.gymfreakz.com is a participant in the Amazon Services LLC Associates Program, an affiliate advertising program designed to provide a means for sites to earn advertising fees by advertising and linking to Amazon.com & Amazon.co.uk. Pages on this site may include links to Amazon and its affiliate sites on which the owner of this website will make a referral commission.