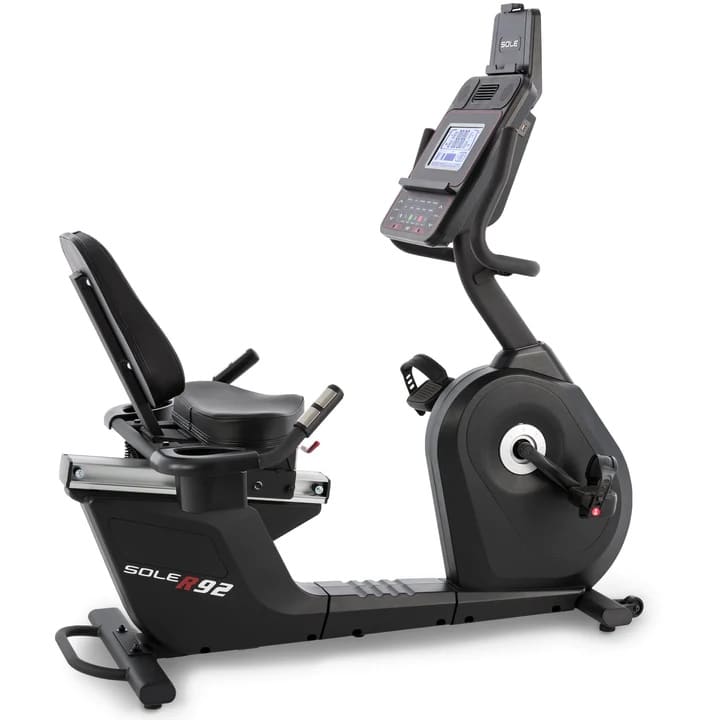 ---
---
Introduction to the Sole R92 Recumbent Exercise Bike From The Recumbent Range
You may have heard of the wonderful recumbent bikes hitting the market way back when. It was a great change from the stereotypical upright indoor cycles. Why was this so great? Well, some find upright natural cycles to be uncomfortable or bad for specific injuries. Frankly, this left a big gap in the desires of gym equipment consumers, one that would be filled by a reclining, comfortable cycle, perfect for long endurance workouts.
Personally, I love recumbent cycles. They help my lower back pain, help me to relax and also justify features like a tablet holder or USB charging charging point just a little more. The reason – exercise equipment doesn't have to be a hardcore, sweat bucket filling, bone breaking purchase. I want an adjustable seat, convenient features, smooth pedal motion and lumbar support, all so I can workout safely and stay fit in the right way for me.
Don't get me wrong, recumbent bikes can do all that natural position, upright bikes can. From a heavy flywheel weight, large weight capacity and cooling fan to ergonomic pedals and magnetic resistance levels, you can complete high performance workouts no matter the style of bike.
Today, we're breaking down the wonderfully designed Sole R92 recumbent bike. This stylishly redesigned entry offers a smooth transition for those wanting to upgrade from previous gym equipment, and can offer an immersive training experience time and time again with tech inclusion and a weighty feel.
Let's get into the nitty gritty of one of my favourite bikes on the market.
Disclaimer – This website contains affiliate links. If you find the information useful and click on a product link and make a purchase, a small commission will be earned by GymFreakz and we appreciate your support.
---
Specifications
Power Source DC12V/1.5A
Eddy Current Brake
9 kg Flywheel
Crank Length 165mm (6.5″)
Max User Weight 21.5 Stone (136 kg)
Size L x 142cm W x 74.5cm H x 151.5m (55.9″ x 29.3″ x 59.6″)
Product Weight 69.1 kg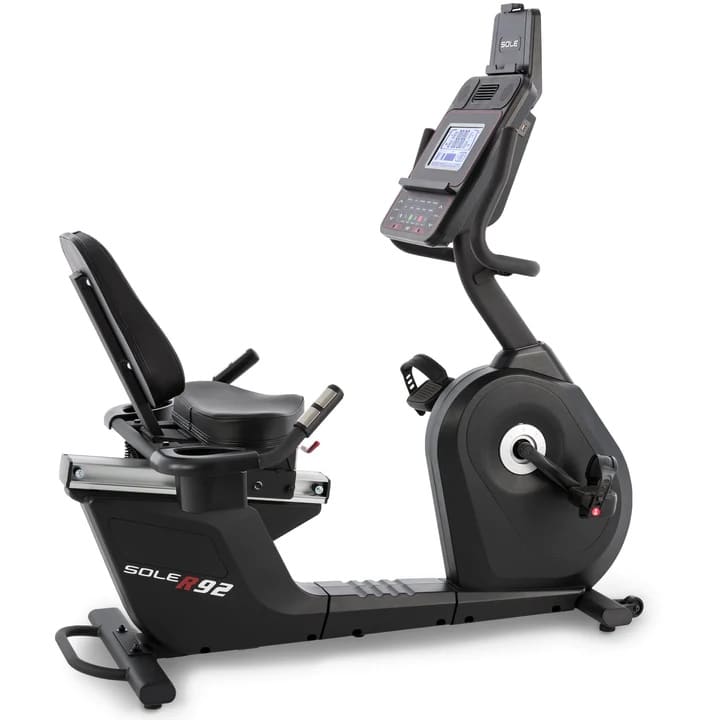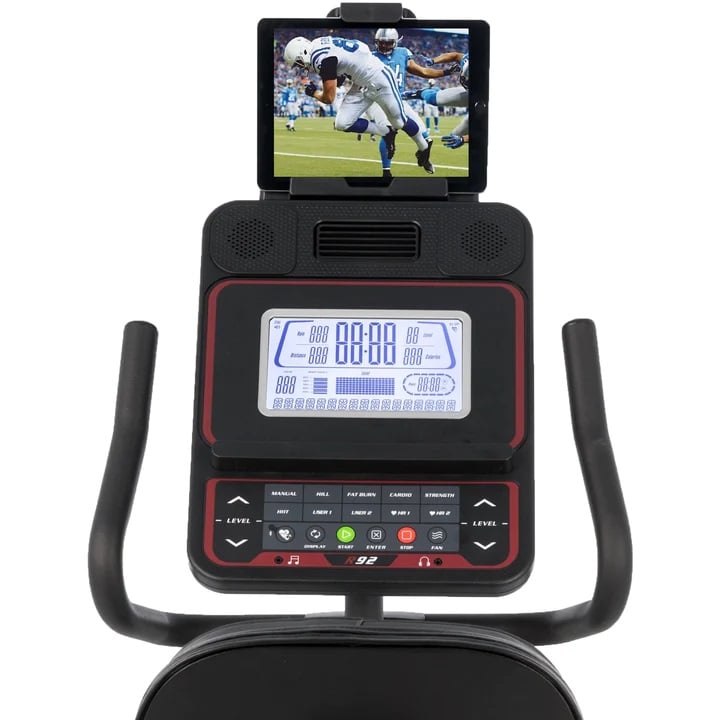 ---
KEY FEATURES
1-20 Resistance levels
Foot pedals with 2 degree inward slope
9kg Flywheel
Crank Length 165mm (6.5″)
Console 9″ LCD Display
Cooling fan
Integrated Bluetooth Speakers
MP3/Apple connectivity
USB Charging
Tablet/Smartphone Holder
Multi Position Hand Grips
Bluetooth compatible
Water bottle holder
Contact heart rate monitoring
Telemetric heart rate monitoring, chest strap compatible
Max User Weight 21.5 Stone (136 kg)
Size L x 123cm W x 58cm H x 152cm (48.4″ x 22.8″ x 59.8″)
---
Warranty
Warranty: 5 Years parts, 3 years labour and 10 years drive motors. Home use only
*Warranty may be subject to change without notice and may differ between retailers – please check carefully before making a purchase.
---
Pros and Cons
---
Overall Verdict:
I can't say anything else other than I like this machine. I know, it sounds a little flat to read but if you're like me and all you want is a safe, comfortable and functional machine then I really want you to read this page and this page only – this is the right tool for you. I want something that can offer posture support, something that I can customise relative to my favoured body position and a machine that's not going to cost me an arm and a leg to get the basic cycle experience I require.
However, if I were to use the word basic elsewhere I'd be doing the R92 recumbent exercise bike a disservice. All of these bikes have great detail considered. From the LCD screen/LCD display to the phone holder, this bit of kit feels like it was designed just for me. And the word designed has to be highlighted here. Just because something feels like a more basic model doesn't mean that it hasn't been planned out to the millimetre.
Underneath the hood, for example, we have an invitingly light 9kg flywheel, which gives you a nice riding experience and smooth feel. We have a built in fan AND an optional chest strap for extra health benefits, and we have a convenient USB charging point so we never have to worry about not being able to call anyone.
In short, this bike makes me feel safe, like I'm still pushing myself as much as I want, and gives me extra ways of staying entertained while I workout.
---
---
What I Liked About This Exercise Bike
As you can probably guess, I love how this bike is designed for decreased stress. I never have to worry about injury or posture or discomfort, and this is the primary thing for myself. The Sole R92 Recumbent Bike has a great and adaptable adjustable seat that lets me feel like I'm in the right place at the right time. Other convenient features like the foot pedals with a 2 degree inward slope help with accessibility and ease of riding. Again these kinds of inclusions are designed to keep me healthy and safe when I'm working out. This also helps decrease the risk of me falling and perhaps damaging things around me… as well as my own head!
I also think this bike has a great safety net. What do I mean by that? Warranty. We can all get a little picky when it comes to spending money, and we all want to know that we're making a smart purchase decision. But we're humans, and we want to know that if what we're buying doesn't meet the mark then we can hand it back in, get our money back and learn from our mistakes. Well, while I can assure you this machine is built to last, if you are a worrier like me then the warranty of 5 years parts, 3 years labour and 10 years drive motors should offset that worry just a little. To conclude, this looks great on Sole Fitness as they clearly put user satisfaction at the forefront of their design and selling mantras. Love it!
Things That Could Have Been Better
I have to be honest – when it comes to the console I am a little disappointed. Yes, if I want top of the line tech then a new enhanced model with other exciting routes and a million fitness apps is what I should probably go for. But still, a basic console display should have a little more than 2 custom programmes and 2 heart rate programmes in my opinion (sometimes I don't want to have to think, arrest me!) With workout programs you often get awesome guidance that can teach you so much about workout variation. Some of us don't mind this not being there, and I'm the same, but it's always nice to have the option. I know – I can still use the Sole App, and the Sole App enables a lot of variation, with a minimum spend. Oh, and with the convenient tablet holder I could just use other fitness apps instead of just the Sole Fitness App to get that potential kick. But it would still be nice to have a few more programs and a bit more guidance if I'm not the type to be tech savvy or app crazy.
The console, apart from the above, is great all round. If I'm honest, with all your data being tracked it's hard to find fault. I know I'd like some more variation but generally, it gives me what I need.
---
FAQ's
Why should I care about an integrated cooling fan, why don't I just use my own?
Think about what an exercise machine is. It's much more than just a 'hop on a go for a spin'. An exercise machine should be like a hub of convenience, especially for those wanting higher resistance levels. This is why so many bikes boast exercise-integrated Bluetooth speakers or a USB charging convenient tablet. It's all about the best scenario for you, and integration is designed exactly for that.
Should I be worried about sweat and electronics on my machines?
Mostly not. Largely, things are covered up my pretty solid casing so I wouldn't be worried here. To reduce the risk of sweat convenient tablet holder devices are placed appropriately, for example. And with Bluetooth audio integration you don't need to worry about things like ports and wires, so you should be in the clear.
---
Affiliate Disclosure
In compliance with the FTC guidelines, please assume the following about all links, posts, photos and other material on this website:
Any/all of the links on this website are affiliate links of which GymFreakz receives a small commission from sales of certain items, but the price is the same for you.
www.gymfreakz.com is a participant in the Amazon Services LLC Associates Program, an affiliate advertising program designed to provide a means for sites to earn advertising fees by advertising and linking to Amazon.com & Amazon.co.uk. Pages on this site may include links to Amazon and its affiliate sites on which the owner of this website will make a referral commission.