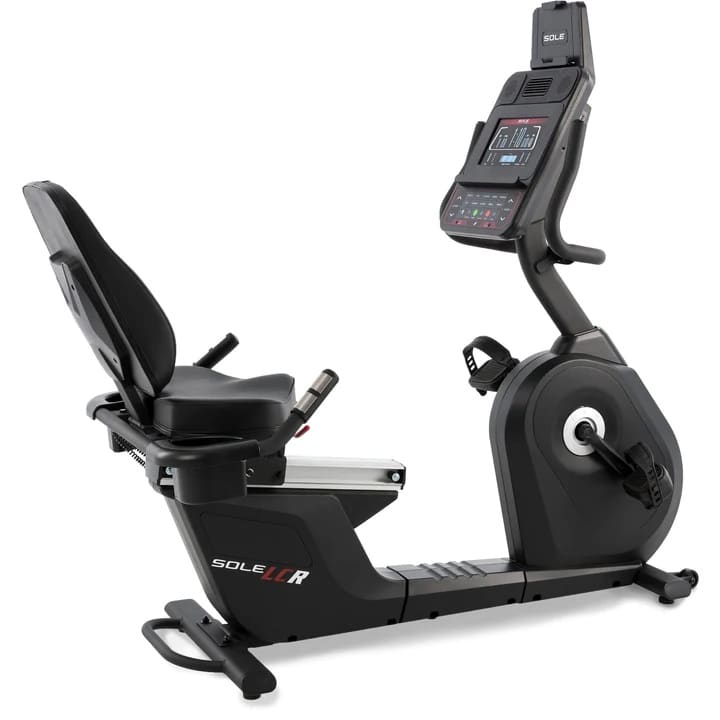 ---
---
Introduction to the Sole LCR Recumbent Exercise Bike From The Recumbent Range
Now, I'm not used to reviewing Recumbent bikes. Personally, a more natural upright riding position is something that suits me. But, I have to say (and I hate to admit when I'm wrong) that the machine we're reviewing today is great. Light commercial equipment in light commercial settings isn't always my thing. I love fitness studios and heavy-hitting health clubs, but given what's happened over the past however many years, I've gotten a little more used to working out from home…
Now that my own home is a light commercial environment, the things I've grown to love are undeniable. With things like adjustable seating, convenient USB charging point, convenient tablet holder, the Sole Fitness App and so on, I have to say that LCR recumbent bike isn't just good for home gyms, it's the perfect machine for physical therapy clinics too.
When comfort, relaxation, posture priding and body alignment are at the forefront of design, you're naturally going to draw those who want to work out without breaking their back. And I understand. If you've been working out for years and years (and years…) and you've never received a single injury or something physical to complain about, then I respect you greatly, but most of us have, and switching to recumbent gear is a great choice if so.
That's not to say it's restricted to those with physical needs, not at all. Some trainers just love to work out feeling safe, relaxed and comfortable, I understand. And if you're one of those trainers, then let me tell you – this Sole Fitness LCR recumbent bike is the one for you.
Let's get into it.
Disclaimer – This website contains affiliate links. If you find the information useful and click on a product link and make a purchase, a small commission will be earned by GymFreakz and we appreciate your support.
---
Specifications
Eddy Current Brake
14 kg Flywheel
Crank Length 165mm (6.5″)
Max User Weight 23.5 Stone (150 kg)
Size L x 142cm W x 74.5cm H x 151.5m (55.9″ x 29.3″ x 59.6″)
Product Weight 69.1kg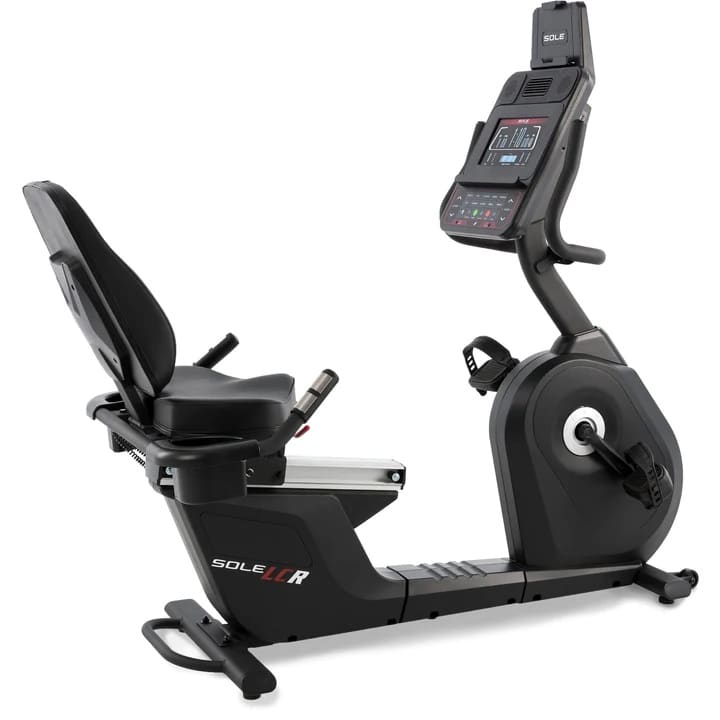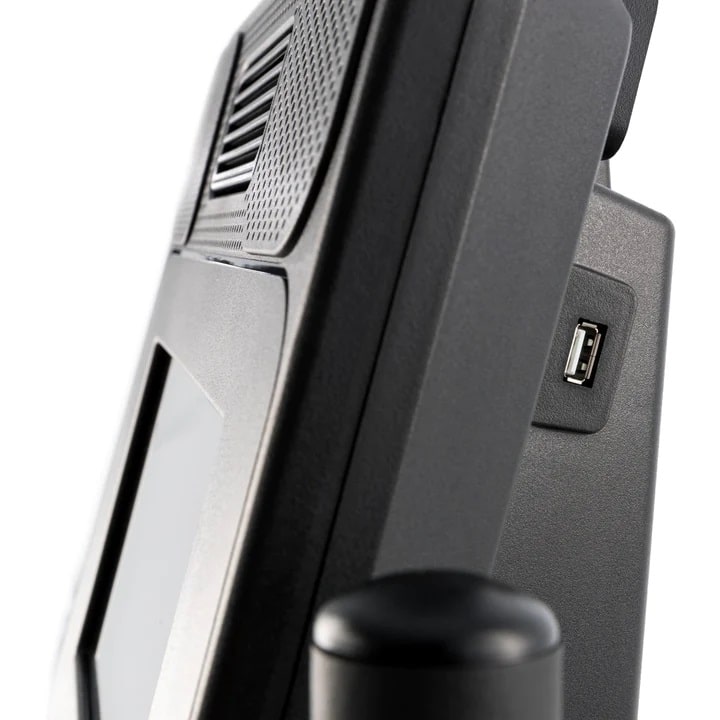 ---
KEY FEATURES
1-40 Resistance levels
Foot pedals with 2 degree inward slope
14kg Flywheel
Crank Length 165mm (6.5″)
Console 10.1″ TFT LCD Graphic Display
Cooling fan
Integrated Bluetooth Speakers
MP3/Apple connectivity
USB Charging
Tablet/Smartphone Holder
Multi Position Hand Grips
Bluetooth compatible
Water bottle holder
Contact heart rate monitoring
Telemetric heart rate monitoring, chest strap compatible
Max User Weight 23.5 Stone (150 kg)
Size L x 123cm W x 58cm H x 152cm (48.4″ x 22.8″ x 59.8″)
---
Warranty
Warranty: 5 Years parts, 3 years labour up to 3 hours use per day. This warranty does not apply to any commercial environment that has a paying membership.
*Warranty may be subject to change without notice and may differ between retailers – please check carefully before making a purchase.
---
Pros and Cons
---
Overall Verdict:
Overall verdict? Love it. Because I myself am making the move from standard to recumbent, I still want the option to workout hard on a machine that looks serious and makes me feel like the trainer I want to be. No matter your fitness level, from school weight rooms to professional health clubs, this machine will help you to progress and stay in shape.
With great onboard engineering, less faff ordering with things like an application form online or silly delivery delays, this machine is convenient and clever. Indoor recumbent exercise cycles don't often feature the level of detail and design that the Sole Fitness LCR does. This to me says this bike is designed for those like me who want a more serious experience, and wow, does the console look, product dimensions and max user weight reflect that. With a 23.5 stone (150kg) max user weight, me or anyone I know would never have to worry here. In this sense, it's safe. And the more serious the trainer, the more safety considerations should be present.
Light commercial bikes with fitness apps, exercise integrated Bluetooth speakers, USB charging convenient tablet holder devices, and so on never usually excited me. But I have to say that with all the extras and inclusions, this bike isn't just a bike, it's a means to stay motivated and push myself harder. I now love extras like the MP3/Apple connectivity, cooling fan and multi-position handgrips, they just add a whole other dimension to my workout, one that's unlocked a new way of training-based thinking. I love this machine, and if you're like me, then you will too.
---
---
What I Liked About This Exercise Bike
I have to start with the aesthetics here. This thing looks great. With a black finish, great decal detail on the console area, and a seamless tablet holder, this thing looks beastly and professional. Light commercial products can sometimes feel like they miss the mark. Sometimes they're a little too small, made out of cheap material, and so on – and yes, this does affect workout routines. If I have a heavy-duty steel frame, for example, then I know I'm safe to floor it, but if it's plastic and badly balanced, I'm not so sure. I have no worries when it comes to the frame and build of the LCR recumbent bike, so neither should you.
I also love how the Sole App enables you to vary up your workout with different routes and different stats to get you thinking about fitness differently, let alone actual performance changes. As I said before, I love how these bikes transform into a fitness centre, giving you variety and option to change your routine every time you step on to it. When combined with a comfortable recumbent bike, a machine just transforms into something I'd never expect and undoubtedly make for a big improvement for your home gym or health club set-up.
Lastly, I love the resistance levels and flywheel weight (14 kg). They both make for a big bike feel and give me the option to let out some steam if I want. Recumbent bikes can often miss the mark of realism, and while there are bikes out there that do a far better job in that field, this machine is pretty close, especially for a recumbent bike. I want to feel like I'm riding heavy even if I'm comfortable or relaxed, and because of the reclined position, I can stretch out my routines and focus on endurance as well as HIIT training.
I love this bike; it looks serious, ready for action and comes at a great price. make the move and add it to your trolley now.
Things That Could Have Been Better
Okay, admittance time – the console is a little rubbish in the variety department. This shouldn't be a massive problem, and to me, it's not – I like barebones workouts – but if you're going to have a console, you should flesh it out. With very few programmes and custom programmes, I just can't help but feel I'm probably overpaying for this. Don't get me wrong, the overall price justifies itself elsewhere, but the console is a little disappointing, especially if I'm handing over cash for it.
Viewing product detail pages is an important part of reviewing bikes, so when I don't see enough to review about the console, it can be a little disappointing. But don't let this put you off; focus on all the ways this machine will enhance your training, give you options to progress, make you feel like your serious effort is getting serious results, and give you a twinkle in your eye every time you look at it.
There's nothing else I don't like, and that says a lot.
---
FAQ's
Should I opt for bikes with multiple user options, like user profiles and customisable programs?
Well, if you're going to have a family use or friends use, then sure, why not? While they're not essential, they can be really useful in providing value for everyone. Multiple users' bikes usually cost a little more, so if you're here for barebones fitness, then consider the extra price.
If a seat has quality materials, should I be worried about it being an adjustable seat?
Adjusting isn't just for slight comfort variations – it can be the difference between you getting on and off a machine with ease. Make sure to consider horizontal and vertical adjustment changes when buying the right bike for you.
Should I worry at all about space for my legs and knees?
Sole design their equipment with precision, so no need to worry about knees; convenient tablet holder positioning is just one of the many things Sole get right time and time again
---
Affiliate Disclosure
In compliance with the FTC guidelines, please assume the following about all links, posts, photos and other material on this website:
Any/all of the links on this website are affiliate links of which GymFreakz receives a small commission from sales of certain items, but the price is the same for you.
www.gymfreakz.com is a participant in the Amazon Services LLC Associates Program, an affiliate advertising program designed to provide a means for sites to earn advertising fees by advertising and linking to Amazon.com & Amazon.co.uk. Pages on this site may include links to Amazon and its affiliate sites on which the owner of this website will make a referral commission.