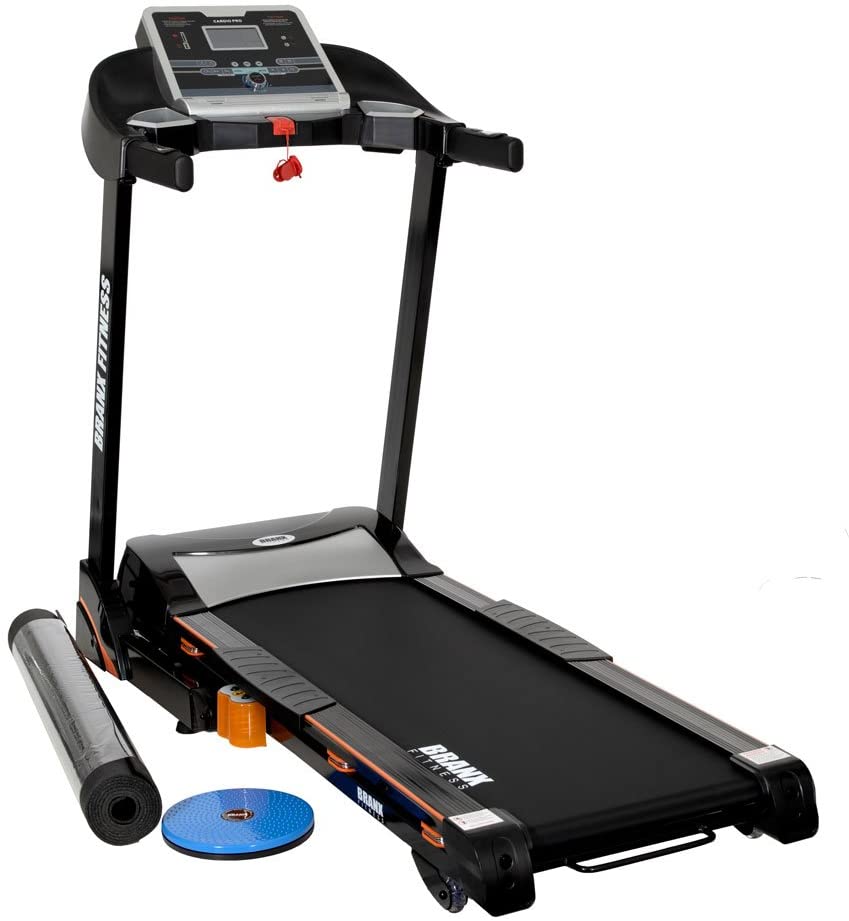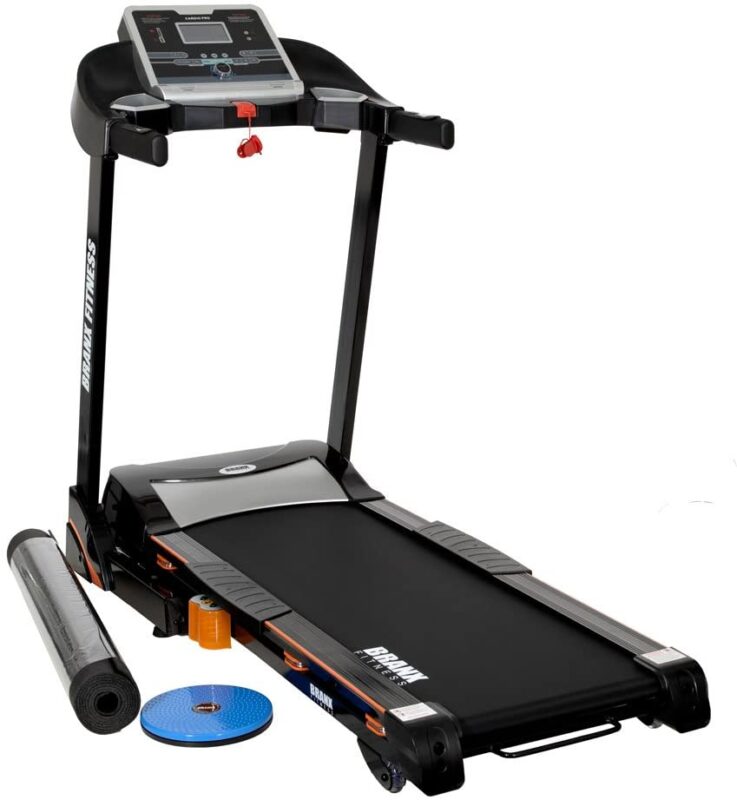 Introduction:
Over the past couple of years, Branx Fitness has emerged as one of the top manufacturers of compact treadmills and have outshined its competitors in every way. The Cardio Pro is another top of the line treadmill, ideal for people seeking a durable and quality treadmill.
Regardless of its compact design, the machine has a maximum speed of 17.5 KM/H. This means whether you are a novice or pro runner, this treadmill will effectively assist you in chasing your fitness goals.
Branx Fitness Cardio Pro treadmill comes with an awesome lap feature that allows you to monitor your progress on a lap system. This is a great initiative that can potentially improve motivation and performance psychologically.
One of the most highlighting features is GymFit integration that gives you access to 170 trials and tours from across the globe to make your workout even more interesting. In addition, it comes with an intuitive touchscreen console and a dual smart shock absorption system. There are plenty of more mouth-watering features, so keep on reading as I break down this technology for you.
Disclaimer – This website contains affiliate links. If you find the information useful and click on a product link and make a purchase, a small commission will be earned by GymFreakz and we appreciate your support.
---
Branx Fitness Cardio Pro Treadmill Key Specifications:
Motor: 6 HP peak motor
Speed Range: 0-17.5km/h = 0-10.8mph
Running Area: 125cm (Length) x 45cm (Width)
Maximum User Weight: 130KG
Powerful fan cooled 3.5chp
1.8mm running belt thickness
18mm running deck thickness
20 Level Auto Incline
12 Built-in Programs
Soft Drop System
BMI Feature
Heart Rate Measurement
Entertainment: 5.5 inch LCD Display, Built-in speaker, BlueTooth Wireless Technology
Warranty: 2 years on parts and labour and 5 years on motor and frame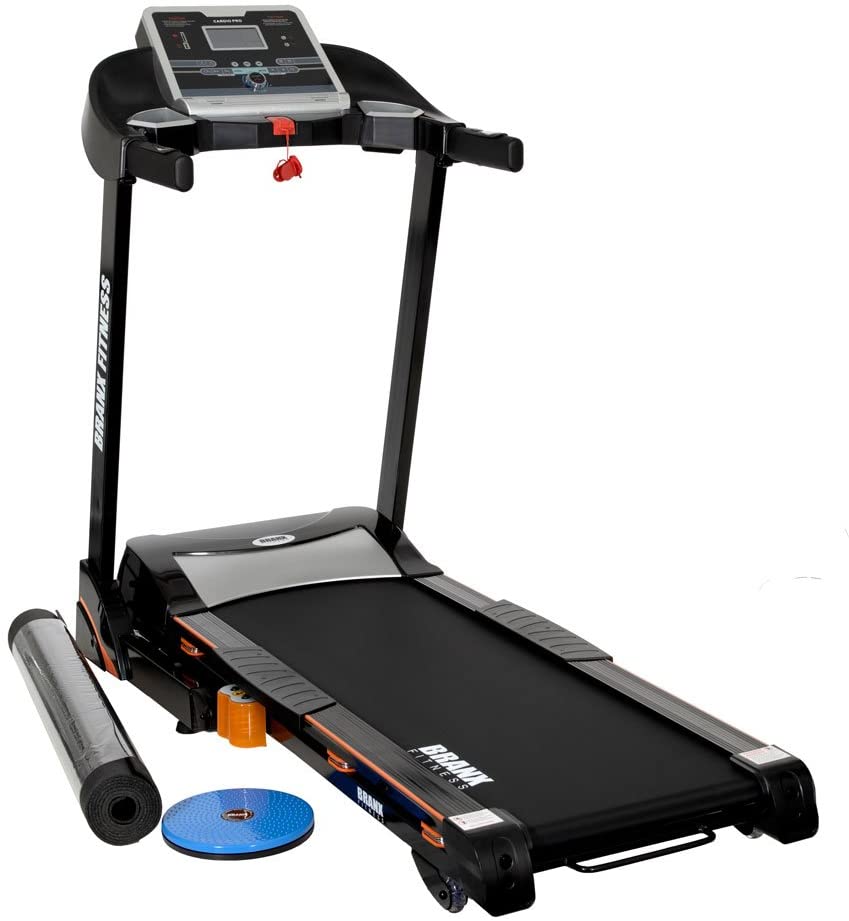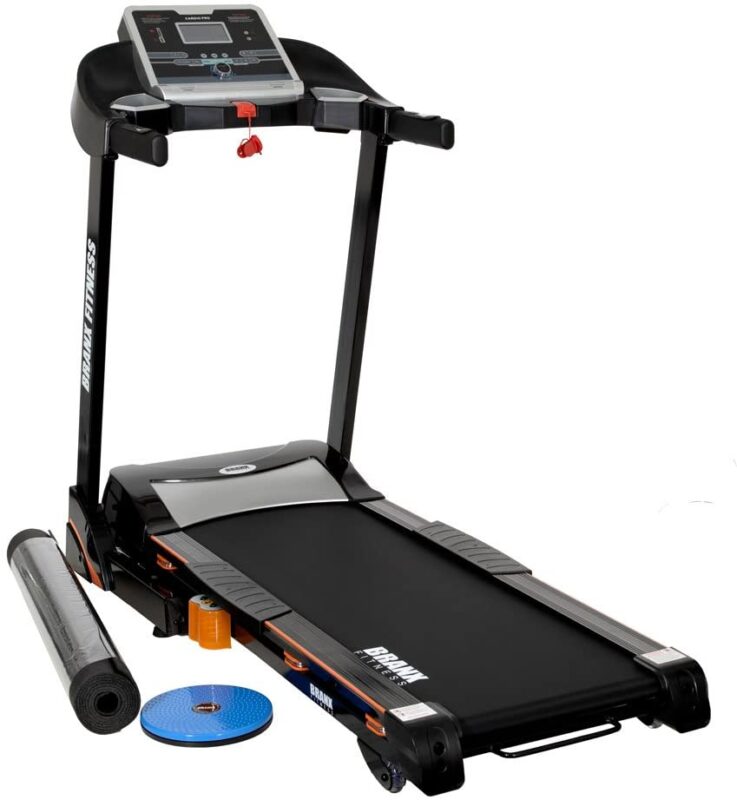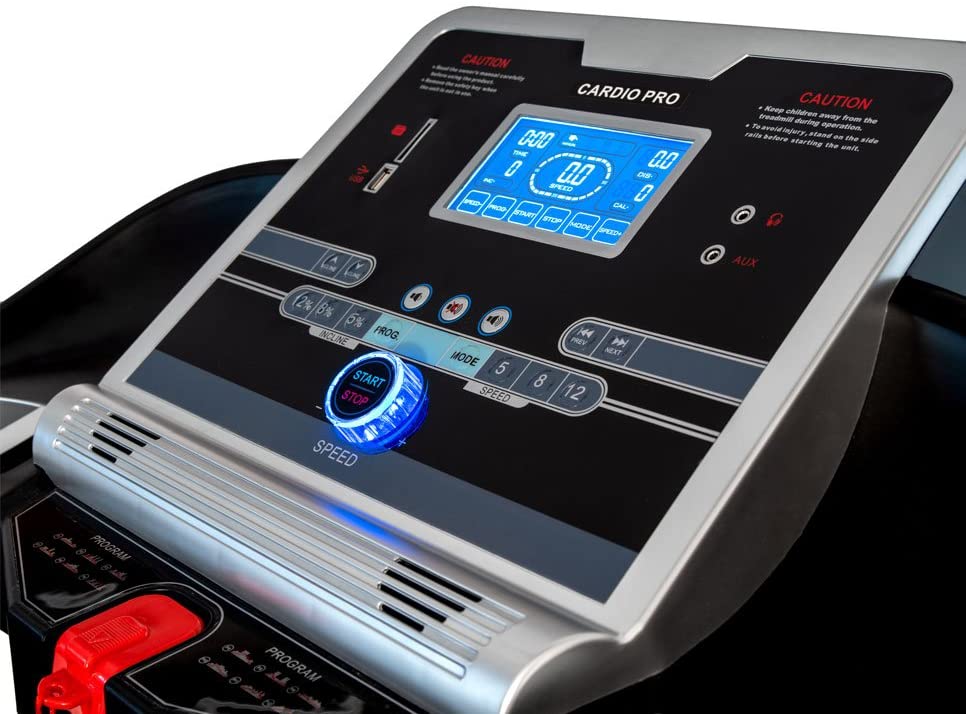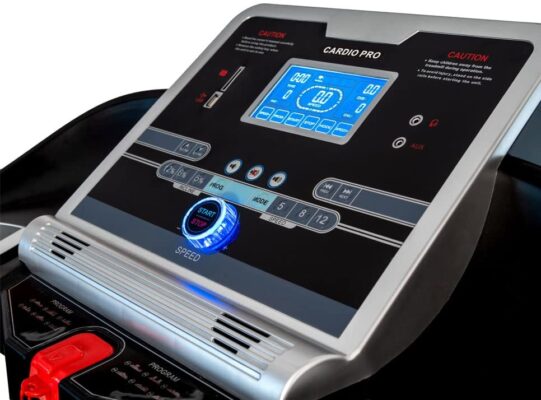 ---
FEATURES
Size and Design:
Size is one of the most important aspects you consider when taking fitness equipment home. Fortunately, the Cardio Pro treadmill comes in a foldable design which makes it ideal for home use. The dimension of the treadmill are as follow:
Boxed Dimensions: L.169 x W.76 x H.33cm
Assembled Dimensions: L.165 x W.73 x H.133cm
Folded Dimensions: L.85 x W.73 x H.142cm
Another attractive feature of this treadmill is that it can easily handle 130 kg of user weight. This makes it suitable for a variety of different users.
Auto Incline and Speed:
Thankfully, the Branx Fitness Cardio Pro treadmill has a reliable incline level and speed. It comes with a 20 level auto incline that allows you to achieve your weight loss goal faster by exercising more and burning more calories. You can switch between different incline levels using incline buttons on the handrail.
Besides, it has a maximum speed of 17.5 KM/H making it ideal for both medium and high-intensity running.
Pre-set Programs:
Continuing with the theme of versatility, Branx Fitness integrates 12 running programs that can actually offer you a unique and personalized workout experience. By mixing a variety of incline levels and programs into your cardio workout, you can definitely crush your fitness goals.
Running Deck:
The large running deck is a big plus for me and I am sure many tall runners would also appreciate it. For users like me whose steps can be all over the place, getting a large running area is a great comfort. However, this is not the only good thing. The treadmill features a smart shock absorption system with German made springs protecting your joints against any harm.
This is a great bonus for people who are dealing with any sports-related injury because the cushioning system absorbs the impact during the workout. Due to this, even older people can use this machine for better mobility and fitness.
Control Panel and Extras:
When you feast your eyes on the treadmill, the 5.5 inches LCD is one of the first things that grabs your attention. All Branx Fitness treadmills feature an easy-to-navigate touchscreen, which offers a lot of conveniences since it is the gateway to the whole treadmill.
Here you can see data such as speed, incline, time, distance, pulse, calories burned and more. Besides, Cardio Pro also features Bluetooth functionality and built-in speakers, so you can listen to your favourite tunes and enhance your workout experience.
Soft Drop System:
Branx Cardio Pro treadmill comes with a slow drop mechanism which ensures that the machine drops slowly after it's been folded. This is another amazing feature that adds to user convenience and makes lifting the treadmill easy as well.
---
Warranty:
Parts and Labour: 2 years warranty
Treadmill Frame and Motor: 5 years warranty
Branx Fitness offers limited warranties for its treadmills, though when you compare them to other home treadmills in the same price range, they are much better.
However, you can consider servicing your running machine frequently to ensure it remains of top-notch quality. The necessary maintenance includes cleaning and lubricating following Branx Fitness guidelines.
What is an ideal maintenance procedure, I will discuss this later in the article, so keep on reading.
*Warranty may be subject to change without notice and may differ between retailers – please check carefully before making a purchase.
---
---
Overall Verdict
Branx Fitness Cardio Pro treadmill is actually an amazing home treadmill. Often, it gets difficult for us to find some time and go to the gym, however, with an at-home treadmill, you can save time and keep up with your fitness goals. Though, I do think that the Branx Cardio Pro treadmill is a bit overpriced. Yet, it's not a deal-breaker.
Below, I have mentioned what I like the most about the Branx Fitness Cardio Pro treadmill along with some critical analysis of areas that need improvement.
What I liked about the Cardio Pro:
The best part about the Branx Fitness Cardio Pro treadmill is its user-friendly design. The machine is heavier than expected and you might need an extra hand for assembly, however, the assembly itself is very easy. It will only take you 15-20 minutes to complete the assembly.
With its sleek and minimal design, the machine looks amazing. Not to mention, it's very sturdy and robust. It can easily hold up to 130kg of max user weight. When compared to other home treadmills, this represents a significantly higher weight limit.
To conclude, Cardio Pro is a perfect mid-range treadmill that can easily accommodate a wide range of users without compromising on its performance.
Branx Fitness has always backed its treadmills with excellent warranties. With a 5 year warranty on the motor and frame, the treadmill is made to last. It shows that Branx does not compromise on product reliability and strives to offer its customer the utmost value.
Whilst you may spend extra money on this treadmill, in return you get a good quality and well-made treadmill and that matters the most. On any day, I will always choose this over any wobbly treadmill.
Bluetooth and GymFit Inclusion:
If you also get bored running on the same treadmill as me, the GymFit app can do a great job in breaking the monotony. The Bluetooth integration and Gymfit allow you to run across the globe through the selection of 170 tours. Not just that, access to over 50 workout programs of top-tiered trainers is a great advantage and can be viable for boosting motivation.
Noise, Speed and Horsepower:
For a home treadmill, Cardio Pro features a motor of the highest quality that keeps you from dealing with annoying repairs. With a top speed of 17.5 KM/H, it allows you to enjoy both walking and running. Whether you want to do a vigorous workout or interval training, this running machine will offer you optimal assistance.
Besides, as of my experience and based on user reviews, the machine makes a faint shushing noise. The more you use it, the noise becomes barely noticeable.
Delivery and Good Customer Service:
Branx ensures express delivery of its products. Usually, it takes 2 to 5 business days for the delivery, however, you will receive a more accurate time scale once your order has proceeded. Based on many user reviews, the delivery and after-sales customer service of Branx Fitness is second to none. You will barely find anyone complaining about the poor after-sales service. For me, this is a significant factor that ensures I am investing in the right fitness equipment.
---
Things That Could Have Been Better:
I have always appreciated Branx Fitness Treadmill's manual. They are the best actually. However, with the Cardio Pro model, it seems the instructions are a bit vague, based on many user reviews. Since the instructional manual is useful for the assembly and helps the user understand various aspects of the treadmill and its optimal operation, manufacturers should perhaps give it more importance.
Unfortunately, Branx Fitness only offers a pause button in its Elite Runner Pro model. It would have been great if Cardio Pro was also equipped with the pause button. This means that whenever you step off the treadmill, the program needs to be quit and you have to start from scratch each time.
So, what are my final thoughts about Branx Fitness Foldable Cardio Pro treadmill? Honestly, the Cardio Pro is a more than decent running machine, doing a great job in terms of quality and performance.
Despite its weight, the machine can be folded for easy storage and you get a good-sized running area as well. The construction quality is what makes it better than most budget machines and it is made to last. 
In addition, the powerful motor and quiet operation enhance the running experience, while the cushioning system reduces the risk of any harm. Essentially, to anyone who wants a good-quality home treadmill, I would highly recommend Branx's Cardio Pro treadmill.
---
---
FAQs
Who will Branx Fitness Cardio Pro Treadmill ideally suit?
Both beginners and advanced users:
Cardio Pro treadmill is versatile enough to cater to both beginners and advanced runners' fitness needs. Because of the 20 level auto incline and a max speed of 17.5 KM/H. You can easily do medium-high intensity training in your own time and space. Though compact, Cardio Pro has a lot of exciting features to offer to let you explore the boundaries of your fitness. For example, with Bluetooth integration and the GymFit app, you can choose from the selection of 150 tours and make most of the over 50 workout programs.
People struggling to keep up with fitness:
Let's face it, when you are just starting out, it gets difficult to keep the enthusiasm alive for a workout daily. Particularly, when you have to run for hours and hours, and things get repetitive. However, thanks to amazing online stuff, you can now keep your interest up in the fitness program. It's a great incentive that keeps you from repetitive training and assists you in achieving your fitness goals and making continual progress.
People looking to lose weight at home:
Buying an at-home treadmill is always a great alternative to saving money on expensive gym memberships or running outdoors. When you run on the treadmill, you put less stress on the joints which reduces the risk of injuries as well.
Anyone looking to get in shape with a busy lifestyle:
Cardio Pro treadmill is suitable for runners of all sizes and experience levels. It is easier to work out when you have fitness equipment at home than to take out some time to go to the gym. However, even with an at-home treadmill, you have to be determined and consistent with your everyday fitness routine if you want to get in shape.
What is the best way to keep the treadmill in optimal condition?
Anyone investing in fitness equipment wants it to last longer and work well. Yet, not many people are aware of the necessary precautions to ensure that the machine remains in optimal condition. You need to lubricate the running deck for smooth and quiet operation based on the usage.
For Example: If you use less than 3 hours a week – every 8 months. For 3 – 5 hours a week – every 4 months and even heavier usage – every 2 months.
Maintaining consistency with cleaning and lubricating the treadmill will extend its life greatly and prevent you from dealing with frequent repairs.
What oil should I use?
Ideally, you should use the oil provided by Branx with the machine. Besides, you can also contact Branx if you want to order more.
Does the Cardio Pro model include a safety key? If so, what's the purpose of it?
Yes, the Cardio Pro treadmill includes a safety key. Primarily, the purpose of the safety key is to stop the machine immediately in case of trouble. Simply pull the cord and the machine will stop operating.
Is there a place to put an iPad or tablet?
No, Cardio Pro does not come with an iPad or tablet holder.
Can I run barefoot on this treadmill?
No! Barefoot running on any treadmill is not recommended. So make sure you are wearing suitable footwear when using any treadmill.
How easy is it to move around this treadmill?
Branx Fitness Cardio Pro treadmill comes with 4 wheels, which makes it very easy to move it around. First, convert the treadmill into a folded position before moving it around. Also, remember to lock the wheel pin tightly when folded to avoid any harm.
Can I change the distance measurement unit on the Cardio Pro treadmill?
Unfortunately, you cannot do so. All Branx Fitness treadmills use metric measurement (KM/H). You cannot change it to imperial measurement (MPH). If you wish to measure the distance in MPH, you can download a separate converter for it.
---
Affiliate Disclosure
In compliance with the FTC guidelines, please assume the following about all links, posts, photos and other material on this website:
Any/all of the links on this website are affiliate links of which GymFreakz receives a small commission from sales of certain items, but the price is the same for you.
www.gymfreakz.com is a participant in the Amazon Services LLC Associates Program, an affiliate advertising program designed to provide a means for sites to earn advertising fees by advertising and linking to Amazon.com & Amazon.co.uk. Pages on this site may include links to Amazon and its affiliate sites on which the owner of this website will make a referral commission.