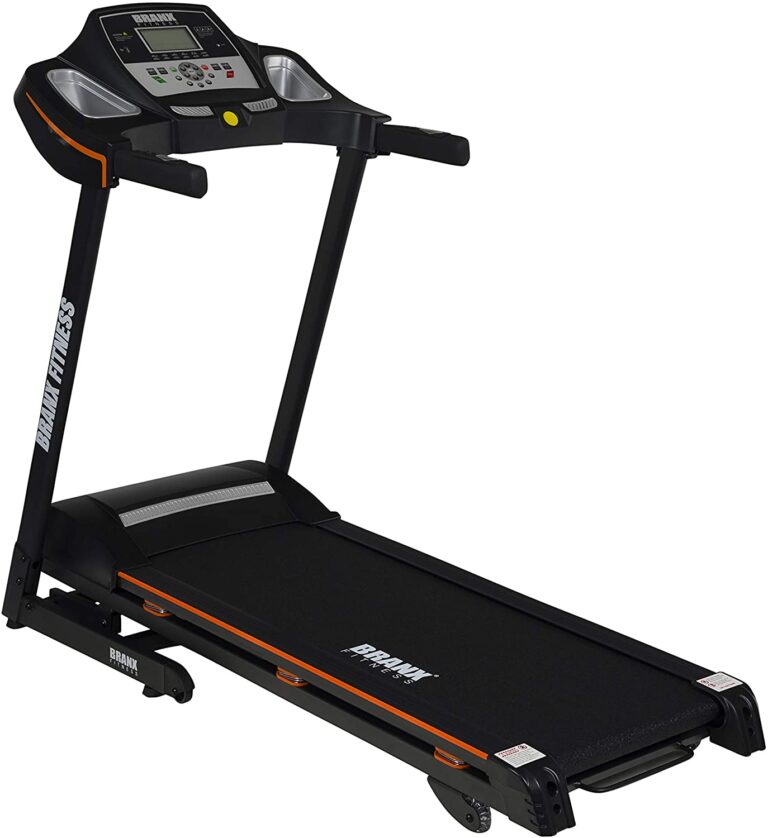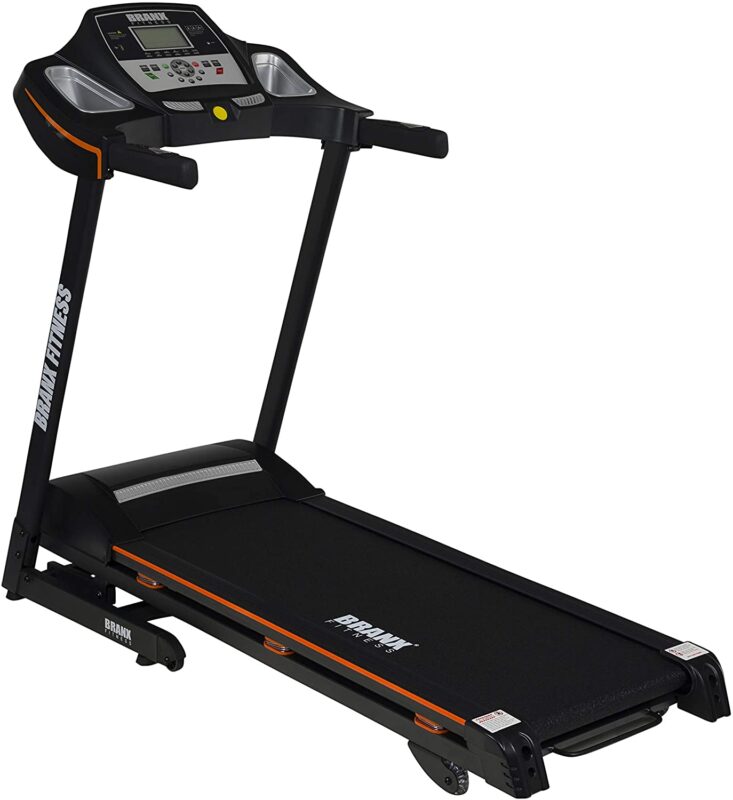 Introduction
The treadmill is one of the most common exercise machines that can help you keep up with your fitness goals and Branx Fitness is one such brand that is well-known for producing top-quality treadmills. The Branx Fitness treadmill ranges cater to both professional and beginner runners with the Energy Pro Treadmill being a new addition to this lineup.
The Energy Pro Treadmill is a subsequent version of the Cardio Pro treadmill. Both treadmills have quite similar features, however, Energy Pro has a smaller running area and power. It is also regarded as the perfect entry-level treadmill and is a great combination of performance, compact design and quality. In addition, the foldable design makes it an ideal home treadmill.
With a massive console area and Bluetooth speakers underneath, it is clear that this Branx Fitness Treadmill has a lot of interesting features on board.
Still interested to know more? Read on and I will break down the Energy Pro Treadmill's specifications, features, and maybe a few things that could have been better. Hopefully, by the end of this review, you will have all the information you need about this treadmill to make your purchase decision.
Disclaimer – This website contains affiliate links. If you find the information useful and click on a product link and make a purchase, a small commission will be earned by GymFreakz and we appreciate your support.
---
Branx Fitness Energy Pro Treadmill Key Specifications:
Motor: 3 CHP- 5 HP peak motor
Speed Range: 0-16.5km/h = 0-10.2mph
Running Area: 120cm (Length) x 42cm (Width)
1.7mm running belt thickness
17.2mm running deck thickness
16 Level Auto Incline
12 Built-in Programs
Soft Drop System
BMI Feature
Heart Rate Measurement
Maximum User Weight: 125 KG
Entertainment: 5 inch LCD Display, Built-in speaker, BlueTooth Wireless Technology
Warranty: 2 years on parts and labour and 5 years on motor and frame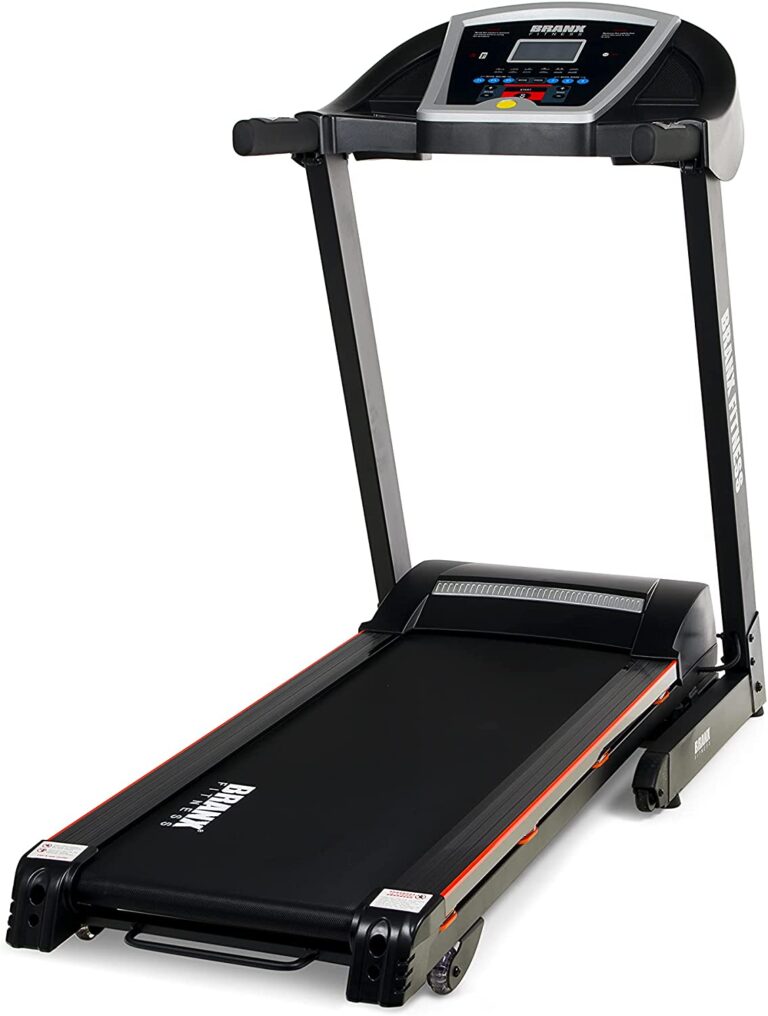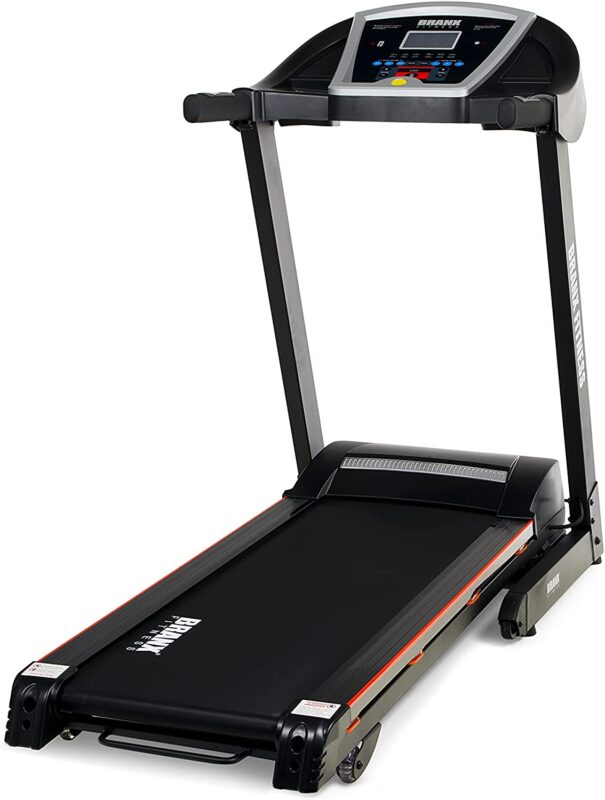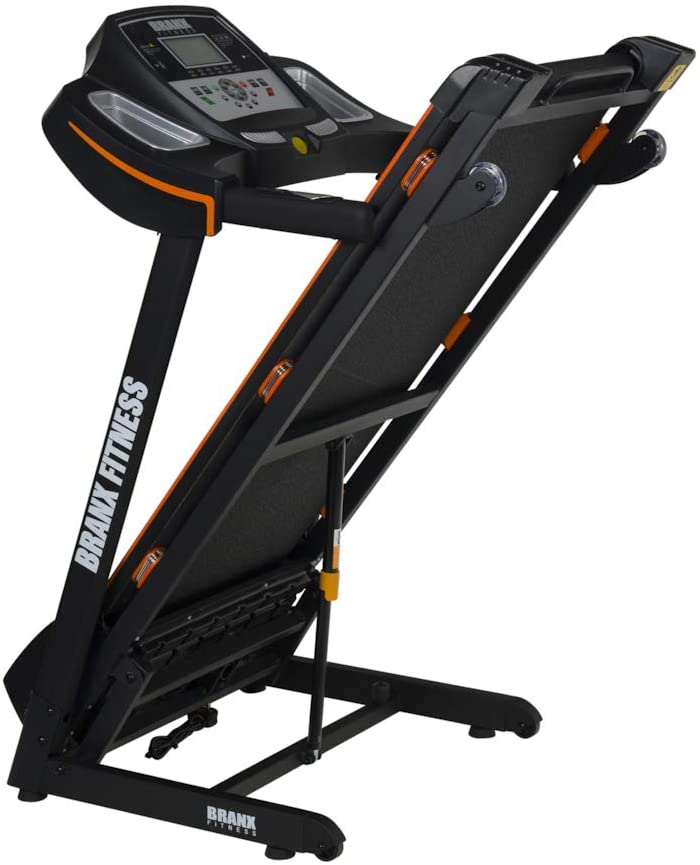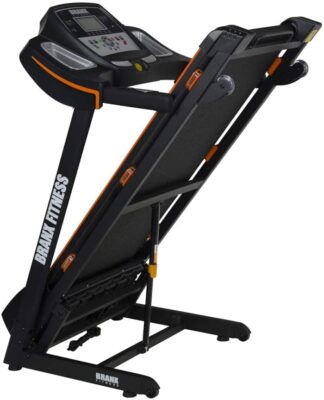 ---
FEATURES
16 Level Auto Incline:
The automatic incline enables you to lose weight faster by exercising more and simultaneously helps in burning more calories. Using incline buttons on the handrail, you can switch between a variety of incline settings to suit your fitness level. The 16 level auto incline makes it ideal for both novice and professional runners to do medium and high-intensity workouts.
Smart Absorption System:
The treadmill integrates an internal cushion deck with German-made springs that ensure maximum user comfort and reduces the risk of any harm to your joints. The cushioning system absorbs impact during a workout to allow you to perform interval training.
Like the Branx Fitness Cardio Pro, it adapts to your style of running, so you can be fully confident when you run. Not just that, it's an ideal machine for older people as well who want to need fairly low impact exercises to improve their mobility and overall health.
Intuitive Console:
It features a well-designed and easy to access touchscreen that can help your monitor your progress and customize it. The 5 inch LCD interface displays speed, time, heart rate, distance, and calories burned. Moreover, Bluetooth functionality with fantastic speakers will allow you to enjoy your favourite music, or podcast while you work out.
Using the controls is pretty straightforward and easy. It comes with shortcut keys and the usual plus and minus buttons to change speed and incline.
12 Built-in Programs:
You can choose from a selection of 12 running programs that are useful to cater to the demands of different runners. The incline of up to 10% and settings for faster running is a huge advantage considering it is an entry-level treadmill. I know 10% might not be enough for everyone, but for novice runners and for people like me who are not big incline runners, this will surely do the job.
Foldable Design:
Energy Pro is a foldable treadmill which is another great advantage for people who have storage concerns. You can easily fold the machine when not in use and move it elsewhere.
Soft Drop System:
Branx Fitness treadmills are all about convenience and optimal user experience. The Energy Pro treadmill's slow drop mechanism ensures that the machine drops slowly and safely to the floor. Simply tap the kick zone in the strut and it will drop all by itself.
Anti-Skid Running Belt:
This is another attractive feature that ensures an optimal running experience for different users. The anti-skid running belt dampens the shock and makes running more comfortable.
Safety Key:
The Energy Pro treadmill has some of the Cardio Pro features and one of them is the safety key. As Branx Fitness prioritize its customer's comfort and safety, the safety key can help you stop the treadmill quickly to avoid accidents.
---
Warranty:
Parts and Labour: 2 years warranty
Treadmill Frame and Motor: 5 years warranty
To ensure that your treadmill lasts long, you will need to service it regularly. This includes cleaning and lubricating your treadmill along with necessary maintenance.
How often it requires maintenance totally depends on how you use it and where you store it. Ideally, after every six weeks, the treadmill should be serviced. Read more in the FAQs section below!
*Warranty may be subject to change without notice and may differ between retailers – please check carefully before making a purchase.
---
Performance Specs
TECHNOLOGY
Includes 1 Year iFit Family Membership
iFit Integrated
7″ HD Touch Screen Display
Two 2" Bluetooth Digitally Amplified Speakers
EKG Handgrips
COMFORT
FlexSelect™ Cushioning
51 x 152 cm Treadmill Belt
Workout Fan / AutoBreeze™
Onetouch™ Control System
SpaceSaver® Designed using EasyLift™ Assist
Balanced Non-Flex Rollers – 1.9" Precision
ENGINEERING
3.0 CHP (Motor)
0% to 12% (Digital Incline)
0 to 22 km/h (Speed)
CONVENIENCE
187L x 91W x 151H cm – Assembled Dimensions
110L x 91W x 178H cm – Folded Dimensions
213L x 83W x 41H cm – Boxed Dimensions
96kg – Product Weight
116kg – Boxed Weight
125kg Max User Weight
Warranty Coverage – Lifetime Frame Warranty, 10-year Motor Warranty, 2-Year Parts & Labour upon warranty registration within 28 days of purchase.
---
---
Overall Verdict
With everything that's been said, does the Energy Pro Treadmill really qualify as an entry-level treadmill? Branx Fitness introduced the Energy Pro as a new addition to their compact treadmill lineup. When you look at it with the aspect of performance, features, reliability, it does justice to its entry-level treadmill tag, however, there are a few aspects where it needs improvement as well.
Below, I have mentioned what I like the most about this treadmill and the areas that Branx Fitness need to work on.  
>>See our list of the best treadmills under £500 here<<
What I liked about the Energy Pro:
One thing that no one can deny is that Branx Fitness treadmills are exceptional when it comes to built quality. The Branx 'Energy Pro Treadmill' has an edge over most running machines.
The 125 kg max user weight is more than enough for an entry-level home treadmill and indicates how sturdy it is. Besides, I also liked that it features a proper-sized running track, an aspect where many compact treadmills seem to mess up.
It features a comfortable size running deck (120x42cm) suitable for people of all heights. With a 2 years warranty on parts and 5 years on frame, it is good to see that Branx have enough confidence in its product to back it up with warranties. This also establishes credibility among customers for the manufacturer.
Another huge benefit considering its weight is the fact that it comes pre-assembled – one of the main reasons for the huge amount of positive reviews from users*********
With only a few of the main parts to fix together, the assembling of a treadmill has never been easier and the soft drop system also eliminates the need to take the weight of the running area as it unfolds.
Expect delivery within 2-5 business days – this express delivery is yet another reason to rate Branx Treadmills.
Though an entry-level treadmill, it has enough power to allow both medium and high-intensity workouts. With a maximum speed of 16.5 KM/H, you can enjoy a real run experience along with a slow jog or walk.
Excellent Layout and Extra Features:
The display you get with the Energy Pro treadmill is much brighter than other treadmills in the same price range. Although it is not a full-colour touchscreen, the design is pretty intuitive and easy to access. This makes it very easy to change settings while you are on the run.
Plus, it includes a cup holder, Amazing isn't it! Well, it's a very good addition for me as I always need a drink to hand when I work out.
Easy-to Understand Manual:
The manual you get with the Energy Pro is definitely something I certainly appreciate. The instructions are very easy to follow and not many manufacturers give much attention to them. However, it is an extremely important factor as it makes it easy for the user to understand how the machine works and its setup.
Since we all talk about the first impressions, I believe, for users, it's the manual that creates the first impression about the machine. And with Branx Fitness, it's the best I have seen.
Lastly, I would like to mention that the Branx Fitness customer service is unbeatable. Not just me, but you will find most users satisfied with the stellar customer service of Branx Fitness. When you are spending money, it is always good to have after-sales care ensuring product reliability.
---
Things That Could Have Been Better:
Should Have A Pause Button:
One thing that disappointed me a bit is that the treadmill does not include a pause button. This means that you want to step off the treadmill, the program needs to be quit. It is not a major con but if Energy Pro has a pause button, it would be unbeatable in its price range. Starting off your program from scratch is not very pleasing.
Foldable mechanism can be better:
Yes, the machine folds but even after in its folding position, the machine is still quite big. The deck may be elevated to a 30-40 degree angle on the hinge but the profile of the remainder of the machine cannot be reduced thus you don't gain much space.
Overall, the Energy Pro does justice to its price and the title 'entry-level treadmill'. Like any other product, there are a few minor shortcomings, but when you look at the other features, the machine seems enticing. For a home treadmill, it has everything you need to challenge yourself and explore different levels of training.
The things that could have been better are only my personal opinion and perhaps other people do not have any concerns about them. In conclusion, the Energy Pro is worth the money and there are few areas of disappointment from what I can see.
---
---
Who Should Buy Energy Pro Treadmill?
Anyone looking for a good quality treadmill:
the Energy Pro is a compact treadmill, but has far more to it than its size may suggest; take great advantage of its powerful motor. With a maximum speed limit of 16.5 km/h, you can switch from light jogging to higher pace running.
You can improve your fitness level with the Energy Pro and it can assist you to take your training further unlike other ordinary treadmills.
Anyone looking to lose weight at home:
Treadmills are an ideal alternative for people who want to lose weight at home and avoid outdoors run. Besides, it is much safer and your joints carry less stress which reduces the risk of injuries. In cases where someone already has a sport-related injury, then its cushioning system prevents repetitive impact on the user's body.
Anyone who has just started with cardio exercises:
The Energy Pro is an ideal option for anyone who is looking for a perfect entry-level treadmill. This machine allows medium-high intensity work out to cater to everyone requirements. Yet it is powerful enough to challenge your fitness and endurance threshold.
---
Is the Energy Pro Treadmill Loud?
There is no noise at all! One of the best things about Branx Fitness treadmills is that they are all quiet and offer a smooth running experience. The German-made springs and MDF running deck dampen the noise and shock.
---
Why should I buy the Energy Pro Treadmill over other treadmills?
Although the Energy Pro Treadmill is a little expensive compared to many treadmills, there are several other factors that make it stand out. You need quality assurance and good customer service to ensure you are spending on the right product. Branx Fitness customer service is second to none and you will barely find any user disappointed with it.
Moreover, the warranties Branx Fitness offers on their treadmills is unbeatable. So after buying the Energy Pro Treadmill, you can have peace of mind and not feel abandoned. Cheaper models may attract you, but Branx Fitness excels in product quality, warranty and performance.
---
What's the ideal maintenance procedure to ensure a treadmill last long?
Whenever you buy fitness equipment, it is a long-term investment and you will want to ensure it keeps working well. In terms of treadmills, the running deck will always need lubrication. How often depends on the usage.
For Example: if you use the treadmill less than 3 hours a week then maintain it every 8 months. If you use it 3 to 6 hours a week then every 4 months and if even heavier usage then every 2 months.
If you can maintain consistency with lubrication, you cannot only extend the life of your treadmill but prevent the chances of any faults. For more guidance, you can also watch maintenance videos on Youtube as well.
---
Do I need to lubricate the machine before use? If so, how much do I use?
Although the running deck come pre-lubricated from the company, it can dry up if the weather is too hot or too cold. So I would recommend you can apply a very light layer of lubricant on your treadmill using your fingers (obviously, when it is off.) Avoid over-lubricating and instead of doing it on your own, you can go through the user manual or contact Branx for guidance.
---
Can this Treadmill accommodate tall runners?
Yes, this Branx Fitness treadmill can easily accommodate users up to 6 ft. So if you have a longer stride, you don't have to worry about the running area because it is spacious enough.
---
Will the delivery guys help assemble the machine?
No, it is not their job to help assemble the treadmill. They will only deliver the treadmill to your home and if you allow your home access, they will place it into a ground floor room of your choice.
---
Is this treadmill suitable for barefoot running?
Generally, you are advised to wear training footwear when using the treadmill since barefoot running is not suitable for any treadmill.
---
Yes, all Branx Fitness treadmills come with an emergency key attached to the cord to ensure user safety. Simply, pull off the key and the treadmill will stop functioning.
Affiliate Disclosure
In compliance with the FTC guidelines, please assume the following about all links, posts, photos and other material on this website:
Any/all of the links on this website are affiliate links of which GymFreakz receives a small commission from sales of certain items, but the price is the same for you.
www.gymfreakz.com is a participant in the Amazon Services LLC Associates Program, an affiliate advertising program designed to provide a means for sites to earn advertising fees by advertising and linking to Amazon.com & Amazon.co.uk. Pages on this site may include links to Amazon and its affiliate sites on which the owner of this website will make a referral commission.