---
---
Getting treadmills in the UK with great delivery time and no import costs
Treadmills aren't cheap. We all know this. But add an international tax onto the end of the bill and suddenly max speed doesn't matter anymore. Oh, and talking of max speed – we all want things delivered quickly so why not get your favourite treadmill from the UK?
Good question. A good answer? There's no reason you shouldn't be on the hunt for the best gym-quality treadmill from one of our most trusted UK manufacturers. And to top that, it's not just the best treadmill from the UK, it'll be the best cheap treadmill from the UK.
In this list, we're going to be covering running machines that'll leave you feeling good about calories burned through different training programmes (and other key features) all from the best budget machines in the country.
Let's break down the list now.
Disclaimer – This website contains affiliate links. If you find the information useful and click on a product link and make a purchase, a small commission will be earned by GymFreakz and we appreciate your support.
In A Rush?
| | Best Budget JLL: | Best Budget JTX: | Best Budget Proform: | Best Budget Curved: | Best Budget Branx: |
| --- | --- | --- | --- | --- | --- |
| Brand | JLL | JTX | ProForm | Microink | Branx Fitness |
| Model | S300 Digital | Sprint-3 | L6 City | Curved Manual | Cardio Pro |
| Photo | | | | | |
| Max. Speed | 16 kph | 16 kph | 8 mph | n/a | 17.5 lph |
| Max. Weight | 120 kg | 120 kg | 110 Kg | 150 kg | 130 kg |
| Running Area | 123 cm x 41 cm | 129 cm x 46 cm | 17.5″ x 45″ | 150 cm x 40 cm | 125 cm x 45 cm |
| PRICE* | £499.99 | £599.00 | £799.00 | £499.99 | £649.99 |
| | | | | | |
| Check Prices | | | | | |
*Prices correct at the time of writing
---
Best Budget JLL Treadmill:
JLL S300 Digital Folding Treadmill (£499.99)
Key Features
Motor: Peak power of 4.5 HP and continuous power of 2.5 HP
Speed: 0.3km/h – 16km/h / 0.18 mph – 10 mph
Running Deck Area: 123 cm (L) x 41 cm (W) / 48.4 inch (L) x 16.1 inch (W)
Programs: 15 (the 3 first programs can be reset to your own specification)
Incline Levels: From the floor to the running deck. Lowest = 19cm / Highest = 26cm
Max User Weight: 120kg / 18.8 St / 264 lb.
Display: LCD display shows speed, time, distance, calories burned and more plus good quality built-in speakers
Foldable? Yes
Warranty: 2 years on parts / labour warranty and 5 years on the motor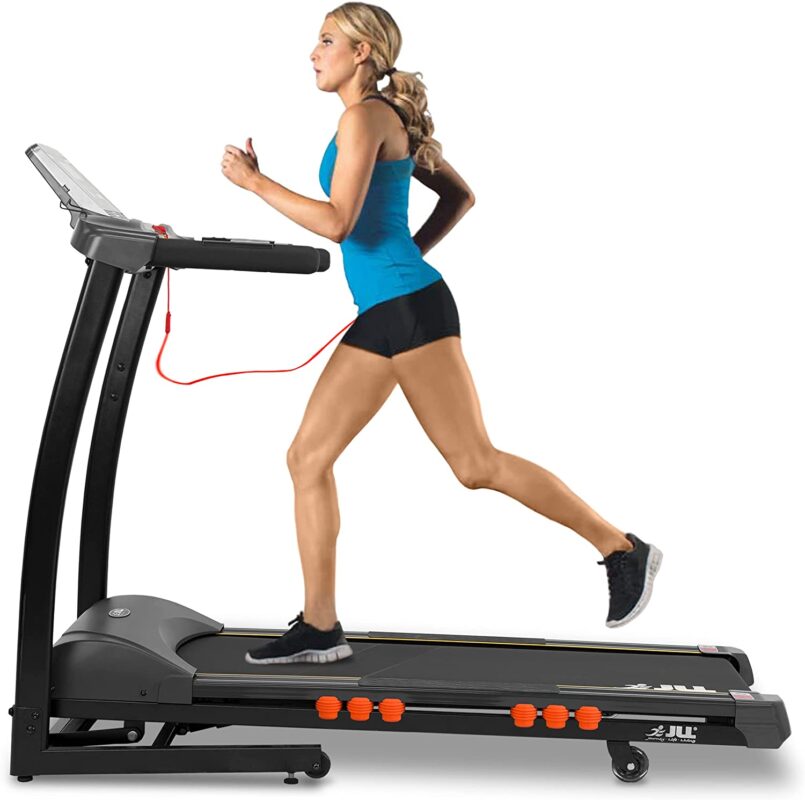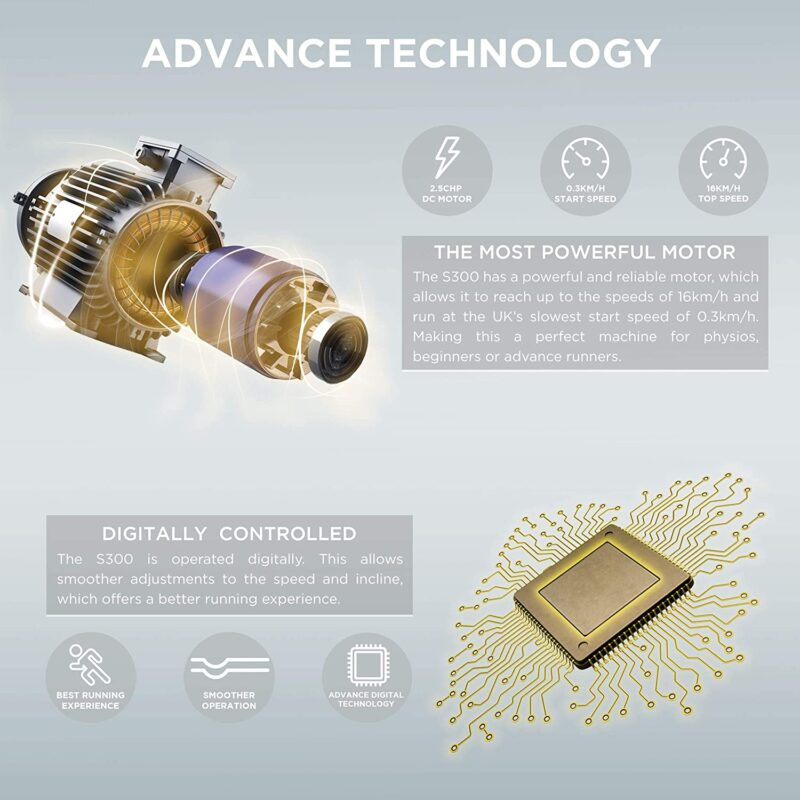 ---
Overview
For the price, the JLL S300's running experience is fantastic and certainly a great contender for the best budget treadmill in the UK. But the UK aside for one second, it's definitely the best JLL treadmill that exists, so be on the look out for this efficient-all-round treadmill.
With this machine, you can work up to a variety of intensities and speeds in order to burn more calories as you get fitter (just like advanced runners all around the world). Therefore it's a treadmill with features and speeds that will last for years.
The JLL S300 Folding Treadmill displays a lot of premium features, is easy to program, and has an outstanding build quality, certainly a great key benefit here, especially considering that not all cheap treadmills have great build strength.
The JLL S300 is one of my favourite mid-range treadmills, and I've already recommended it to several friends and colleagues. It has an LCD Display (not a led display) that shows pre-programmed workouts to help you stay on track and make indoor running just as proficient as outdoor running.
In summary, a great treadmill for a great price, from a great company… yeah you get the idea. JLL really hit the mark here, get this UK treadmill now.
Want to know more? Read our full review of the JLL S300 Digital Folding Treadmill here.
---
Best Budget JTX Treadmill:
JTX Sprint-3 Electric Foldable Treadmill (£599.00)
Key Features
Roller Size: 2.2″
Running Area: 129cm x 46cm
Workout Programs: 40 Programs
Power: 2 HorsePower DC Motor
Folded Dimensions: 74(w)x 105(l) x 150(h)cm
Dimensions: 72(w)x 160(l)x 149(h)cm
Boxed Dimensions: 175 x 78 x 32.5cm
Safety Features: Safety key for emergency stop
Speakers: Yes
Transport Wheels: Yes
Free Accessories: Free Tablet Holder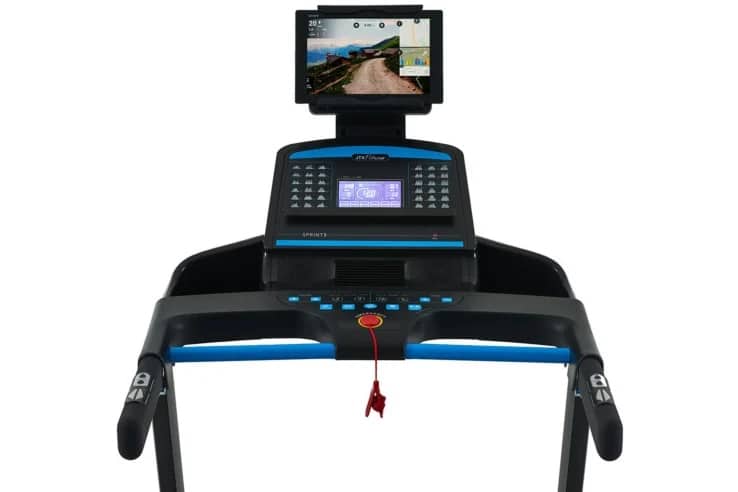 ---
Overview
The JTX Sprint 3 is a powerful treadmill that is excellent for its purpose. We're not just on the hunt for the more obvious Reebok treadmill here, so to find a high top speed and 10% power incline is rare for the price range.
While I sometimes talk about annoying add ons like a standing desk, an app to track progress and smart technology, the features on this budget treadmill make it well worth its price, something gym-goers don't always have the luxury of. The 40 workout programs are a great addition for new trainers, and they can help them improve their workout sessions.
The 8 point suspension system accompanied by the CushionStep running deck protects the trainer from workout fatigue and injuries. Similarly, the space for keeping water bottles and other accessories is practical for all trainers.
Overall, it is an excellent treadmill for new trainers. However, if you want a treadmill for the gym, it might not be the right choice. You should opt for a treadmill with a larger running deck and treadmill motor to be helpful for a wider audience. JTX Sprint 3 is a compact treadmill that should be used only for home gyms or personal training studios.
Sometimes, it can be challenging to sort time for workouts, but you should still try your best to practice regular training. Your body is your greatest partner, and you can achieve your dreams with a healthy, well-running body.
In summary, the lower price point is completely justified. It's the brand tag, high-quality build and great features you should be looking at here. It could give the best running machines a run for their money and will have you keeping up with most runners and losing weight with a quick delivery in no time.
Want to know more? Read our full review of the JTX Sprint-3 Electric Treadmill here.
---
Best Budget Proform Treadmill:
ProForm L6 City Folding Treadmill (£799.00)
Key Features
Dimensions: 118H x 75W x 157Dcm
Running surface: 17.5″ x 45″
Maximum speed: 0-8MPH
Max user weight: 110kg
Drive system: 2.0CHP
5" High contrast display
Integrated device shelf
Smart speed controls
Space saver design
Proshox cushioning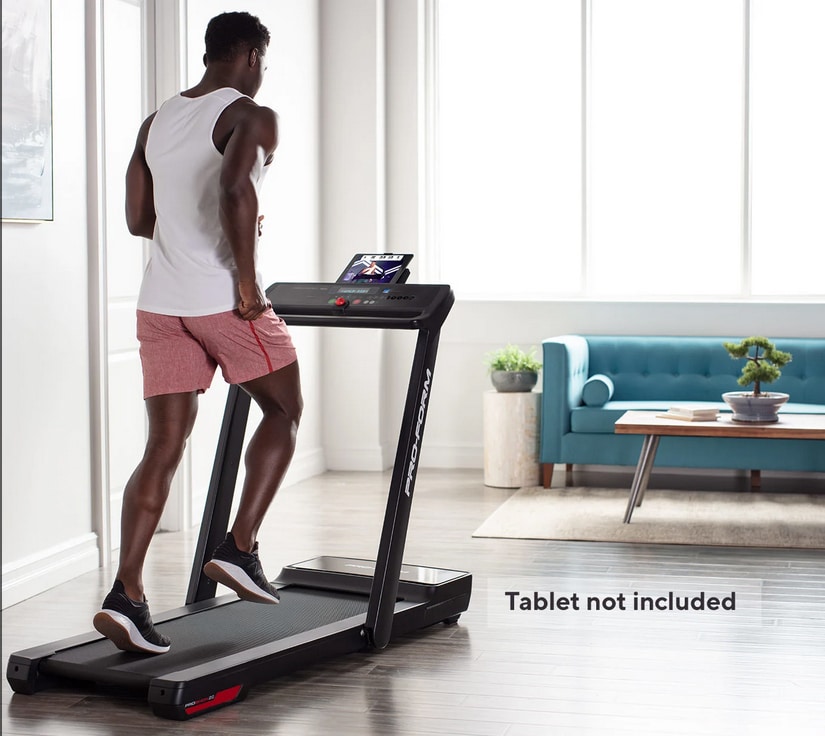 ---
Overview
If you are looking for a budget-friendly treadmill with minimal features, then the ProForm L6 City folding treadmill is definitely the right choice for you. It's a sturdy build with a great price tag and one of the best cheap treadmills out there, let alone one of my favorites from ProForm.
It features an easy folding design where the console folds upright against the deck, so you won't be taking up too much space. It is perfect for those short on space and who want to get the benefit of a home use treadmill. You won't have to sacrifice your living space for your fitness habit anymore, the perfect recipe for a great home gym.
Experiencing iFit health with interactive training studio classes is the perfect way to tone your muscles correctly, and great for getting more for you money. It enables on-demand fitness experience with certified personal trainers via iFit subscription so that you can have a virtual outdoor experience. It also has Bluetooth connectivity so that you can easily get online workouts with constant speed changes.
It allows the user to realistically condition their body for challenging uphill routes and get the most out of their workout. Its automatic speed adjustability is designed to give your legs the best workout possible and guides you through an effective training session.
It's safe to say all the basics are present here, with speed and incline being strongly considered. You can watch TV, walk indoors, do some treadmill sits… this is one of the most versatile machines in the list.
Want to know more? Read our full review of the ProForm L6 City Folding Treadmill here.
---
Best Budget Curved Treadmill:
Microink Curved Manual Treadmill (£499.99)
Key Features
Maximum weight: 150kg
Running surface: 150cm x 40 cm
Size: 155cm(L) x 69cm(W) x 134cm(H)
Transport wheels
8 adjustable resistance
Transport wheels
Digital display
Multiple training moods
No maintenance
Improves running posture
30% high-calorie burn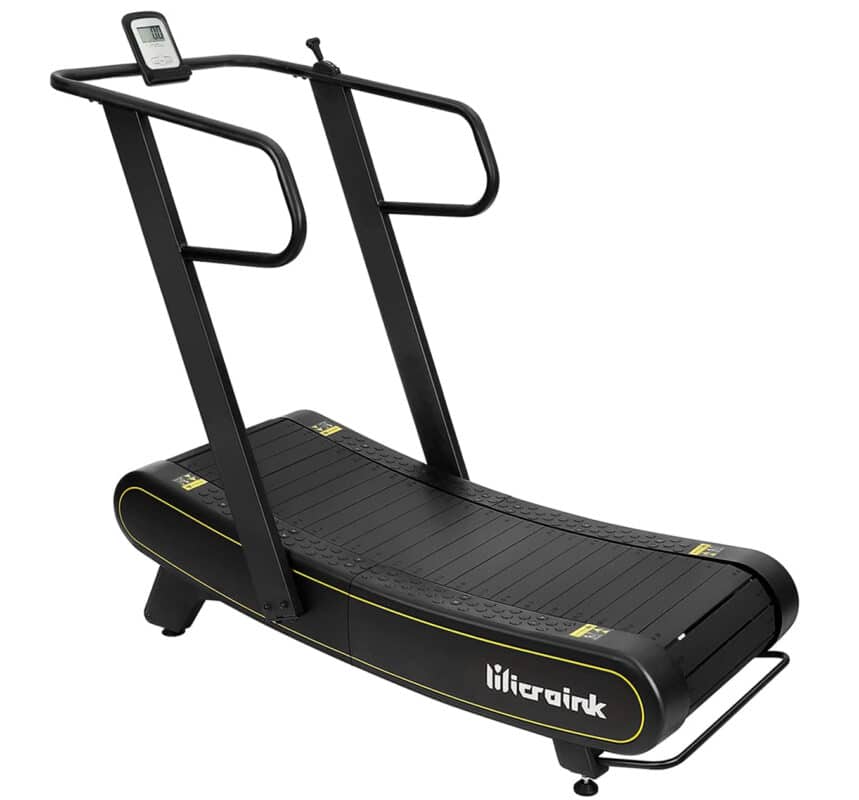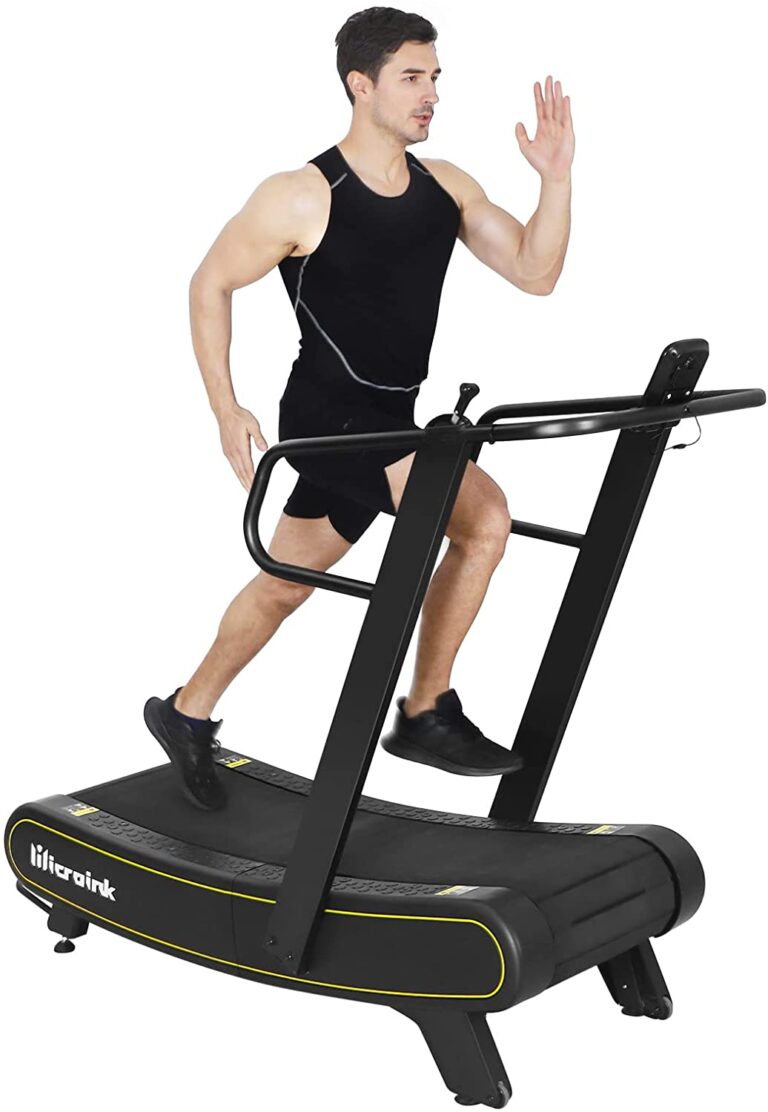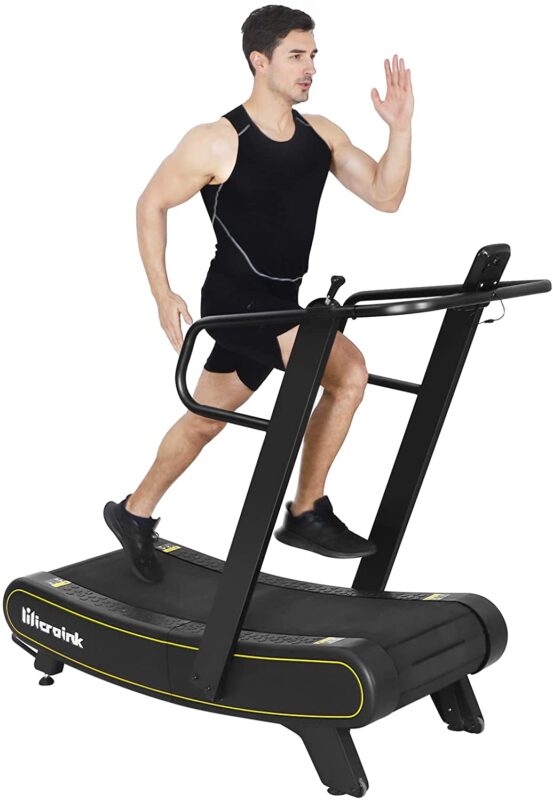 ---
Overview
If you are looking for a treadmill with no power consumption and little maintenance then the Microink could be an excellent option. Because of the zero power consumption this machine also becomes one of the best cheap treadmills on the treadmill market right now.
You don't need a gym membership here. This home treadmill is designed to give several health benefits like increasing blood circulation, improving immunity, strengthening muscles, etc. As is the case with most non motorised treadmills, it helps the users to start their fitness journey on the right track with more effective running training.
The Microink curved manual treadmill is one of the best home equipment and with no complicated control buttons and efficient performance data, you can fully trust this running machine. It's reasonable dimensions means you can pop it in your spare room and still have enough space to workout.
It's designed to give a natural running experience like outdoor running along with 30% more calorie burn, a benefit over a motorised treadmill any day. Above all, it gives more effective running training than a motorized treadmill.
Want to know more? Read our full review of the Microink Curved Manual Treadmill here.
---
Best Budget Branx Treadmill:
Branx Fitness Foldable 'Cardio Pro' Touchscreen Console Treadmill (£649.99)
Key Features
Motor: 6 HP peak motor
Speed Range: 0-17.5km/h = 0-10.8mph
Running Area: 125cm (Length) x 45cm (Width)
Maximum User Weight: 130KG
Powerful fan cooled 3.5chp
1.8mm running belt thickness
18mm running deck thickness
20 Level Auto Incline
12 Built-in Programs
Soft Drop System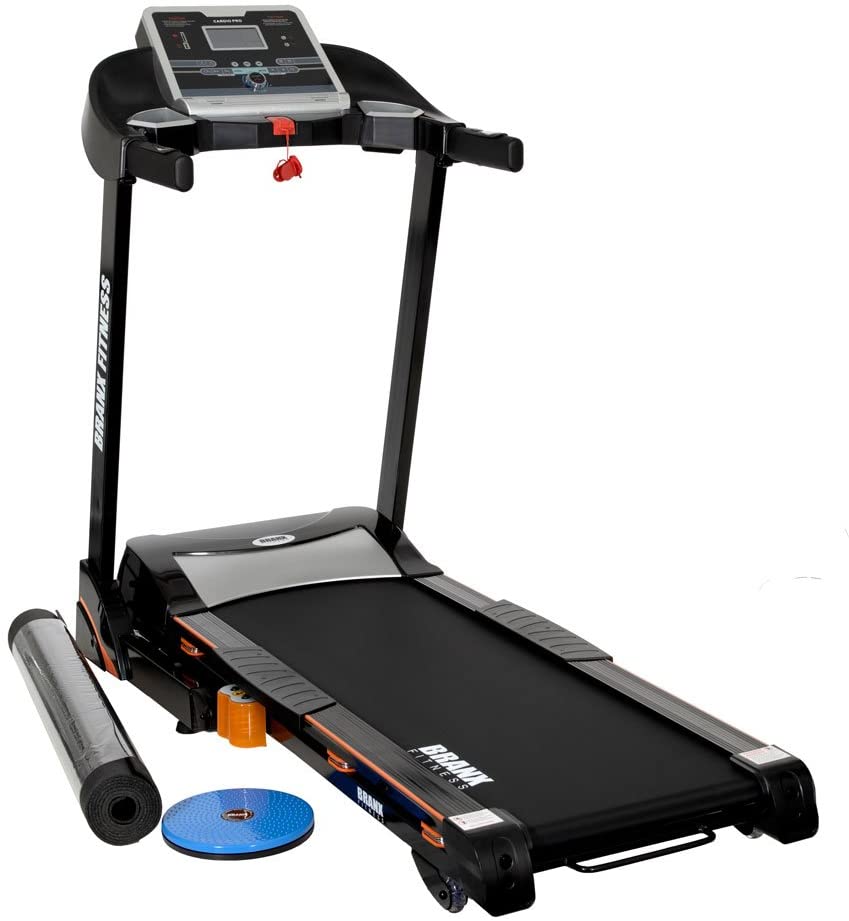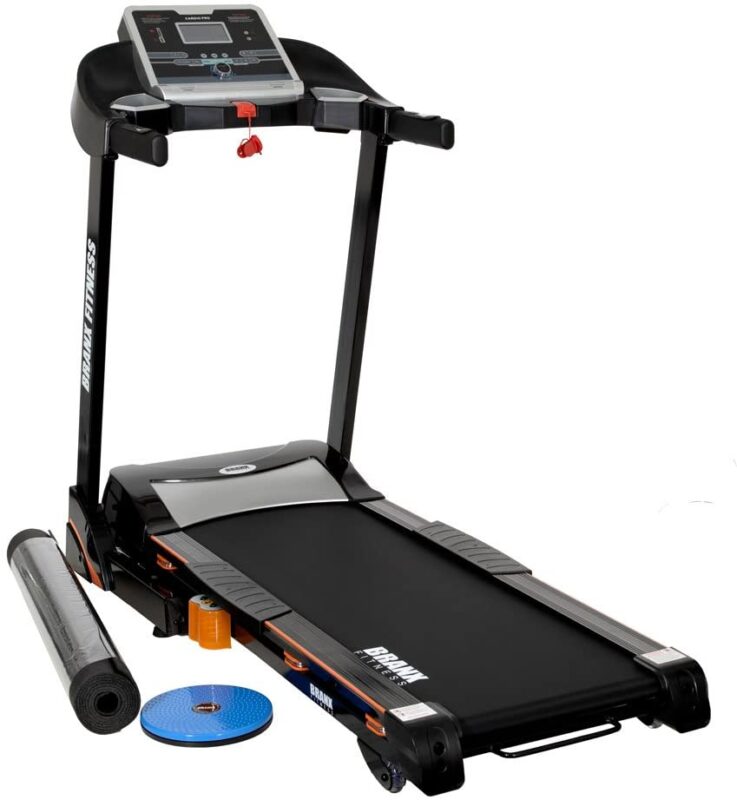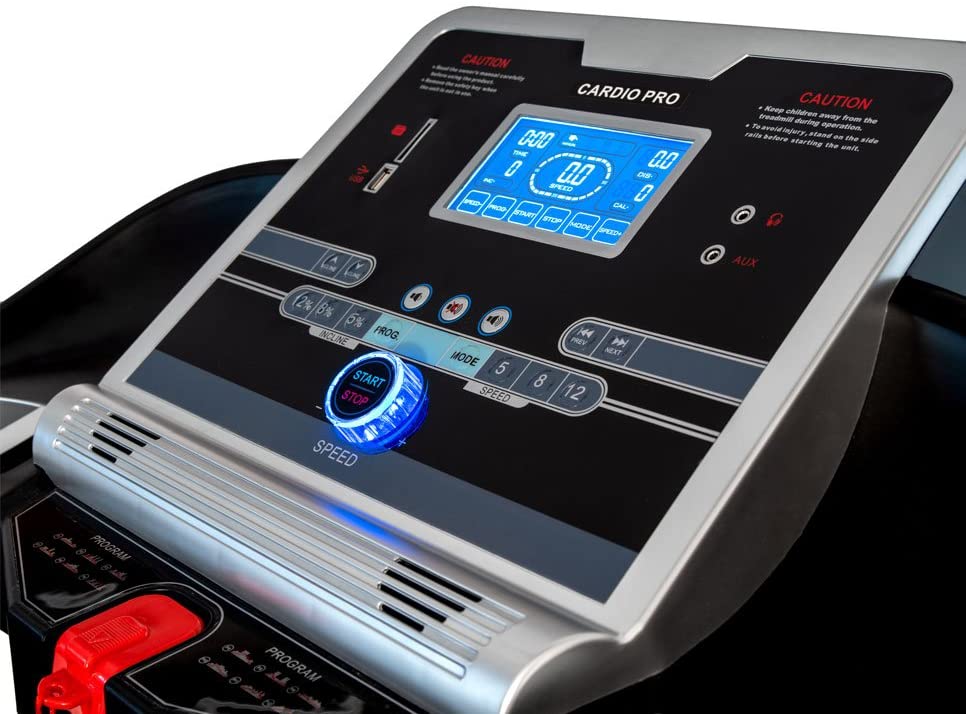 ---
Overview
Now I love Branx. They're a great manufacturer and I personally have one of their machines at home. I can't fault them for the motorised treadmill quality, with a quiet motor being common, a great range if you're into a compact treadmill, and often the easy storage that comes with their products.
Branx Fitness Cardio Pro treadmill is actually an amazing home treadmill. Often, it gets difficult for us to find some time and go to the gym, however, with an at-home treadmill, you can save time and keep up with your fitness goals. Though, I do think that the Branx Cardio Pro treadmill is a bit overpriced. Yet, it's not a deal-breaker.
In fact, it's so far from a deal-breaker that, well, it's on this list and you and I are talking about it now. It has a great incline range with the 20 level incline that the machine will automatically adjust. And because it's affordable (one of my favourite affordable treadmills) I can't ignore this as being one of the best treadmills on this list.
A must-watch!
Want to know more? Read our full review of the Branx Fitness Cardio Pro Treadmill here.
---
Conclusion
In conclusion, we've discovered some great treadmills on a budget here. Some are after folding treadmills, a machine with a handgrip pulse sensor, a homcom electric treadmill or something for life fitness. But, if you're like me and you just want a good home gym, with a solid treadmill and a cheap way to lose weight, then choosing from this list is exactly what you need to do. Especially if you're after quick delivery and trusted UK Brands!
>> Why not take a look at more of our fantastic guides here. <<
---
FAQ'S
What makes one cheap treadmill better than the other cheap treadmills?
Well, often if it's not just about the treadmill features, i.e. whether the treadmill folds, whether it holds up to a gym treadmill, or if it's an electric treadmill; sometimes it's about how much space it takes up, how much energy it consumes or whether it'll look nice with one of your rowing machines. A cheap treadmill doesn't mean bad, but wider considerations are important too.
Is running at maximum speed on a cheap treadmill dangerous? and do they have a good max speed anyway?
Running at max speed should be done with care. Sprinting is a great way to burn calories but that doesn't mean you should go for it everytime. Usually, you'll find cheaper treadmills have a less powerful motor but it isn't always the case. Worry more about the other features than the max speed in my opinion!
---
Affiliate Disclosure
In compliance with the FTC guidelines, please assume the following about all links, posts, photos and other material on this website:
Any/all of the links on this website are affiliate links of which GymFreakz receives a small commission from sales of certain items, but the price is the same for you.
www.gymfreakz.com is a participant in the Amazon Services LLC Associates Program, an affiliate advertising program designed to provide a means for sites to earn advertising fees by advertising and linking to Amazon.com & Amazon.co.uk. Pages on this site may include links to Amazon and its affiliate sites on which the owner of this website will make a referral commission.