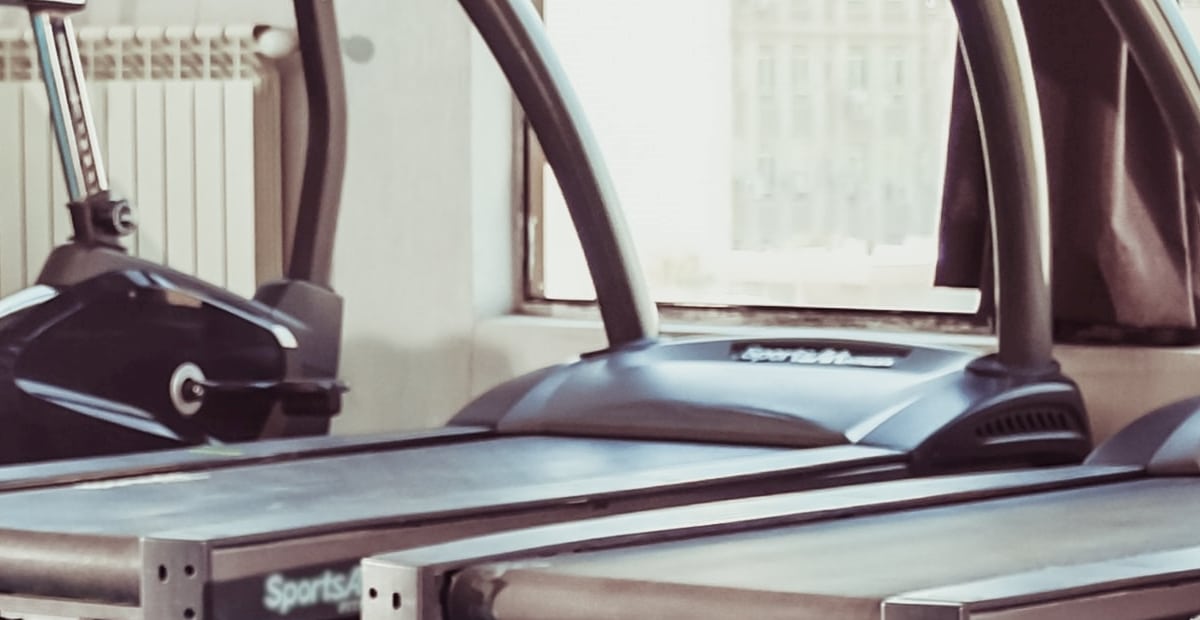 ---
---
Treadmill features, freebee extras, cost-effective delivery… can you get all of these with an affordable treadmill?
Finding a suitable treadmill for you, your home or your family is never easy, especially when the 'best treadmill' is entirely subjective. There is one thing, however, that's guaranteed, no doubt, 100% – we all have a budget.
It can be easy to get taken in by features like a soft drop system, built-in speakers, LED display. And hey, these features are great, for some they're even necessary but it when it comes down to it, the only feature any runner really needs is an affordable treadmill that's well built and user-friendly.
But that doesn't mean you can't get all the exciting bits too. In fact, after my own research, running outdoors vs indoors, trying different treadmill makes, and testing different fitness goals, I can successfully say that I've uncovered the perfect treadmills or the perfect monetary balance.
But before we start listing, there's one thing you should know. Just like anything, the word cheap gets a bad name.
And cheap treadmills are no different. You need to swap the words cheap treadmill to affordable treadmill, and soon you'll release that buying budget treadmills is the way forward to keep saving money, as well as space and wastelines.
Let's get running!
In A Rush?
| | Best JLL: | Best Dripex: | Best Branx Fitness: | Best Curved: | Best Evolve: |
| --- | --- | --- | --- | --- | --- |
| Brand | JLL | Dripex | Branx Fitness | Microink | Evolve |
| Model | S300 Digital | 2 in 1 | Energy Pro | Curved Manual | A1 |
| Photo | | | | | |
| Max. Speed | 16 kph | 12 kph | 16.5 kph | n/a | 14 kph |
| Max. Weight | 120 kg | 120 kg | 125 kg | 150 kg | 120 kg |
| Running Area | 123 cm x 41 cm | 40″ x 16″ | 120 cm x 42 cm | 150 cm x 40 cm | 450 mm x 1200 mm |
| PRICE* | £499.99 | £399.00 | £499.99 | £499.99 | £499.99 |
| | | | | | |
| Check Prices | | | | | |
*Prices correct at the time of writing
---
Best JLL Treadmill Under £500
JLL S300 Digital Folding Treadmill (£499.99)
Key Features
Motor: Peak power of 4.5 HP and continuous power of 2.5 HP
Speed: 0.3km/h – 16km/h / 0.18 mph – 10 mph
Running Deck Area: 123 cm (L) x 41 cm (W) / 48.4 inch (L) x 16.1 inch (W)
Programs: 15 (the 3 first programs can be reset to your own specification)
Incline Levels: From the floor to the running deck. Lowest = 19cm / Highest = 26cm
Max User Weight: 120kg / 18.8 St / 264 lb.
Display: LCD display shows speed, time, distance, calories burned and more plus good quality built-in speakers
Foldable? Yes
Warranty: 2 years on parts / labour warranty and 5 years on the motor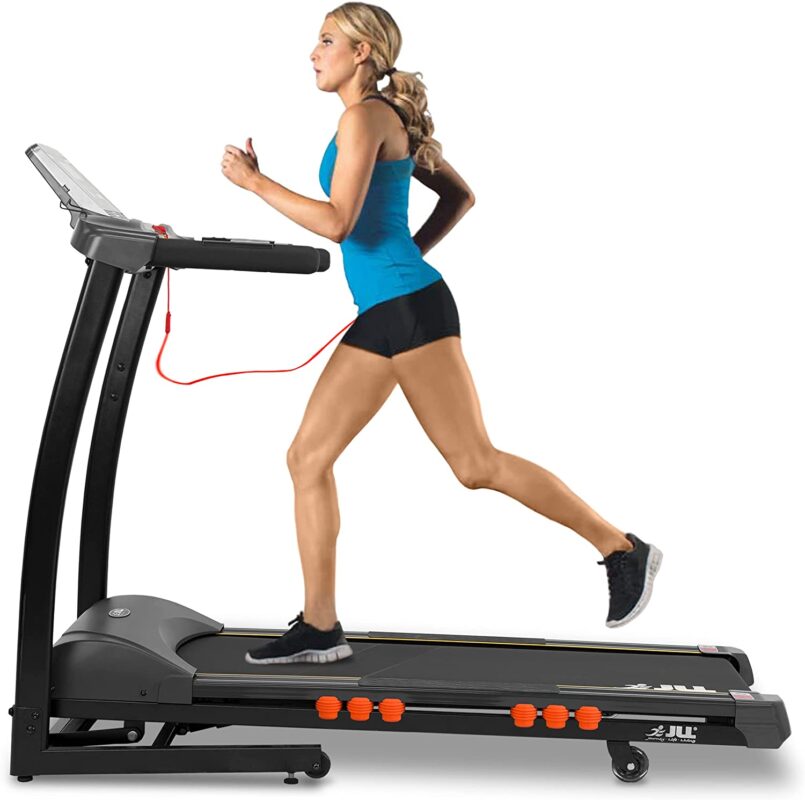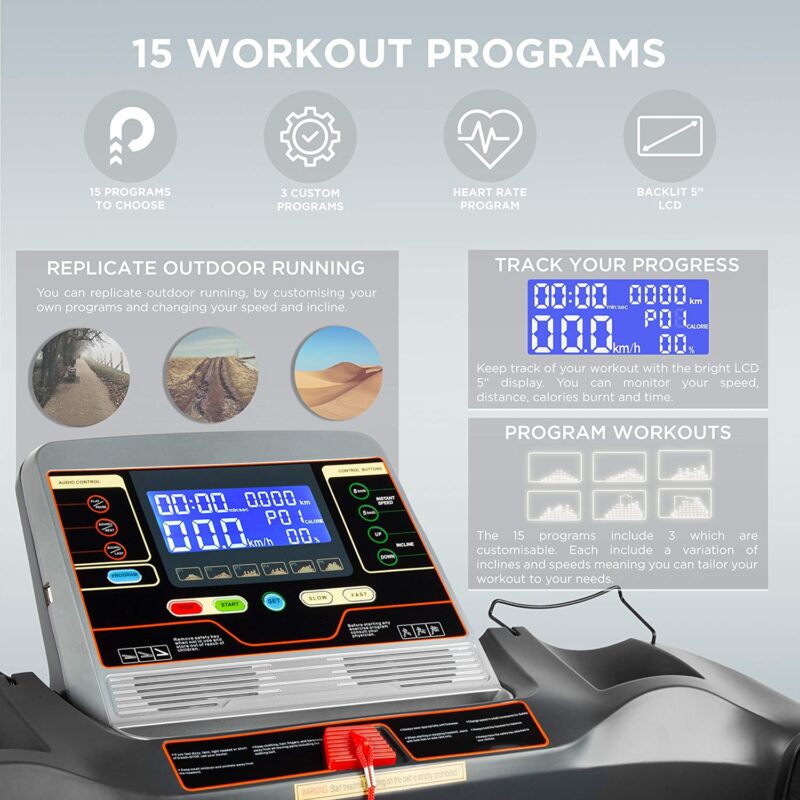 ---
Overview
For the price, the JLL S300's running experience is incredible. And that's what we're here for – fantastic machines for a great price. This treadmill has good enough max speed of 10mph, a well-built running deck, and good weight capacity for a sturdy running experience.
Remember, we're not here for advanced features, we're here to burn calories on a budget, and the JLL S300 is one of the best tools out there.
It's a foldable treadmill with a space saving design, it's light weight and easily movable, and with the workout programs built in, well, you're getting more than your money's worth here.
You can work up to a variety of intensities and speeds in order to burn more calories as you get fitter, therefore it's a treadmill with features and speeds that will last for years. generally speaking, the more you get used to a machine the quicker you can get burning calories.
To summarise, the JLL S300 Folding Treadmill displays a lot of premium features, is easy to program, and has an outstanding build quality. And when I say premium features, I mean it.
The JLL S300 is one of my favourite mid-range treadmills, and I've already recommended it to several friends and colleagues.
Want to know more? Read our full review of the JLL S300 Digital Folding Treadmill here.
---
Best Dripex Treadmill Under £500:
Dripex 2 in 1 Folding Treadmill, 2.25HP Under-Desk Motorized Treadmill (£399.00)
Key Features
Folding mode: 1-4km/h
Unfolding mode: 1-12km/h
Running surface: 40 x 16 inch
Maximum speed for the running treadmill: 12km/h
Remote control
Phone holder for entertainment
2.25HP powerful motor
Built-in speaker with Bluetooth connectivity
2 in 1 Folding treadmill
LED display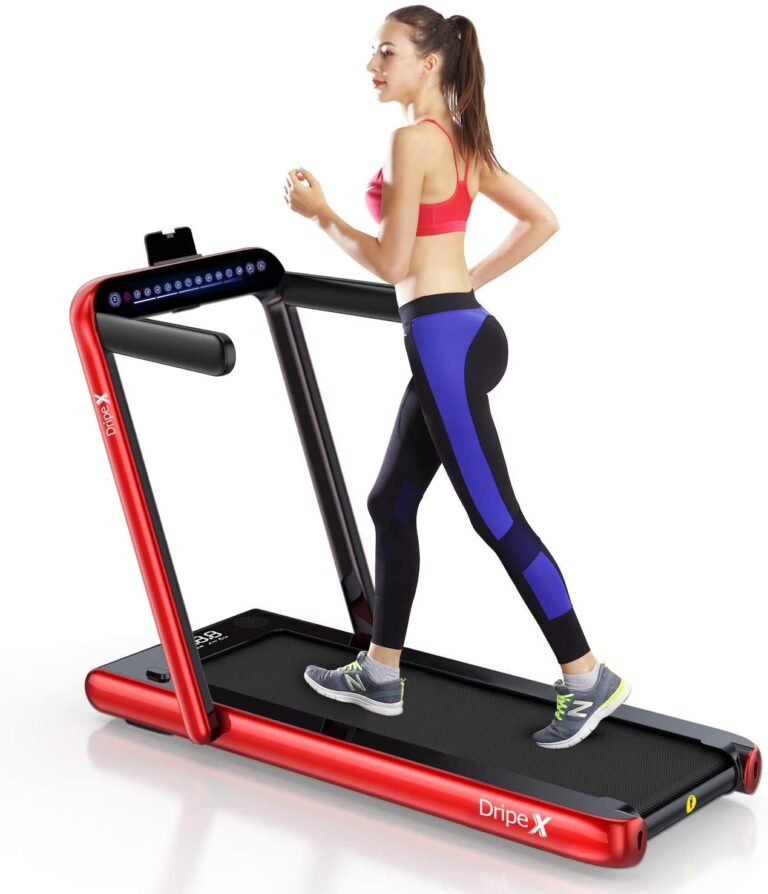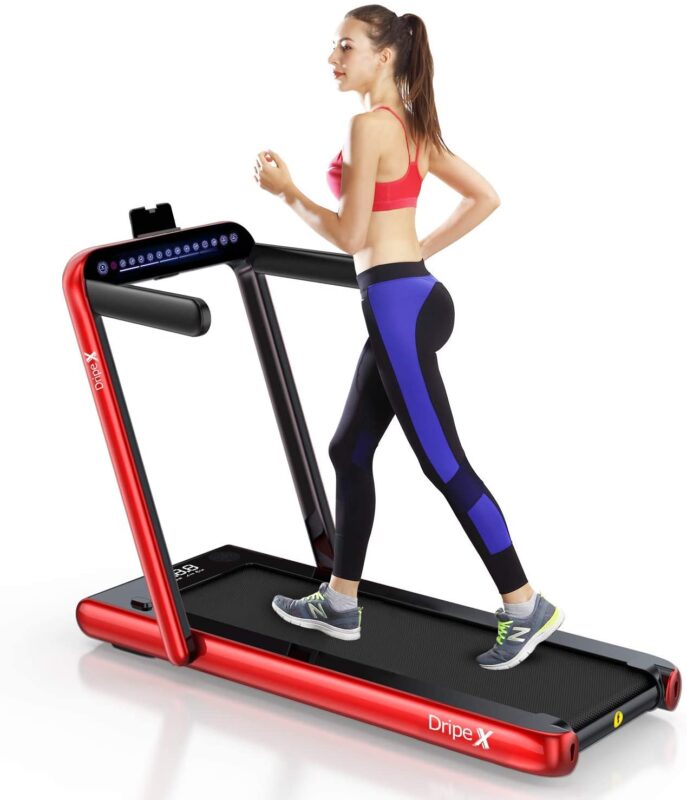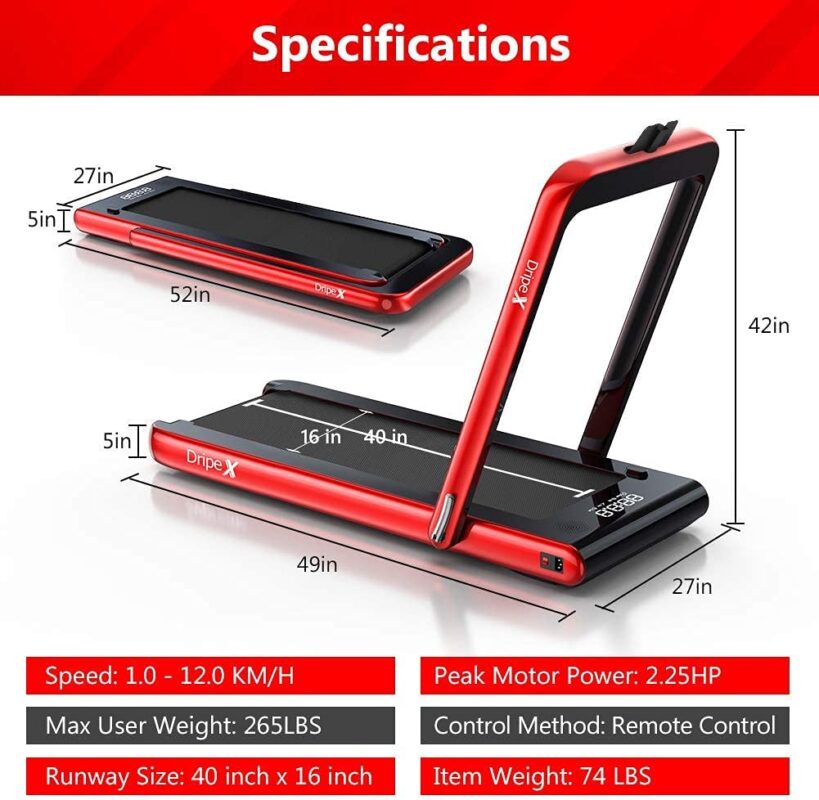 ---
Overview
Another gem from Dripex here. You'll often find these kinds of treadmills in these kinds of price ranges and that's incredibly justified. Just because something doesn't have the best max speed doesn't mean it can't flaunt other features. As well as the durable steel frame and 2.25hp motor, this Dripex machine comes with top-quality bluetooth speakers and a remote control for ease.
It's not always about the machine, it's about how it accommodates for you. And this Dripex 2 in 1 folding treadmill caters for your comforts left right and centre. In fact, Dripex has a great track record for this with an incredible focus on user satisfaction. So, if you're looking for an affordable treadmill with a great host of extras then this is your best buy.
The treadmill is ace for losing weight just as quickly as putting it away. And because it's foldable, as we all know, means it has easy storage and is therefore great for a home gym. It comes with all the usuals like a well-built running belt, adjustable incline, and workout stats, but its accessibility and simple design are what makes this one of the best treadmills money can buy for, well… hardly any money at all!
Just because it's foldable doesn't mean it's not durable either. With the well-built frame, you can still have intense workouts without making too much noise and step off at the end knowing you've got a great treadmill.
Want to know more? Read our full review of the Dripex 2 in 1 Folding Treadmill here.
---
Best Branx Fitness Treadmill Under £500 (sale price):
Branx Fitness 'NEW' Compact Foldable 'Energy Pro' Treadmill (£499.99)
Key Features
Motor: 3 CHP- 5 HP peak motor
Speed Range: 0-16.5km/h = 0-10.2mph
Running Area: 120cm (Length) x 42cm (Width)
16 Level Auto Incline
12 Built-in Programs
Soft Drop System
Heart Rate Measurement
Maximum User Weight: 125 KG
Entertainment: 5 inch LCD Display, Built-in speaker, BlueTooth Wireless Technology
Warranty: 2 years on parts and labour and 5 years on motor and frame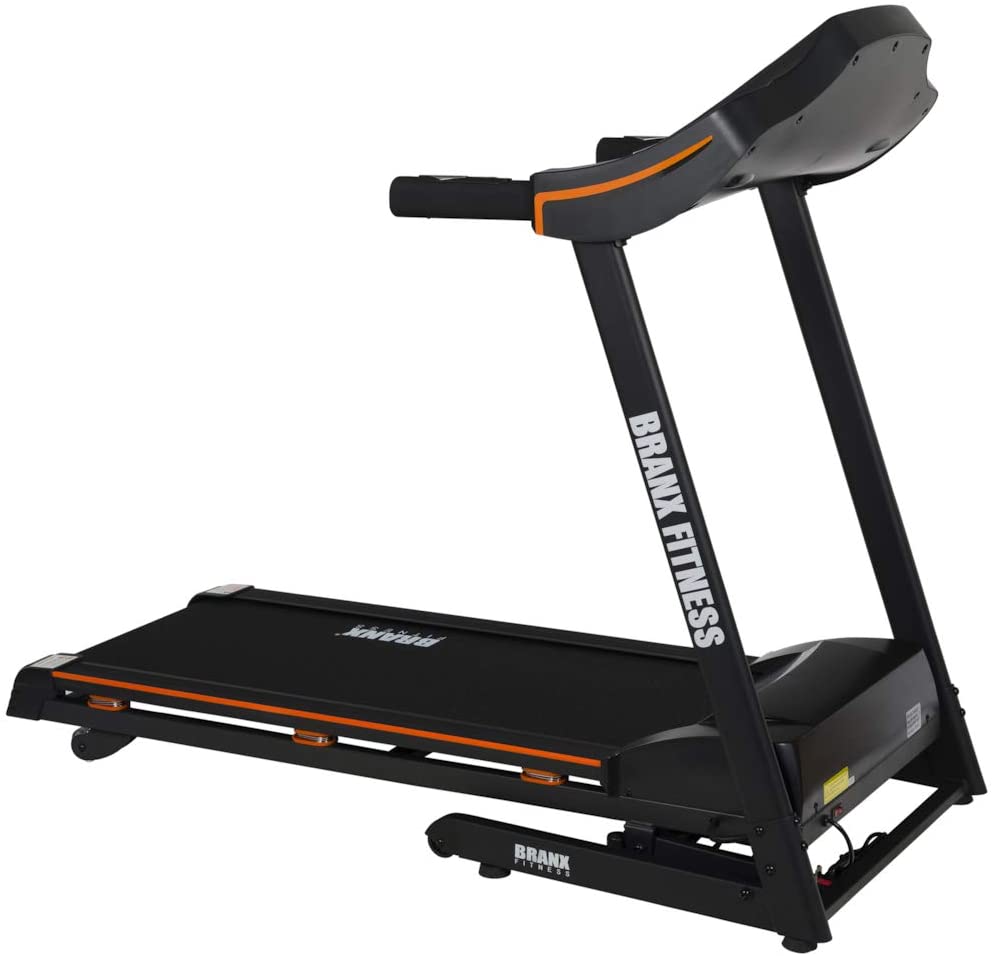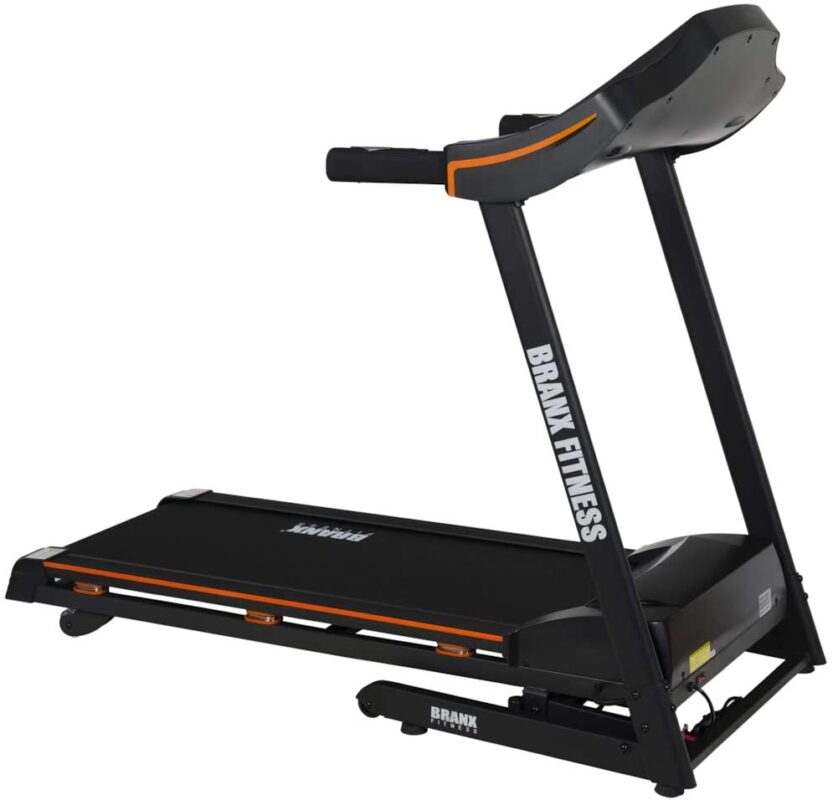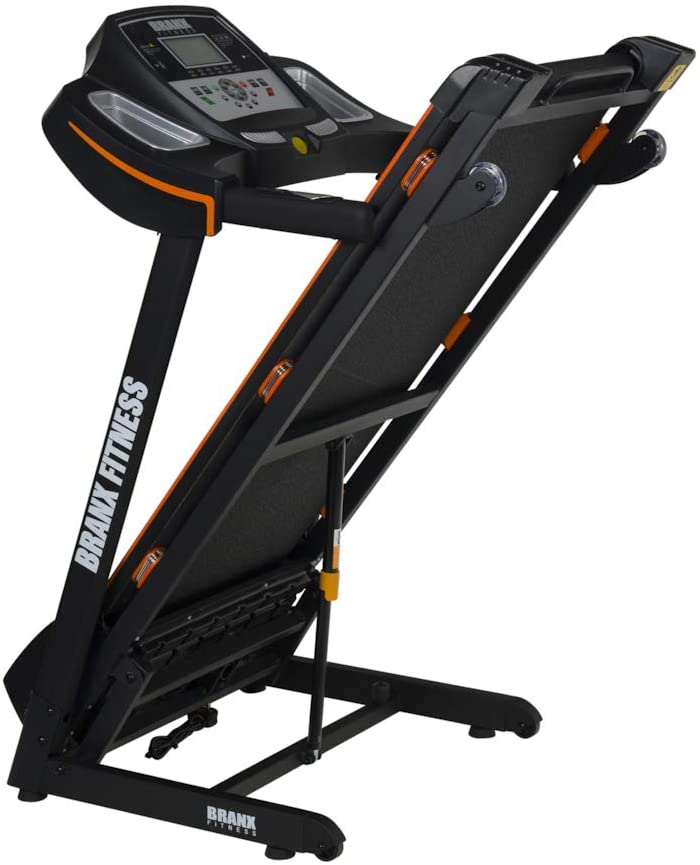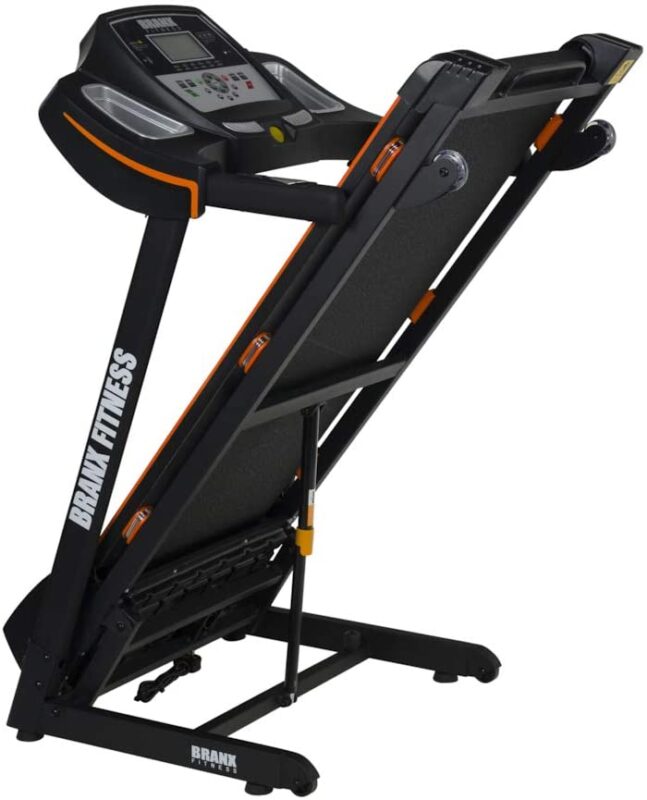 ---
Overview
One of the best foldable treadmills to exist? The one you're about to read through. The first thing I want to highlight though, besides the power walking potential all the way to the chance of an intense workout, does the Energy Pro Treadmill really qualify as an entry-level treadmill?
Branx Fitness introduced the Energy Pro as a new addition to their compact treadmill lineup. When you look at it with the aspect of performance, features, reliability, it does justice to its entry-level treadmill tag, however, there are a few aspects where it needs improvement as well.
But first, let's break down why this treadmill is on the list.
Its fair price given all the premium features is simply incredible. All you have to do is look at the console area to see how much thought Branx has put into user options and diverse functions. For Branx, it's not just a treadmill, it's a home gym console.
It features a nice adjustable incline, automatic of course. Boasts a well-built Bluetooth speaker system, and to top it off, for those worried about quality vs budget, it has a great 2 year warranty too.
But, yes, as we can all see it's an inexpensive treadmill. And that's for a reason. Despite the fact it's marked as a foldable treadmill it's still quite large in size. This shouldn't be an issue if you have an ample workout space, and let's be honest, compared to other treadmills it's still far smaller, so I wouldn't let this put you off.
I love the options here, it really feels like this treadmill was built with user options in mind, and I'm going to be taking full advantage of the new Branx machine, one of the best budget treadmills going.
Want to know more? Read our full review of the Branx Fitness Energy Pro Treadmil here.
---
Best Curved Treadmill Under £500:
Microink Curved Manual Treadmill (£499.99)
Key Features
Maximum weight: 150kg
Running surface: 150cm x 40 cm
Size: 155cm(L) x 69cm(W) x 134cm(H)
Transport wheels
8 adjustable resistance
Transport wheels
Digital display
Multiple training moods
Non-motorized treadmill
Infinitely variable speed
30% high-calorie burn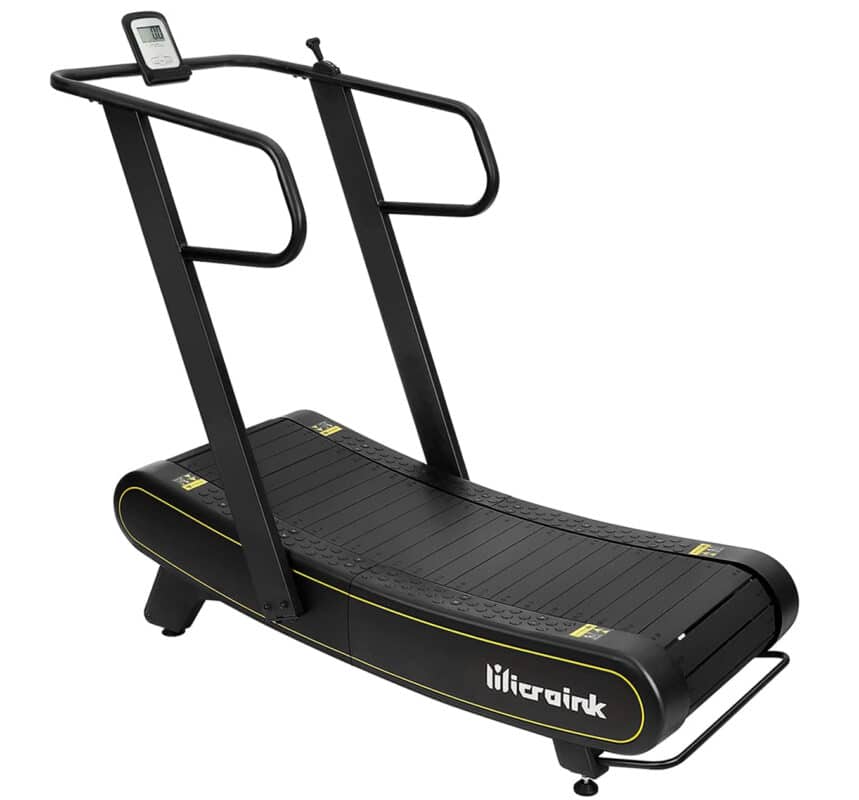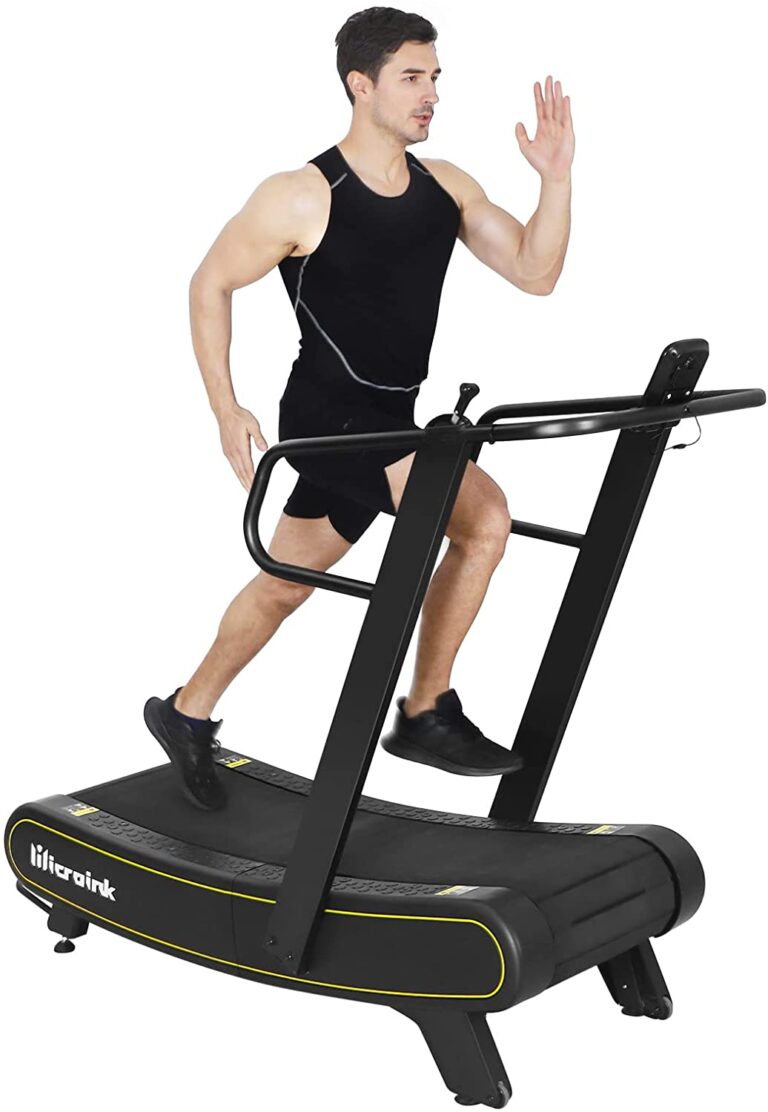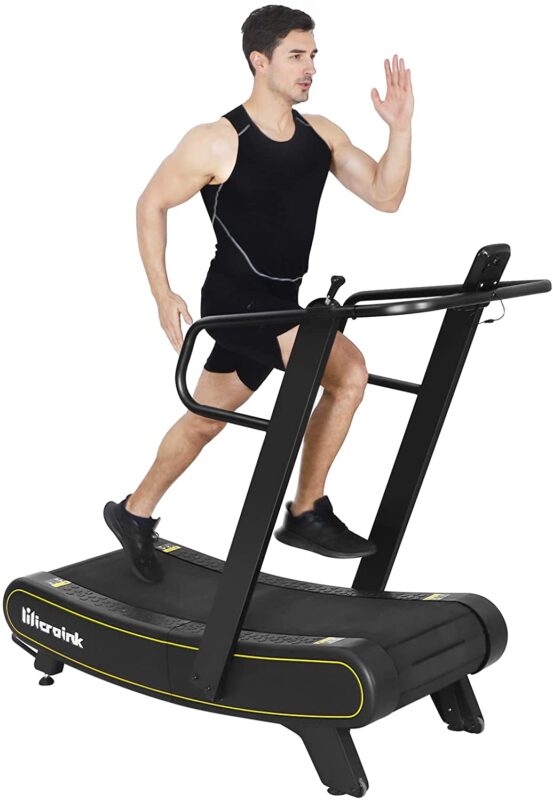 ---
Overview
If you are looking for a treadmill with no power consumption and little maintenance then the Microink could be an excellent option! It's an incredibly natural feeling treadmill with pros like helping to keep your posture. Whether it has a tablet holder or not this treadmill is all about the running experience. And it shows.
This home treadmill is designed to give several health benefits like increasing blood circulation, improving immunity, strengthening muscles, etc. It helps the users to start their fitness journey on the right track with more effective running training, even with more affordable treadmills.
The Microink curved manual treadmill is one of the best home equipment and with no complicated control buttons and efficient performance data, you can fully trust this running machine, even if you may be wishing for a few more features after purchase.
A self-powered treadmill that does not require power makes it eco-friendly and will keep your running costs low as it saves on electricity, a rarity for some fitness equipment.
It's designed to give a natural running experience like outdoor running along with 30% more calorie burn. No wonder this is one of the best treadmills reviewed. Above all, it gives more effective running training than a motorized treadmill, so the treadmill belt is naturally sturdy too.
It's easy to operate and easy to control, gentle to your body and environmentally friendly. It has a nice maximum user weight capacity and holds up against many of the 'cheaper treadmills' as being a notable entry with an interesting and unique design.
Besides, with 8 levels of adjustable resistance and a sturdy handrail, I don't see any reason why someone wouldn't want to get their hands on this amazing technology.
And that's exactly the point, so many of these machines are amazing technology, and for the price well, there's a reason they're on the list.
Want to know more? Read our full review of the Microink Curved Manual Treadmill here.
---
Best Evolve Treadmill Under £500:
Evolve – A1 Electric Motorised Auto Incline Treadmill (£499.99)
Key Features
Connects iPhone, iPad & Android
Log training activity indoor & Outdoor via Fitness App
Pulse Sensors – Run pre-set Google maps
Free Smartphone Application
15 level auto incline
Top speed – 14Km/hr
Material – alloy steel
Bluetooth options
Pre set training programme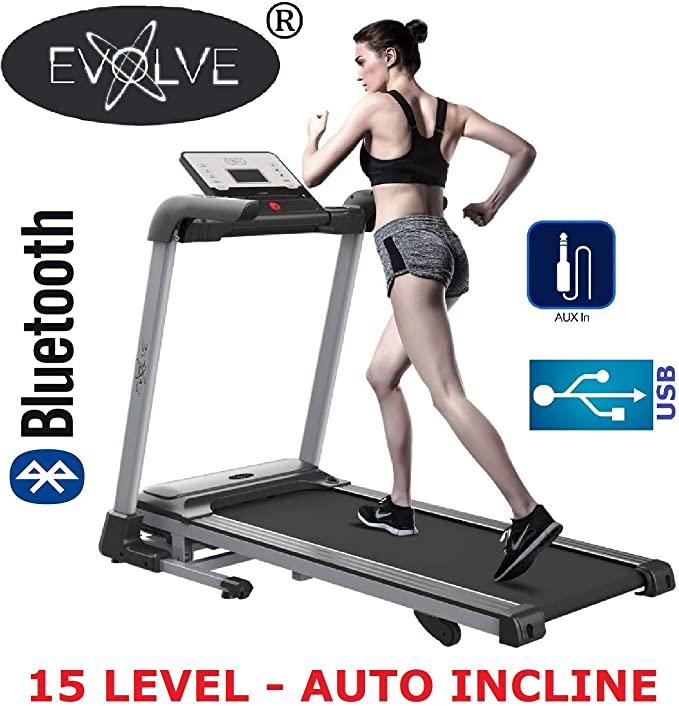 ---
Overview
Last but not least – the A1 Electric Motorised Auto Incline Treadmill. A sturdy build that holds up to sunny health fitness machines, this treadmill is a steal. Speaking of steal (steel?) the durable alloy frame makes for an amazingly reliable bit of equipment.
Not all affordable treadmills are built with life span in mind so for this material and this much usage the A1 Electric Motorised Auto Incline Treadmill makes for a great cheap but ideal treadmill.
If you want to lose weight on a budget with great options, whilst retaining your exercise routine and staying firmly away from an expensive personal trainer, then this is a strong option.
It's as simple as that. Yes, folding treadmills are useful but sturdy fixed treadmills come with their advantages too, and in my opinion, in a lot of cases, you're getting more life span, and therefore more value for longer.
Great cardio equipment usually comes at a cost, but the built in workout programs (aka preset workouts) make this budget treadmill high end bargain.
Definitely consider this bit of kit for your own workouts at home or for others to use in a dedicated space.
---
Conclusion
Another day, another round up, and this time were not only saving time and effort in your search but cash too.
At the end of the day, we want to find cheap treadmills but not bad cheap treadmills, as a lot of them are. That's why I'm helping you out.
And I wouldn't be doing you justice without pointing out that each component needs to be considered.
Don't just look at the price tag!
Every treadmill will have different materials and specs, and in the lower ranges, it's best to do the research.
Always look for things like, LED display build, the material of the running surface, shock absorption technology, usb port manufacturer, and everything that comes with being built at a cost.
>> Take a look at more guides here. <<
---
FAQ'S
What's a desk treadmill?
Good question, and definitely a factor in the world of cheap treadmills.
A lot of commercial treadmills are desk treadmills and that simply means there is a desk affixed to the treadmill, perfectly good for home or office use and cheap ones can be found online.
---
Affiliate Disclosure
In compliance with the FTC guidelines, please assume the following about all links, posts, photos and other material on this website:
Any/all of the links on this website are affiliate links of which GymFreakz receives a small commission from sales of certain items, but the price is the same for you.
www.gymfreakz.com is a participant in the Amazon Services LLC Associates Program, an affiliate advertising program designed to provide a means for sites to earn advertising fees by advertising and linking to Amazon.com & Amazon.co.uk. Pages on this site may include links to Amazon and its affiliate sites on which the owner of this website will make a referral commission.