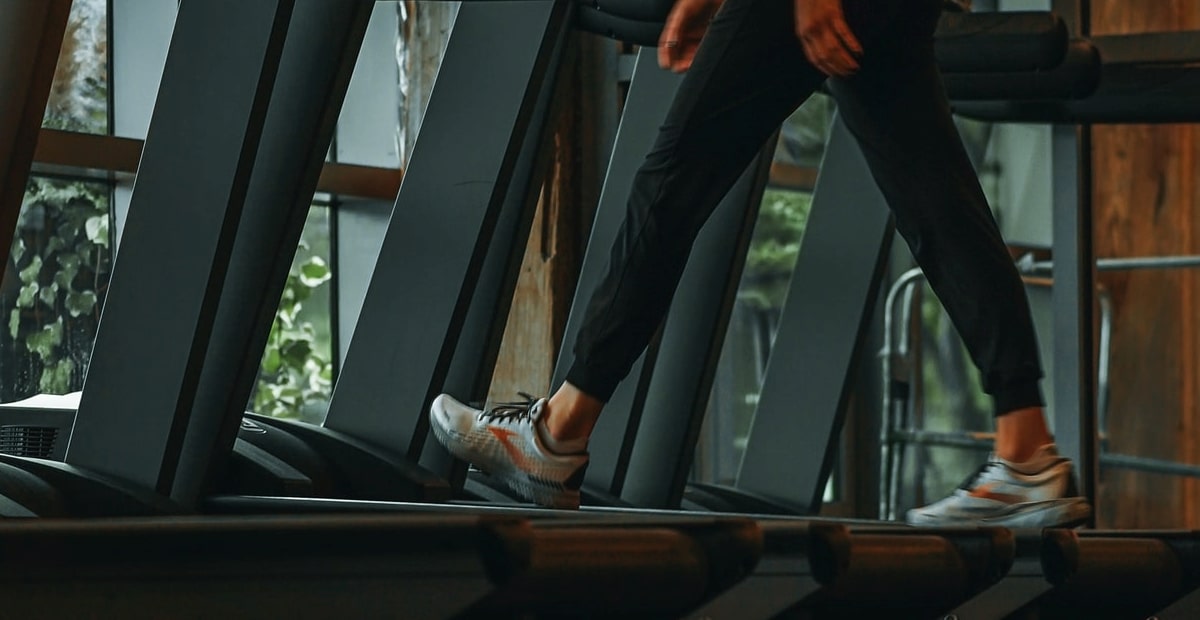 ---
---
You've decided you want to buy a treadmill, but you don't know where to start!
There are so many different treadmills on the market it can be hard to decide which one is right for you. A treadmill may be averagely built but come with free delivery by Amazon, another may have an excellent feature count but at the same time demand your exercise equipment assembly skills.
The question is, what's worth what?
We're here to help! It's difficult to know what the best treadmills are for a start, let alone all the extra features or offers that could sway you. You shouldn't just be looking for the quickest delivery so try to ignore things like 'get it Wednesday, May 30th!' if ordering the day before as the treadmill and extras are what we're focusing on here. There's also a bunch of content online that could point you in the right (or wrong) direction. You might see things like, 'save £15.00 with voucher' or 'lowest price' and while I'm sure these guys are promoting good treadmills, it's never a guarantee that they know what the best are themselves.
So, we've tried, tested, and compiled a list of the best treadmills on Amazon, to save you all the groundwork.
Whether you're looking for an affordable treadmill, a great all-rounder, or a top-of-the-line model, we're about to offer you the best running machines on Amazon.
And to top this, all available treadmills on Amazon ensure you a fast, guaranteed delivery right to your door.
Disclaimer – This website contains affiliate links. If you find the information useful and click on a product link and make a purchase, a small commission will be earned by GymFreakz and we appreciate your support.
In A Rush?
| | My Top Pick: | Best Manual Curved: | Best Mid Range Price: | Best Buy On A Budget: | Best For The Office: |
| --- | --- | --- | --- | --- | --- |
| Brand | Branx Fitness | Microink | JTX | JLL | Dripex |
| Model | Elite Runner Pro | Curved Manual | Sprint-9 | T350 | 2 in 1 |
| Photo | | | | | |
| Max. Speed | 21 kph | n/a | 20 kph | 18 kph | 12 kph |
| Max. Weight | 160 kg | 150 kg | 130 kg | 120 kg | 120 kg |
| Running Area | 140 cm x 48 cm | 150 cm x 40 cm | 153 cm x 52 cm | 121 cm x 41 cm | 40″ x 16″ |
| PRICE* | £999.99 | £499.00 | £00 | £549.99 | £399.99 |
| | | | | | |
| Check Prices | | | | | |
*Prices correct at the time of writing
---
My Top Pick:
Branx Fitness Foldable 'Elite Runner Pro' Soft Drop System Treadmill (£999.99)
Key Features
Motor: 3.5CHP (6.5HP) fan cooled
Speed Range: 0-21km/h = 0-13mph
Running Area: 140cm (Length) x 48cm (Width)
Maximum User Weight: 160KG
19mm running deck thickness
22 Level Auto Incline
24 Built-in Programs
Heart Rate Measurement – Hand Pulse
Entertainment: 6 inches LCD Display, Built-in speaker, BlueTooth Wireless Technology
Warranty: 2 years on parts and labour and 5 years on motor and frame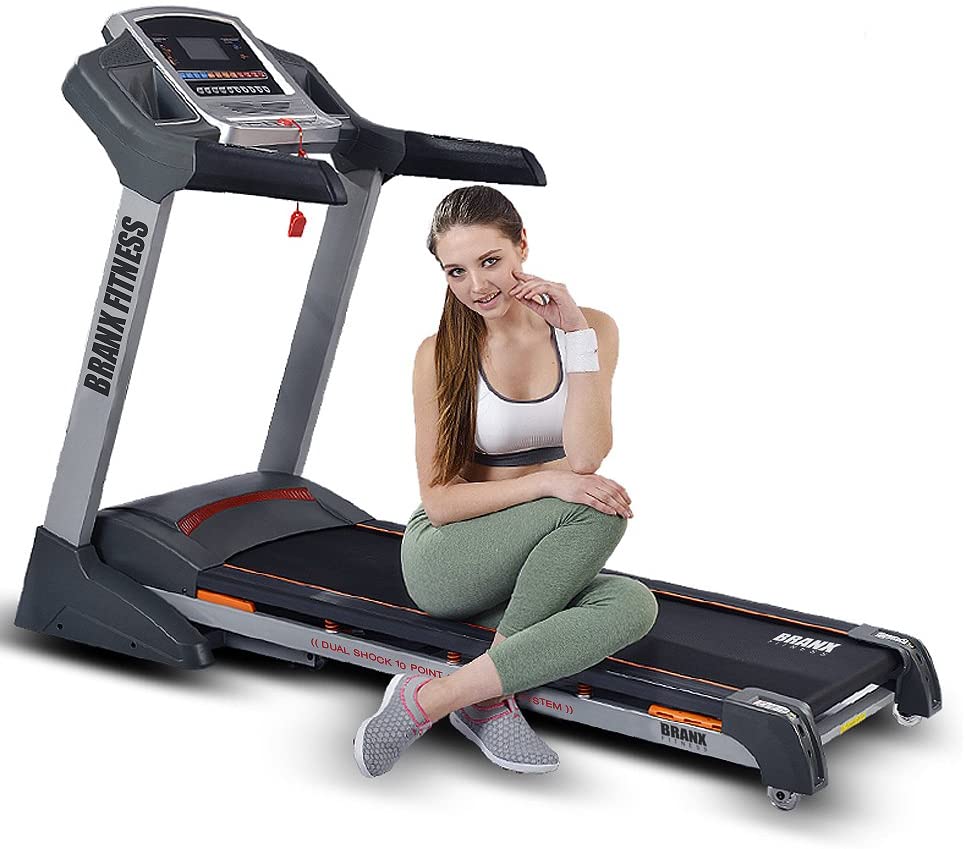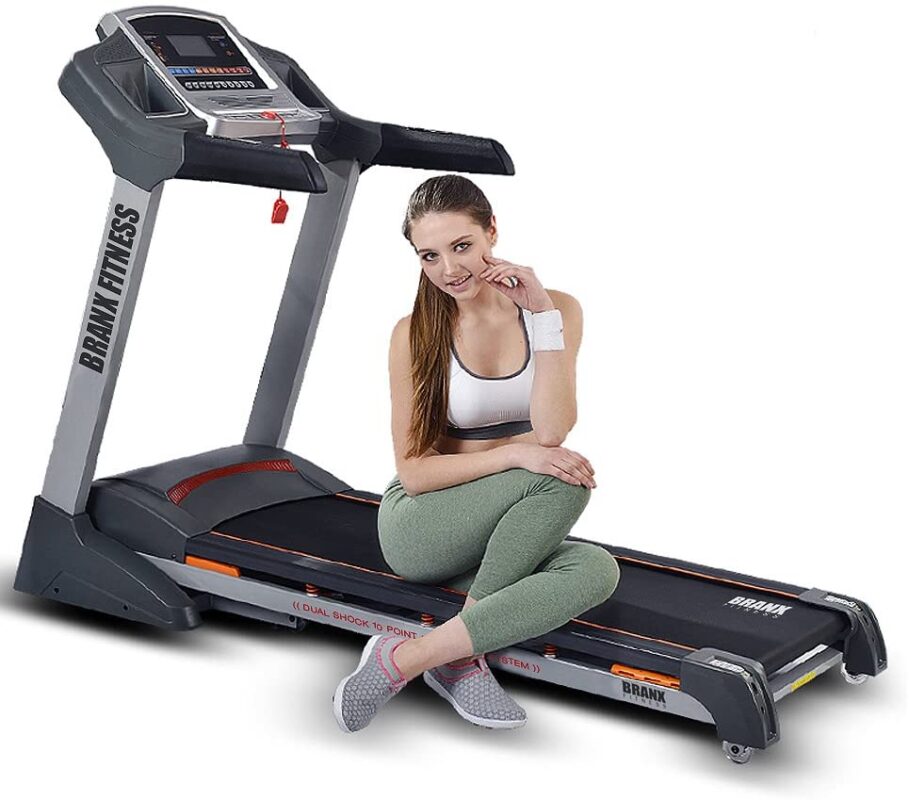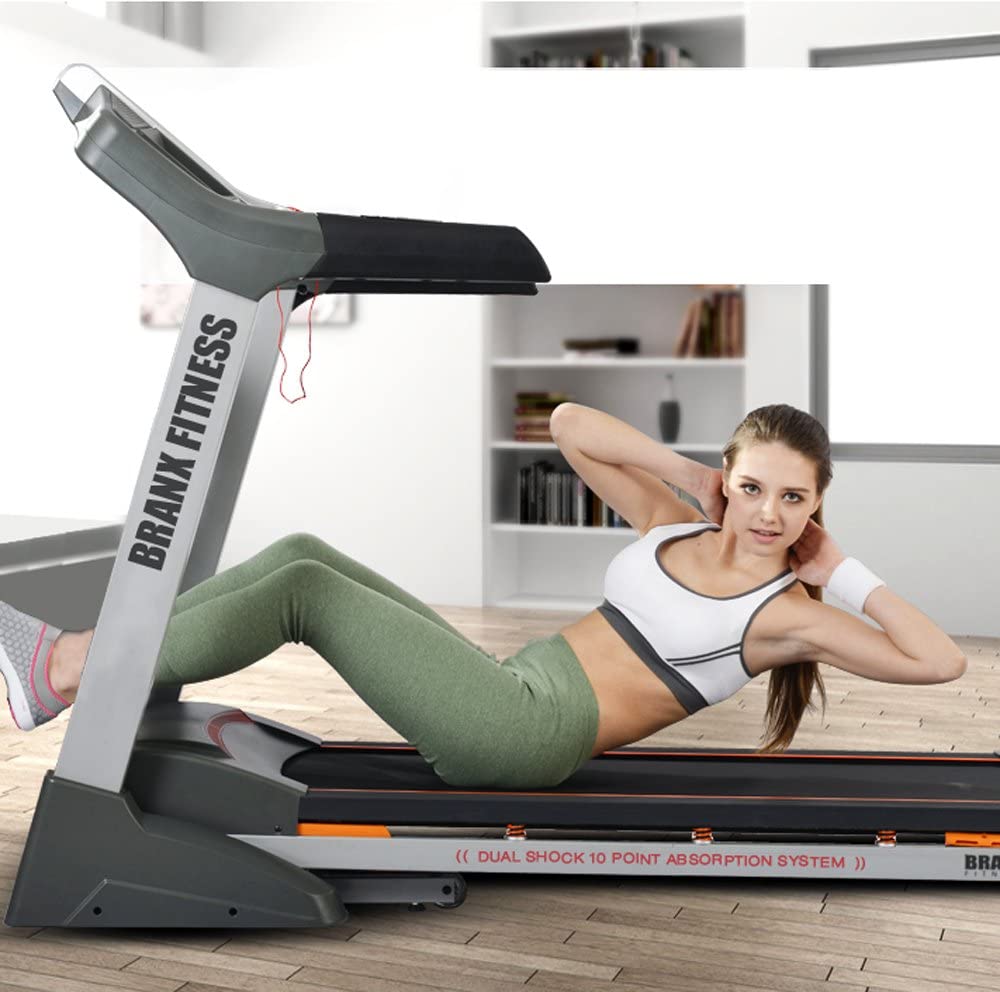 ---
Overview
Just because it's my top pick doesn't make it the best Amazon running machine. But, being the most expensive, and as mentioned earlier in my individual reviews, the Branx Fitness Foldable Elite Runner Pro is a top of the line model. However, like many commercial treadmills, it has a pretty fair price tag, which doesn't necessarily make it one of the most popular products.
But I was interested beyond the price tag, and I found that Branx Fitness offers you many extra features that you may not find in other models like a Pause Button for convenient and staggered workouts, a Gym Fit App integration, and many more. Having this price tag attached means that we've come to expect such high-end features on a treadmill. But do more features mean better training?
Not necessarily, but more features do generally mean you're getting your money's worth, and we're here to look at how Amazon buying is going to get the most value for you. In this case, if you have the money, I'd strongly recommend this treadmill, and if you like the sound of it so far then head to Amazon, pop in your address, and make this the first day of your new revitalised training regime.
Want to know more? Read our full review of the Branx Fitness Elite Runner Pro Treadmill here.
---
Best Manual Curved:
Microink Curved Manual Treadmill (£499.00)
Key Features
Maximum weight: 150kg
Running surface: 150cm x 40 cm
Size: 155cm(L) x 69cm(W) x 134cm(H)
8 adjustable resistance
Digital display
Multiple training moods
No maintenance
Non-motorized treadmill
Infinitely variable speed
30% high-calorie burn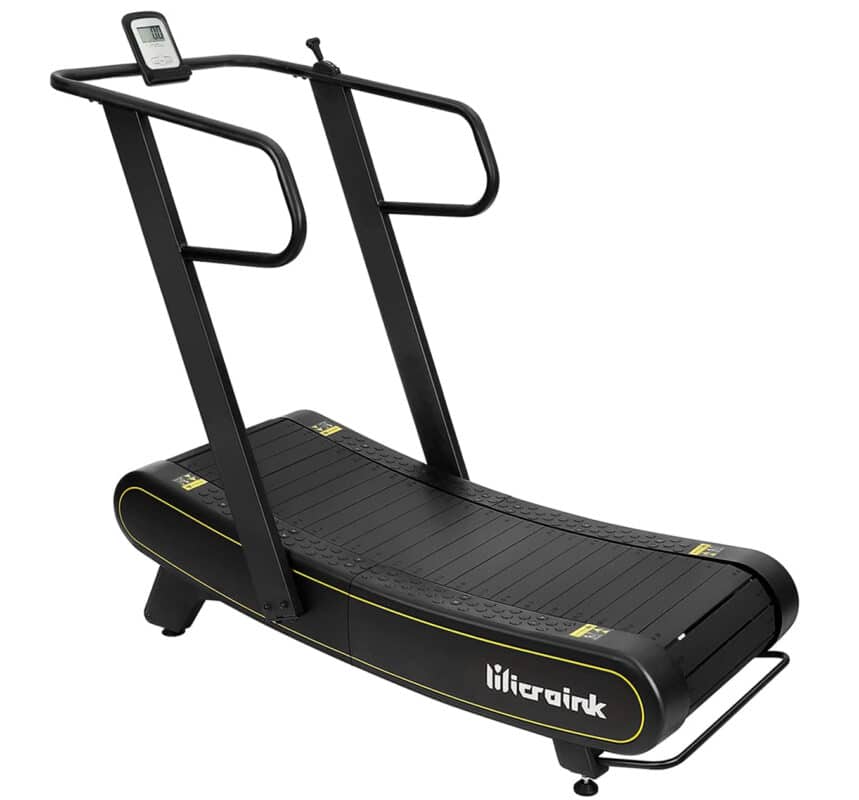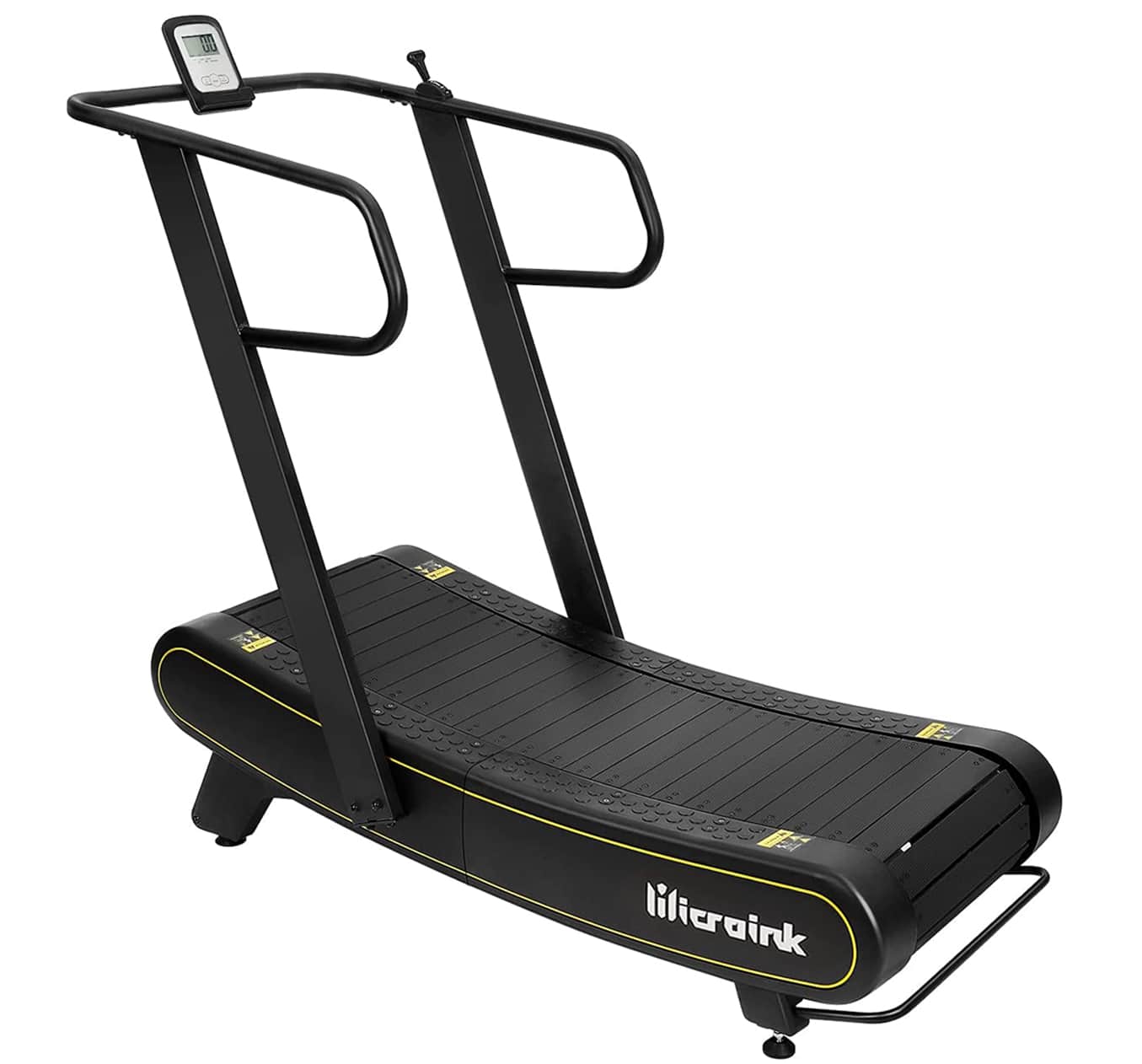 ---
Overview
If you are looking for a treadmill on Amazon with no power consumption and little maintenance then the Microink could be an excellent option!
As we know there is a range of treadmills available on the global store that is Amazon. And to wade through what it is that you may or may not like, it's important for me to present a range of machines for the most runners possible.
And to present that difference, well, it's not always about running the most miles indoors.
This home treadmill is designed to give many health benefits like increasing blood circulation, improving immunity, strengthening muscles, etc. It helps the users to start their fitness journey on the right track with more effective running training. This makes it not only home gym worthy, but it makes it a nice precursor to your gym and fitness life going forward.
The Microink curved manual treadmill is one of the best home equipment purchases you can make and with no complicated control buttons and efficient performance data, you can fully trust this running machine. A self-powered treadmill that does not require power makes it eco-friendly and will keep your running costs low as it saves on electricity. And while Amazon has a lot of great curved treadmills, this is one I'd go for myself.
It's designed to give a natural running experience like outdoor running along with 30% more calorie burn. Above all, it gives more effective running training than a motorized treadmill, no wonder the sellers are frequently active and refreshing stock regularly.
Besides, with 8 levels of adjustable resistance and a sturdy handrail, I don't see any reason why someone wouldn't want to get their hands on this amazing technology.
Want to know more? Read our full review of the Microink Curved Manual Treadmill here.
---
Best Mid Range Price:
JTX Sprint-9 Folding Gym Treadmill (£1499.00)
Key Features
Suspension: 8 Point commercial shock system
Computer Console: Displays time, pulse, speed, incline, distance, and calories burnt
Workout Programs: 24 Advanced training programs + 3 custom
Heart Rate Training: Via hand pulse sensors or heart rate chest strap (sold separately)
Commercial quality user detection
Speakers: Yes
Transport Wheels: Yes
Maximum User Weight: 130kg (20.5 stone) (287 lbs)
Machine Weight: 131.6kg
Free Accessories: Free Tablet Holder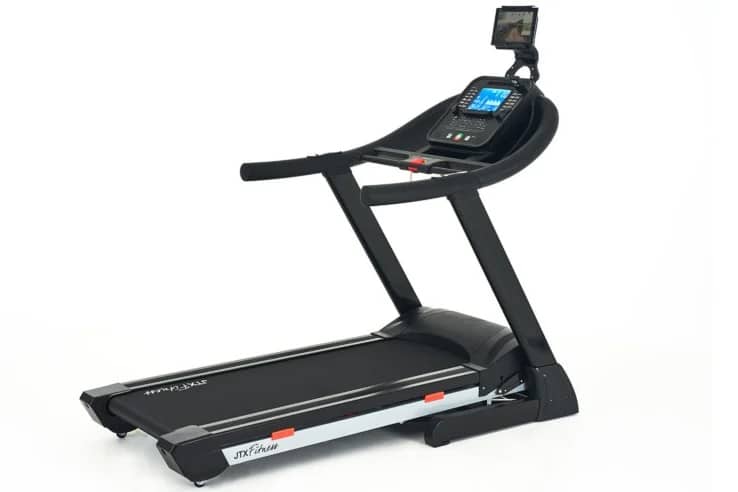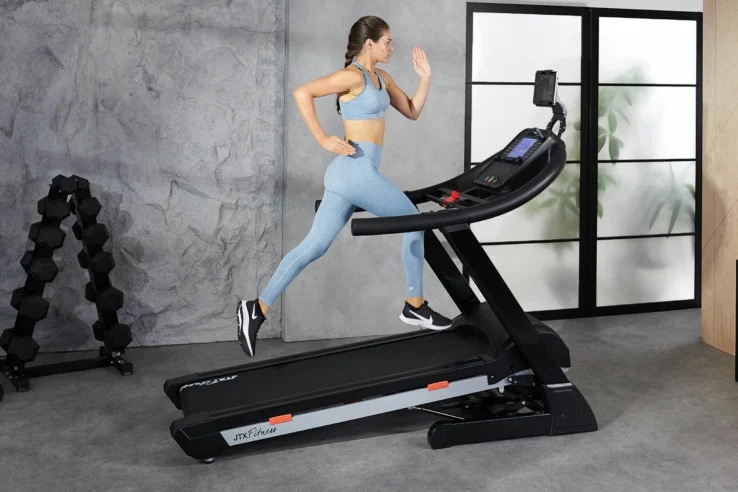 ---
Overview
Okay, so imagine you've flicked through page upon page of Amazon listings, brushing off confusing deals, weighing up all the extras, and realise that training your patience is just as hard as a fully-fledged workout, let alone writing a customer review.
Now, you've landed here. This is, by all means, a good thing. I would suggest JTX Sprint-9 treadmill for most treadmill users who have the required budget and are looking for an appropriate running machine.
The machine has the necessary features to last as long as you want. JTX's production has a list of treadmills that are popular in the market; so we are pretty sure about the reliability and after-sales service from the company.
The high-end specifications of the treadmill also make it suitable for high-intensity trainers. Far more suitable than a lot of treadmills available on Amazon.
The integrations with other applications mean that the trainers can always have a good understanding of their progress. The treadmill has everything you need to achieve your fitness goals and attain better physical health, too, making it great in the data tracking department.
However, a treadmill can only help support you achieve your goal, but it can never achieve the goal for you on its own.
Ignoring the price and other details, you will need to make the right use of the treadmill to get good results and consistency is the key to achieving success in your goals. Don't worry if the fitness results are slow initially, there is no real easy way, but you will certainly reach your dream body with determination and a good training plan.
Want to know more? Read our full review of the JTX Sprint-9 Folding Gym Treadmill here.
---
Best Buy On A Budget:
JLL T350 Digital Folding Treadmill (£549.99)
Key Features
Motor: Peak power of 4.5 HP and continuous power of 2.5 HP
Speed Range: 0.3km/h – 18km/h / 0.18 mph – 11.2 mph
Running Area Size: 121 cm (L) x 41 cm (W) / 48.4 inch (L) x 16.1 inch (W)
Programs: 20 (the 3 first programs can be reset to your own specification)
Incline Levels: From the floor to the running deck. Lowest = 19cm / Highest = 26cm
Max User Weight: 120kg / 18.8 St / 264 lb.
Display: 5-inch LCD display shows speed, time, distance, calories burned and more plus good quality built-in speakers (option to use as USB port or Bluetooth enabled)
Foldable? Yes
Warranty: 2 years on parts/labour warranty and 5 years on the motor. Lifetime guarantee on the frame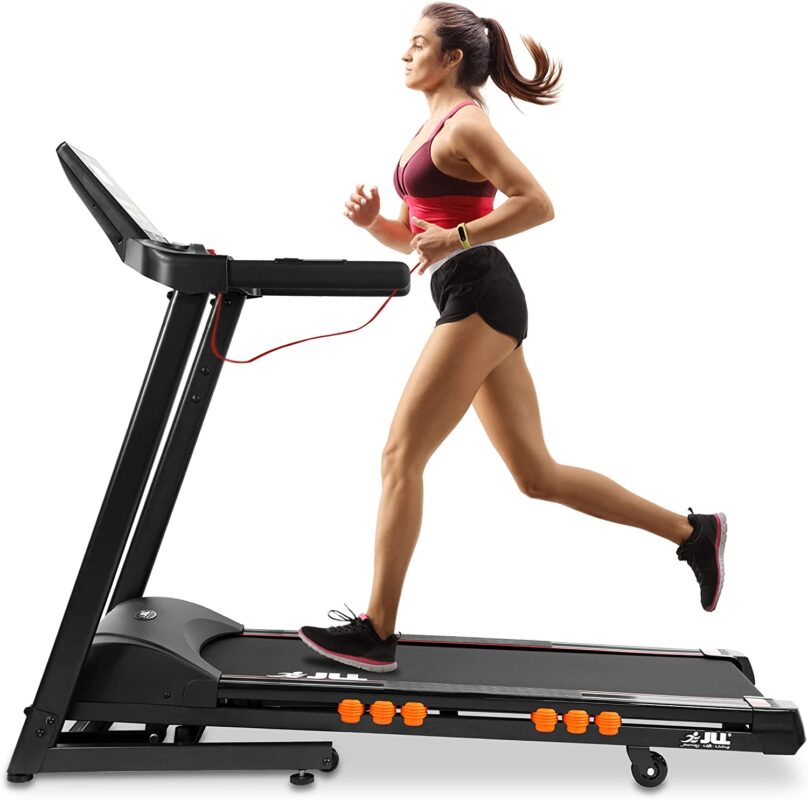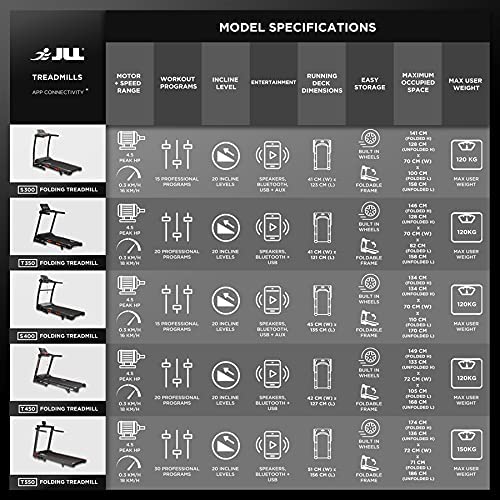 ---
Overview
The JLL T350 Digital Folding Treadmill is the perfect running companion for the whole family no matter what your standard of running, and a great steal on Amazon.
I have been using this for quite some time now and it can handle even my rigorous workouts, (which only a high-quality treadmill could handle if I do say so myself). What I like about this machine is that there are 20 programs to suit every type of runner, all of which are easily navigated through the sleek console. There are also built-in speakers with incredible sound which allow you to run music directly from your mobile device with ease. And in fact, all the features on this treadmill are designed with ease of use and diverse functionality in mind.
It's an easy to assemble running machine that's good for any home gym. It does have clear directions in the instruction manual, but be sure to read carefully before assembling, and account for the fact that assembly can come with issues, (but you get past these with just a little patience).
It has a large console with buttons just how any runner likes them – gigantic and easy to use and although this isn't the most inexpensive machine, it's well worth the investment all-round, complete with a very quiet engine perfect for any room, this treadmill is a definite one to watch on Amazon.
The JLL T350 is a great mid-range treadmill with a lot of premium features, an easy programming interface, and excellent build quality so more than happy to recommend it.
Want to know more? Read our full review of the JLL T350 Digital Folding Treadmill here.
---
Best For The Office:
Dripex 2 in 1 Folding Treadmill, 2.25HP Under-Desk Motorized Treadmill (£399.99)
Key Features
Folding mode: 1-4km/h
Unfolding mode: 1-12km/h
Folded dimension: 52 L x 27 W x 5 H
Stylish appearance
Dual display
Remote control
Phone holder for entertainment
5-layer running belt
2.25HP powerful motor
Built-in speaker with Bluetooth connectivity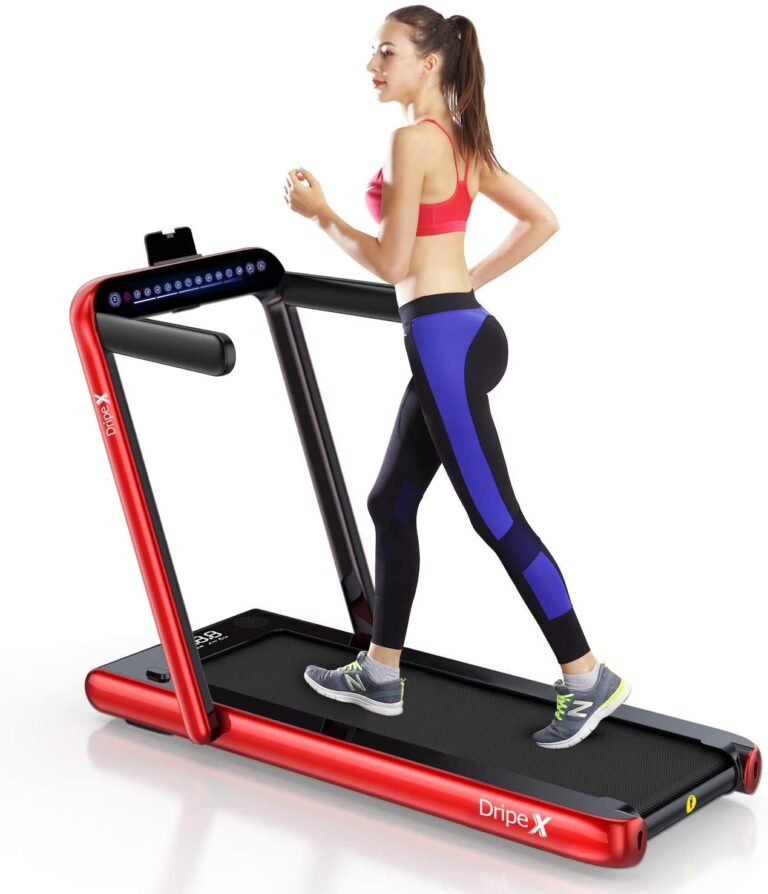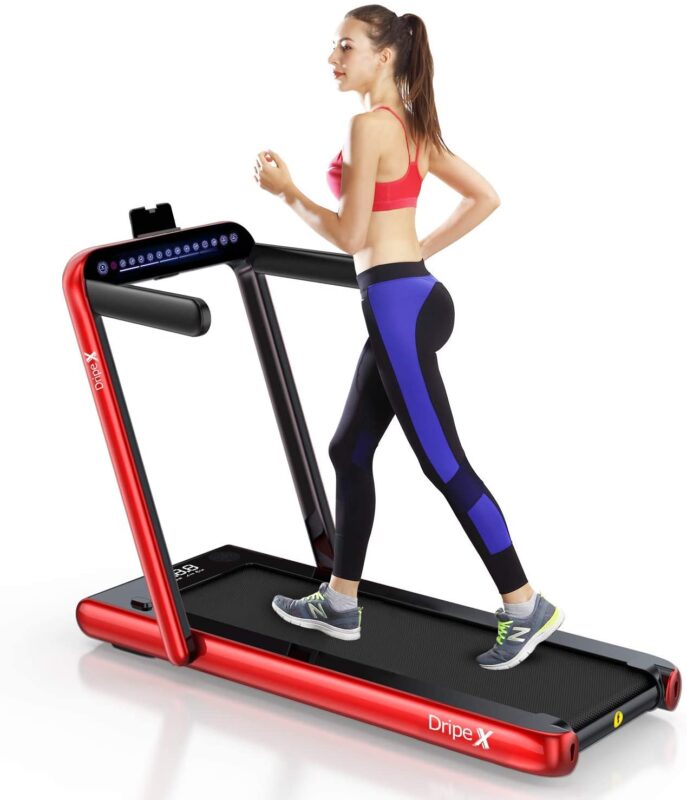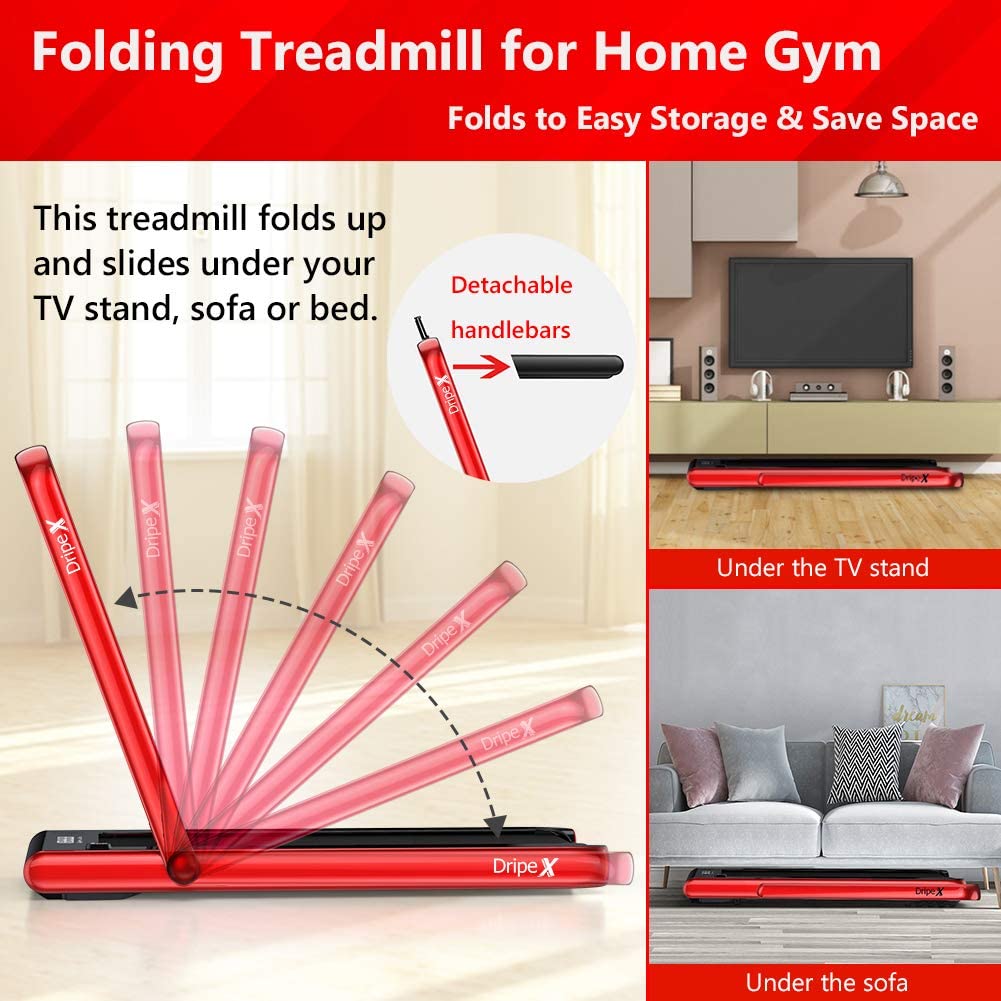 ---
Overview
If you are looking for a treadmill that gives true value to your money then the Dripex 2 in 1 folding treadmill is what you should look for! It comes with 2 in 1 functionality; a running treadmill and an under-desk walking pad. Something outdoor runners don't have the luxury of.
This treadmill is not just about top speed or competing with the best runners it is best suited for those with limited space and looking for a compact folding design. It comes with a powerful motor powered by a 2.25HP brushless motor with low noise compatibility. It runs quieter than most of the other treadmills and comes with a multi-layered running belt that provides protection to your knees and joints. From my experience, this is one of the most popular products based on the features above.
Other features like a mobile phone holder, built-in high-powered speakers, remote control design, and more. Its sleek finish is what adds colour to your room or office. And guess what? It is available in three different colours so you can choose the one that perfectly fits your decor.
It comes with transportation wheels and folds flat to be wheeled easily from room to room. And when not in use, it can be placed under the sofa or bed for storage; a feature that I've addressed when it comes to value for money when buying on Amazon.
Want to know more? Read our full review of the Dripex 2 in 1 Folding Treadmill here.
---
Conclusion
To conclude, Amazon can be a tricky buying experience. There are sellers all over the place promising all types of things when searching for the best running machines but at the end of the day if you know what to look for then you know what to do.
I'm hoping that this guide has cleared those issues up and saved you the job of flicking through Amazon, wading through the false promises, and giving you clear insight into what machines to look for, what features are best for Amazon buying, and what to avoid.
See More Helpful Treadmill Guides
---
FAQ'S
Is it worth viewing product detail pages?
Always! I list a host of useful features that I think are useful to you. But that's not to say there won't be more you'd like to see. Features vary based on product, and details may vary based on product size and colour, you may want to look at the treadmill frame material – it's always worth a thorough search and taking a proper peek, as well as seeing my featured recommendations of course…
What if the treadmill doesn't come with free delivery by Amazon?
Sometimes things are going to cost a little extra, and for manufacturers, it's no different. Shipping to a different country costs money, for example, and with international shipping, there are things like tariffs and tax to consider. Sometimes 'eligible for free delivery' isn't an option but that doesn't mean it won't be worth it.
Why should I ignore quick delivery?
If you looking to order with the aim to get it Thursday, May 1st and you hit 'buy' the day before – is this the best outcome? Or as an investment for your health and general wellbeing over the months and years to come, would you be better waiting for the perfect choice of one of the high-quality treadmills to arrive…I know which I'd go for. Patience is often the best choice in the long term and I'd much rather wait for my 'first choice option' than a rushed 'second choice'. keep an eye on availability too as some items are updated hourly.
So Wednesday May 11, – Friday May 13…would a delay of a few days make any significant difference to your fitness?
What is International Shopping Transition Alert?
If this appears on a product listing it means that the seller is based outside of your home country. This can mean longer delivery times, and in some cases, higher shipping costs.
Does a high max speed mean it's one of the high-quality treadmills?
The answer is no, not always. Sometimes people want a machine that goes fast so they can interval train or do HIIT workouts but if you're not planning on using it for this purpose then there are other things to consider such as the size of the motor, deck size and cushioning. These are all more important factors than top speed.
Things to take into consideration: speed, price, availability, number of programmes, voucher, limited, sizes, colours?
When looking got buy a treadmill on Amazon, there are certainly a few things that you should take into consideration and based on your most important factors, you should hopefully be able to narrow down your choices.
---
Affiliate Disclosure
In compliance with the FTC guidelines, please assume the following about all links, posts, photos and other material on this website:
Any/all of the links on this website are affiliate links of which GymFreakz receives a small commission from sales of certain items, but the price is the same for you.
www.gymfreakz.com is a participant in the Amazon Services LLC Associates Program, an affiliate advertising program designed to provide a means for sites to earn advertising fees by advertising and linking to Amazon.com & Amazon.co.uk. Pages on this site may include links to Amazon and its affiliate sites on which the owner of this website will make a referral commission.