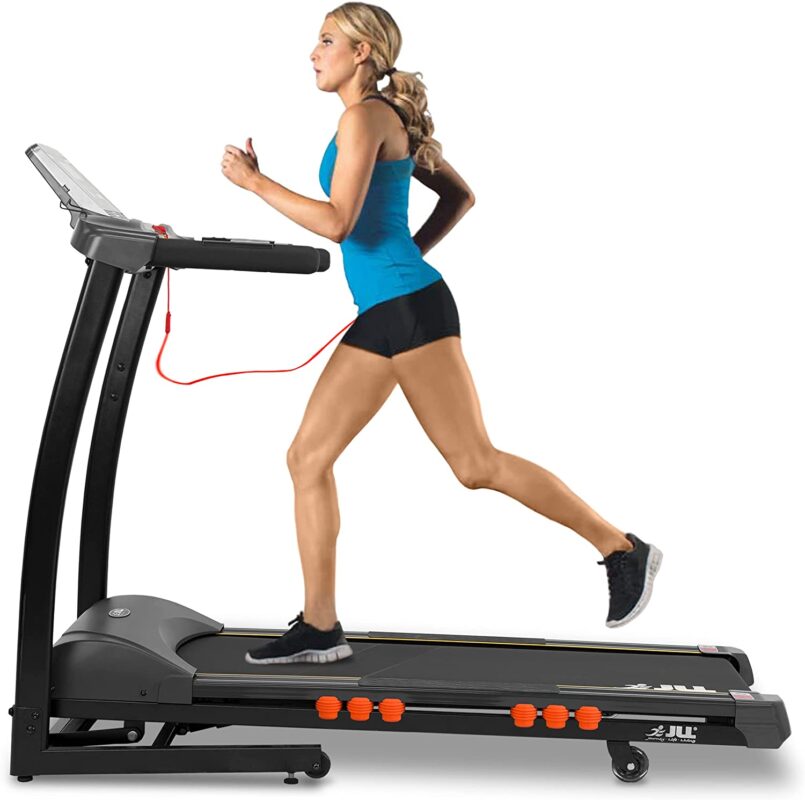 Introduction
---
Fitness Equipment Review
The JLL S300 folding treadmill has the slowest starting speed I've come across in the UK, at 0.3 kilometers per hour. This is a great feature of course if you're one of the older users or recovering from an injury, as your feet may not be used to a quick start.
As a running machine, it's good quality, good value has a good top speed and can obviously aid in weight loss if that's your goal. Great for a distance run, due to its cushioning system and incredible sound for your favourite music to help you stay motivated.
But before we go into the features, pros and cons and performance, let's start by taking a look at the standard comparable specifications that are associated with the JLL S300 treadmill.
Disclaimer – This website contains affiliate links. If you find the information useful and click on a product link and make a purchase, a small commission will be earned by GymFreakz and we appreciate your support.
JLL S300 Folding Treadmill Key Specifications
Motor: Peak power of 4.5 HP and continuous power of 2.5 HP
Speed: 0.3km/h – 16km/h / 0.18 mph – 10 mph
Running Deck Area: 123 cm (L) x 41 cm (W) / 48.4 inch (L) x 16.1 inch (W)
Programs: 15 (the 3 first programs can be reset to your own specification)
Incline Levels: From the floor to the running deck. Lowest = 19cm / Highest = 26cm
Max User Weight: 120kg / 18.8 St / 264 lb.
Display: LCD display shows speed, time, distance, calories burned and more plus good quality built-in speakers
Foldable? Yes
Warranty: 2 years on parts / labour warranty and 5 years on the motor
*Warranty may be subject to change without notice and may differ between retailers – please check carefully before making a purchase.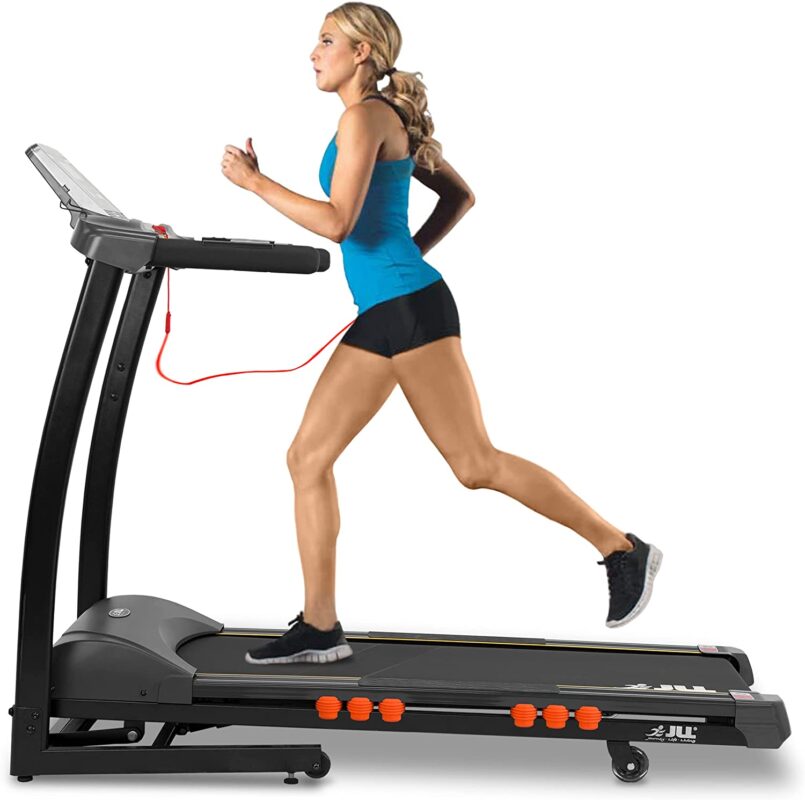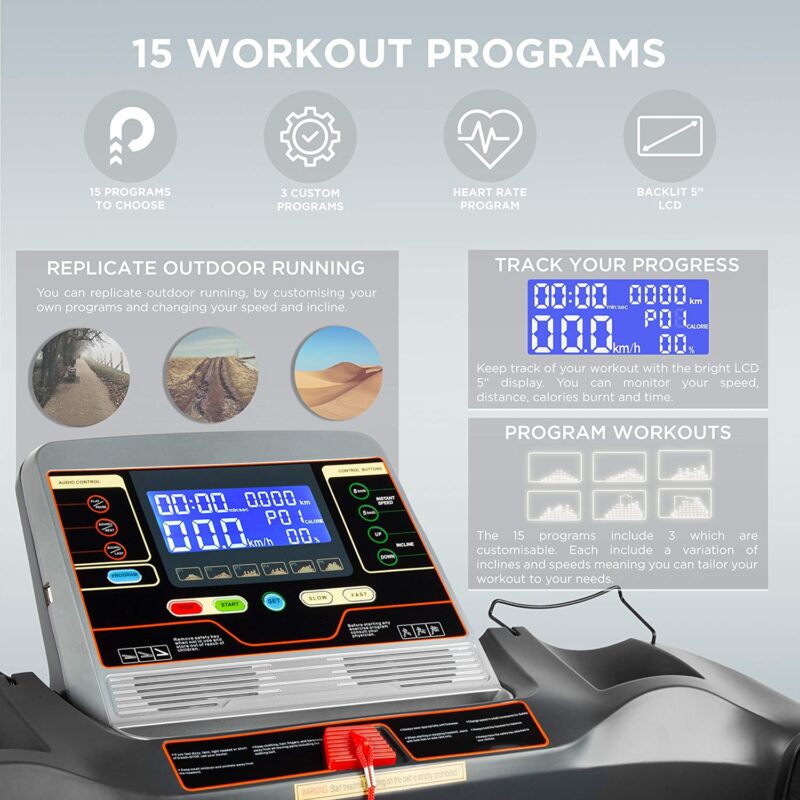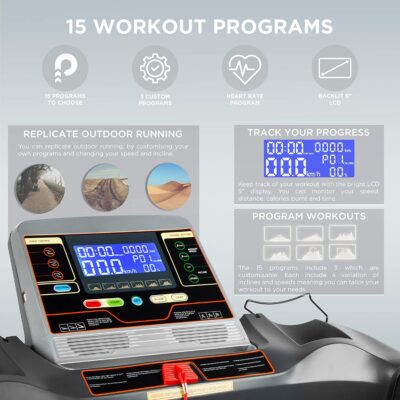 ---
FEATURES OF THE JLL S300 DIGITAL FOLDING TREADMILL
20 Level Incline
The 20 level auto-incline levels allow you to walk faster on the running belt while burning up to four times the calories than before.
The incline levels buttons on the handrail allow for quick access. PLEASE NOTE: This equipment has a starting gradient of 1 degree.
The 16-Point Cushion System (Cushion Deck)
The internal cushion deck of the JLL S300 treadmill helps you maximize your comfort and minimize the strain on your joints.
The impact protection system absorbs the shock from your workout and makes running on the board more comfortable, allowing you to train harder and longer.
Speed Range
Comes with an impressive speed range from 0.3km/h – 16km/h / 0.18 mph – 10 mph.
Handrails with Sensors Installed
Speed & incline buttons built into the handrails of the JLL S300 Treadmill as well as heart rate sensor plates.
Flex-Fold / Soft Drop Mechanism + Transport Wheels
With the hydraulic arm that secures the treadmill in place, it's simple to fold and unpack. Easily transportable with the built-in wheels.
Maximum User Weight For The JLL S300 Folding Treadmill
A good max user weight level at 120kg / 18.8 St / 264 lb. Excellent build quality.
Entertainment / High Powered Speakers
Connect your iPod, iPhone, or MP3 player to the AUX port or insert a flash drive with music into the USB interface port and listen to your favourite tunes while you work out.
Get rid of your headphones to hear sound from the powerful built-in speakers.
Phone Charging Port
Connect your phone to the USB port on this machine to charge it while you work out.
Pause Function
You may pause your workout at any time by pressing the STOP button once and then resume from where you left off when you are ready.
>>Check out more lightweight treadmill options here.<<
---
PROGRAMS
The JLL S300 Folding Treadmill comes with 15 running routines to help you reach your fitness goals.
Furthermore, the first three programs may be reset and easily programmable to set to different speeds.
15 Running Programs
The JLL S300 treadmill comes with 15 running workouts that you can try out to improve your fitness.
3 Custom Programs
In addition, you may adjust the speed on the first three programs to optimize your workout.
Heart Rate Program
The motorized treadmill will automatically change the running speed to keep you at your desired heart rate.
JLL S300 treadmill made it onto our lists of:
---
---
Overall Verdict For the JLL S300 Folding Treadmill
For the price, the JLL S300's running experience is fantastic and certainly a best deal contender.
You can work up to a variety of intensities and speeds in order to burn more calories as you get fitter, therefore it's a treadmill with features and speeds that will last for years.
…and to summarise, the JLL S300 Folding Treadmill displays a lot of premium features, is easy to program, and has an outstanding build quality.
The JLL S300 is one of my favourite mid-range treadmills, and I've already recommended it to several friends and colleagues.
JLL S300 Folding Treadmill features on our helpful guides:
---
---
Affiliate Disclosure
In compliance with the FTC guidelines, please assume the following about all links, posts, photos and other material on this website:
Any/all of the links on this website are affiliate links of which GymFreakz receives a small commission from sales of certain items, but the price is the same for you.
www.gymfreakz.com is a participant in the Amazon Services LLC Associates Program, an affiliate advertising program designed to provide a means for sites to earn advertising fees by advertising and linking to Amazon.com & Amazon.co.uk. Pages on this site may include links to Amazon and its affiliate sites on which the owner of this website will make a referral commission.