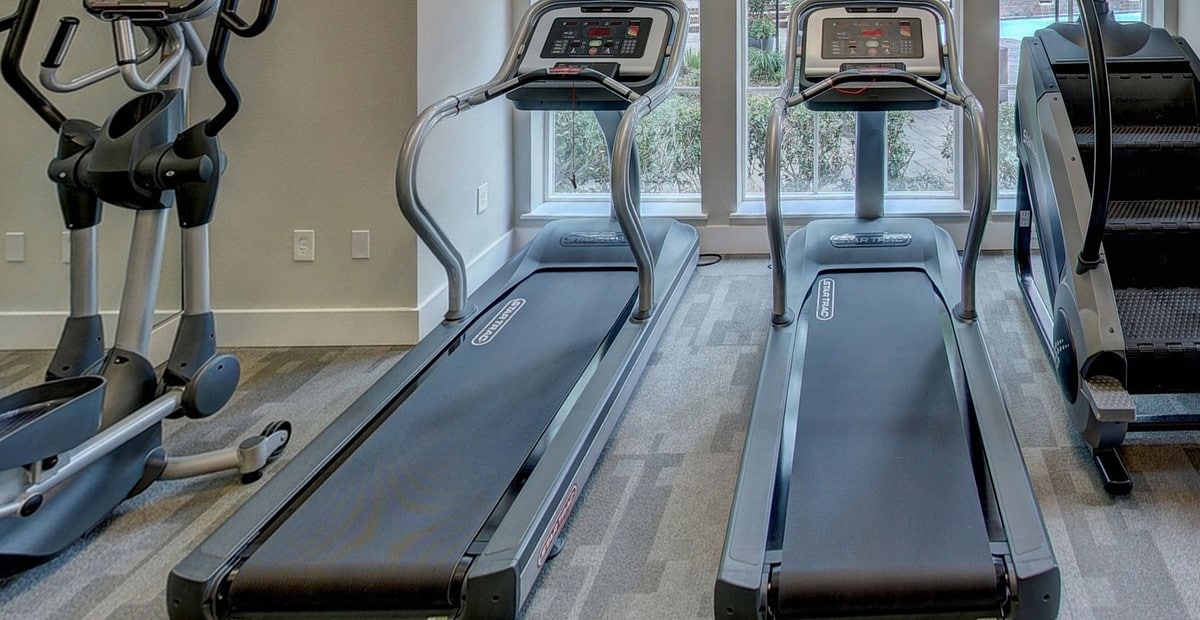 ---
---
Finding the best machines to support posture, body type, and muscle formations for taller runners.
Although you might not think it, taller runners require a different kind of machine for their home gym treadmill. A tall runner needs to consider the best treadmills for tall orders and making sure that the relevant machine accommodates for things like size and space is a must.
Everyone wants the right home treadmill. And while some people need to watch out for affordable treadmills, others need to size things up differently. This list is therefore less focused on whether you need a folding treadmill or 40+ workout programs, but rather on the dimensions, features, sturdiness and so forth. Simply put, the taller the runner, the bigger the potential necessity for a necessarily bigger machine.
Let's break down what it really is that a tall runner should be on the lookout for, and give you the workout options to stay fit for indoor running environments, without letting the limitations of body type get in the way.
Disclaimer – This website contains affiliate links. If you find the information useful and click on a product link and make a purchase, a small commission will be earned by GymFreakz and we appreciate your support.
In A Rush?
| | Best JLL: | Best JTX: | Best Horizon: | Best Nordic- Track: | Best Life Fitness: |
| --- | --- | --- | --- | --- | --- |
| Brand | JLL | JTX | Horizon | Nordictrack | Life Fitness |
| Model | T550 Digital | Club-Max Commercial | Paragon X | Commercial 2950 | Club Series+ |
| Photo | | | | | |
| Max. Speed | 18 kph | 25 kph | 20 kph | 22 kph | 19 kph |
| Max. Weight | 150 kg | 180 kg | 180 kg | 136 kg | 181 kg |
| Running Area | 156 cm x 51 cm | 154 cm x 58 cm | 56 cm x 153 cm | 56 cm x 152 cm | 22" x 60" |
| PRICE* | £999.99 | £5,999.00 | £1,999.99 | £2,699.00 | £7,795.00 |
| | | | | | |
| Check Prices | | | | | |
*Prices correct at the time of writing
---
Best JLL Treadmill For Tall Runners (156 cm):
JLL T550 Digital Folding Treadmill (£999.99)
Key features
Speed Range: 0.3 – 18 km/h = 0.18 – 11.2 mph
Running Area: 156 cm (length) x 51 cm (width)
Running Programs: 30
20 Level Incline
Maximum User Weight: 150 kg / 23.6 St / 330 lb.
Entertainment: High Powered Speakers & Bluetooth® Connectivity.
Pulse Function: Pulse Plates and Heart Rate Band Included
App Connectivity: Kinomap, Zwift and Fitshow
Warranty: 2 years on parts/labour warranty and 5 years on the motor. Lifetime guarantee on the frame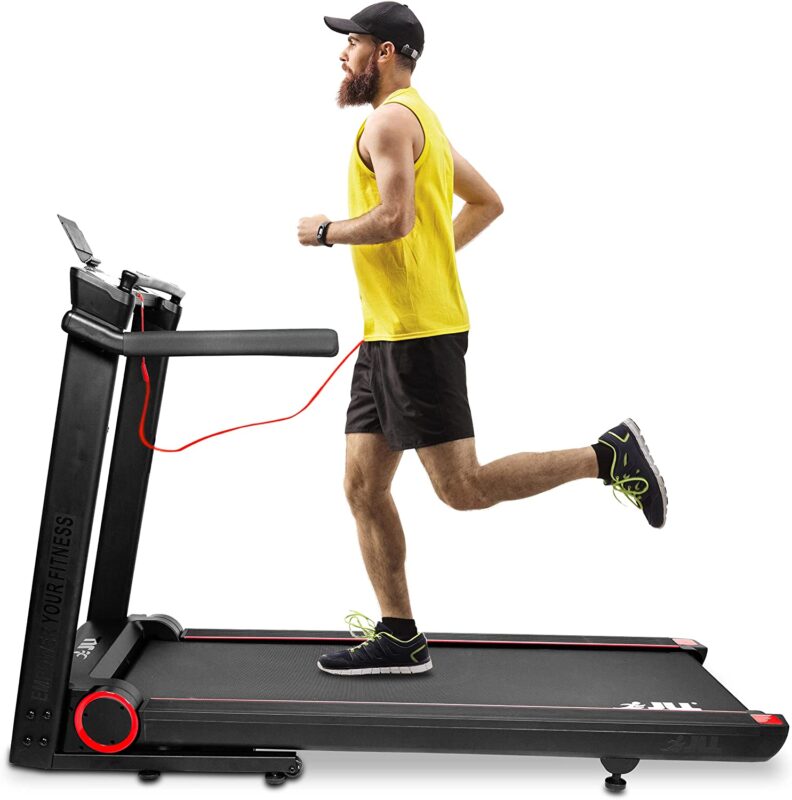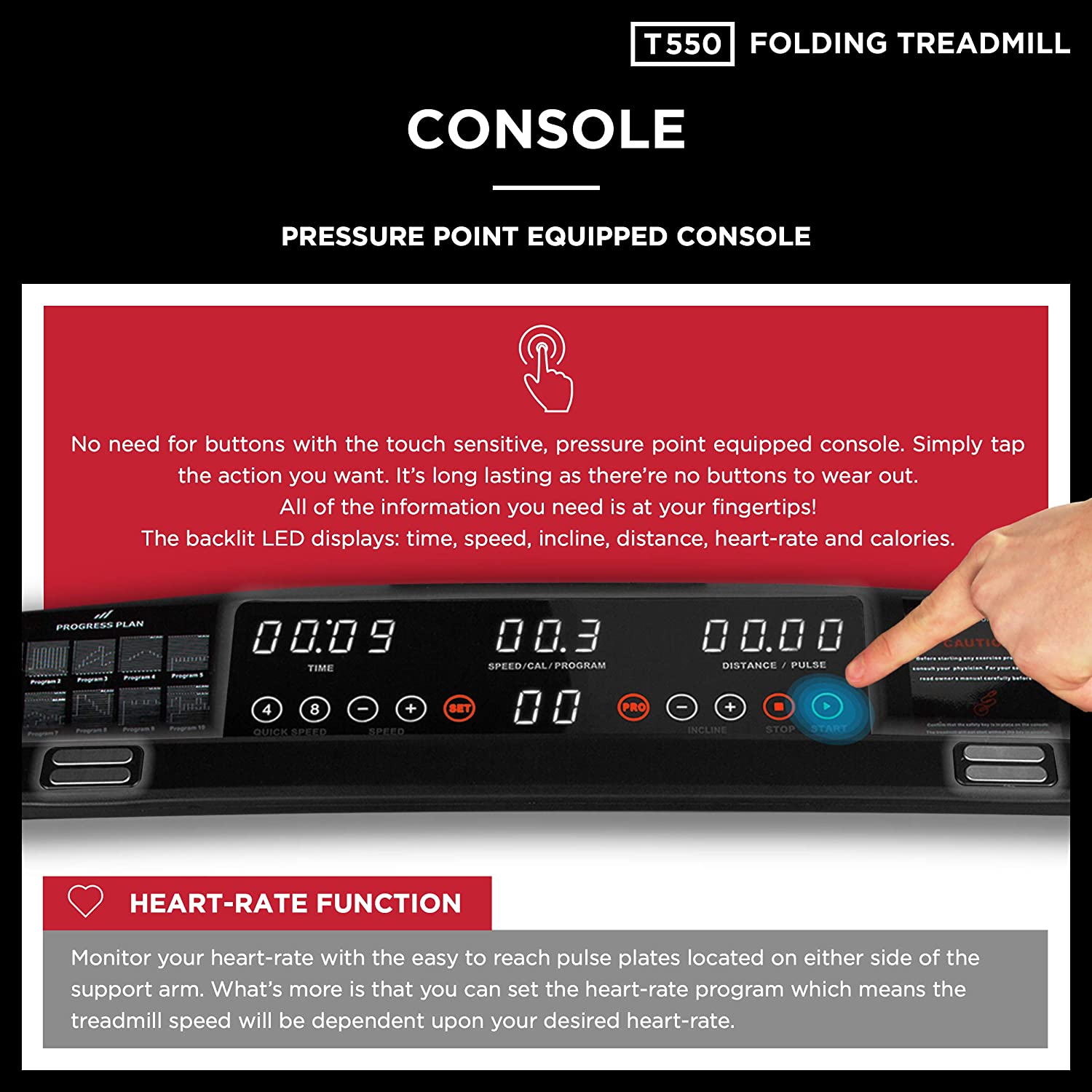 ---
Overview
The JLL T550 is amazing for those requiring stability and quality, with an excellent build and sturdy components. This treadmill is very stable and durable and the motor has a powerful performance that can support even the heaviest runners with a more than adequate maximum user weight.
This running machine has a huge running area (156cm (L) x 51cm (W) to accommodate for those needing a long stride. Training programs aside, if you're a particularly tall person who's conscious of running space, weight limit, belt size and so on, then you don't need to worry here.
Besides accommodating tall runners, this is one of my favourite affordable treadmills with expensively put-together components. It also features a 20-level incline, great maximum speed (18km/h), and a more than accommodating max weight capacity.
This is a big machine with strength, so if those two qualities are exactly what you're after, then look no further.
Want to know more? Read our full review of the JLL T550 Digital Folding Treadmill here.
---
Best JTX Treadmill For Tall Runners (154 cm):
JTX Club-Max Commercial Treadmill (£5,999.00)
Key Features
Running area: 154cm x 58cm
Cushionstep deck
Maximum speed: 25 Kph
Incline: 0-15% or 15 levels
Suspension: 8 points commercial shock system
Computer console: 10-inch LCD display
Clutter-free display
Workout programs: 24 different workout modes + 3 custom
Heart Rate Training: Yes
Power: 6 Horsepower AC motor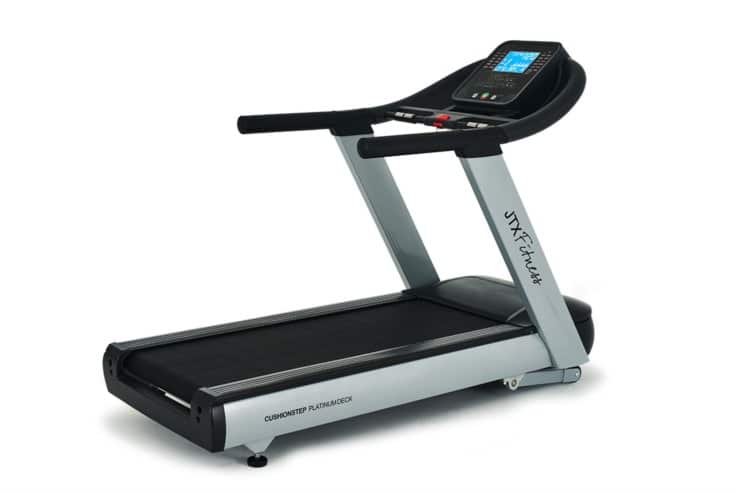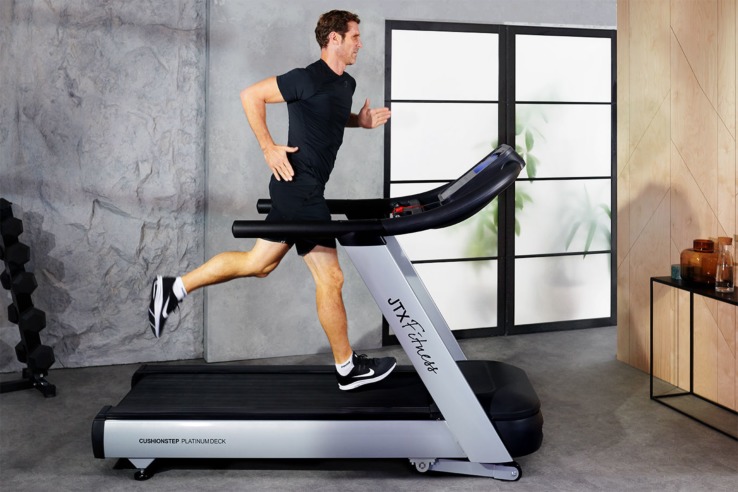 ---
Overview
Overall the treadmill turned out to be a great purchase; it has everything that could be wanted in order to accommodate for a taller person. and its features help make workout sessions unforgettable. JTX club max is a commercial treadmill, and it suffices the need for consistent heavy-duty performance. Heavy-duty performance means you don't have to worry about the sometimes rickety foldable treadmills/compact treadmills and run comfortably on the running surface for high-intensity training.
The wide range of workout modes are closely designed to fit the needs of multiple trainers, giving you options not just for tall runners but most runners all round. The flexibility to change their intensity gives you even more options to work with.
The monitors provide crucial details about your body's reception to the workout; it helps trainers achieve the desired heart rate zone and make the most of their workout routine.
From steady-state cardio to high-intensity, personalised workouts, this machine is undoubtedly right for the taller runners reading this list.
Want to know more? Read our full review of the JTX Club-Max Commercial Treadmill here.
---
Best Horizon Treadmill For Tall Runners (153 cm):
Horizon Paragon X Folding Treadmill (£1,999.99)
Key Features
Partial self-assembly required
It does not come with built-in speakers.
Console position is fixed.
Dimensions are height is 147 cm, width is 97cm and in diameter, it is 206 cm.
You can also monitor your heart rate via hand sensors through handgrip pulse measurement.
Incline is 0 to 15 per cent.
This treadmill is made out of steel.
Maximum user weight allowed is 180 kilograms.
There are 37 programs/settings that come with this treadmill.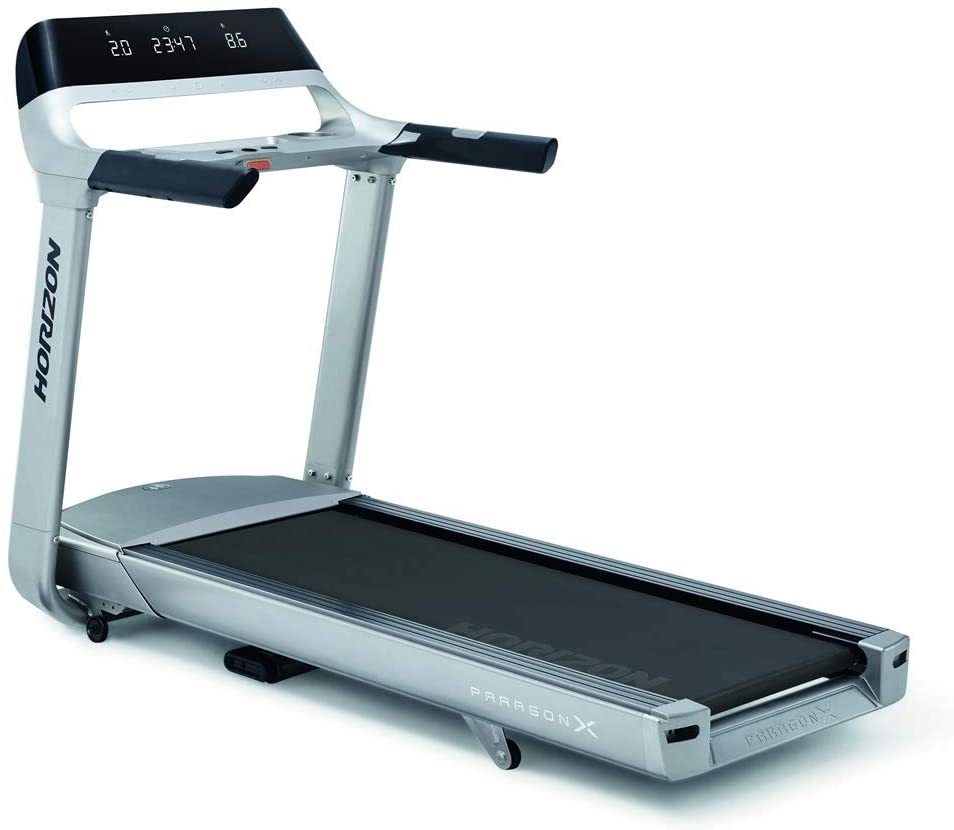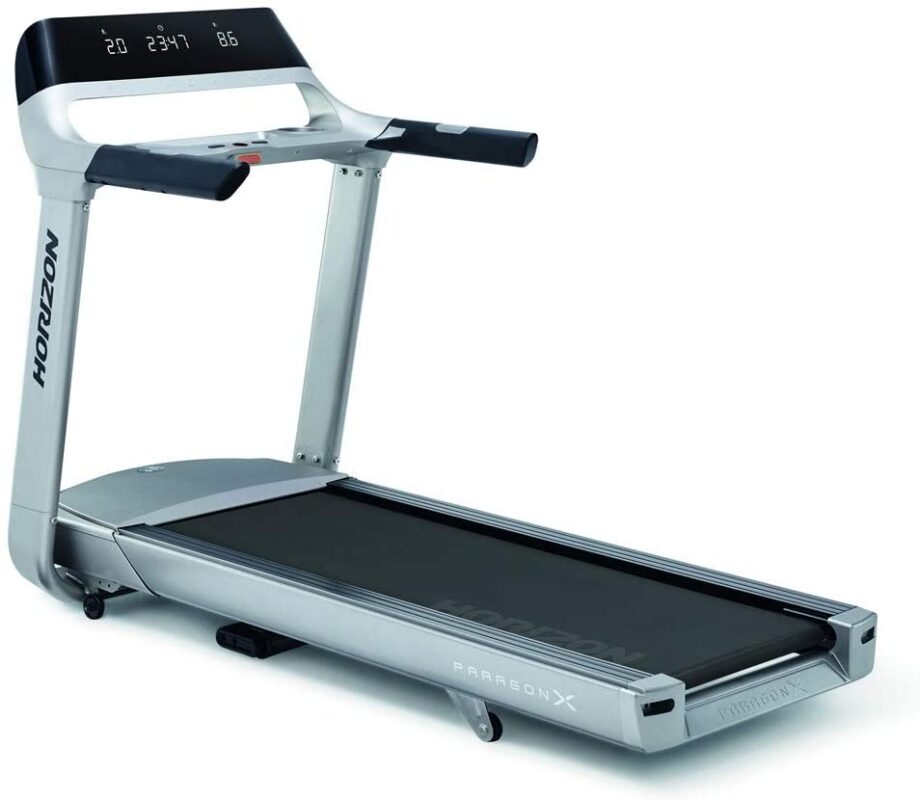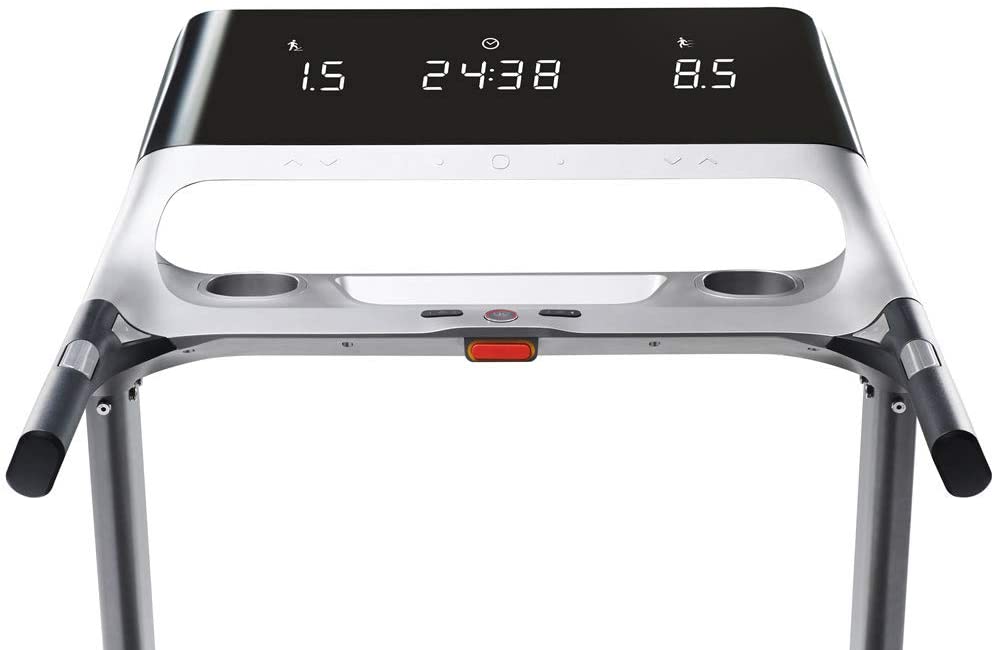 ---
Overview
With considerations like muscle strain or joint strain, it's important to find a machine that allows for comfort and physique, rather than just incline range or maximum speed.
With Horizon Paragon X the responsive air cushioning lets you enjoy your workout and makes sure that you don't get injured while working out. The air cushioning beneath the deck inflates along with pre-programmed changes in speed and incline based on demanding exercise classes and also 10 real trail running experiences.
Besides the obvious benefits for physical form, the Horizon Paragon X makes for an immersive running experience, too. With preset workouts and virtual tracking, you'll soon forget that you're running indoors, and the difficulties of terrain dynamics for tall runners in outside environments are no longer an issue.
If you're a fitness enthusiast or just beginning, the considerations of being a tall runner should be accommodated for with this top-quality treadmill.
Want to know more? Read our full review of the Horizon Paragon X Folding Treadmill here.
---
Best NordicTrack Treadmill For Tall Runners (153 cm):
Nordictrack Commercial 2950 Treadmill (£2699.00)
Key Features
Partial assembly required
Built-in speakers with Bluetooth connectivity
Adjustable console position
Height 165 x width 100 x depth 200 cm
Dimensions when folded height 189 x width 100 x depth 100 cm
Foldable? Yes
Heart rate monitor via hand grips
Heart rate monitor via hand sensors
Incline 15 percent
Max User Weight 136kg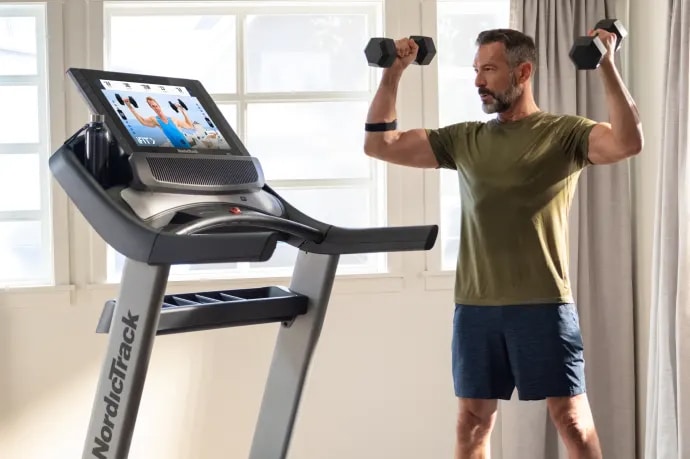 ---
Overview
This machine's power and build stand out the most. With a large running deck and wide belt you have plenty of space to take longer strides on a long lifetime frame.
Despite mentioning that foldable frames have a tendency to be less sturdy than their heavy-duty counterpart, the 2950 is amazingly strong with its foldable design. So, with this machine, you get a strong build and a space-saving design.
With a great top speed, the power available from this treadmill gives you no excuses for pushing your limits. With features like an adjustable console position and great incline ranges, then you get to make this machine yours.
Commercial treadmills aren't always like this. You don't always get great customisation and a sturdy build in this way. If you're a tall runner specifically then this level of customisation makes this machine the right treadmill for you.
Want to know more? Read our full review of the Nordictrack Commercial 2950 Treadmill here.
---
Best Life Fitness Treadmill For Tall Runners (152 cm):
Life Fitness Club Series+ Treadmill (£7795.00)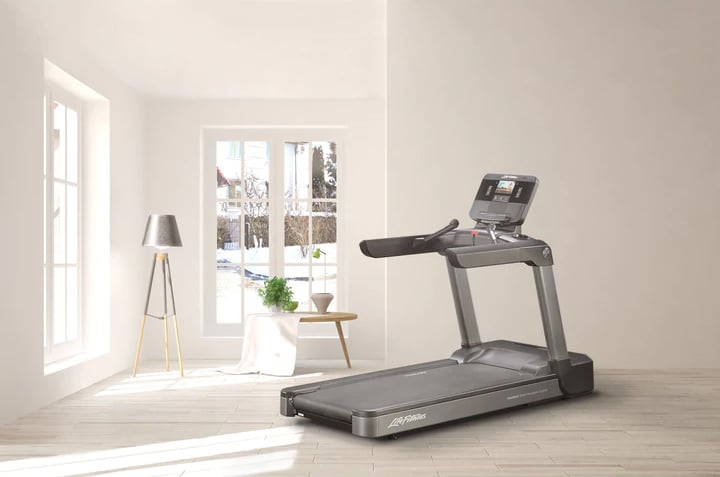 ---
Overview
The Life Fitness Club Series is designed with exerciser insight. Thus, this Club Series treadmill is one of its kind. With a unique physical look to modern advanced features, this is a complete package for home and light commercial use. If you are looking for a quality fitness solution for regular use, Life Fitness Club Series Plus is the treadmill for you.
However, as taller runners, we need the other considerations to be in place too. And while it's far from a bad machine, with a decent maximum incline and high weight capacity, it's still got a few drawbacks.
Firstly, the motor power isn't the best, and to get a good stride length and push yourself as a tall runner you need higher speeds than most – max speed is always a consideration. That said, the great workout routines help to give you better options, and certainly help to work around the power issue. Not to mention that a smaller motor means a quiet treadmill, and for tall runners, noise can always be an issue. Be sure to consider this great treadmill if power isn't an issue for you.
Want to know more? Read our full review of the Life Fitness Club Series+ Treadmill here.
---
Conclusion
If you're a tall runner and you're looking for a machine then you can find the best treadmill in this list.
Simple.
For us, it's not always about whether a machine can automatically adjust and has a lovely screen, it's if the machine can support your workouts properly and professionally.
As we know, a compact treadmill may make things a little harder, so unfortunately you may have to fork out a little more for your height.
Blame your parents!
>> See More Helpful Treadmill Guides Here <<
---
FAQ'S
What is a Bowflex treadmill, can I use it if I'm tall?
Bowflex are a brand, not a type of treadmill. And they're renowned for accommodating runners of all types for over 35 years. So, I'm sure you can find one if you're a tall runner.
---
Affiliate Disclosure
In compliance with the FTC guidelines, please assume the following about all links, posts, photos and other material on this website:
Any/all of the links on this website are affiliate links of which GymFreakz receives a small commission from sales of certain items, but the price is the same for you.
www.gymfreakz.com is a participant in the Amazon Services LLC Associates Program, an affiliate advertising program designed to provide a means for sites to earn advertising fees by advertising and linking to Amazon.com & Amazon.co.uk. Pages on this site may include links to Amazon and its affiliate sites on which the owner of this website will make a referral commission.