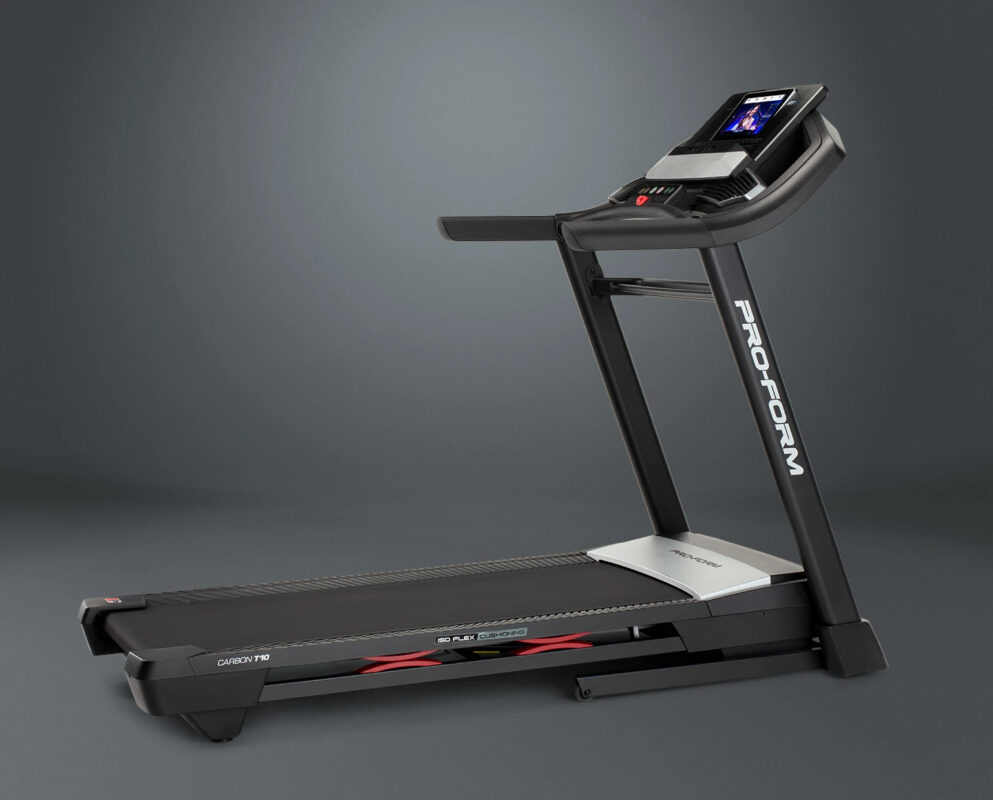 ---
---
Introduction to the ProForm Carbon T10 Folding Treadmill
Are you looking for a treadmill that will bring the full gym experience right to your doorstep? Then the Proform Carbon T10 treadmill might be the answer to all your questions! If you want to have iFit trainers who adjust the equipment for you by changing the speed and incline in accordance with your run then this treadmill will be a great fit for you!
You'll get to choose from thousands of workout options, featuring many interactive studio class sessions, plus outdoor workouts too that are all led by top professional trainers.
It also includes an iFit family membership for a full 30 days that has live on-demand workouts which will keep you on track with your sessions.
So, if you're looking for a treadmill that will give you an experience of a lifetime from the comfort of your own home then the Proform Carbon T10 treadmill could well be the answer!
Keep reading to find out more!
Disclaimer – This website contains affiliate links. If you find the information useful and click on a product link and make a purchase, a small commission will be earned by GymFreakz and we appreciate your support.
---
---
Specifications
10-inch full-colour touchscreen display
iFit enabled
30-day iFit membership included
2.75 CHP motor
Tread belt, 51 x 140 cm
0-16 kph Digital Quickspeed control
Incline, 0-12 per cent
ISO flex cushioning
1.9-inch Precision balanced rollers
SpaceSaver Design
EasyLift Assist
CoolAire Fan
Dual 2-inch speakers
Weight capacity: 135 kg
Product Dimensions: 190 x 90 x 146 cm
Product weight: 97 kg Boxed-Product Weight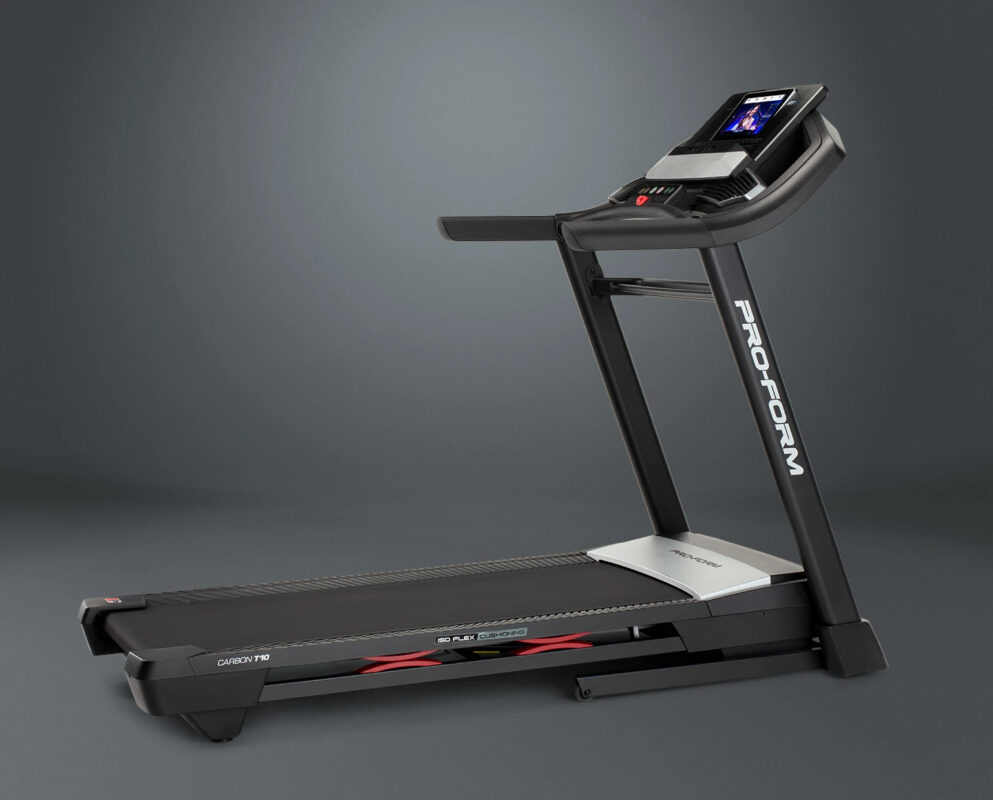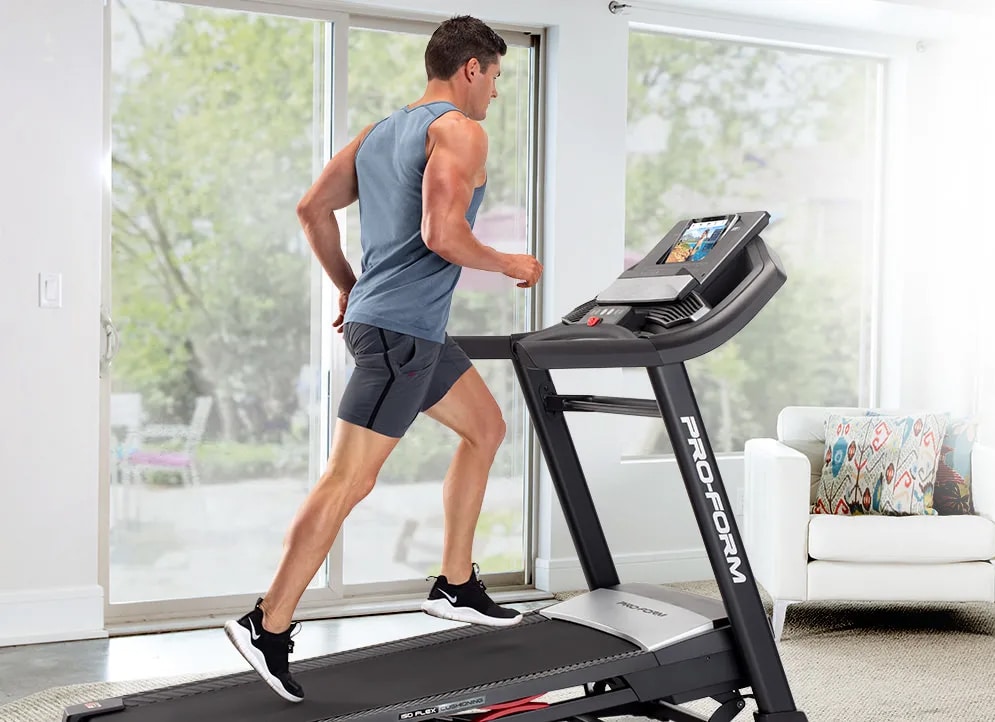 ---
KEY FEATURES
Motor
If you're looking for a durable motor that gives great results at home then this 2.75 CHP motor is a good option! This motor provides just the right amount of horsepower required for a treadmill to facilitate your daily routine.
Although not the most powerful motor it is still one that will help you achieve your weight loss goals especially if you're a beginner to an intermediate standard and have yet to advance to the more extreme, hardcore workouts.
So if you're looking for a motor that will give you the results while not being too overly powerful then this is the great option for you!
Incline
The 0-12 percent incline control adds a lot of challenge to your workouts without being too harsh on your joints. The 12 percent incline will make your workouts a little tough but will also give you the results that are promised!
In the incline workouts, a lot of the muscles in your lower body are working and this will prove to be very beneficial for these lower body muscles. Incline workouts will add more definition to your lower body muscles, making your legs stronger, faster!
Workouts with a little bit of incline are very helpful in weight loss as it promotes higher calorie burn without putting in too much additional effort and with the iFit membership, the auto incline proves to be even better feature and gives you a great workout in a short amount of time!
Cushioning
The ISO flex cushioning makes the treadmill a quiet one and this also reduces the impact on your joints. So if you have weak knees and/or joints then this is a great option to have since this reduces the impact on your knees making your workouts easier and safer for you to do!
If you have a knee problem or are prone to injuries while working out on a treadmill then this feature will make sure that your joints are protected. The roomy deck is built with ISO flex cushioning which is designed to give your legs a landing surface with more space so you can exercise with comfort!
Fan
This treadmill is definitely going to make you sweat but it does not mean that you have to be uncomfortable! The built-in CoolAire fan gives you three levels of breeze to keep you feeling good throughout your workout!
SpaceSaver Design
The Proform CarbonT10 is built with a SpaceSaver design. You can conveniently fold the treadmill by folding the deck, allowing you to put it away until you want to use it again.
Since it's not easy to make a home gym in smaller homes this treadmill was built with those people in mind who have space issues but who still wish to include one at their home.
Screen and Connected Fitness Tracking
The 10-inch screen of 'swipeable' high definition helps provide you with the best training experience! With interactive personal training and a machine that is designed specifically for your home, the screen of this treadmill will enable you to enjoy your workouts even more!
With such a stunning screen – the interactive studio classes and training sessions are simply the best!
iFit Interactive Training Studio Classes
The Proform Treadmills are all iFit enabled with 30 days of free membership included! You get amazing interactive training sessions with iFit trainers that move your transformation forward by interacting with and controlling the Carbon T10's speed and incline!
The streaming global and studio class workouts allow you see the world while you run through the cities and trails or get yourself pushed to your limit in a studio class, whilst all the while being led by a personal trainer at home!
With the connected fitness tracking feature, you can check your progress as every training session is automatically recorded and even used to influence future fitness plans!
With certified personal trainers assisting in your workouts you can rest assured that they will give you the results you require! Plus the connected fitness tracking will show you all the data of your workouts enabling you to easily track your progress!
And what's more, the iFit membership brings knowledge that will help you get through your workouts and will also ensure that all your sessions are according to your own fitness levels!
These trainer-led sessions provide great indoor workouts allowing this compact treadmill to give you on-demand fitness that will change the way you look at your fitness routines!
---
Warranty 
Let's take a look at the warranty of this treadmill!
2-year parts
2 years labour
5-year motor (parts only)
Lifetime frame guarantee
*Warranty may be subject to change without notice and may differ between retailers – please check carefully before making a purchase.
---
---
Overall Verdict:
The Proform Carbon T10 is a good treadmill for beginners or people who are looking for an upgrade from a basic model. It offers some great features such as iFit, a large tread belt and a powerful motor. However, it is not the best treadmill on the market and if you are looking for something more high-end then this may not be the right model for you. With that said, and if you're on a budget though, then this treadmill is definitely worth considering!
Its main selling point is the iFit feature which gives you access to a range of personal trainer-led workouts offering a wealth of fitness tips which you might not find anywhere else in the fitness industry. The motor is also powerful and quiet and the cushioning is great for reducing impact on your joints.
So overall, the Proform Carbon T10 is a good treadmill however it does have some drawbacks that you should be aware of before making your purchase.
But, if you are looking for a good quality, budget-friendly treadmill then this could be the right model for you!
---
---
What I Like About This Treadmill
This treadmill is a treadmill that anyone would instantly like after just one use! Let's take a detailed look at all the things I especially liked about this treadmill!
iFit Enabled
One thing I liked the most about this treadmill is that it is iFit enabled! The Proform Carbon T10 treadmill has iFit trainers that give you streamed personal trainer-led workouts that make sure you get a great workout in without the fear of burning out!
The sessions are so interactive and the trainers always keep you motivated to get you through your workouts hence this feature of the treadmill is the one I liked the most!
Whether you want to do interval training or strength training this treadmill has it all!
Motor
Although the motor of this treadmill is not as powerful when compared to other Proform treadmills it is still a relatively powerful yet quiet one! If you want a quiet in-home experience then this treadmill should be on your list!
It not only has a quiet motor but it also has the option of self-cooling! The self-cooling fan prevents the treadmill getting too hot if you use it for a long period of time!
This is another feature that makes this treadmill unique!
Cushioning
The ISO flex cushioning is another great addition if you are prone to injuries since this will protect your joints from any injury while working out. So if you have issues getting injured on treadmills then this might be the right treadmill for you!
The flex cushioning reduces the impact on your joints by giving you a soft landing whenever you step on the treadmill plus since the tread belt is large it gives ample space for a bigger person to use this treadmill with ease!
What I Didn't Like About This Treadmill
Price
Although this treadmill is not an expensive one if you look at the features it offers you could well question the price. My advice would be to look out for offers to bring the RRP down just a little.
Small Rollers
If you compare the rollers of the Proform Carbon T1o treadmill to other treadmills in the industry you will find that the rollers of this treadmill are quite small.
---
FAQ's
Does Carbon T10 Have Interactive Personal Training?
Yes the Carbon T10 includes iFit which included interactive personal training!
Does ProForm Carbon T10 Have Bluetooth?
The new Carbon T10 has wireless connectivity that means it will sync with your Bluetooth devices!
Can you use the Carbon T10 without iFIT?
Yes you have the option to use the Carbon T10 treadmill without iFit if you wish to!
Discuss this phrase: 'tech specs technology expand'
The Proform Carbon T10 Folding Treadmill is a full-featured treadmill that's packed with the latest technology to give you a great workout. The large, easy-to-read display shows your speed, time, distance, calories burned, and heart rate, so you can track your progress.
What is meant by 'stock experience personal training'?
The Proform Carbon T10 Folding Treadmill includes iFit which is a feature that gives you access to a range of personal trainer-led workouts offering a wealth of fitness tips which you might not find anywhere else in the fitness industry. This is a great feature if you are looking for a more personalised workout experience.
What is meant by 'double the user weight'?
The Proform Carbon T10 Folding Treadmill can accommodate a user weight of up to 400 lbs which is double the weight of most other treadmills on the market. This makes it a great option for people who are looking for a treadmill that can accommodate a larger user.
---
Affiliate Disclosure
In compliance with the FTC guidelines, please assume the following about all links, posts, photos and other material on this website:
Any/all of the links on this website are affiliate links of which GymFreakz receives a small commission from sales of certain items, but the price is the same for you.
www.gymfreakz.com is a participant in the Amazon Services LLC Associates Program, an affiliate advertising program designed to provide a means for sites to earn advertising fees by advertising and linking to Amazon.com & Amazon.co.uk. Pages on this site may include links to Amazon and its affiliate sites on which the owner of this website will make a referral commission.