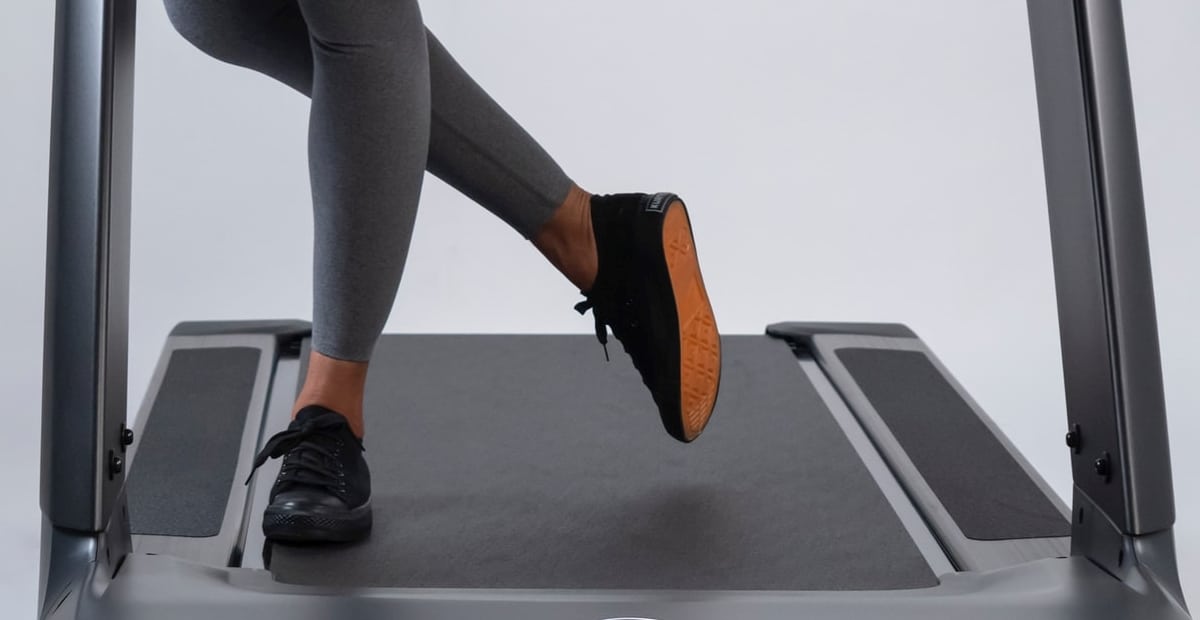 ---
---
All from the comforts of your living room, your garage, or your basement – finding the best treadmill to suit your home's needs
We're all here for the same reason – we want an effective alternative to expensive and often hard-to-reach gyms that we can utilise all year round.
As it turns out, it's been right under our noses this whole time. The answer? A treadmill that fits in whatever room you need it to.
Forget about max speed for a moment, ignore the best machines from life fitness, we're not just here to find the loudest most expensive treadmill – we're here to find the best treadmill for your home.
What do you think could be getting in the way of the best treadmills for you right now? For me, things like, 'how much space I have' – opening up the potential need for a folding treadmill.
Maybe we need to consider dimensions, so a compact treadmill is for you. Or perhaps we need to think about running deck features to ensure a decent indoor running experience.
But space might not be the only thing we're short on.
In which case, budget treadmills, machines that work with the rest of your home gym, perhaps a standing desk treadmill so you can work even harder to pay off the very machine that's costing you cash.
Whatever your need, whatever your obstacle we have a solution, and in every case, a treadmill, so easy to use and available whenever you need it, is an unquestionable benefit.
So let's see how to make your home an even better place for your heart.
Disclaimer – This website contains affiliate links. If you find the information useful and click on a product link and make a purchase, a small commission will be earned by GymFreakz and we appreciate your support.
In A Rush?
| | My Top Pick: | Best Top End: | Best All-rounder: | Best Curved: | Best For Under £1000: |
| --- | --- | --- | --- | --- | --- |
| Brand | Life Fitness | Life Fitness | ProForm | Nohrd | JTX |
| Model | Club Series+ | F3 | Carbon T10 | Sprintbok Curved | Sprint-7 |
| Photo | | | | | |
| Max. Speed | 19 kph | 16 kph | 16 kph | n/a | 20 kph |
| Max. Weight | 181 kg | 159 kg | 135 kg | 160 kg | 130 kg |
| Running Area | 22" x 60" | 55″ x 20″ | 51 cm x 140 cm | 160 cm x 45 cm | 145 cm x 51 cm |
| PRICE* | £7,795.00 | £2,995.00 | £1,399.00 | £5,295.00 | £899.00 |
| | | | | | |
| Check Prices | | | | | |
*Prices correct at the time of writing
---
My Top Pick (if you have the room – fixed):
Life Fitness Club Series+ Treadmill (£7795.00)
Key features
Maximum Speed: 12 mph
Minimum Speed: 0.5 mph
Incline Range: 0-15%
Incline Increment: 0.5%
Dimensions: 82in x 36in x 56in (lxwxh)
Running Surface: 22in x 60in
Equipment Weight: 197kg
Connectivity: Yes
FlexDeck Shock Absorption: Yes
Motor System: 4 HP AC Peak Performance Motor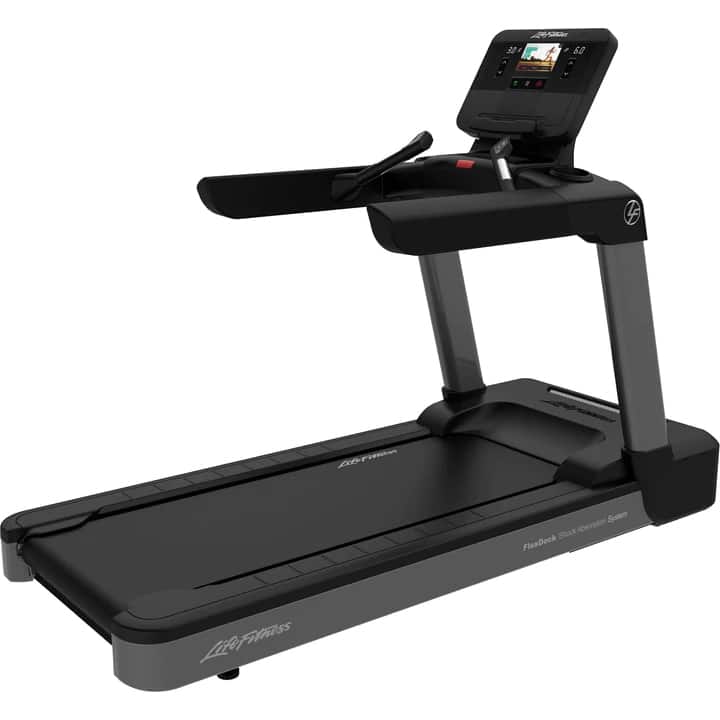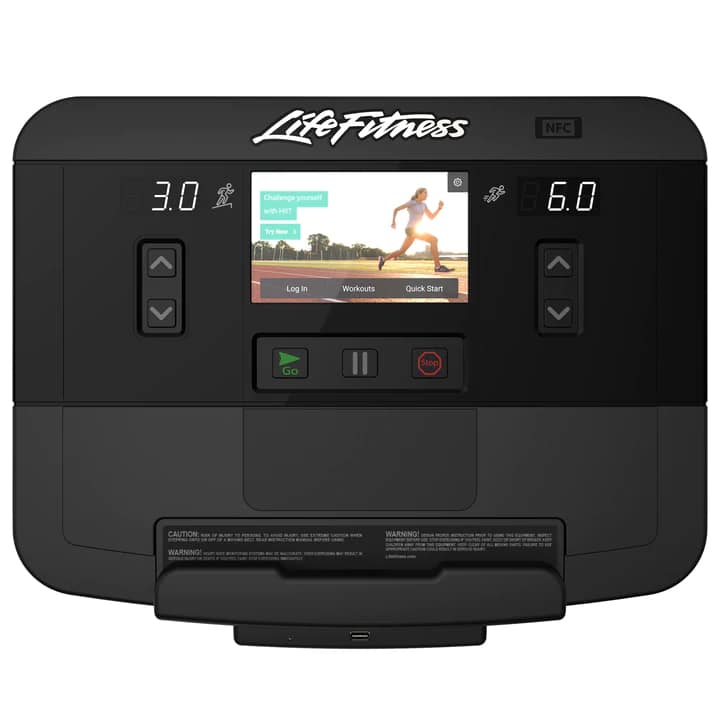 ---
Overview
The Life Fitness Club Series is a solid choice for a solid home.
If you can ignore the fact that it doesn't fold (not the biggest machine so far from the biggest problem) then this is one of the best treadmills on this list, no doubt.
This machine is designed with exerciser insight in mind.
Treadmill features like the touchscreen display and data tracking make this bit of technology a must a buy for a great home treadmill.
Beyond losing weight, with a unique physical look to modern advanced features, this is a complete package for home and light commercial use.
If you are looking for a quality fitness solution for regular use, Life Fitness Club Series Plus is the treadmill for you.
And, if you'd be using this as regularly as I then the shock absorption system (creating well-cushioned running decks) makes this professional treadmill the ideal candidate for your home gym arrangement.
Want to know more? Read our full review of the Life Fitness Club Series+ Treadmill here.
---
Best Top End (foldable):
Life Fitness F3 Folding Treadmill with Track Connect Console (£2995.00)
Key Features
Brand: Life Fitness
Model: F3 Folding with Track Connect Console
Min Speed: 0.5 mph
Top Speed: 10 mph
Incline Increment: 0.5 %
Integrated Accessory Tray: Yes
Ergobar: Yes
Shock Absorption: FlexDeck
Walk, Jog, Run: Yes
Mode: Folding
Dimensions: 78.5 in x 34.5 in x 58.5 in (lxwxh)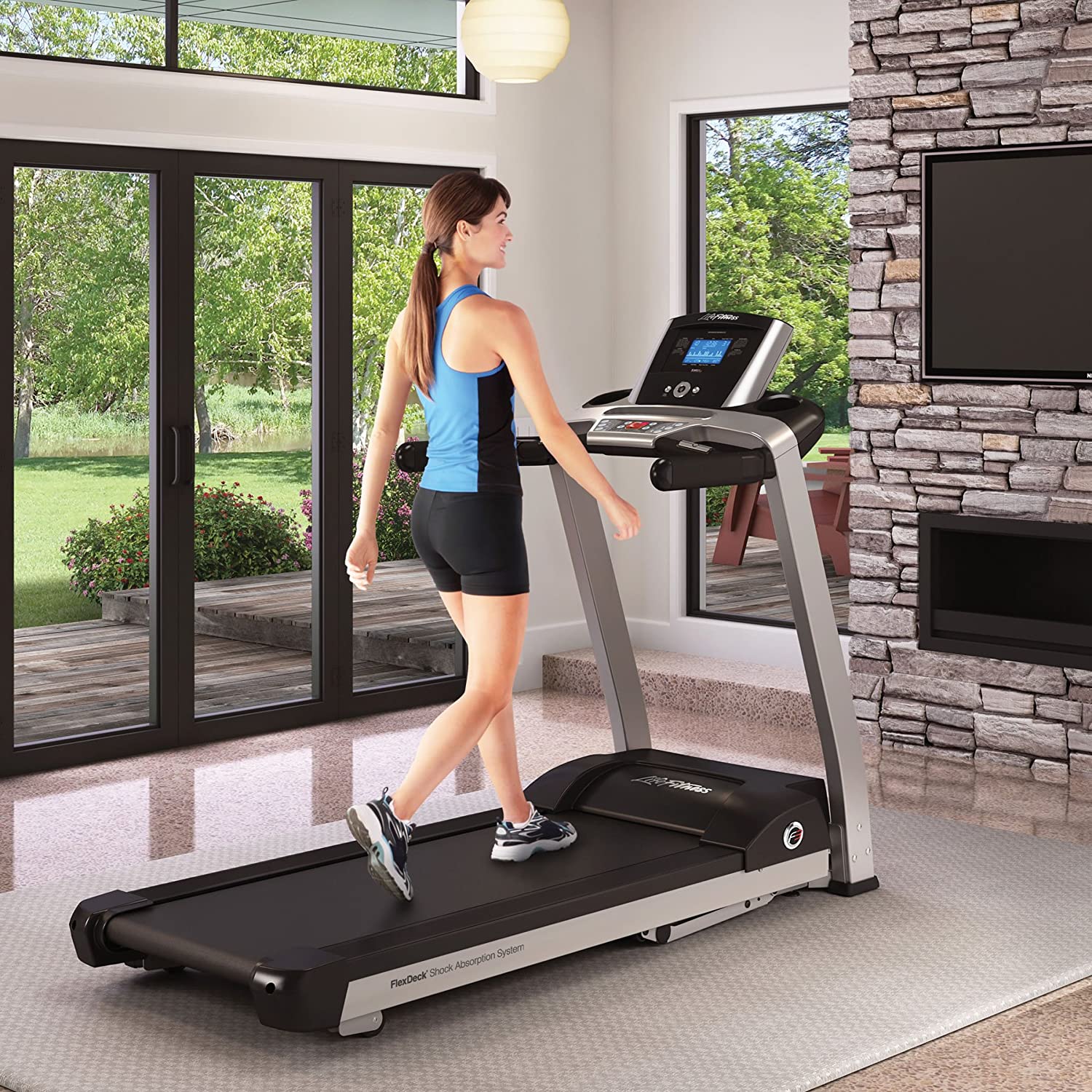 ---
Overview
The Life Fitness F3 Folding Treadmill with track connect console is one of the best home fitness equipment that allows high-intensity workouts and takes minimal space.
This combination allows for spatially efficient workouts that help you lose just as much weight.
And there's nothing like being comfortable in your own home – the forgiving running platform with the FlexDeck shock absorption makes it both a powerful and safe machine for your home.
The welded steel frame, heart rate monitoring, flex deck cushioning, virtual trainer, multiple inclines, and various exercise options make it the best fit for discerning exercisers.
And these features are just the beginning –
It also has high power efficiency through the use of an energy-saving DC motor. In combination with the convenient storage area, these all make the F3 treadmill superior to other ordinary treadmills, and a perfect fit for your home.
Want to know more? Read our full review of the Life Fitness F3 Folding Treadmill here.
---
Best All-rounder (+ minimal noise):
ProForm Carbon T10 Folding Treadmill (£1399.00)
Key Features
10-inch full-colour touchscreen display
iFit enabled
30-day iFit membership included
2.75 CHP motor
Tread belt, 51 x 140 cm
0-16 kph Digital Quickspeed control
Incline, 0-12 per cent
ISO flex cushioning
1.9-inch Precision balanced rollers
SpaceSaver Design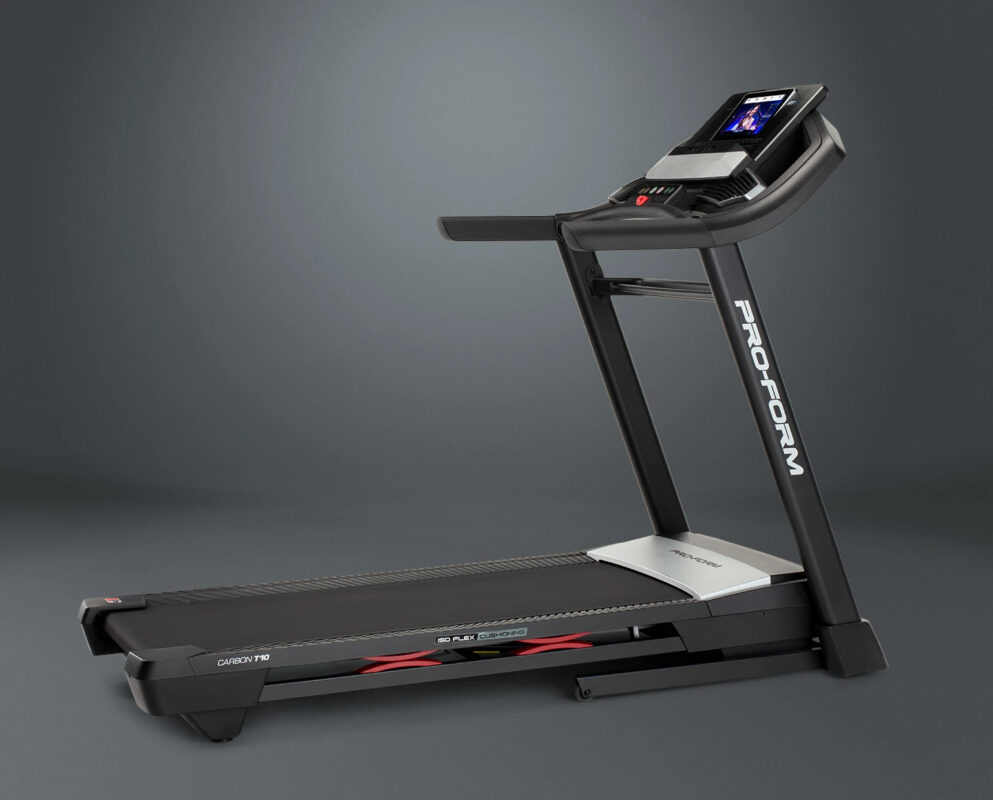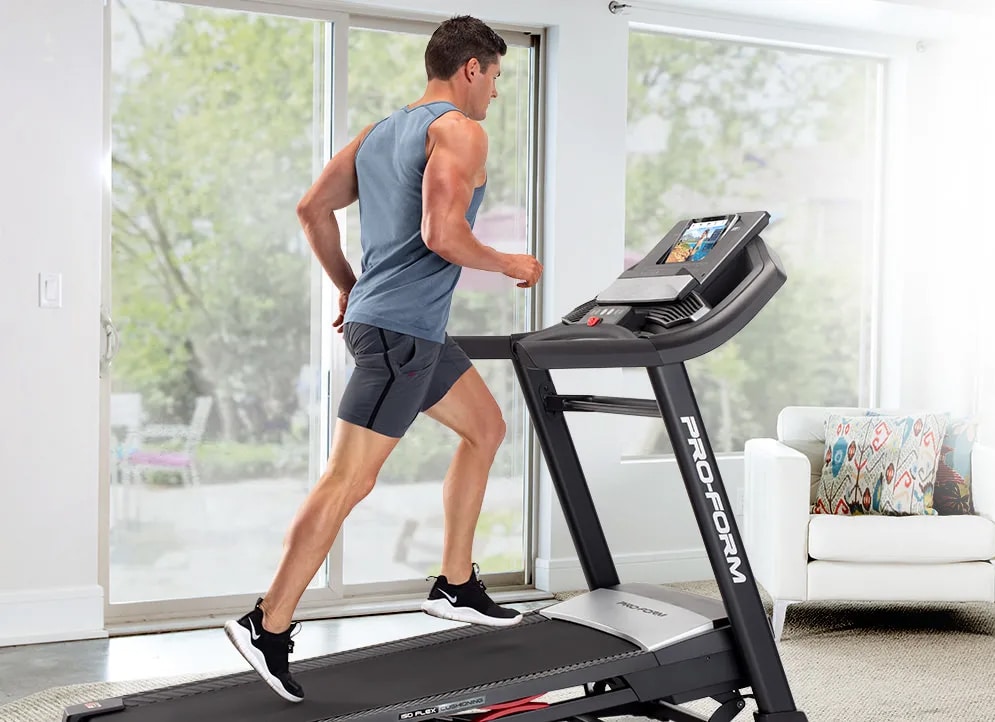 ---
Overview
The Proform Carbon T10 is a good treadmill for beginners or people who are looking for an upgrade from a basic model.
It offers some great features such as iFit, a large tread belt, and a powerful motor, great features for a home space and weight loss targets.
Because this machine is ideal for beginners, however, it strays from being categorised in the high-end region.
While it has great basic features, making it a more than decent treadmill, it lacks the technological features and extras that make it the best of the best.
But we're not always after the best of the best, and hey, some of us won't even want to know what all these features mean.
High-intensity interval training on a user-powered incline machine with a slat belt running surface…. just give me a budget treadmill that fits in my home and helps me to lose weight.
If that's the case, then look no further!
Want to know more? Read our full review of the Proform Carbon T10 Folding Treadmill here.
---
Best Curved (home treadmill):
Nohrd Sprintbok Curved, Manual Treadmill £5295.00
Key Features
Manual treadmill, no power source required
No speed limit
17.2" (43.6cm) high definition Touch Screen
Available in a variety of woods
Slats are made from Birch plywood and high-quality rubber for superb cushioning
Running surface 63" x 18' (160cm x 45cm)
Grease life high-quality bearings
Transport wheels
Maximum user weight 25 stone (160kg)
Size L x 175cm W x 86cm H x 160cm
Treadmill weight 120kg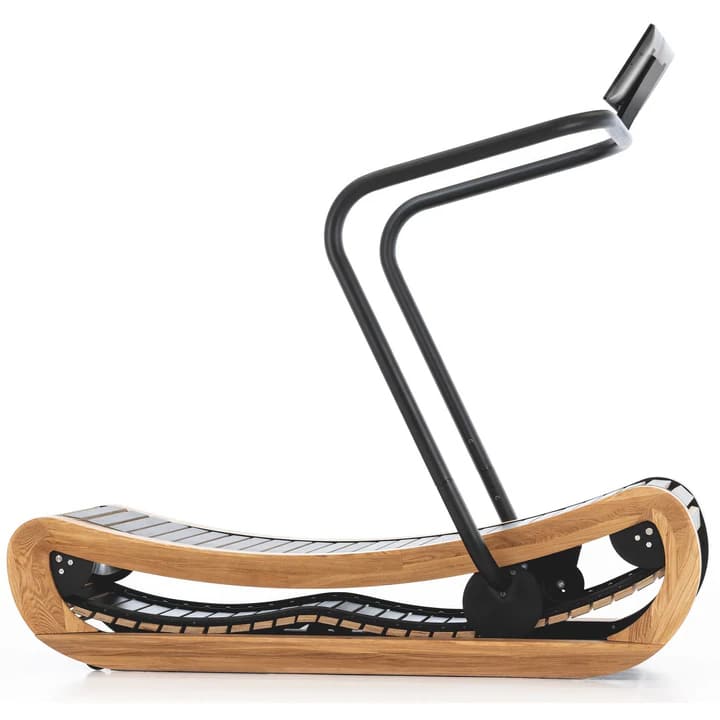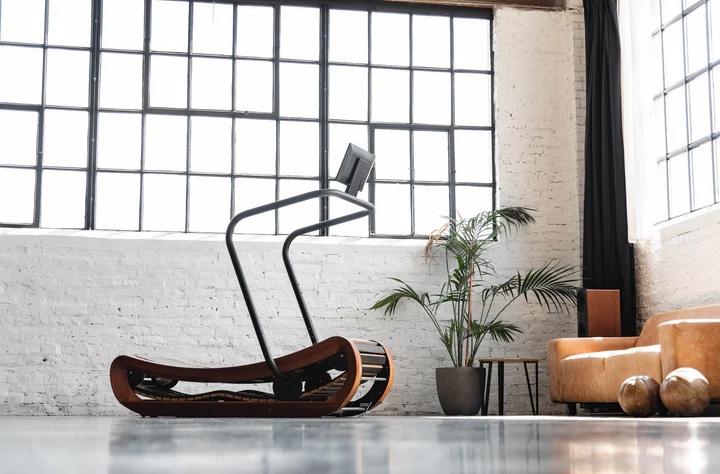 ---
Overview
The Sprintbok is a great machine. I managed to lose a tonne of weight in just eight weeks and, like a Bowflex treadmill, this thing pushed me to my limit.
Oh, and I managed to do all of it in my front room.
Unlike a typical motor-powered belt, the slats that form the user-powered running deck on this make for a sturdy running experience.
Unironically, this has to be the case – the user-powered design makes for a more challenging experience, so you want to be on a sturdy machine at all times.
The fact that it's user-powered makes it great for trimming body fat.
It also helps to simulate what most runners feel, and the curved treadmill helps to target different muscle groups resulting in a broader workout benefit.
More importantly to your home, however, the Sprintbok has a great design with good variation if you want it.
If you're going to turn up to online classes then you wouldn't be afraid to show this machine off.
It might not have on-demand workouts, built-in speakers, or broad workout stats, but this is hands down one of the best machines for stimulating hill training, an outside training session, HIIT workouts and pro fitness goals.
Want to know more? Read our full review of the Nohrd Sprintbok Curved Manual Treadmill here.
---
Best For Under £1000 (foldable):
JTX Sprint-7 Large Foldable Motorised Treadmill (£899.00)
Key Features
Running Area: 145 x 51cm
Cushionstep™ Deck
Maximum speed: 20kph
Incline: 12%
Suspension: 8-Point shock system
Computer Console: Advanced computer displaying
Diversified statistics monitors
Workout Programs: 43 Programs
Heart Rate Training: Via hand pulse sensors or heart rate chest strap (sold separately)
Treadmill motor: Power3 Horsepower DC Motor
Folded Dimensions: 88(w)x 120(l)x 159(h)cm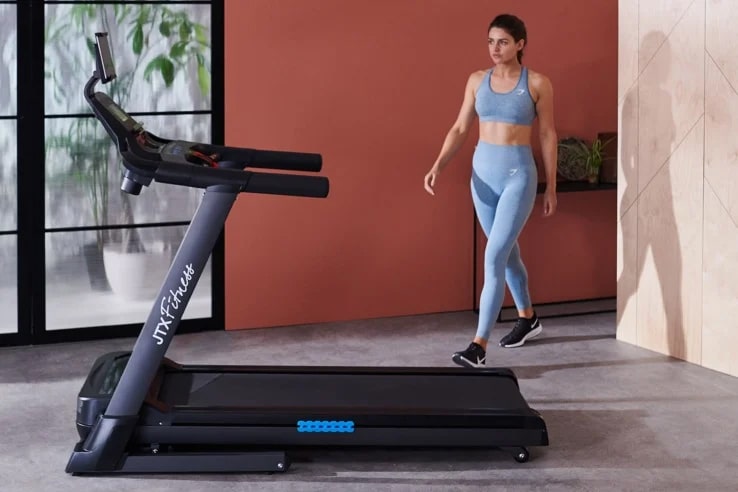 ---
Overview
This running machine is exactly the kind of treadmill for those who want strong, sturdy builds for a great price tag.
The delivery speeds aren't the best, the max incline, the horsepower motor, the top speed… it doesn't have it all, but what it does have is well worth the money, perhaps making it the best treadmill for you.
This JTX is built to last. It boasts a black diamond running belt (lasts 50% longer than others), a great max user weight, and cushion step deck that's sturdy and supportive.
While it doesn't have the fastest motor, the incline settings, pre-programmed workouts, free tablet holder and other extras mean you'll automatically adjust to this machine just as quickly as your bank account did to justifying the purchase.
It may not be regarded as the ultimate cheap treadmill, but it is widely considered a great and cheap option for an awesome home gym.
Want to know more? Read our full review of the JTX Sprint-7 Large Motorised Treadmill here.
---
Conclusion
Have we found the best treadmill for your home? I think we've certainly come close.
Giving you the option to think about certain features and different kinds of limitations is important here, it's just not just about telling you which to buy, I want you to become proficient in understanding the ins and outs of treadmills for your future purchases too.
Having a compact treadmill doesn't always get a good rep, but that's usually from pro runners with something to criticise.
As I said, to begin with, we want a sturdy treadmill to help us lose weight for a good price.
So for the best treadmills for home use UK, you're in the right place.
>> Take a Look at More Helpful Treadmill Guides <<
---
FAQ'S
Should I worry about max speed on a compact treadmill?
Compact treadmills aren't always built with the sturdiness of pro machines so it needs to be considered when you buy.
Chances are you won't be reaching max speed for very long but you still need to think about the strain it could be putting on your machine.
Are exercise bikes a better home choice than treadmills?
It really depends on your goals.
If you're looking to lose weight then a bike will help you burn calories, but if you're training for a marathon then you'll need to be running on a treadmill to get the best out of your sessions.
As with all choices and products, it's always down to the individual's needs that subsequently dictate what is best for them, we're just here to provide you with as much info to allow you to make the correct decision for you.
For more info on exercise bikes – check out our reviews
---
Affiliate Disclosure
In compliance with the FTC guidelines, please assume the following about all links, posts, photos and other material on this website:
Any/all of the links on this website are affiliate links of which GymFreakz receives a small commission from sales of certain items, but the price is the same for you.
www.gymfreakz.com is a participant in the Amazon Services LLC Associates Program, an affiliate advertising program designed to provide a means for sites to earn advertising fees by advertising and linking to Amazon.com & Amazon.co.uk. Pages on this site may include links to Amazon and its affiliate sites on which the owner of this website will make a referral commission.