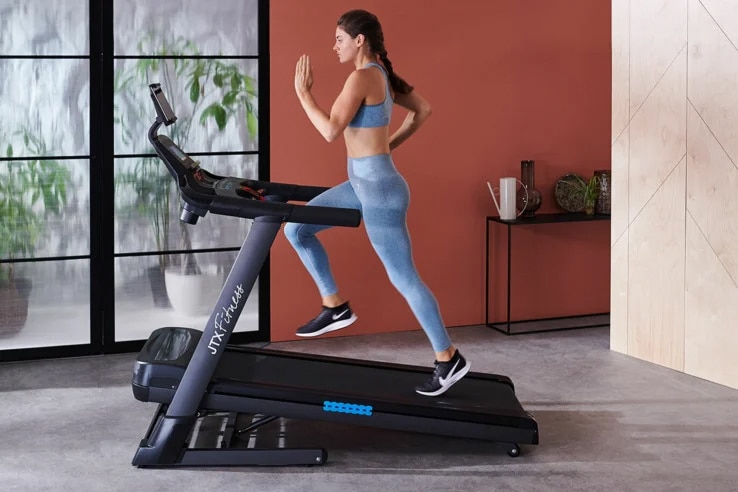 ---
---
Introduction to the JTX Sprint-7 Smart Edition Treadmill
The JTX Sprint-7 Smart Edition Treadmill is a smart treadmill designed for endurance.
It has a number of interactive features and program options that will keep you motivated, enhance your cardio fitness and help you reach your fitness goals.
The sophisticated computer enables you to keep track of key data, so you can stay on task.
Disclaimer – This website contains affiliate links. If you find the information useful and click on a product link and make a purchase, a small commission will be earned by GymFreakz and we appreciate your support.
---
Specifications
Roller at the front = 2.4″ / Roller at the rear = 2.6″
Cushionstep Deck is a 145 x 51cm deck with a cushioned top.
Max speed of 20kph.
12% Incline
Suspension: 8-point shock system
Displays time, pulse rate, speed, incline, distance and calories burned on computer console.
43 Workout Programs
Heart Rate Training: Using hand pulse sensors or a Polar chest strap (available separately)
DC motor with 3 horsepower
88cm x 120cm x 159cm Folded Dimensions
Dimensions: 84 (w) by 180 (l) by 159 (h)cm.
Floor to Deck height: 20 cm (7.9″) Flat deck | – 30 cm (11.8″) Inclined deck
Boxed Dimensions: 205(length) x 90(width) x 33(height) cm
Emergency Stop Key: There is a safety key to prevent unwanted operation.
Speakers: Yes
Transport Wheels: Yes
Max. User Weight: 130kg (20.5 stone) (287lbs)
Machine Weight: 85kg
Boxed Weight:95kg
Compatible with Polar: The built-in Polar receiver is compatible.
FREE ACCESSORIES: Tablet Holder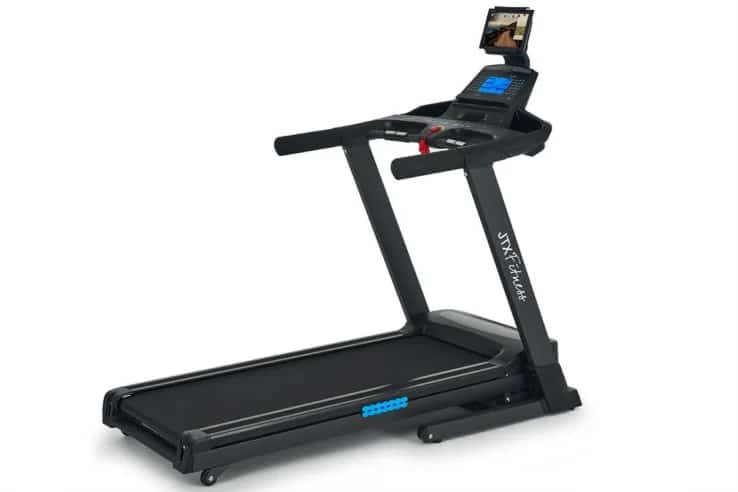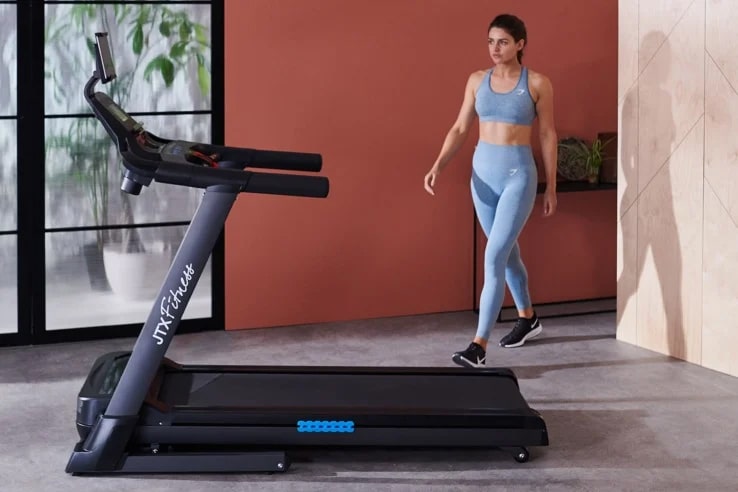 ---
Features
Zwift Compatible
The Zwift app, which allows you to connect with a worldwide community of athletes and explore, train, and compete in virtual worlds, is compatible with the JTX Sprint-7 Smart Edition Treadmill.
With the Zwift Compatible upgrade, your speed and key stats will pull through to Zwift from your treadmill. This app makes serious training fun and is free to try at zwift.com on Mac, Windows, iOS, and Android devices.
Kinomap Compatible
The JTX Sprint-7 Smart Treadmill is compatible with Kinomap, and it will automatically adjust the speed of your treadmill to match the video's terrain.
Use the Kinomap app to Google Maps technology to see stunning paths all over the world.
CushionStep™ Deck: 52cm x 145cm
The JTX Sprint-7 Smart Edition Treadmill features a CushionStep™ deck which reduces the impact on your knees and joints, making it a more comfortable experience.
The 8-point rubber shock absorption helps to further cushion your stride, providing a more comfortable workout.
QUICK SPEED & INCLINE BUTTONS
The quick buttons on the JTX Sprint-7 Treadmill: Smart Edition make it easy to adjust the speed and incline.
This makes it easy to maintain a correct and consistent running action while you're working out.
SPEED AND POWER
The JTX Sprint-7 Smart Edition Treadmill can reach speeds of up to 20 KPH. This is powered by a 3 HP motor that is extremely smooth and quiet, making it ideal for use at home.
ROBUST + COMPACT DESIGN
The JTX Sprint-7 Smart Edition Treadmill is a simple and lightweight design that comes with wheels and a quick folding mechanism for moving around.
When you are ready to train, the Hydraulic Safety System lowers the CushionStep deck gently onto the ground, making it simple to use for any level of fitness.
12% DIGITAL INCLINE
The JTX Sprint-7 Smart Edition Treadmill has a digital incline that raises the deck up to 12%. This allows you to mimic the terrain outdoors while training indoors.
You can also control the speed, making it easy to configure the treadmill in accordance with your current goals.
BUILT-IN SPEAKERS
The JTX Sprint-7 Smart Edition Treadmill has high-quality speakers built-in, so you can listen to your favourite tunes during your workout.
SUPERIOR BUILD QUALITY
The JTX Sprint-7 Smart Edition Treadmill is built with superior quality, ensuring that it can withstand regular use.
With its heavy-gauge steel frame and high-grade parts, the treadmill is guaranteed to keep up with your advancing fitness goals.
7 INCH DISPLAY + ADVANCED COMPUTER
The JTX Sprint-7 Smart Edition Treadmill has a 7-inch clutter-free display that keeps track of all your key training data. It also features eight quick start buttons to easily alter speed and incline.
FREE ERGONOMIC TABLET DISPLAY
The JTX Sprint-7 Smart Edition Treadmill comes with a free ergonomic tablet display, so you can enjoy watching all of your favourite multimedia while you work out.
The tablet holder is positioned in a comfortable position that doesn't obscure the treadmill's smart display, so you can easily stream your favourite workout videos or running apps.
WIRELESS HEART RATE TRAINING
The JTX Sprint-7 Smart Treadmill tracks your heart rate and changes the resistance to ensure that you're working in the best possible heart rate zone.
The computer on the treadmill can connect to compatible Polar technology using the inbuilt Polar receiver or the pulse sensors on the handle. You may also use the popular Polar app to track and save your workout data if you have a smartphone or tablet.
The JTX Sprint-7 Smart Treadmill is a fantastic choice for anybody looking for a high-quality home fitness experience, whether you're training for an upcoming race or just want to get in shape.
BLACK-DIAMOND™ RUNNING BELT / RUNNING DECK
The Black-Diamond running belt featured on the JTX Sprint-7 Treadmill: Smart Edition is made from engineered fabric that provides a perfect grip and reliable feel.
This belt lasts up to 50 percent longer than normal belts, making the treadmill exceptionally durable.
Dual Water Bottle Holders
The JTX Sprint-7 Smart Treadmill features two water bottle holders that are perfect for staying hydrated during your workout.
Having two holders allows you to keep your water bottles within easy reach, so you can stay hydrated and focused on your workout.
SIMPLE ASSEMBLY
With its simple user guide, the JTX Sprint-7 Smart Treadmill is a breeze to put together.
With these simple directions, you'll be up and running in no time. Some parts may need two people to assemble, so make sure you have a buddy available.
The parts are simple to put together, with each piece clearly labelled and intuitively assembled.
With each purchase, you'll get a free treadmill software and technology guide.
The JTX Sprint-7 Treadmill: Smart Edition comes with a free Apps and Technology guide as well. This manual will assist you in identifying and setting up the best fitness applications to use while running. JTX Fitness reviews the top interactive fitness software on the market, allowing you to achieve your fitness objectives faster.s.
The guide includes apps from leading fitness brands such as Nike, iFit, Kinomap, Zwift and Peloton.
FREE TABLET HOLDER
A tablet holder is included with the treadmill., which is ergonomically positioned to keep your form optimised for running.
This allows you to stream your favourite workout videos or running apps while you work out.
Free Polar H10 (Limited Time Offer)
There is a special deal right now for a FREE Polar H10 Chest Strap when you buy a JTX Sprint-7 Treadmill: Smart Edition: For a limited time only, there is an offer of a FREE Polar H10 Chest Strap when you purchase a JTX Sprint-7 Treadmill: Smart Edition. This promotion is valid while supplies last, so don't hesitate to take advantage of this great offer!
FREE Personalised Training Plan and Support
The JTX Sprint-7 Smart Edition Treadmill is the perfect piece of equipment for anyone looking to get fit and healthy. Not only does it look fantastic, but it also comes with a free customized training program from an in-house Personal Trainer.
This will help you to get started on your fitness journey and keep you motivated throughout. The JTX Sprint-7 Smart Edition Treadmill also comes with a workout video library so you can follow along at home, and it is regularly updated with new content to keep you inspired.
---
---
Warranty
3 Year in Home Warranty
The JTX Sprint-7 Treadmill: Smart Edition comes with a 3-year in-home repair warranty. The smart treadmill's frame is covered by a lifetime frame and a 10-year motor warranty. When you buy, warranties are registered automatically and there are no hidden conditions. If your equipment develops a fault, your supplier will assign a service engineer to visit and fix the problem.
28 DAY MONEY BACK GUARANTEE
JTX Fitness are so confident in their products that they offer a 28 day money back guarantee. If for any reason you are not satisfied with your purchase, they will collect the order and refund you in full within 28 days.
*Warranty may be subject to change without notice and may differ between retailers – please check carefully before making a purchase.
---
---
Overall Verdict:
The JTX Sprint-7 Smart Edition Treadmill is a top-quality piece of fitness equipment that comes with a range of features and benefits. It has a powerful 3HP engine, making it perfect for running or HIIT workouts, and also includes a 12% power incline. The treadmill is compatible with Zwift, giving you an immersive training experience, and also comes with a free Polar H10 chest strap. The running deck is 145cm long and 51cm wide, providing plenty of space for a comfortable run, and the 8 point cushionstep deck™ absorbs impact to reduce noise. It is easy to store and transport due to its size when unfolded (180cm long, 84cm wide and 159cm high). The treadmill also comes with a 3-year warranty, making it a great choice for anyone looking for a long-term investment.
---
---
---
What I Liked About The JTX Sprint 7 Smart Edition
What I particularly liked about the JTX Sprint-7 Smart Edition Treadmill was the range of features it came with, including the 12% power incline, compatibility with Zwift, and 3HP engine. I also found the 8 point cushionstep deck™ to be very comfortable, and the running deck to be plenty wide enough for my needs.
Things That Could Have Been Better
The only downside I could find with the JTX Sprint-7 Smart Edition Treadmill was that it was a bit pricey. However, given the range of features and benefits on offer, I feel that it is worth the investment and still considered one of the best treadmill options available.
---
FAQ's
What are the types of Heart rate monitor that this new running machine uses?
Hand sensor monitors, also known as hand sensors, are one kind of heart rate monitor. Most health equipment has hand sensor monitors built in, which calculate your pulse by measuring the strength of your grip. They're a reasonable guide, but they're rarely precise. Heart rate chest straps and watches are typically much more accurate than hand sensor monitors.
The JTX Sprint-7 Smart Edition Treadmill can help you to achieve a variety of fitness goals, ranging from fat burning and weight loss to developing your maximum aerobic capacity. Before beginning your workout, select the target heart rate zone that corresponds to your goal. The treadmill will then monitor your heart rate, giving you feedback in real-time so that you can maintain the correct level of effort and stay within your selected target zone. Additionally, many fitness machines can be linked to the JTX Sprint-7 Smart Edition Treadmill, allowing them to automatically adjust their resistance in order to keep you within your target heart rate zone.
What Power or Horsepower should I be looking for?
When shopping for a treadmill, take into account the size of the motor. If a motor has a 3hp or more, it is typically of higher quality and will endure longer than one with a lower number.The two horsepower measurements, continuous and peak, are important to consider when looking at motors. The continuous duty rating is the lower reading of the two and is the measurement that should be focused on when making a decision.
If you are looking for a treadmill that will provide plenty of power and allow you to run multiple times per week, we recommend looking for one with at least 1.5 horsepower.
What are the functions of the belt?
The belt is the moving surface that you run on. It is critical to get a treadmill with a wide belt because it will allow you to sprint without feeling restricted therefore giving you a decent indoor running experience. Any typical motor-powered belt is made out of rubber, which allows it to flex and handle heavyweights, as well as being comfortable and quiet to run on.
Does this machine have a forgiving running platform?
The running platform is the part of the treadmill that you run on. Some running platforms are more forgiving than others and can reduce stress on your joints and muscles, making them a good choice for people who are just starting out with their fitness journey or those who have joint issues.
The JTX Sprint-7 Smart Edition Treadmill has a cushionstep deck™, which is designed to provide excellent shock absorption and comfort while you are running. This makes it a good choice for anyone looking for a forgiving running platform that will reduce the stress on their joints and muscles. In addition, the treadmill has an anti-slip grip surface that helps to keep you safe by preventing slips and falls.
What is meant by 'user-powered running deck'?
The user powered running deck is a feature of some treadmills that means the running deck will be raised or lowered with your own power. This user powered incline/decline helps to reduce noise and wear on the machine, while also allowing you to adjust the belt to suit your height and stride. Many high-end treadmills come with this type of running deck.
What is meant by slat belt running surface?
Slat belt running surfaces are becoming increasingly popular in treadmills as they offer a more natural running experience.
They are made up of a series of interlocking slats that provide flexibility and allow the belt to move more freely.
This type of belt is also quieter than a traditional rubber belt and is less likely to slip and is therefore considered one of the top-end running deck features.
Will I have access to high-intensity interval training?
Yes, the JTX Sprint-7 Smart Edition Treadmill has a high-intensity interval training (HIIT) program that is designed to help you burn fat and improve your fitness.
This program alternates between periods of high and low-intensity exercise, giving you a workout that is both challenging and effective.
Results can be seen as early as within just eight weeks.
What is the maximum user weight for this machine?
The JTX Sprint-7 Smart Edition Treadmill has a maximum user weight of 120 kg (18.5 stone). This is the equivalent of 264 pounds.
---
Affiliate Disclosure
In compliance with the FTC guidelines, please assume the following about all links, posts, photos and other material on this website:
Any/all of the links on this website are affiliate links of which GymFreakz receives a small commission from sales of certain items, but the price is the same for you.
www.gymfreakz.com is a participant in the Amazon Services LLC Associates Program, an affiliate advertising program designed to provide a means for sites to earn advertising fees by advertising and linking to Amazon.com & Amazon.co.uk. Pages on this site may include links to Amazon and its affiliate sites on which the owner of this website will make a referral commission.