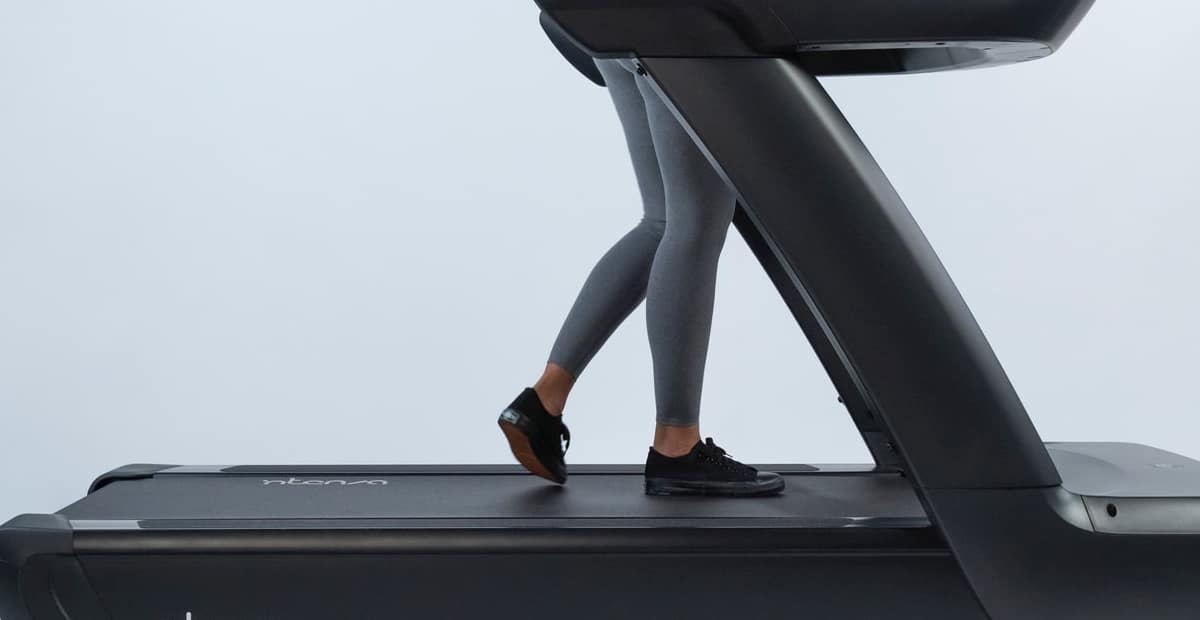 ---
---
Finding a treadmill that helps you push yourself all the while keeping you safe and healthy to do it all over again
It's not easy – time after time we push ourselves to the limit. And if we haven't got pre-existing injuries then the likelihood of acquiring them is pretty high… especially bad knees.
Treadmills come with amazing features like preset workout programs, good weight capacity, a well-designed running deck and integrated fitness apps.
But the extras don't mean anything if you can't use the machine due to bad knees.
Not all treadmills can accommodate for such an injury or weakness. What we need to be looking for if you suffer from bad knees is a treadmill that helps absorb shock, a reliable treadmill with good stride length, and any machine that may come with a cushioning system.
All your fitness equipment is valueless if you can't use any of it… let's break down the best treadmills for those with bad knees.
Disclaimer – This website contains affiliate links. If you find the information useful and click on a product link and make a purchase, a small commission will be earned by GymFreakz and we appreciate your support.
In A Rush?
| | My Top Pick: | Best Top End: | Best All-rounder: | Best Non Folding: | Best For Under 1K: |
| --- | --- | --- | --- | --- | --- |
| Brand | ProForm | JTX | Nordictrack | Sole | Branx Fitness |
| Model | Trainer 12.0 | Club-Max Commercial | Commercial 2950 | S77 | Elite Runner Pro |
| Photo | | | | | |
| Max. Speed | 20 kph | 25 kph | 22 kph | 20 kph | 21 kph |
| Max. Weight | 135 kg | 180 kg | 136 kg | 150 kg | 160 kg |
| Running Area | 51 cm x 140 cm | 154 cm x 58 cm | 56 cm x 152 cm | 56 cm x 152.4 cm | 140 cm x 48 cm |
| PRICE* | £1,499.00 | £5,999.00 | £2,699.00 | £2,199.00 | £999.99 |
| | | | | | |
| Check Prices | | | | | |
*Prices correct at the time of writing
---
My Top Pick:
ProForm Trainer 12.0 Folding Treadmill (£1499.00)
Key features
iFit Enabled, 30 Day iFit Family Membership
10" Full Colour Touchscreen Display
3.0 CHP Motor
51 x 140 cm Tread Belt
0 – 20 KM/H Digital QuickSpeed Control
0% – 12% Digital Quick Incline Control
ProShox Z Cushioning
SpaceSaver Design with Easy-Lift Assist
135kg Weight Capacity
Assembled Dimensions 189 L x 89 W x 163 H cm
Boxed Dimensions 196 L x 81 W x 30 H cm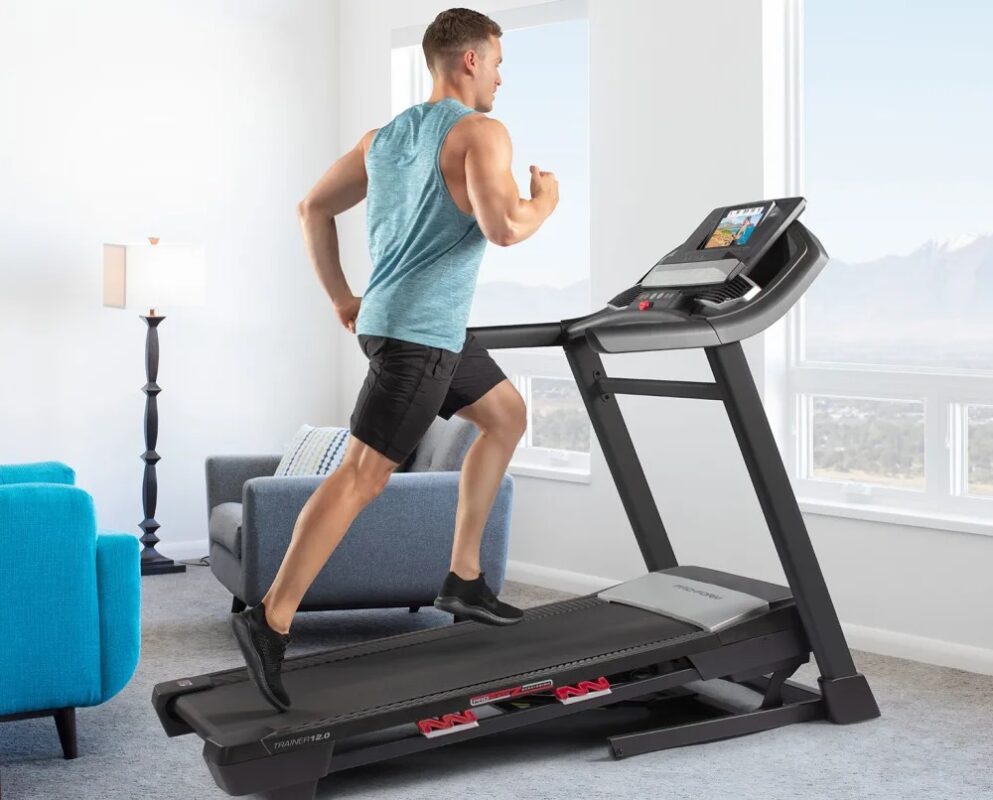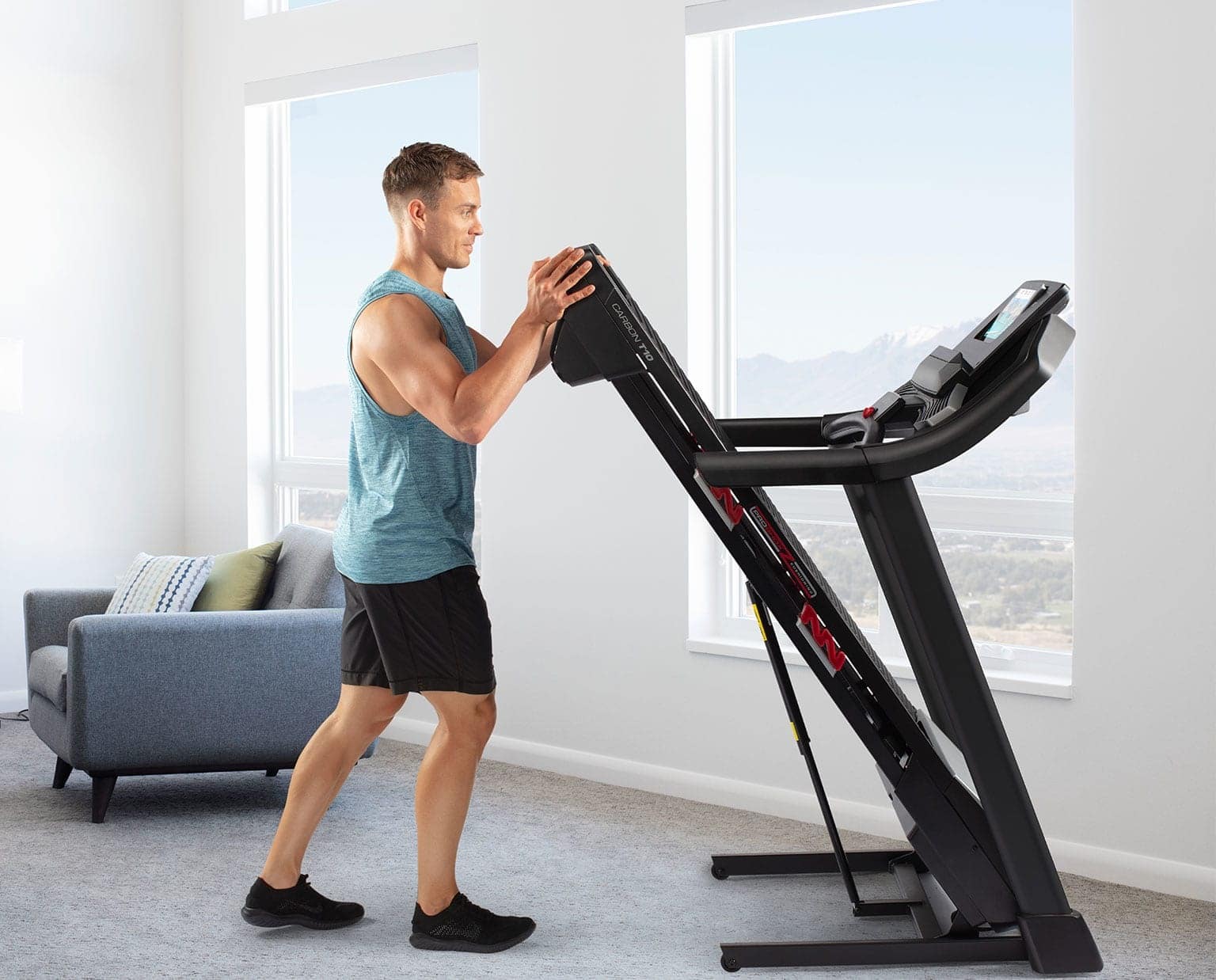 ---
Overview
The ProForm Trainer 12.0 is a great treadmill for those wanting to save more than space. Its cushioning system makes it a great pick for the best treadmill for bad knees.
If you suffer from knee pain, then this build is the one for you. ProShox Z cushioning is renowned for accommodating knee injuries as it helps with pain and muscle strain through shock absorption.
That aside, the folding capability of this machine makes it great for indoor cardio workouts and makes your exercise routine far more space effective.
Not to mention the folding capability which means indoor running is far easier.
And if you have bad knee joints then even proper running shoes can't help with outdoor running.
A definite one to consider if you're looking for a budget treadmill to help minimise knee problems, whilst still aiding in your weight loss or other fitness goals.
Want to know more? Read our full review of the ProForm Trainer 12.0 Folding Treadmill here.
---
Best Top End (for cushioning):
JTX Club-Max Commercial Treadmill (£5999.00)
Key Features
Running area: 154cm x 58cm
Cushionstep deck
Maximum speed: 25 Kph
Incline: 0-15% or 15 levels
Suspension: 8 points commercial shock system
Computer console: 10-inch LCD display
Clutter-free display
Workout programs: 24 different workout modes + 3 custom
Heart Rate Training: Yes
Power: 6 Horsepower AC motor
Safety Features: key for emergency stop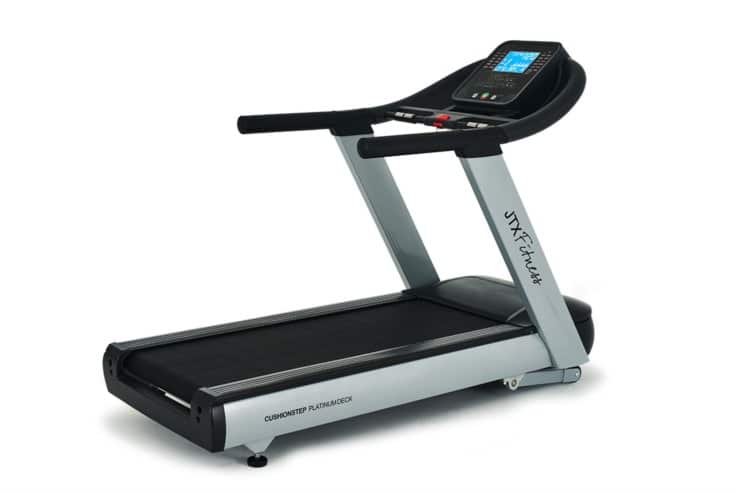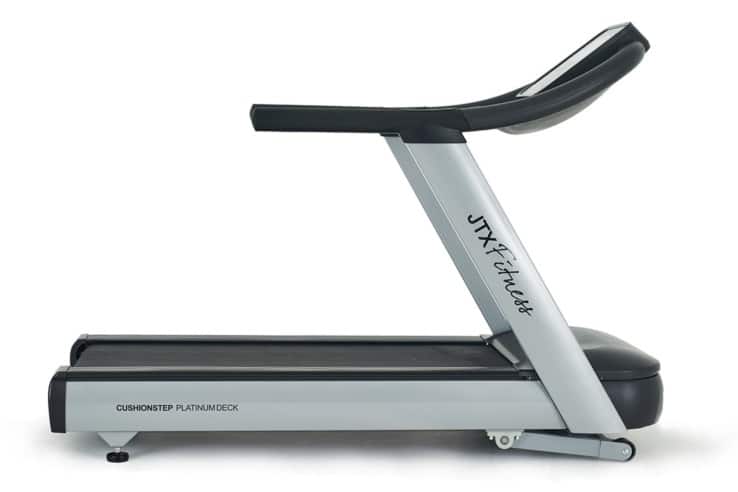 ---
Overview
Overall the treadmill turned out to be a great purchase; it has everything that I expected.
Its features help make my workout sessions unforgettable, and most of all safe and healthy. JTX club max is a commercial treadmill, and it suffices the need for consistent heavy-duty performance, which also accommodates for any bad knee pain and still helps me burn calories.
The wide range of workout modes are closely designed to fit the needs of multiple trainers, and the flexibility to change their intensity makes it applicable for a wider audience.
More specifically, an audience that may have knee pain. These workouts and their customisation let you control calories burned and reduce knee pain at the same time.
The monitors provide crucial details about your body's reception to the workout; it helps trainers achieve the desired heart rate zone and make the most of their workout.
Want to know more? Read our full review of the JTX Club-Max Commercial Treadmill here.
---
Best All-rounder (for cushioning + great for extras):
Nordictrack Commercial 2950 Treadmill (£2699.00)
Key Features
Partial assembly required
Built-in speakers with Bluetooth connectivity
Adjustable console position
Height 165 x width 100 x depth 200 cm
Dimensions when folded height 189 x width 100 x depth 100 cm
Foldable? Yes
Heart rate monitor via hand grips
Heart rate monitor via hand sensors
Incline 15 per cent
Decline -3 per cent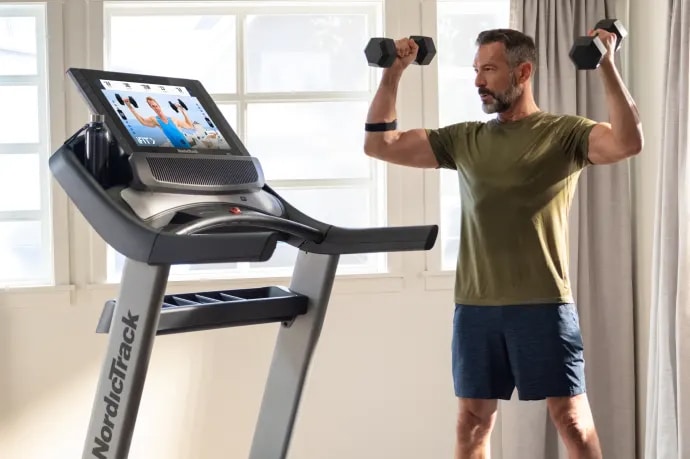 ---
Overview
The Nordictrack Commercial 2950 treadmill is the dream treadmill for all you runners out there.
And it certainly accommodates an indoor cardio workout with a great speed range to give you the option of low impact exercises if you need them.
It is a foldable treadmill with a powerful motor, innovative incline and decline controls and that's not all! It also has a wide belt and reflex cushioning that allows you to run in mind of bad knee pain and arthritic knees, making it a top choice as a treadmill for bad knees.
The 22 inches upgraded smart HD screen allows you to enjoy your workouts without getting bored as it comes with a variety of iFit workouts that includes hikes and runs that are filmed around the world so you can enjoy different locations from the comfort of your own home.
Plus you won't have to worry about changing the incline and decline of the treadmill while working out because the trainers do it for you, giving you the complete feeling of training outside and not indoors.
Want to know more? Read our full review of the Nordictrack Commercial 2950 Treadmill here.
---
Best Non Folding (for cushioning):
Sole S77 Non-Folding Treadmill (£2199.00)
Key Features
Non Folding
Console 10.1″ TFT LCD Graphic Display
4.0 HP Motor
Speed 0.5- 12mph (1-20km/h)
Incline 0-15 levels
10 Standard programmes
Sole Bluetooth Compatible with Kinomap
Cushioned Flex Whisper Deck
Step Up Height 20cm (8″)
Double Woven 2 Ply Running Belt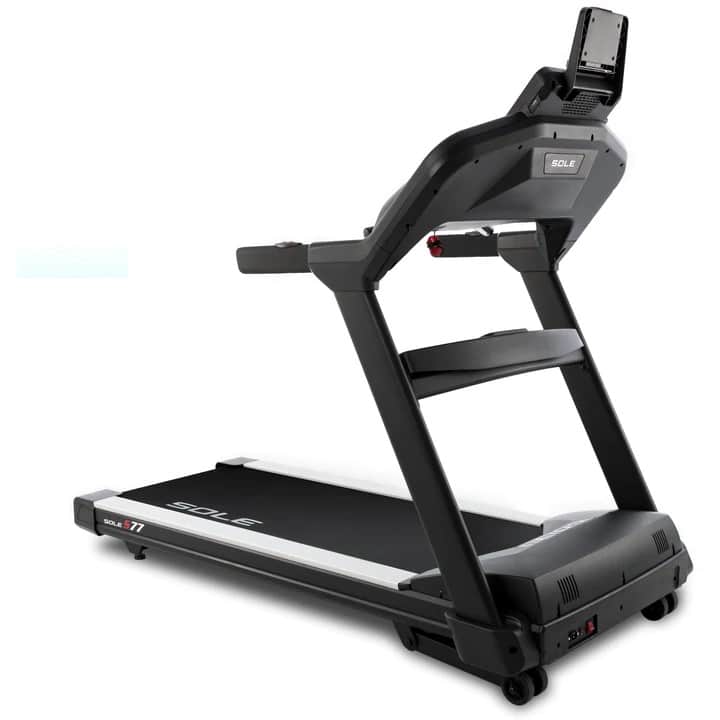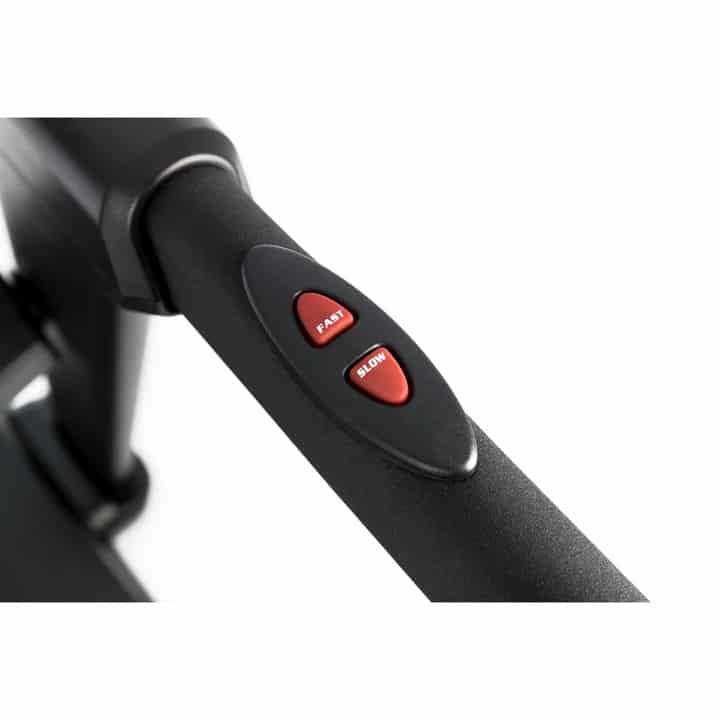 ---
Overview
The large motor on this machine gives you the option to push yourself if you need.
So, as your bad knees recover you do have the option of returning to faster running.
It also has a decent running deck and, while it's a non-folding treadmill, doesn't take up too much space.
Treadmill knee pain is no laughing matter, and the Cushioned Flex Whisper Deck makes it a serious contender.
On top of this, it has a good step-up height to make sure you're not overtraining yourself before you've even got on the machine.
While the sound system could perhaps be considered sub-par, all of the other key features are great for things like workout data, low-impact cardio workouts, and all the things to keep you safe, healthy, and fit ready for a great workout despite bad knee pain.
---
Best For Under 1K:
Branx Fitness Elite Runner Pro Treadmill (£999.00)
Key Features
Motor: 3.5CHP (6.5HP) fan cooled
Speed Range: 0-21km/h = 0-13mph
Running Area: 140cm (Length) x 48cm (Width)
Maximum User Weight: 160KG
1.9mm running belt thickness
19mm running deck thickness
22 Level Auto Incline
24 Built-in Programs
Slow Drop System – for safety when unfolding
Heart Rate Measurement – Hand Pulse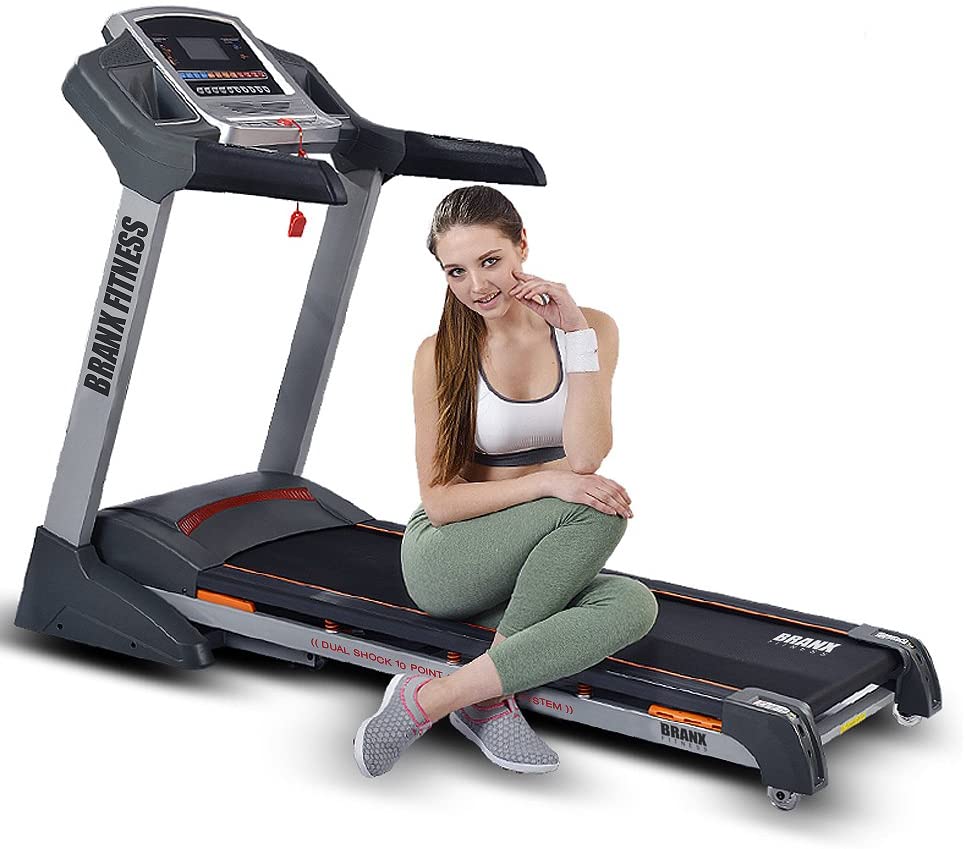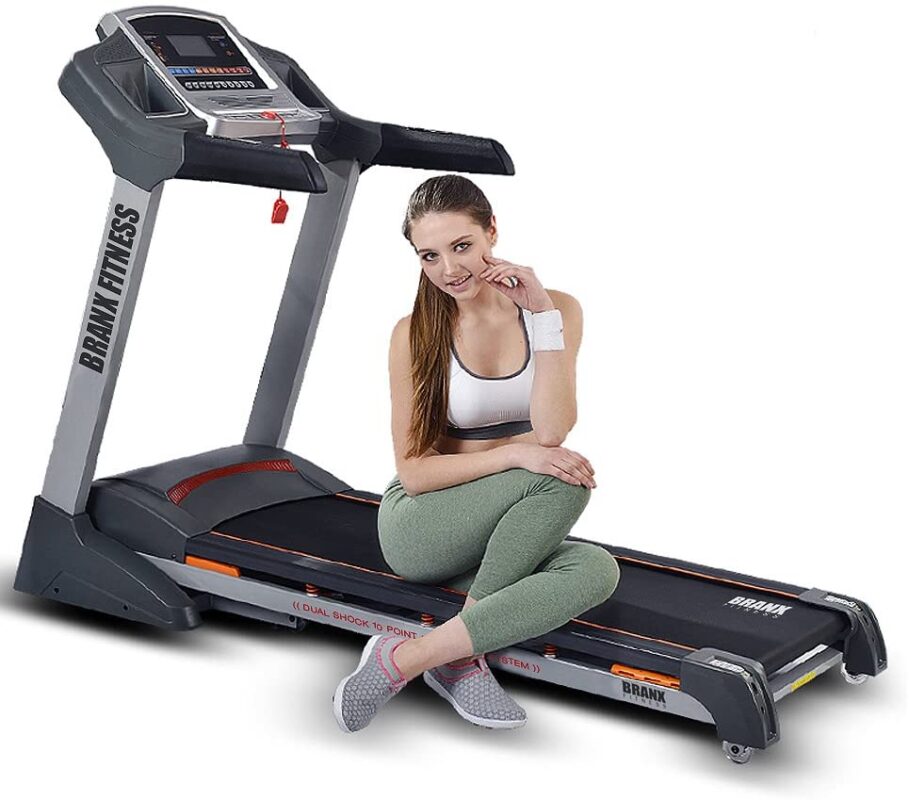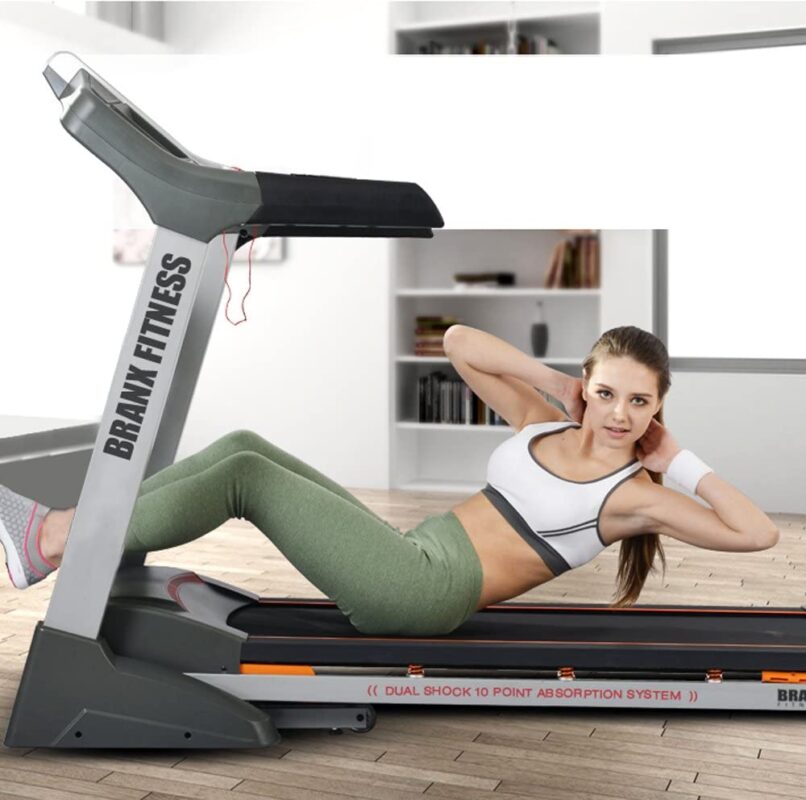 ---
Overview
The Branx Fitness Foldable Elite Runner Pro is the top-of-the-line model. And with top-of-the-line models, you usually see safety features and muscle support features included.
It might not be in the same class as Horizon Fitness models, but it will see you through dusk till dawn if you need to run for long periods while looking out for bad knees.
Branx Fitness also offers you many extra features that may not find in other models like Pause Button, Gym Fit App integration and many more.
Like many treadmills, this running machine also has its advantages and disadvantages.
Want to know more? Read our full review of the Branx Fitness Elite Runner Pro Treadmill here.
---
Conclusion
Let's review. If you're like me and you're an avid runner then joint pain is inevitable to some degree.
But, with these treadmills, whether it's a cushion flex whisper deck or a normal treadmill belt with other shock absorption features, the best treadmill for knee injury is in this list.
It's important to look out for your knee health.
If you want to become or remain a cardio machine user then the best treadmill for bad knees should be your long-term investment, so you can carry on working out, losing weight and staying in shape for as long as you live.
Break a leg! Is that the correct sign-off for such an article?
>> See More Helpful Guides Here <<
---
FAQ'S
If I have knee pain do I absolutely need something like the cushion flex whisper deck?
While being a great feature on treadmills for bad knees, other treadmill features can offer a less pricey alternative.
Your treadmill workout should be the second thing you think of.
The first?
Any cushioning system, shock absorption, or surface options.
While you don't need top of the line for the best indoor cardio workout, any help with muscle and joint pain is a help worth having.
Will a cushioned belt be enough for my bad knees?
A cushioned belt is seriously important.
And while it's easy to be taken in by a fancy control panel or groundbreaking incline feature, if you have knee pain then you need to think about the treadmill deck material and support, running surface stability, a safety key just in case, transport wheels to easily move if needed and so on.
In short, make sure to check all the features that could help you have the best treadmill workout possible while saving your health at the same time.
---
Affiliate Disclosure
In compliance with the FTC guidelines, please assume the following about all links, posts, photos and other material on this website:
Any/all of the links on this website are affiliate links of which GymFreakz receives a small commission from sales of certain items, but the price is the same for you.
www.gymfreakz.com is a participant in the Amazon Services LLC Associates Program, an affiliate advertising program designed to provide a means for sites to earn advertising fees by advertising and linking to Amazon.com & Amazon.co.uk. Pages on this site may include links to Amazon and its affiliate sites on which the owner of this website will make a referral commission.