---
---
Finding the best treadmills for those older runners looking to keep safe, healthy and fit.
There's no reason someone should ever stop trying to stay fit if they can do so. From amputees to the blind and partially sighted, runners and fitness gurus refuse to accept what many would see as limitations.
The elderly are no different here. Running and burning calories is just the start; maximising cardiovascular lifestyles leads to a whole array of health benefits for those of us past the 60 mark. Heart health, circulation, muscle support, respiratory efficacy… and all from running a few times a week on a treadmill in your own home.
The best treadmill for seniors will focus on safety features, a space-saving option for a limited space, a cushioned deck, a clear LCD display/TV screen, dimensions for the workout room, and so on. We'll be centring this list less so on top speed, top treadmills for motor power, or running machines with an almost crazy amount of technology features.
For this round we're keeping it simple and safe – let's break down the best treadmills for elderly runners in the UK.
Disclaimer – This website contains affiliate links. If you find the information useful and click on a product link and make a purchase, a small commission will be earned by GymFreakz and we appreciate your support.
In A Rush?
| | My Top Pick: | Best For Walking At An Incline: | Best For Walking On The Flat: | Best Under Desk: | Best On A Budget: |
| --- | --- | --- | --- | --- | --- |
| Brand | Reebok | Nordictrack | Branx Fitness | Dripex | JTX |
| Model | i-Run 3 | Commercial X9i | Start Run | 2 in 1 | Sprint-3 |
| Photo | | | | | |
| Max. Speed | 13 kph | 20 kph | 16.5 kph | 12 kph | 16 kph |
| Max. Weight | 100 kg | 135 kg | 125 kg | 120 kg | 120 kg |
| Running Area | 120 cm x 41 cm | 55 cm x 152 cm | 120 cm x 42 cm | 40″ x 16″ | 129 cm x 46 cm |
| PRICE* | £632.33 | £1,999.00 | £599.99 | £399.99 | £599.00 |
| | | | | | |
| Check Prices | | | | | |
*Prices correct at the time of writing
---
My Top Pick (for walking/light jogging):
Reebok i-Run 3 Treadmill (£632.33)
Key features
Motor: 1.5 HP
Max speed: 13 KPH
Adjustable screen angle
3 window LED display
Built-in transport wheels
Integrated hand pulse sensors
12 pre-workouts + body fat
Auto-stop safety key
Ultra-compact folding design
Arrives fully assembled
8-piece elastomer cushioning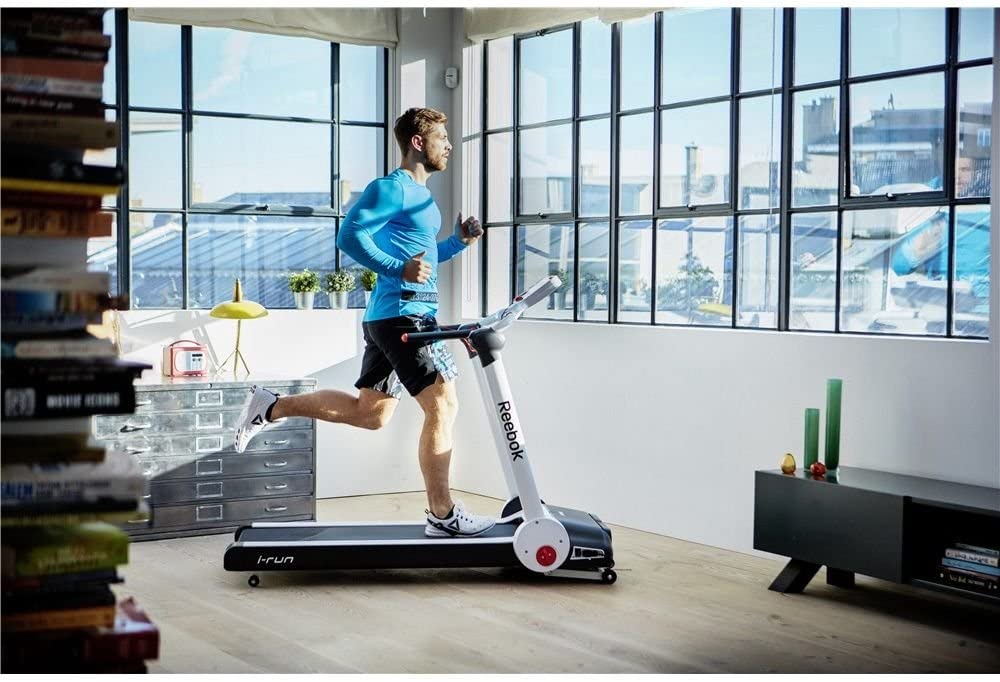 ---
Overview
If you are interested in a small and quiet treadmill then this is a great option for you. This Reebok i-Run 3 is a perfect choice for beginners looking to start their fitness journey at home, or, more importantly, older runners looking to reach simple yet effective fitness goals.
Along with the lightweight but sturdy construction, this treadmill offers optimal functionality, especially for beginners. It is suitable for small rooms as it comes with an innovative folding mechanism to save floor area when not in use. The i-Run 3 also features elastomer cushioning in which the treadmill's deck softens the blow of each stride with a manual incline setting.
One of the greatest aspects of this treadmill is that it comes 100% built so that the assembly is not an issue, and potential confusion or physical damage isn't a factor here – just simply unpack, unfold and go!
It allows comfortable running along with low impact on the joints as it absorbs each foot strike, perfect for a walk or a light jog. Grasp the pulse sensors on the treadmill's handlebar for optimal heart rate training too, keeping the vitals data at the forefront of user monitoring. With the 1.5hp motor along with the 13kph of top speed, you have everything you need to burn more calories with effective workouts.
In short, this light treadmill may as well be rebranded as a light treadmill for seniors. It's easy to use, compact, and features decent shock absorption, and has a great foldable design for ease of storage.
Want to know more? Read our full review of the Reebok i-Run 3 Treadmill here.
---
Best Treadmill For Walking At An Incline:
Nordictrack Commercial X9i Incline Trainer Treadmill (not foldable) (£1,999.00)
Key Features
This treadmill comes with a 3.6 CHP motor.
The incline is 40 per cent while the decline setting is -6 per cent.
The speed of this treadmill is 20 km per hour.
The running surface is 55 x 152 cm.
It is not a foldable treadmill.
The display is a 7-inch smart screen HD touchscreen.
It comes with 44 preset workout applications.
Bluetooth has been included in this treadmill as well as web connectivity.
A heart rate monitor comes with this treadmill with an EKG grip pulse and a smart Bluetooth chest belt.
The dimensions of this treadmill are 177 x 100 x 181 cm.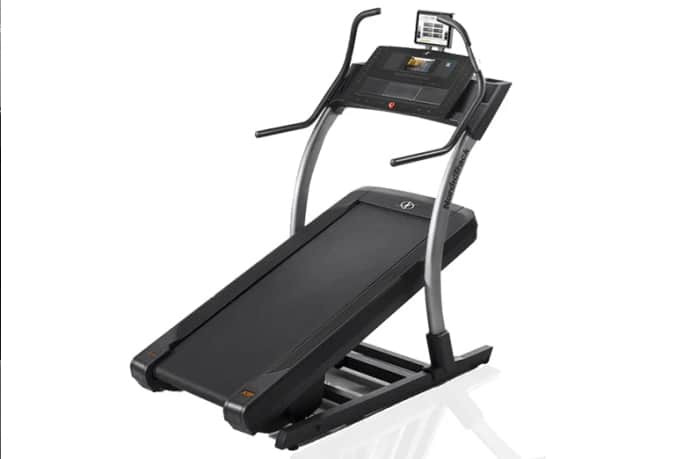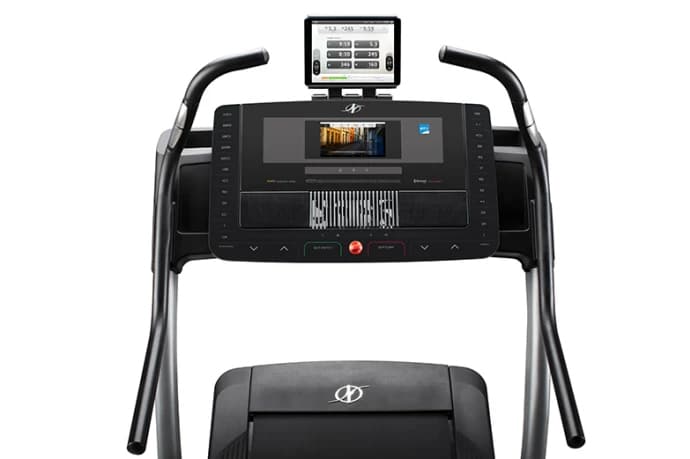 ---
Overview
Certainly one of the pricier treadmills on this list, this is an exciting machine that gives you all the benefits and results of running without running… How? Well, forget about high speeds and extreme fitness levels, with its great incline and decline adjustments you can workout just as hard in a different way.
In other words, because the incline settings are so well ranged, you can avoid having to run long distances and causing damage to certain problematic muscle groups. If you want to walk but still want to push yourself then using the incline range and walking speed is a great move forward.
The many health benefits aside, I loved the touchscreen, and iFit coach plus with its strong yet quiet motor this machine is the one you're looking for! The most important thing to look at is the amount of calories it burns! So if you're looking for a machine that burns a lot of calories plus tones and sculpts your body muscles then the Nordictrack X9i Incline Trainer is a great option for you!
Want to know more? Read our full review of the Nordictrack Commercial X9i Incline Trainer Treadmill here.
---
Best For Walking On The Flat:
Branx Fitness Start Run Treadmill (£599.99)
Key Features
Speed Range: 0-16.5km/h = 0-10.2mph
Motor: 3 CHP- 5 HP peak motor
Running Area: 120cm (Length) x 42cm (Width)
16 Level Auto Incline
12 Built-in Programs
Soft Drop System
BMI Feature
1.8mm running belt thickness
Maximum User Weight: 125 KG
Entertainment: 5.5-inch LCD Display, Built-in speaker, BlueTooth Wireless Technology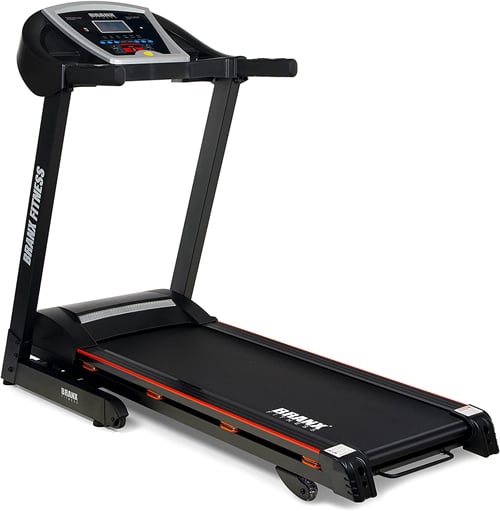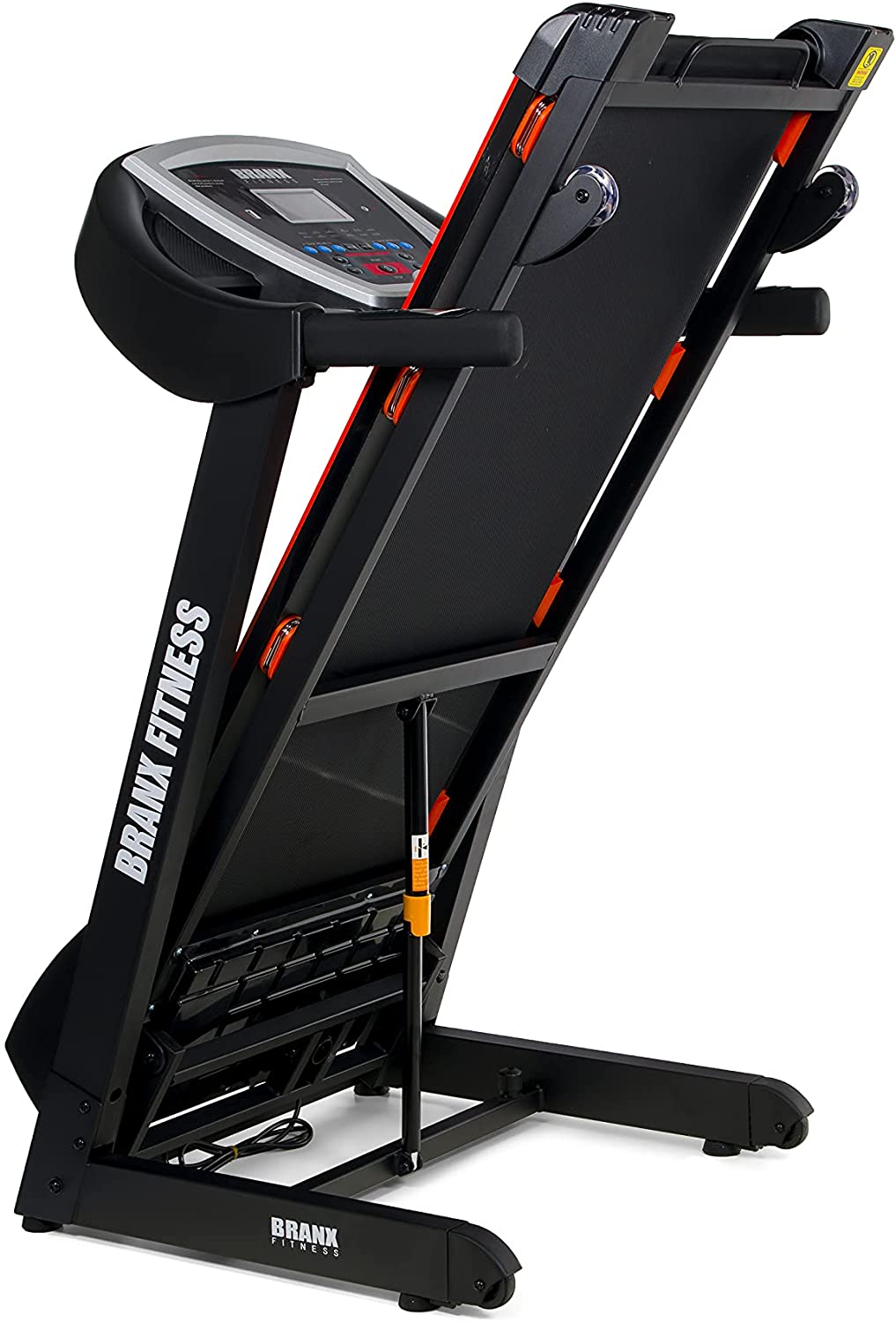 ---
Overview
This machine is probably the best for steering your fitness level towards walking on the flat. It has great cushioning, plenty of space, and nice extra features that make walking as accommodating as possible for your daily exercise. And if you wanted to try walking uphill then the incline controls let you add that to your regime too.
Foldable treadmills are on this list for a reason, too. A great walking machine should be great for after your workout too. One of the main reasons Branx Fitness treadmills grab a tonne of positive user reviews is because it comes pre-assembled. This is a huge bonus considering its weight and saves you from the hassle of doing it yourself.
So what else could make for a great workout with the Start Run Treadmill? Well, the 12 built-in programs help with exercise diversity, giving a senior fitness pro more options – this is not something that should be ignored. Through having workout programs this treadmill helps to vary up workouts, resulting in less of a likelihood of getting bored, more variety to accommodate for health factors and more direction to get the most out of your money.
Want to know more? Read our full review of the Branx Fitness Start Run Treadmill here.
---
Best Under Desk:
Dripex 2 in 1 Folding Treadmill, 2.25HP Under-Desk Motorized Treadmill (£399.99)
Key Features
Folding mode: 1-4km/h
Unfolding mode: 1-12km/h
Running surface: 40 x 16 inch
Folded dimension: 52 L x 27 W x 5 H
Assembled dimension: 49 L x 27 W x 42 H
Assembled weight: 74lbs
Maximum user weight: 120kgs
Maximum speed for the running treadmill: 12km/h
Maximum speed for under desk walking pad: 4km/h
Stylish appearance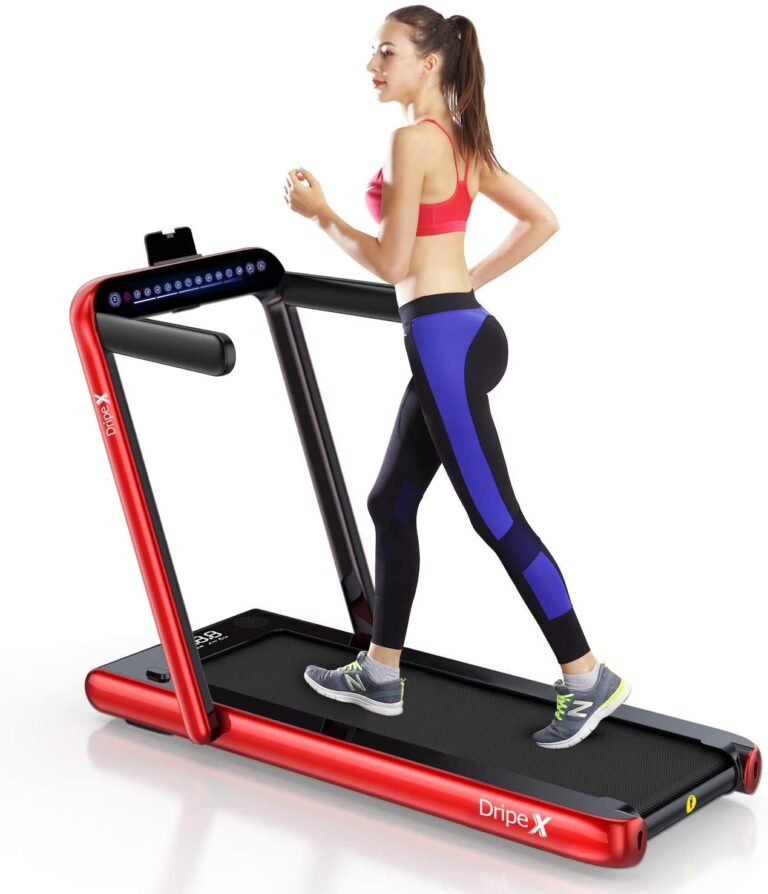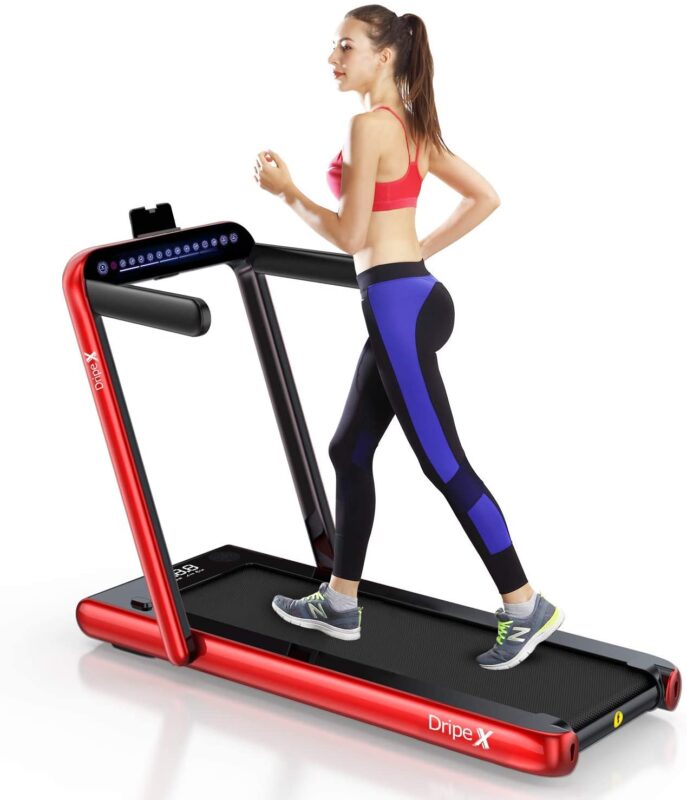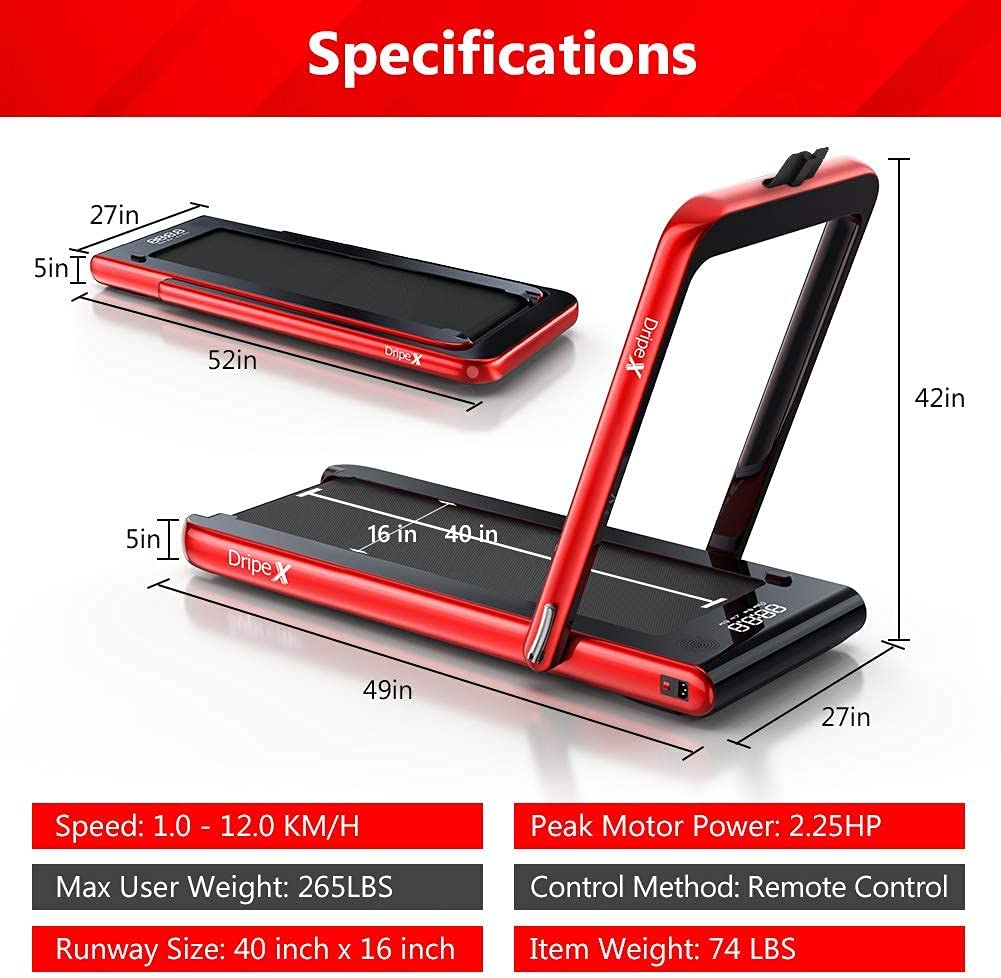 ---
Overview
This machine comes with 2 in 1 functionality; a running treadmill and an under-desk walking pad, but it's the stylish appearance and compact design that make this treadmill unique from others, and perfect for elderly walkers or joggers.
Design features that result in a compact walking treadmill are super important for elderly runners. Having less chance of falling over the machine, a higher chance of easy storage, and light and minimal design features all make this Dripex machine great for home fitness.
To top all of that, it runs quieter than most of the other treadmills and comes with a multi-layered running belt that provides protection to your knees and joints. This makes it an ideal choice for those who live around easily annoyed neighbours as the sound of the machine will not disturb them. It is made with a sturdy durable steel frame which gives good balance and prevents the machine from being wobbly while running, an important consideration for safety features here.
In short, if you or somebody you're buying for needs a great machine for at most a light jog and to fit in small spaces then you should consider this machine, no doubt.
Want to know more? Read our full review of the Dripex 2 in 1 Folding Treadmill here.
---
Best On A Budget:
JTX Sprint-3 Electric Treadmill (£599.00)
Key Features
Roller Size: 2.2″
Running Area: 129cm x 46cm
Cushionstep™ Deck
Maximum speed: 16kph
Incline: 10%
Suspension: 8-Point shock system
Computer Console: Displays time, pulse, speed, incline, distance and calories burnt
Workout Programs: 40 Programs
Power: 2 HorsePower DC Motor
Folded Dimensions: 74(w)x 105(l) x 150(h)cm
Dimensions: 72(w)x 160(l)x 149(h)cm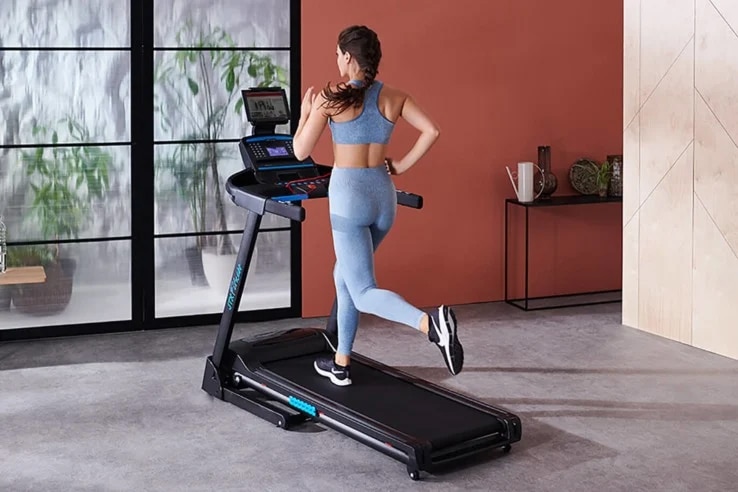 ---
Overview
If you don't mind the size drop (affordable treadmills are generally smaller) then this should be a great machine for you. Folding treadmills actually benefit from that compact design, giving you even more space than before.
The 40 workout programs are a great addition for new trainers, and they can help them improve their workout sessions.
The 8-point suspension system accompanied by the CushionStep running deck protects the trainer from workout fatigue and injuries. Similarly, the space for keeping water bottles and other accessories is practical for all trainers.
To summarise, this machine is one of the best folding treadmills I've encountered, considering the price range. All of the other features are awesome too, making this a great treadmill for elderly UK runners!
Want to know more? Read our full review of the JTX Sprint-3 Electric Treadmill here.
---
Conclusion
To summarise, if you want to stay fit no matter your age then the treadmills on this list are for you. We've covered walking treadmills, safety features, max user weight, incline for muscle group variation and all of the extras that could help keep you on the machine, even when the going gets tough.
>> See More Helpful Treadmill Guides Here <<
---
FAQ'S
Should I be looking at a manual treadmill if I'm elderly?
Manual treadmills can be both good and bad for posture, muscle health, or other types of physical safety concerns.
In this case, however, I'd stay away from manual treadmills.
Why? – They're usually curved which can add strain given your potential body condition and they generally require a little more work input meaning that you may fall off the motivation train.
Electric treadmills usually offer more in the way of comfort, whilst still allowing you to lose weight, keeping up those calories burned and staying fit into your later years.
What is meant by 'high torque motor'?
The high torque motor is a feature that is beneficial for those who are looking for a treadmill that can go up to higher speeds.
This type of motor is also known as a 'continuous duty' motor, which means that it can run for long periods of time without overworking itself.
Define 'walking treadmill'
A walking treadmill is a type of treadmill that is designed for those who want to walk at a steady pace, rather than run. Walking treadmills usually have a lower speed limit and are often more affordable than running treadmills.
Define 'manual treadmills'
Manual treadmills are a type of treadmill that is powered by the user, rather than an electric motor. This means that the user has to push the belt around with their feet in order to make it move. Manual treadmills are often more affordable than electric treadmills but can be harder to use.
Define 'electric treadmills'
Electric treadmills are a type of treadmill that is powered by an electric motor. This means that the user does not have to push the belt around with their feet in order to make it move. Electric treadmills are often more expensive than manual treadmills but can be easier to use.
---
Affiliate Disclosure
In compliance with the FTC guidelines, please assume the following about all links, posts, photos and other material on this website:
Any/all of the links on this website are affiliate links of which GymFreakz receives a small commission from sales of certain items, but the price is the same for you.
www.gymfreakz.com is a participant in the Amazon Services LLC Associates Program, an affiliate advertising program designed to provide a means for sites to earn advertising fees by advertising and linking to Amazon.com & Amazon.co.uk. Pages on this site may include links to Amazon and its affiliate sites on which the owner of this website will make a referral commission.