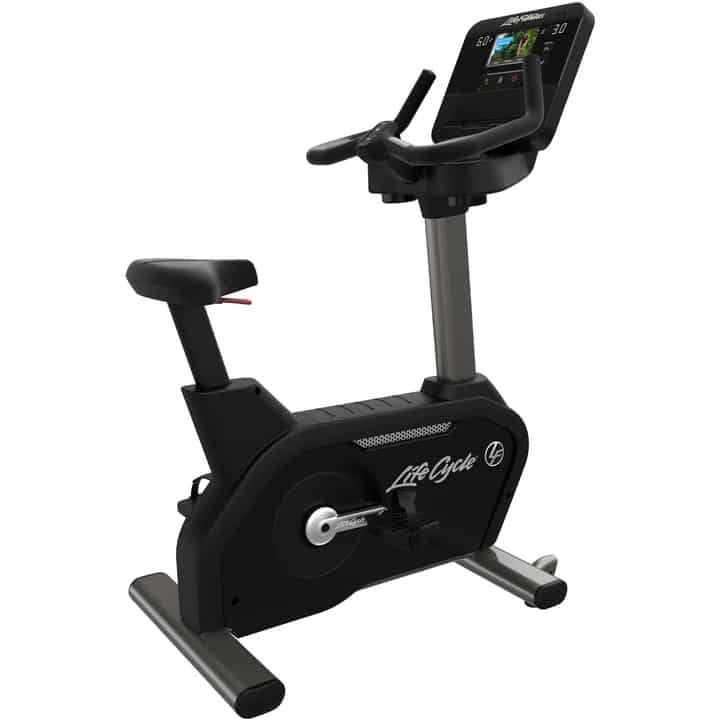 ---
---
Introduction to the Life Fitness Club Series Upright Bike From The Club Range (with consoles)
As is often the case, buying decisions encompass a great deal of consideration. The main consideration would be your wallet, and to stop money accidentally falling out of your wallet it's probably best you know how to keep it safe.
Bikes are incredibly broad when it comes down to it. In reality, however, there are fundamentals that we should know to look out for. If you don't know those fundamentals then lookout for material, build, tech inclusion, and usability. Those are the four elements of the indoor cycle. But to really know what you're doing, to really understand the best ways to buy a bike, you need to know the particulars too.
You might want a smooth and quiet ride – in which case, you'll want to look out for magnetic resistance levels or flywheel speed. Perhaps you're scanning for the best ways to enhance your workout. In this scenario, you'll want to look for workout data, advanced exercise technology (usually in the form of a console) and maybe the ease that an intuitive touchscreen console creates.
In any case, Life Fitness have you covered. The brand are known for sturdy builds, comfy rides and ever-growing love of tech in their machinery. Creating fitness solutions in creative ways is exactly what Life Fitness do. From integrated resistance controls to digital signal processing, to seal that wallet up for good, you might want to read on.
Let's break down the ins and outs of the Life Fitness Club Series Upright Lifecycle Exercise Bike.
Disclaimer – This website contains affiliate links. If you find the information useful and click on a product link and make a purchase, a small commission will be earned by GymFreakz and we appreciate your support.
---
Specifications
Self Generator Drive System (with the Integrity X console)
Robust paint finish (corrosion, stain and chemical resistance coating)
Adjustment levellers for product stability
Front wheels for easy mobility
Quick release removable shroud for simple serviceability
User weight 28.5 stone (181kg)
Size L x 105cm W x 62cm H x 138cm (41.5" x 24.5" x 54.5")
Product weight 76.5kg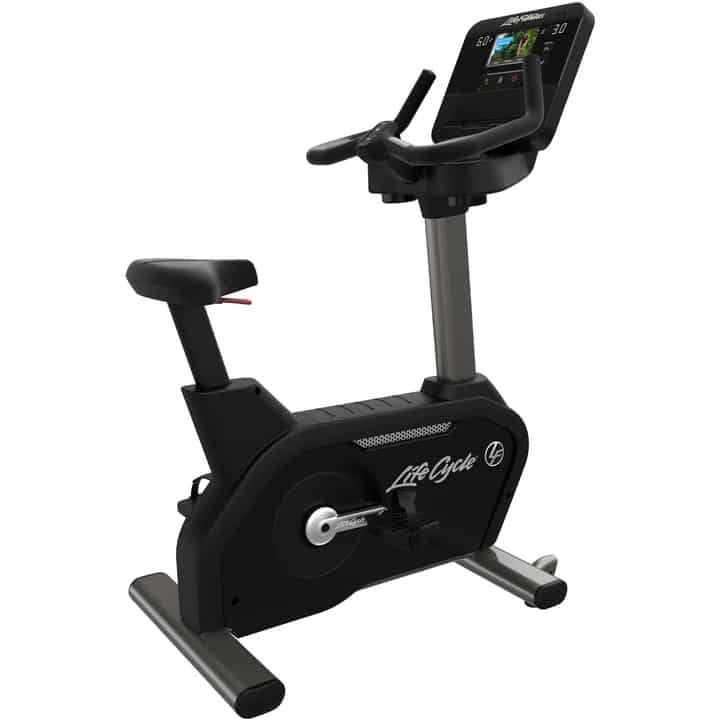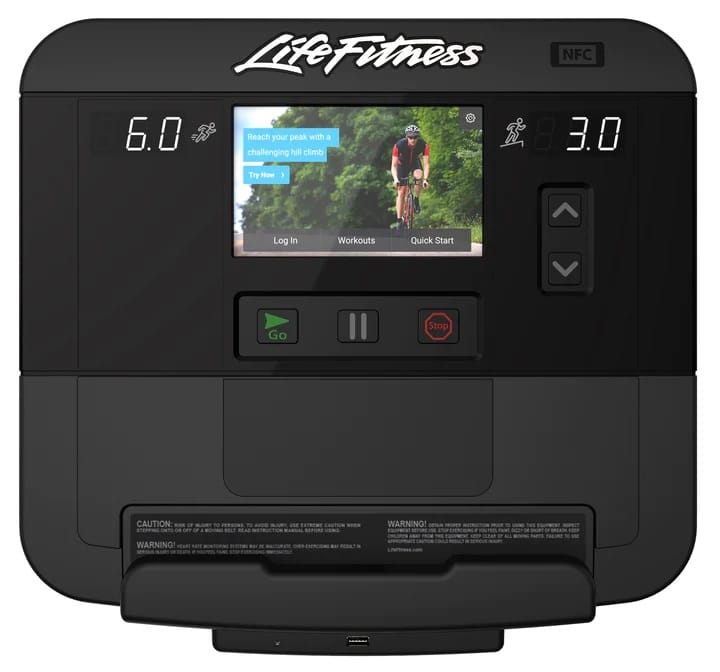 ---
KEY FEATURES
Self Generator Drive System (with the Integrity X console)
Integrity X Console with wireless connectivity
Deluxe racing handle bars (ergonomic design with elbow support)
Resistance controls integrated into the handle bars
0-25 Resistance levels
Maximum resistance 900+ watts
Self levelling wide pedals
Easily adjustable pedal straps
Comfortable seat
Easy seat height adjustment
Lifepulse Digital hand grip pulse
Entertainment control pad when use with optional attachable TV
User weight 28.5 stone (181kg)
Size L x 105cm W x 62cm H x 138cm (41.5" x 24.5" x 54.5")
Product weight 76.5kg
---
Warranty
3-year parts / 1 year labour
*Warranty may be subject to change without notice and may differ between retailers – please check carefully before making a purchase.
---
Pros and Cons
---
Overall Verdict:
My verdict? Another incredible entry from the Life Fitness team. From a strong maximum user weight to deluxe racing handlebars, this bike has got it all. I love the race positions available from the handlebar type, I seriously rated the adjustability and comfort due to the seat adjustments, and overall I wanted to stay on this bike for longer, that doesn't happen all the time.
You'll read on the Life Fitness website and on many a review write-up that this upright lifecycle exercise bike has 'fine tuned' components, 'ergonomic design' and that it's 'built to last' – I can testify that every single one of those words is true. I couldn't believe how robust it was, how from the first to the last workout I was pleased with everything, and how at the end of the day, how fair the price was.
With the more obvious and noticeable factors like the workout data from a great console selection to the incredibly engineered yet somewhat hidden 8-ribbed poly-V belt system, I'd implore anyone to try and find a real deal-breaking fault with this machine because believe me I tried… and failed.
---
---
What I Liked About This Exercise Bike
Usually, I'd start off by saying what I liked about the engineering or the console, but today I feel empowered to mention something different – the paint. The coating on this Life Cycle machine is there to deal with threats of corrosion, stains and general chemical interference. Usually, I wouldn't be too bothered by something like this; most bikes are indoors in relatively stress-free environments. However, to me it says something great about the mantra of Life Fitness – they want your bikes to last, and they'll do a lot to ensure they do.
To reinforce that mantra, the Life Fitness Club Series Upright Bike has a quick-release removable shroud that helps to keep any required maintenance quick and easy, getting you back on the bike just as sharp.
Let's touch on the console briefly. This onboard console lets me have workout data, workout performance history, workout programs, and a host of other features that I'd only expect from seriously top-end health clubs worldwide. Having this exercise bike with exerciser insight evolves and enhances my workout rate, form, progress… you name it – consoles are like your PA, and the Club Series Upright Lifecycle has got this spot on.
Things That Could Have Been Better
Despite this bike's price tag, and despite everything feeling great, it did feel a little like a light commercial machine. Now that's no bad thing; many people want a lighter machine with fewer features, but personally, for this price range I'd expect something a little more heavy-duty. But it's all preference. Some people love the fact that a machine comes with a polar strap included. Others enjoy a trending workout, a more connected experience and push workout data to the forefront of their buying decision. For me, I want my hardware to be as fleshed out as possible in bikes like this and focus less on extras and tech features.
It is important to note, however, that this isn't really a con. You can't criticise a great machine for being great in a way you didn't expect, and the price tag is certainly worth it – features that make this bike incredible are abundant, so I'd encourage you to find this out for yourself.
---
FAQ's
Should I look for machines that help me make adjustments 'in workout'?
Always! Things like technology use, adjustment making and position changes are all incredibly valuable in the world of gym equipment. Nobody wants to stop mid-way through a workout, get off their machine and have to make a manual adjustment that, well, automatically interrupts your flow. It's about ease of riding. Part of comfort is this facet so be sure to take all of this into consideration when looking out for a bike.
How important is a smooth and quiet ride, will I really notice it mid-workout?
It's not always about you. If you have a family that work from home, late-night rides that could interrupt them or perhaps neighbours with particularly good hearing then you should always consider quiet bikes. But you're right too – in the midst of an intense workout you may struggle to even notice. Either way, I'd say the quieter, the better, but if what makes it cost an arm and a leg and then another leg is the quietening mechanisms then maybe reconsider your buying decision.
---
Affiliate Disclosure
In compliance with the FTC guidelines, please assume the following about all links, posts, photos and other material on this website:
Any/all of the links on this website are affiliate links of which GymFreakz receives a small commission from sales of certain items, but the price is the same for you.
www.gymfreakz.com is a participant in the Amazon Services LLC Associates Program, an affiliate advertising program designed to provide a means for sites to earn advertising fees by advertising and linking to Amazon.com & Amazon.co.uk. Pages on this site may include links to Amazon and its affiliate sites on which the owner of this website will make a referral commission.