---
---
Introduction to the Life Fitness RS3 Recumbent Bike From The Recumbent Range. Available with Go Console or Track Connect Console
Taking comfort seriously is certainly one of the most popular tracks to follow. While manufacturers should always consider comfort, putting it at the forefront of design is a sure-fire way to please many a gym goer. From older fitness gurus to those needing accessibility, comfort isn't just 'nice' for many, it's essential for some.
As we probably know, a recumbent seat focuses on comfort and ride-ability. Namely, the design of the accessible entry reclining adjustable seat is superb. It makes for a more than comfortable ride, and with the resulting seat type (deluxe cushioning), you get an equally deluxe riding experience – The Life Fitness RS3 Lifecycle Exercise Bike takes full advantage of this.
Life Fitness are known for sturdy builds. When you combine that robustness with comfort, quite simply, the result is a wonderful machine. The practicality of bikes like this has also clearly been considered by the Life Fitness design team. If you want a custom workout, feel the fat burn and minimise power requirements, you can. The RS3 recumbent bike has an incredibly diverse range of practicalities and comforts, qualities that the previous RS model didn't quite match.
Let's find out how the Life Fitness RS3 lifecycle exercise bike has expanded on the first entry's fallbacks and why you could benefit from the RS3 today.
Disclaimer – This website contains affiliate links. If you find the information useful and click on a product link and make a purchase, a small commission will be earned by GymFreakz and we appreciate your support.
---
Specifications
Self Generating (with GO console only)
Power required for Track Connect console
Contact Heart Rate Sensors and telemetric (chest strap included)
Maximum User Weight 28.5 Stone (180kg)
Size L x 145cm W x 66cm H x 137cm
Non-slip, self-balancing pedals
Track Connect console or Go Console
Deluxe two-grip handlebars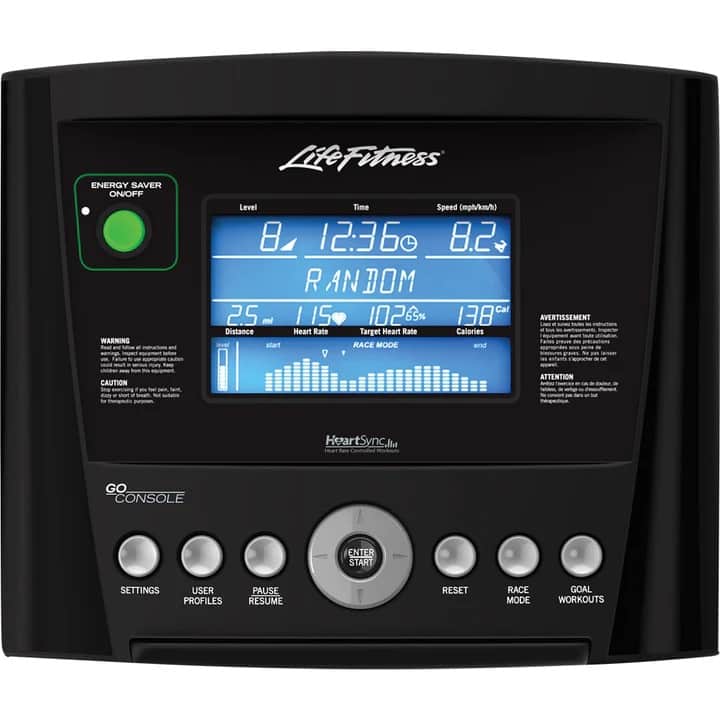 With Go Console:
With Track Connect Console:
---
KEY FEATURES
Console Customization
20 Resistance Levels
13-position seat adjustment
Ergonomic design
Customised positioning
Easy mobility
Step through design
---
Warranty
Frame: Lifetime; Parts: 5 year; Console: 3 year; Labour: 1 year
*Warranty may be subject to change without notice and may differ between retailers – please check carefully before making a purchase.
---
Pros and Cons
---
With Go Console:
Just because the Go Console is cheaper doesn't mean it lacks punch, just don't be surprised if it doesn't leave much of a bruise afterwards. The Go Console has a great range of features that you'd expect from any low-level console. It contains 13 workout programs, 2 user profiles, a Polar wireless chest strap, a race mode and an energy saver mode. Whilst efficient in the power-saving space, and also dexterous enough with the programs and user profiles, it just gets me thinking – I feel a little out of choice. Yes, I have the choice between the consoles but compared to the Track Connect, it just feels like a no brainer – The Go Console doesn't quite hit the mark for those looking for more serious workout experiences.
The comparison aside, let me break down the Go a little more. Starting with the Race mode, the Go Console has some pretty cool features that will benefit my workout. The Race mode, whilst basic, helps me to stay motivated, but I do need to use my imagination a little. Essentially, Race mode activates a nice little dot on the screen which marks the position of an imaginary opponent. It makes me feel like I need to play catch up – I won't be beaten by imaginary dots. In all seriousness, little features like this can be a godsend, so don't underestimate them, especially when it comes to the Go Console.
With Track Connect Console:
The Track Connect Console is a completely different ballpark. We often pay money for components or features that result in inherent improvements, mainly to the frame, build, and functionality of the actual bike. Things like a quiet ride, step-through design, breathable mesh fabric and a dual grip front handlebar can change the game. However, with the upgraded Track Connect Console, we're paying for the cherry on top.
The Track Connect Console has 14 workout programmes, the same Polar Chest Strap included, 4 user profiles for custom workouts, the same energy saver mode, and even iPod compatibility. We can all agree this is a huge improvement on the Go Console. While a little more expensive, the Track Connect is the enhancement to your workout that you've been waiting for.
---
Overall Verdict:
Overall, the RS3 is a great improvement on it's predecessors. While the bike remains largely the same, besides some quality of life improvements and a few great component additions and changes, it's still very much a Life Fitness Recumbent bike. I would like to have seen some notable aesthetic changes here as I've found this a little harder to blend into my home gym. And that's a good point – if you're looking to purchase this machine for a small but dedicated space, you'll be fine. If you're looking to buy this machine for health clubs worldwide, you shouldn't worry. However, if you're looking to house this in your front room for example make sure to take how the RS3 looks into consideration before you do!
Either way, the bike frame, mobile device compatibility, dual grip handlebars and step through design all help me reach my fitness goals. And they help in an efficient, streamlined and superior way. Life Fitness manufacture some of the best machines out there – clues in the name – Life Fitness give you machines that last, and we want to find the right purchase to help you maximise the time taken before potentially having to buy another.
---
With Go Console:
With Track Connect Console:
---
What I Liked About This Exercise Bike
On the topic of space at home… moving a machine like this around could be a very important consideration. Think about moving house, rearranging furniture, someone moving out or moving in – there are so many reasons why you might have to move your bike. The RS3, thankfully, features great mobility for added off-machine ease and comfort. The transport wheels are appropriately placed, and the overall machine weight is manageable too.
Fun should never be discredited here. While we want to have serious workouts, we also want to enjoy ourselves while doing so. With the Track Connect, exciting interactive workout challenges can be the provider of said entertainment. Naturally, they make me want to come back to the bike for more. Being motivated like this is invaluable – provided you have a good bike, then extras like this should be a focus, and staying motivated a priority.
Things That Could Have Been Better
While I can't say much for the Consoles or aesthetics, I do feel like the size of the machine could be addressed. It's good to accommodate for a whole bunch of different people, but it not only looks bulky in places, it feels it too. There's generally easy access to the whole bike. Things like assist handle pedal straps and a dual grip front handlebar can help with this feeling. But I don't get that unquestionable comfort, that obvious fit or the feel that every single thing feels exactly right. Perhaps I'm being a little overreaching here, but I have to say, while this bike features incredibly comfortable and easy parts in places, I have ridden more comfortable bikes in my time.
---
FAQ's
What does training versatility mean?
This can refer to many things from the machine's features and options to your own bodily ability. For us, it means things like workout program additions, sturdy builds, and life span. you could say that the most versatile training machine is a one-stop shop for all your fitness needs. If you're looking for a machine with the most features and value in the way of training boosting, then be on the lookout for machines with a slightly higher price tag – extras, superior components and abundant features usually come at a price.
Do UK residents benefit in any way?
As far as deals and delivery time are concerned, then absolutely, let alone the lack of import tax needed. Unless the machine you're after is a super rare piece or one that's only manufactured and distributed overseas, then you should always look for machines in your country. There are always amazing bits of gym equipment no matter where you are, so why spend more than you need to?
What is a life fitness virtual trainer?
The Life Fitness Virtual Trainer is a workout app (life fitness connect app) that allows you to access a library of workouts, create your own custom workouts, and utlise real-time workout tracking to track your progress. The app also includes a social media platform where you can connect with other users and share your workout experiences.
What are handlebars dual grip?
The dual grip handlebars are a feature on some exercise bikes that allow you to grip the bars in different ways to add variety to your workout. For example, you can grip the bars with your palms facing inward or outward. This can help target different muscle groups and add more challenge to your workout.
---
Affiliate Disclosure
In compliance with the FTC guidelines, please assume the following about all links, posts, photos and other material on this website:
Any/all of the links on this website are affiliate links of which GymFreakz receives a small commission from sales of certain items, but the price is the same for you.
www.gymfreakz.com is a participant in the Amazon Services LLC Associates Program, an affiliate advertising program designed to provide a means for sites to earn advertising fees by advertising and linking to Amazon.com & Amazon.co.uk. Pages on this site may include links to Amazon and its affiliate sites on which the owner of this website will make a referral commission.