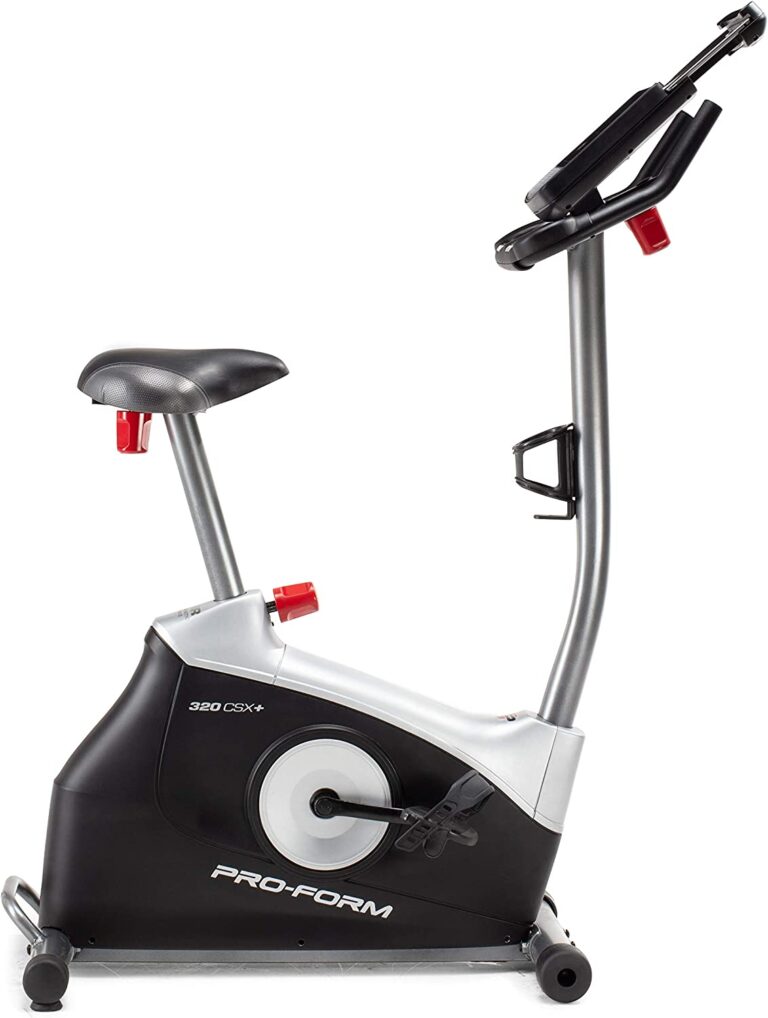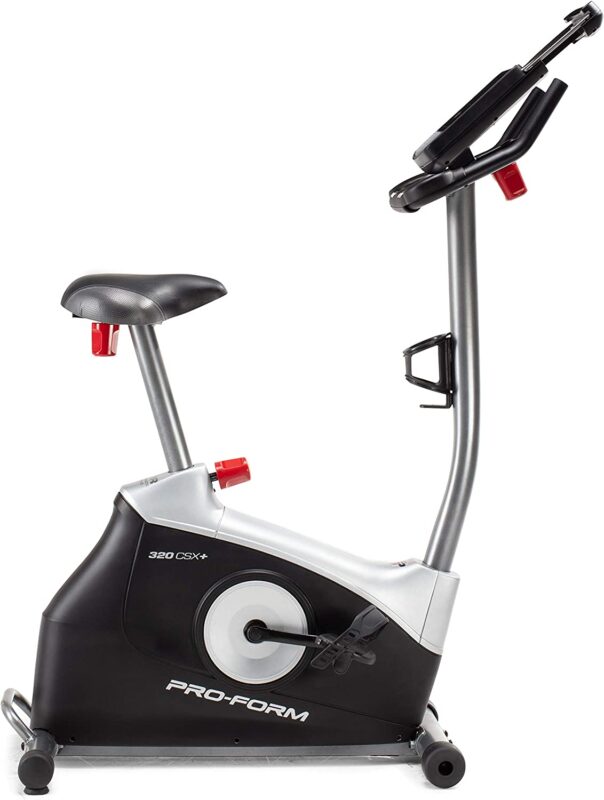 ---
---
Introduction to the Proform 320 CSX+ Exercise Bike
Let's imagine that you've opened google maps for a second. You've honed in on your favourite route, perhaps across the west country in the UK. The trees are swaying, you can feel the wind in your hair, and you're on a riding a route that you'll never forget. Well, reality check – that's not always possible. We all love exercise, that's why we're here, and whether we're just starting out or struggling not to throw in the towel, I can guarantee that an indoor exercise bike will benefit you, no matter your mobility.
Some might think of luxuries like a cushioned seat, the ability to play your favourite music or built-in workout programs. Others might focus on innovative engineering like an smr silent magnetic resistance system. Either way, indoor bikes aren't just a great replacement for the outdoor experience, they can actually be better. And Proform knew this from the moment they made their first bike.
The Proform 320 CSX exercise bike is an absolute homage to the brand's indoor range all round. It's advanced, unique, sharp and the best bit – every design feature has been developed to benefit you. From forward-thinking comfort features to ergonomic pedals, great access considerations to all the information available on the console, the Proform 320 CSX could be the bike you're looking for.
Disclaimer – This website contains affiliate links. If you find the information useful and click on a product link and make a purchase, a small commission will be earned by GymFreakz and we appreciate your support.
---
Specifications
Colour – Grey
Height – 65 cm
Item display length – 93 cm
Weight – 39 kg
Max user weight – 125 kg
No Batteries included
Product dimensions – 109 x 56 x 143 cm; 41 kg
Manufacturer – Icon Health and Fitness Ltd
Adjustable seat
5-inch backlit screen
EKG system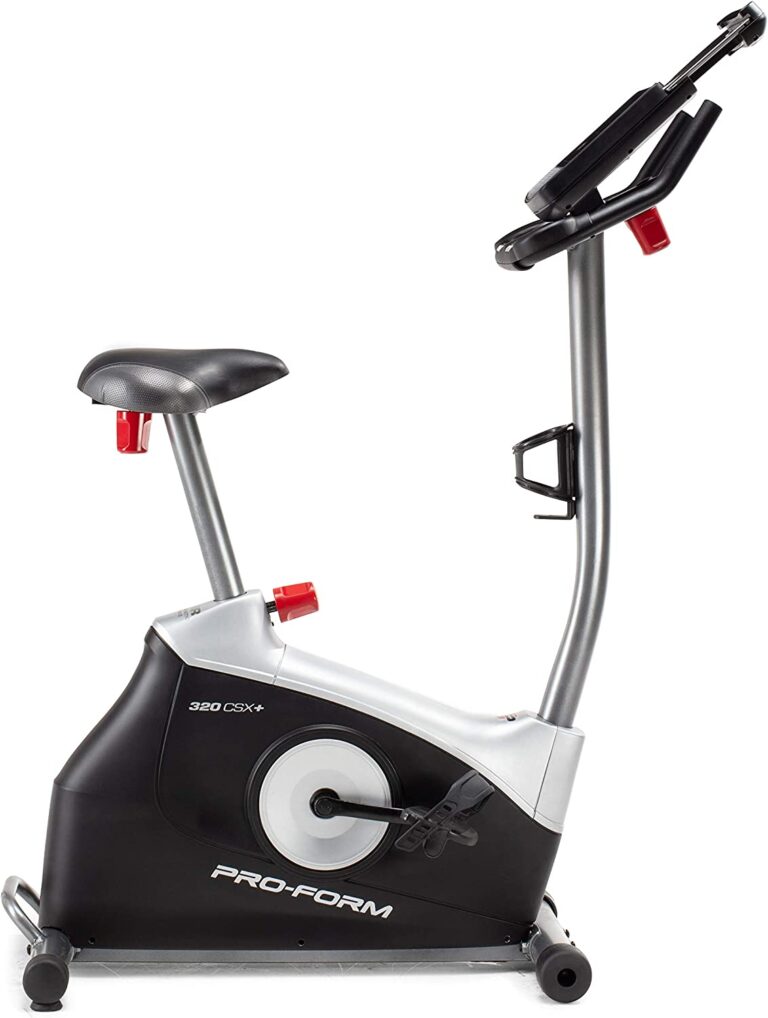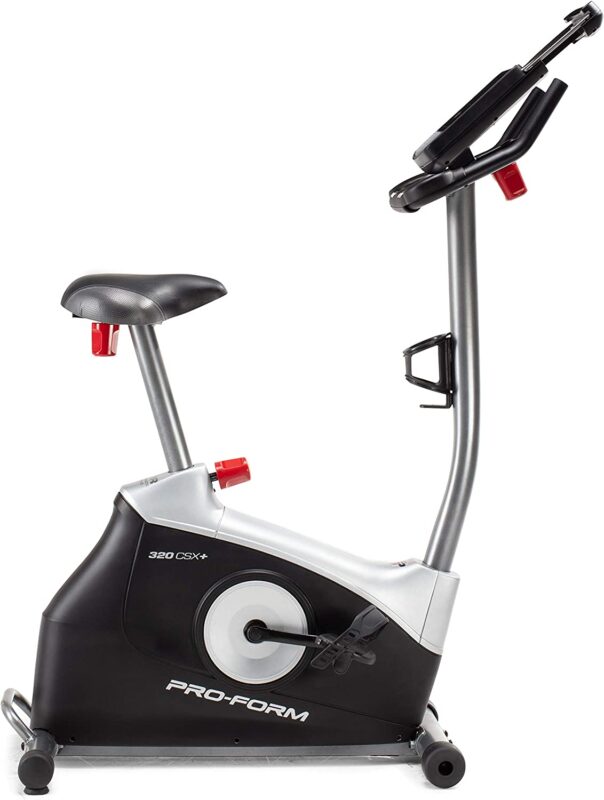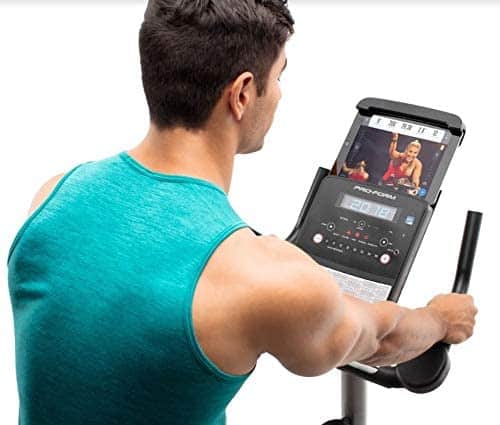 ---
KEY FEATURES
Home interactive systems
iFit workouts (30 Day trial)
Access live, studio and global workouts
16 easy-to-adjust silent digital resistance levels (7 kg effective inertia)
Tablet holder, water bottle holder
Transport wheels
Heart rate measurement
Music ports
---
Warranty
2 years parts, labour and frame guarantee (subject to warranty registration)
*Warranty may be subject to change without notice and may differ between retailers – please check carefully before making a purchase.
---
Pros and Cons
---
Overall Verdict:
For a good price, great speed range and an undoubtedly positive review from me, the Proform 320 CSX exercise bike is a class machine for top riders. It's simply designed for ease and entertainment in mind. It might not hold up the developmental progress of heavy-hitting health club rigs, but it is the ideal home fitness bike, delivered right to your door.
If you have specific goals and want your training to be back to basics, then this machine is ideal for you. But to spin that, this bike has a great deal of features oriented around enhancing your workout too. The console is decent, but the programs are of note here. The music port ability is a great touch too, adding even more variation and wider value to this fitness machine. Music source inclusion is great for those wanting to focus, distract or alter their mindset. I myself was running this morning, and I know that the space music puts me in gives me that push. Without it, I don't think I'd feel comfortable in pushing myself and motivating myself for the next session, so a big box ticked for me.
Thus upright exercise bike is one of many that subscribes to the iFit membership ethos too. And that's no bad thing. iFit memberships can give you serious workout guidance, leaving you questioning why it is that you were without it before. They can push you, teach you, and help you become the best exerciser possible. Be warned though, this membership that's included is only a 30-day trial, and while that can be a great way to give you insight, some may miss this detail and be a little disappointed (Maybe I was one of those people at one point… maybe).
---
---
What I Liked About This Exercise Bike
So let me start this section off with the word aesthetics. I do, however, want to be very careful to remove the frame from this section (stay with me here). The console looks pretty sharp, modern and sleek, but it's the tablet holder placed above the console that really excites me. This should be a very minimal feature, and in reality, it is, but there's something about the placement of the integrated tablet holder, in combination with the accessibility of the whole bike, that compels me to give praise. It's not just that it looks great, it's that its design speaks a thousand words – Proform are clearly prioritising accessibility and ease of use and have taken that to the next level. So you can watch whatever you want and adjust settings without even having to think about it. Great. But what else is good here?
Let's focus less on software, like the iFit smart cardio app, and focus more on what's beneath the finely finished coating.
As you may remember, at the start of this article I threw some terms at you – 16 easy-to-adjust silent digital resistance levels (7 kg effective inertia). What this means, besides the already established ease of use, is that you get to adjust the resistance levels of your bike, to a great degree, with intelligently incorporated silent technology and get to feel like you're riding a real bike.
Let me explain.
Digital controls let you adjust things silently, without the need for manual cogs turning and so on. The 16 degrees of resistance gives you a game-changing range in which to push through, and the 7kg inertia is what gives that bike a heavy more realistic feel, like certain treadmills that replicate real-life runs. Simple. And it's just as simple as to why this bike is brilliantly suited for the majority of riders, *dimensions and rider height included…*
Things That Could Have Been Better
So with this bit of home fitness equipment being praised, what was it about the frame that I didn't like? It wasn't that it won't blend easily into environments (it's small enough and generally slim) it's that I don't think it's going to impress people coming round on bank holidays…
I think it looks a little dated. That's the essence of it. While that's my very subjective opinion, and even the best of certified personal trainers couldn't argue this is objective, it is an important consideration – the bike just doesn't look impressive. A question I have to you is, do you think that's going to affect how you feel riding it too?
Hopefully, you answered no; I don't want a great bike being overlooked because I don't think it looks great. Looks aren't everything anyway. As they say, true beauty is on the inside. And, whoever they are, they're right. This bike has a great host of internal engineering triumphs, a comfortable riding position, great design to gain access too and in short, it's more than meets the eye.
While the adjustability is great, part of me doesn't like the fact that the tablet holder is a separate component made for cars too. Now, this is cool because you can use it in your car or elsewhere, but hey I'm a purist, I like things to be made exclusively for a machine that I'm paying a reasonable amount of money for, not some added-on extra that can be used for a range of stuff (hands up if you disagree…)
Other than that, this bike has very few points of criticism. Not every bike can be mentioned so minimally in a negative light, and well there's a reason we're reviewing it on our site – if it's listed here chances are it's a great bike worth purchasing, but is it for you?
---
FAQ's
Should I consider the delivery date in my buying decision?
Exercise bikes should take precedence, but for whatever reason (maybe it's Christmas or a birthday) you need to order in a rush then absolutely check the date. Or if you work, then a Saturday delivery might be needed. It's a good note for overseas deliveries too, always check every factor that's important to you.
Is payment method important?
Forget dual EKG pulse grips, the way you buy them can be important too. It's all down to your preference but remember to carefully consider which account you can afford to take from, if it's a credit card then be mindful of your balance and so on. I always crown a developer or manufacturer that gives you multiple options to buy because it says they're thinking about you. Always consider your options.
---
Affiliate Disclosure
In compliance with the FTC guidelines, please assume the following about all links, posts, photos and other material on this website:
Any/all of the links on this website are affiliate links of which GymFreakz receives a small commission from sales of certain items, but the price is the same for you.
www.gymfreakz.com is a participant in the Amazon Services LLC Associates Program, an affiliate advertising program designed to provide a means for sites to earn advertising fees by advertising and linking to Amazon.com & Amazon.co.uk. Pages on this site may include links to Amazon and its affiliate sites on which the owner of this website will make a referral commission.