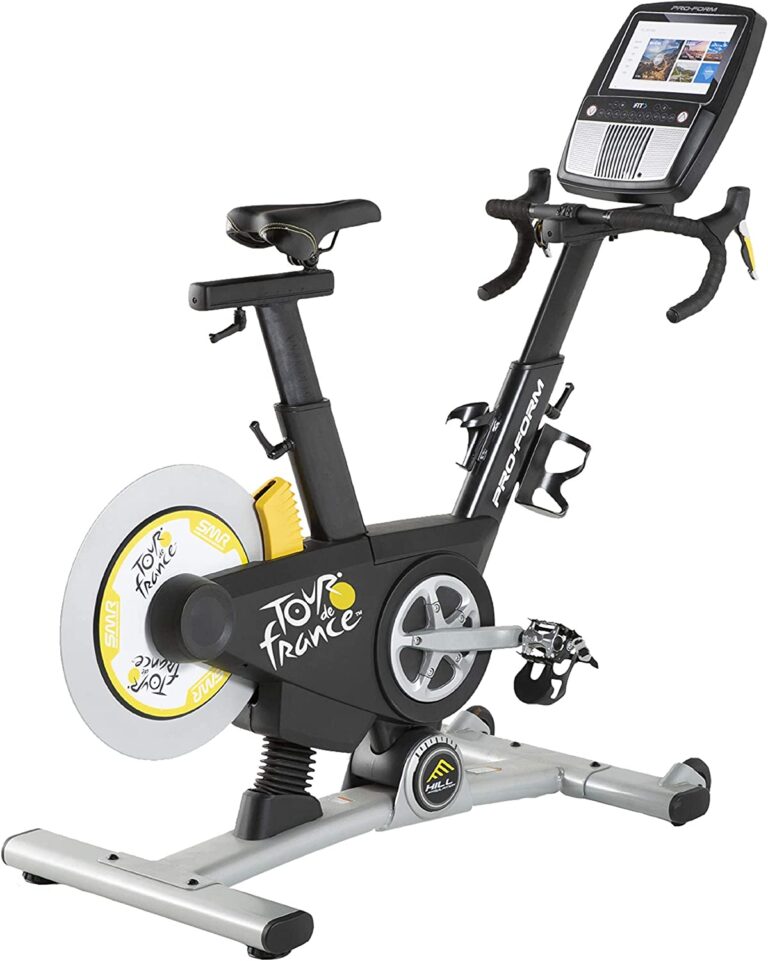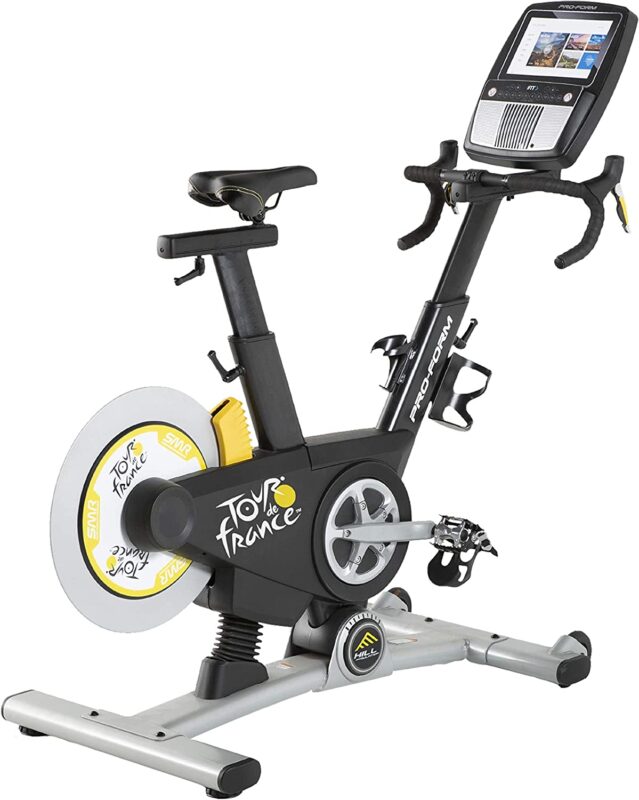 ---
---
Introduction to the Proform Tour de France 10.0 Exercise Bike Spinning Bike
What do you think when you hear the word competitive? Perhaps it makes you think of being a champion, or maybe it gives you determination to be a winner. Well, when it comes to competing you don't need to be up against anyone else – you simply need to be competing against your own fitness goals.
Overcoming hurdles in the fitness world is essential, and thankfully we all have a few ways of getting there. My personal favourite is the indoor cycle. The way it can be used with ease, blend into my home and also last for years make it the perfect machine for me to conquer my fitness goals with. Besides the fact that it offers a great alternative for those who can't run, perhaps because of injury, a bike is generally an affordable alternative with a great emphasis on targeting your body in specific and unique ways.
While we're on the topic of unique, today we're looking at one of the most unique bikes out there – the Proform Tour de France 10.0 Exercise Bike Spinning Bike. While it has the classic hallmarks of a well-built Proform bike, it also features an amazing and unique set of inclusions. Without wasting too much time here let's begin to break down why this machine is one to watch in 2022.
Disclaimer – This website contains affiliate links. If you find the information useful and click on a product link and make a purchase, a small commission will be earned by GymFreakz and we appreciate your support.
---
Specifications
TDF style bike
Alloy steel and metallic fibre hybrid
Battery powered
Max height – 200 cm
Max weight – 150 kg
Language – English
Dimensions – 158 x 63 x 137 cm; 67 Kilograms
0-20 incline and 0-10 decline
Digital control options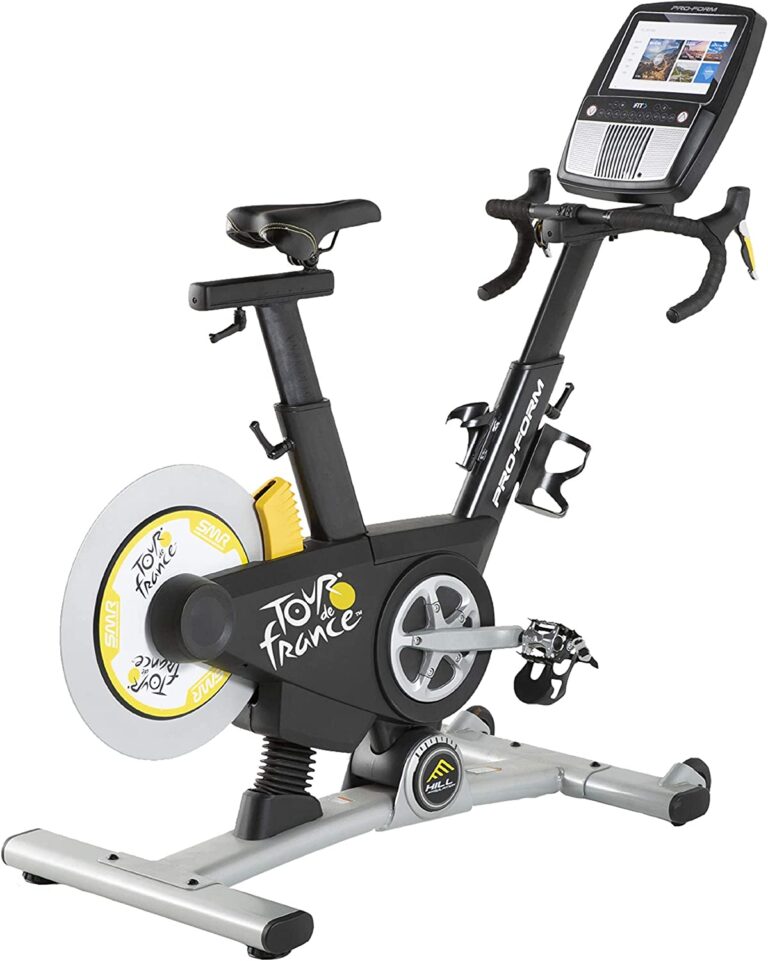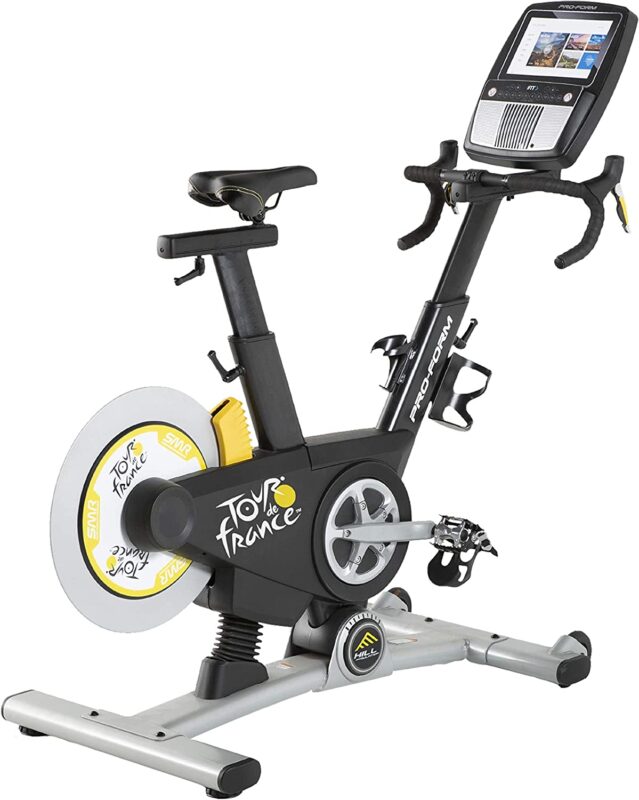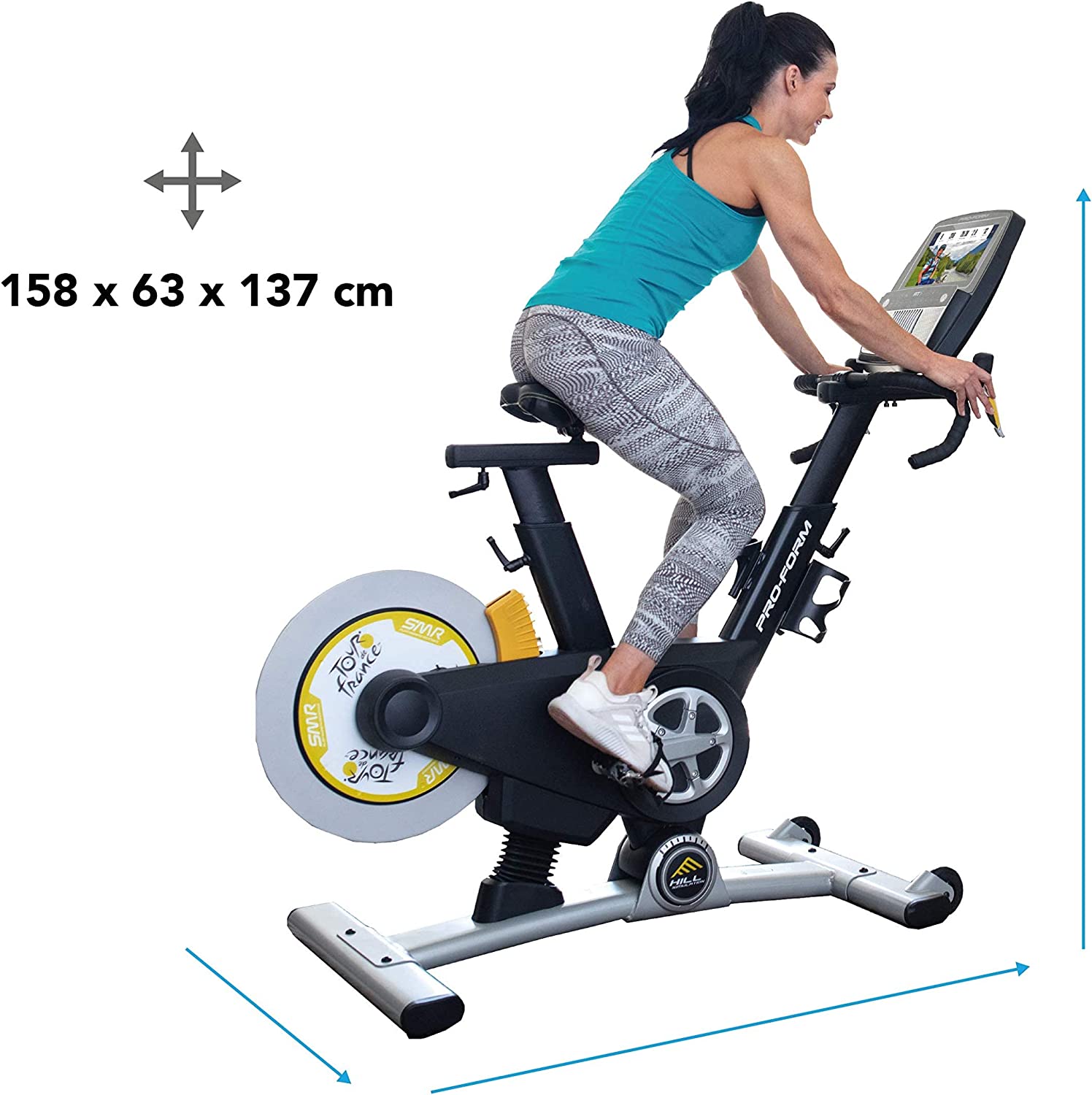 ---
KEY FEATURES
Black and Yellow colouring
Belt drive system
Heart rate meter
10″ Console
Pedals
Immersive and engaging workout programs
Personal coach capability
Aux music connector
Touch screen functionality
---
Warranty
Lifetime Frame, 3-Year Parts, and 1-Year Labour Warranty.
*Warranty may be subject to change without notice and may differ between retailers – please check carefully before making a purchase.
---
Pros and Cons
---
Overall Verdict:
Forget weight, speed, price and product dimensions for a second, this is a unique-looking bike with bespoke features for those who love the Tour De France. Limited edition series' offer things that others can't every time they're released. They undeniably add value, but that doesn't mean everyone's going to feel that value.
Exercise bikes like that can be a bit of a fad. It's essentially the same as the standard version but that doesn't mean to say it's a bad thing. With features and specs like transport wheels, max user weight, silent magnetic resistance and a horizontally adjustable seat are largely the same, so are the programs really worth it?
Simply, the Tour de France programs let you ride through the stages found in the real life competition. Some would say that's it. And all the others are the same as you can find with iFit interactive technology across the field. Personally, if I didn't want to fork out on the money then I could open up google maps, put a French flag round my back and get cracking. I don't think you need this bike unless you're a hardcore Tour de France rider.
That said, I want to be careful of undervaluing what a bike like this can do for your mental game. Our imagination is one of the most powerful tools we have. And to truly get the most out of this machine you don't really have to try hard to use it. Place yourself in the ranks of the best, follow the exact routes and train like your racing the real thing – all can be easily achieved with this limited edition bike.
Overall, I love the energy it can bring but in my opinion, if you're not a fan of the obvious, then you may be better off with the standard edition.
---
---
What I Liked About This Exercise Bike
Forget the reliability of the delivery date, the payment method through Proform, forget peripherals like a tablet holder, let's go with the obvious – the looks. This machine looks sharp, modern and artistic. A lot of design thought has been put into how this bike looks and while I'd usually be non-plussed I have to respect the time and effort put into making this thing special.
Besides the looks, the hallmark silent magnetic resistance system allows for digital control and undeniably easy process that stomps most bikes in an instance. When you combine all of the bespoke programs with ease of use and the high definition screen, well, the console gives you and this bike a boost every time you use it.
spice of life, and variation in a fitness regime can be the difference in you hitting your goals or not.
Things That Could Have Been Better
While the majority of components, incline, distance settings, and general cycling feel are all the same as the standard edition, I feel like the unique features could have been expanded on a little. Specifically, the iFit coach aspects were fine, but the Tour de France programs felt a little underdeveloped. Let me explain. The programs aren't bad at all, I just think ProForm missed an opportunity to expand on great creative potential. A potential that would have really made this bike a physical homage to the tournament itself. I'd like rider positions and stats, tables and scoresheets, virtual manager instructions or tips to bet specific and well-known riders, or maybe weather conditions and injury… if the big sports games can do it, why can't you? I love the programs, and they make me feel motivated, but I can only imagine the feedback I'd get from a fully fledged Tour de France package, let alone how much better I'd feel about the price difference.
As for the bike itself, there aren't any real issues. Some moaned about setting iFit up. While I always put the bike first, and if a bike can help you burn calories, maximise workouts and enhance your training then great, but ease of use is important too. If you have the patience to set things up and realise the true value of this bike then I wouldn't worry too much about the iFit set up process.
---
FAQ's
Are front-mounted transport wheels better than rear?
Unlike adjustable handlebars, it's not a case of better, it's more a case of preference. Having the transport wheels on the front, and that being a better thing, completely depends on component placement and frame design. As far as you should be concerned the only thing you need to look out for is whether it has transport wheels or not.
What fitness equipment should I avoid?
Someone will always have something bad to say about one bit of kit. Its down to you to assess whether a machine is suitable or not (hopefully we make that easier here). Rest assured, however, we will certainly be listing good machines so its about the source of your research too. I can't say there's any one thing to avoid but there will be a mass of false advertising and dodgy products out there, so be careful. If you see someone trying to sell a bit of kit that burns fat instantly for example, they're probably lying through their teeth.
---
Affiliate Disclosure
In compliance with the FTC guidelines, please assume the following about all links, posts, photos and other material on this website:
Any/all of the links on this website are affiliate links of which GymFreakz receives a small commission from sales of certain items, but the price is the same for you.
www.gymfreakz.com is a participant in the Amazon Services LLC Associates Program, an affiliate advertising program designed to provide a means for sites to earn advertising fees by advertising and linking to Amazon.com & Amazon.co.uk. Pages on this site may include links to Amazon and its affiliate sites on which the owner of this website will make a referral commission.