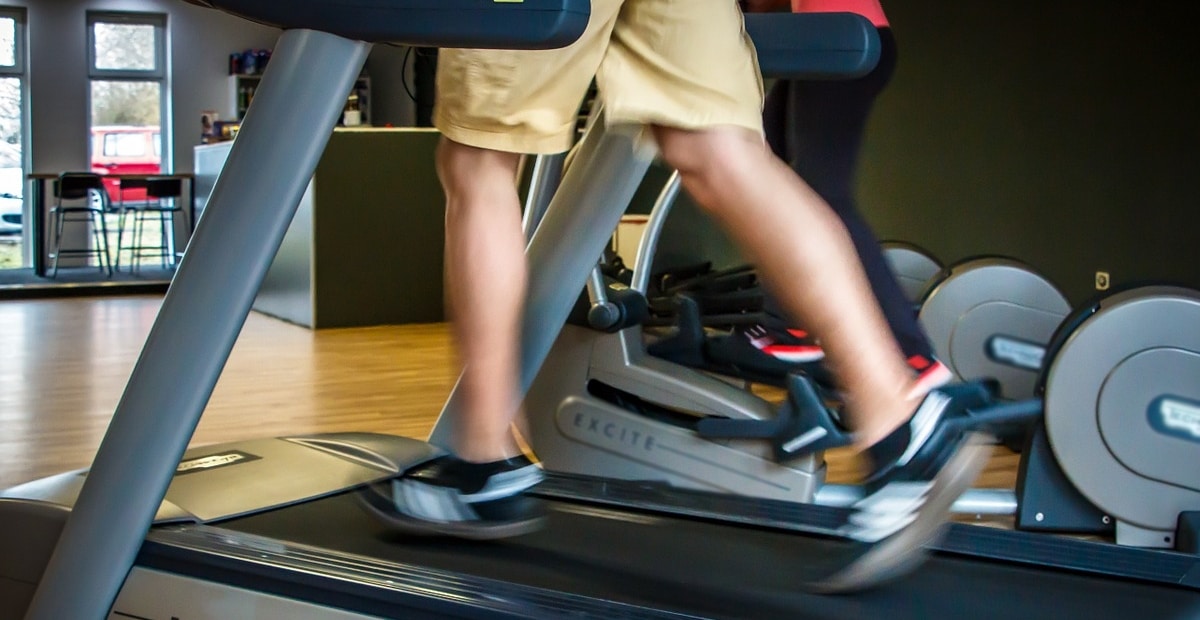 ---
---
A bit more space means far options. The best treadmills for your garage are a short read away.
Having more space for your treadmills is going to give you far more options. If you can't get to the gym or simply prefer working out from home, especially in your garage, then this is the article to read.
A workout routine can be done anywhere and doing anything. But we know the best runners out there need ample space, the right environment, and the best equipment if they're going to work out in their own home gym, and you're no different.
With an increase in space, you could be looking at larger, non-foldable fixed treadmills. You no longer have to worry about how much space you have, and you're far less likely to be concerned about a loud and powerful motor.
Home gym owners will revel in this list as they'll certainly see a great range of home treadmills that could change their workout routine forever.
And if you're looking to upgrade and buy a new treadmill for other spaces, then this list will help to change your game too.
In A Rush?
| | My Top Pick: | Best of the best: | Best Mid Range Price: | Best Buy On A Budget: | Best For The Office: |
| --- | --- | --- | --- | --- | --- |
| Brand | Spirit | JTX | XTERRA | Branx Fitness | Nohrd |
| Model | CT850 | Club-Max Commercial | TRX 4500 Folding | LIMITED EDITION' Foldable 'StartRun' | Sprintbok Curved |
| Photo | | | | | |
| Max. Speed | 19 kph | 25 kph | 18 kph | 16.5 kph | n/a |
| Max. Weight | 204 kg | 180 kg | 150 kg | 125 kg | 160 kg |
| Running Area | 159 cm x 59 cm | 54 cm x 58 cm | 51 cm x 152.4 cm | 120 cm x 42 cm | 160 cm x 45 cm |
| PRICE* | £5496.00 | £5999.00 | £1299.00 | £599.99 | £5295.00 |
| | | | | | |
| Check Prices | | | | | |
*Prices correct at the time of writing
---
My Top Pick (simply unbeatable but comes at a price):
Spirit CT850 Treadmill (£5496.00)
Key features
4HP AC Motor
Running surface 60" x 22" (159cm x 59cm)
Speed Range 0.5-12 mph (0.8-19 km/h)
Incline 0-15%
Integrated Accessory Tray with bottle holder
Multi-ply Habasit ® Commercial Belt for superior belt life
Hard wax deck
Tri-coloured LED display
Turbo cooling fan
6 feedback windows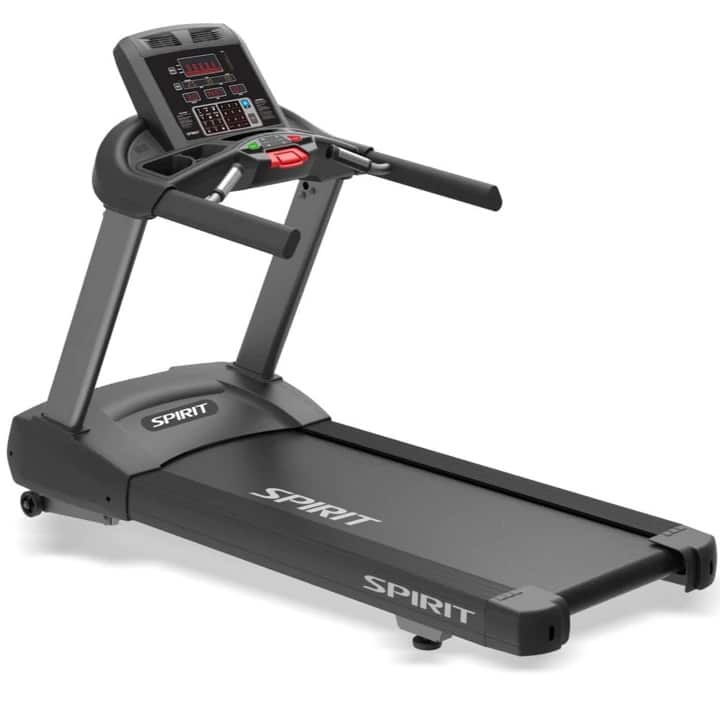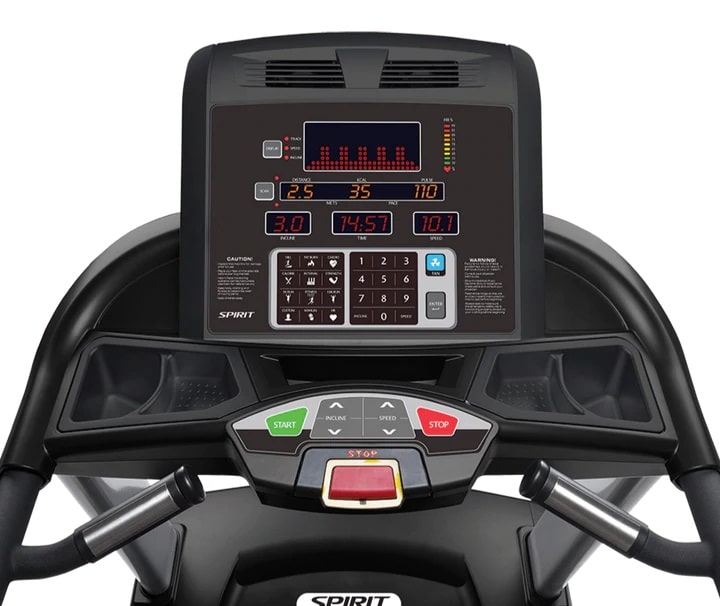 ---
Overview
To summarise, Spirit CT850 is a classic, run-of-the-mill, sturdy build treadmill. It's all about function and support, and while all the features may be lacking in comparison to some, it's a popular unit for commercial gyms for a reason.
As one of the more expensive treadmills on this list, and given its simple design and focus on the basics, you know it's built with life span in mind. If you're a fitness pro that works out from home then you're going to be doing a lot of indoor running. Because of this, the sturdily built running deck, along with other components like the spacious running surface, make this the ideal treadmill for your garage.
And if you're worried about it wearing and needing replacing, with it being a heavy unit, then you should dispel those doubts now – the sturdier the treadmill, the longer until it needs replacing, and with a guaranteed build to support thousands of miles, the only thing you'll be running out of is breath.
The Spirit CT850 is a great treadmill for your garage. It may not have all the wild features and extras that a lot of machines do but if you want a sturdy running experience that can accommodate for high-intensity interval training then this is the machine for you.
---
Best of the best (if you have the room + the budget):
JTX Club-Max Commercial Treadmill (£5999.00)
Key Features
Running area: 154cm x 58cm
Maximum speed: 25 Kph
Incline: 0-15% or 15 levels
Computer console: 10-inch LCD display
Workout programs: 24 different workout modes + 3 custom
Power: 6 Horsepower AC motor
Transport Wheels: Yes
Max. User Weight: 180 kg
Machine Weight: 215 kg
Non-Folding Dimensions: 93 (w) x 212 (l) x 150 (h) cm
Floor to Deck Height: 32cm (flat deck)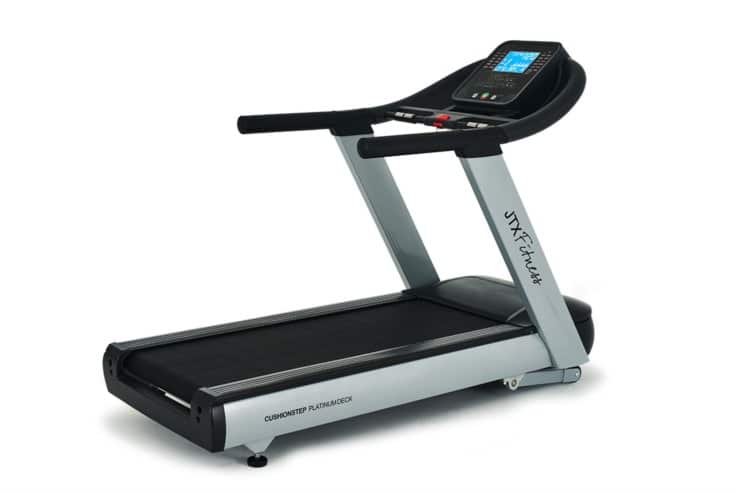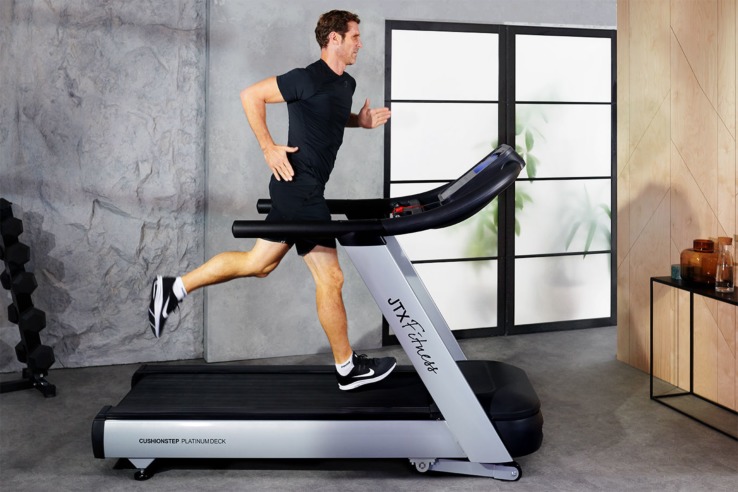 ---
Overview
Overall the treadmill turned out to be a great purchase; it has everything that I expected. Its features help make my workout sessions unforgettable, and the fact that these are all available in the comforts of garage space is a no-brainer for me. JTX club max is a commercial treadmill, and with that design comes a host of benefits that completely justify the price of this home gym unit.
The wide range of workout modes is closely designed to fit the needs of multiple trainers, and the flexibility to change their intensity makes it applicable to a wider audience. So if you're a pro or not this unit is great for treadmill running no matter the level.
The monitors provide crucial details about your body's reception to the workout; it helps trainers achieve the desired heart rate zone and make the most of their workout; certainly, a consideration to consider when looking for the best treadmill. If you're working out in your garage then you still want to know stats that'll help inform your workouts. And you wouldn't always get these from a cheap treadmill.
Finally, if anything malfunctions in the machine, the customer support team is incredibly responsive and willing to hear and solve any problems. This means you have the support that you'd have in a gym from the comforts of your own garage.
The procedure to file for a warranty claim is simple and doesn't serve as a barrier to your workout routine. To sum it up, JTX club max is an excellent commercial treadmill applicable to most users.
Make this your own treadmill today, you won't regret it.
Want to know more? Read our full review of the JTX Club-Max Commercial Treadmill here.
---
Best Mid Range Price:
XTERRA TRX 4500 Folding Treadmill (£1299.00)
Key Features
Folding
Motor 3.25 HP
Speed 0 – 12 mph (0.8 – 18 km/h)
Incline range 1-15%
30 Pre-set programmes
Running Surface 20″ x 60″ (51cm x 152.4cm)
Telemetric heart monitoring
Large 7.5″ blue back lit LCD display
Cooling fan
Size L x 196cm x W 90cm x H 142.5cm
Maximum user weight 23.5 Stone (150kg)
---
Overview
XTERRA are an incredibly highly regarded manufacturing company. There's no doubt that their machines are often associated with having a solid treadmill belt, superior motorized treadmill units, providing a budget treadmill you can't refuse, and designing solid fitness equipment all round.
But let's put the company aside for a moment and focus on this incredible treadmill, and why it's perfect for your garage. Let's start with the fact that it's one of the best folding treadmills I've had the pleasure of using. Its great design and ease of housing make it not only great for your garage but also great for any room if you want to change your workout location. Granted, the lack of wheels makes this a little harder but more than possible non the less.
Folding treadmills don't always come with the best speed range, the best incline range, or the sturdiest running deck. But this XTERRA treadmill is an exception. A top speed of 12mph is a good max speed, and the running deck being 20″ x 60″ means you have plenty of space to accommodate for that max speed.
Not to mention all the extras that make this more than worth your while for your own home space. Its LCD Display is well built and features strong backlighting, if you have dim lights in your garage for example then visibility won't be an issue. It also comes with 30 built-in workout programs, meaning you don't have to leave the garage or even think about going to a gym to get a more streamlined fitness regime.
One of the best cardio machines for your home space with the ability to save even more floor space through its foldable design.
Definitely check this out more!
---
Best Buy On A Budget:
Branx Fitness 'LIMITED EDITION' Foldable 'StartRun' Treadmill (£599.99)
Key Features
Speed Range: 0-16.5km/h = 0-10.2mph
Motor: 3 CHP- 5 HP peak motor
Running Area: 120cm (Length) x 42cm (Width)
12 Built-in Programs
Soft Drop System
BMI Feature
1.8mm running belt thickness
Maximum User Weight: 125 KG
Entertainment: 5.5 inch LCD Display, Built-in speaker, BlueTooth Wireless Technology
Warranty: 2 years on parts & labour and 5 years on motor and frame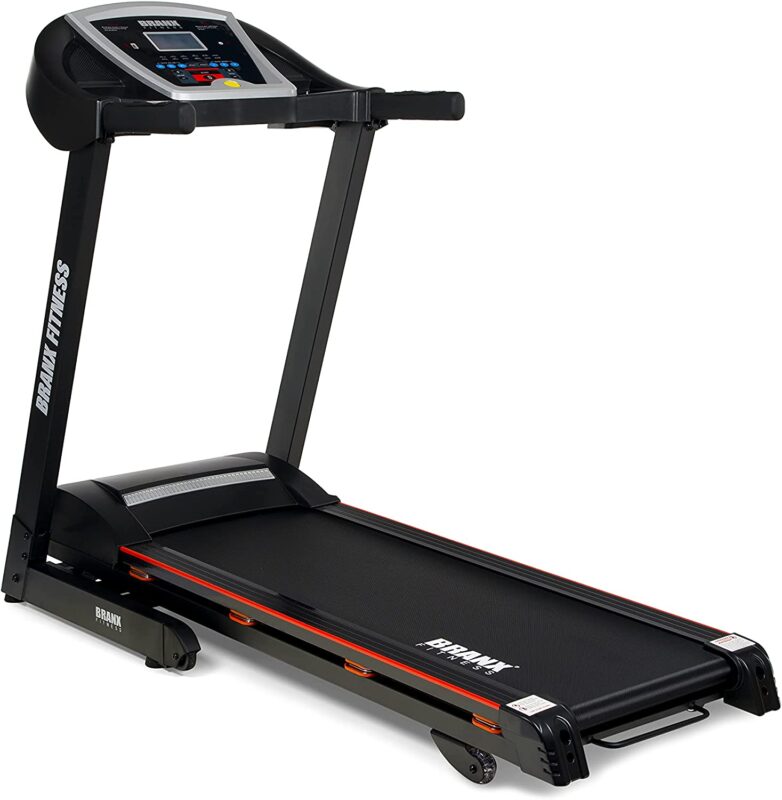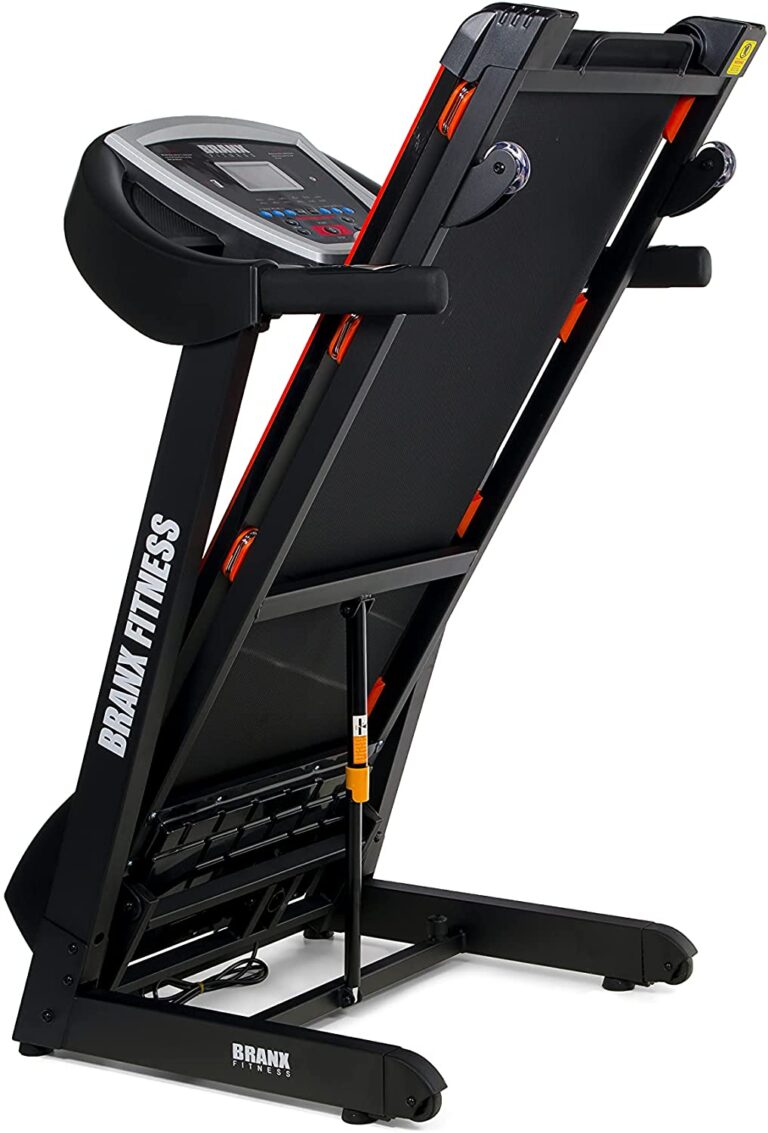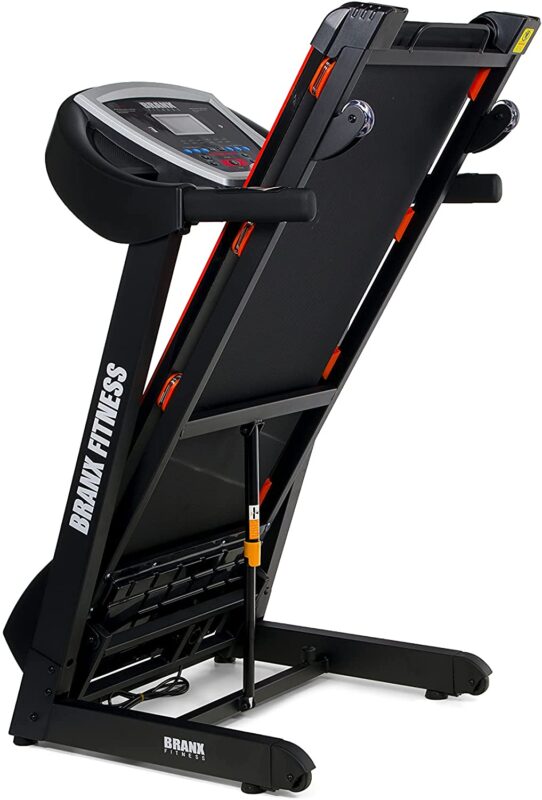 ---
Overview
One of the main reasons Branx Fitness treadmills grab a tonne of positive user reviews is because it comes pre-assembled. Think about it, you order the treadmill, it arrives already built, you pop it in the garage and you can start running in about 15 minutes of it arriving. This is a massive advantage for those who need the right treadmill to run for ease.
This brings me to my next point; just because it's a budget treadmill doesn't mean it's an entry-level treadmill. You don't need to worry about whether it works with various fitness apps or not because it comes with its own built-in workout programs. The 125 kg maximum weight capacity and large running area make the Start Run treadmill much more versatile and accessible.
Unlike most treadmills, I really like how this treadmill adapts to your style of running and caters to needs accordingly. So while running, I can be fully confident about my strides and able to perform my workout with full control.
As one of the best budget treadmills going, I'd recommend this machine for your fitness goals and space-saving incentive.
No wonder it has great treadmill reviews.
Want to know more? Read our full review of the Branx Fitness Start Run Treadmill here.
---
Best Manual Curved:
Nohrd Sprintbok Curved, Manual Treadmill (£5295.00)
Key Features
Manual treadmill, no power source required
No speed limit
17.2" (43.6cm) high definition Touch Screen
Available in variety of woods
Slats are made from Birch plywood and high-quality rubber for superb cushioning
Running surface 63" x 18' (160cm x 45cm)
Grease life high-quality bearings
Transport wheels
Maximum user weight 25 stone (160kg)
Size L x 175cm W x 86cm H x 160cm
Treadmill weight 120kg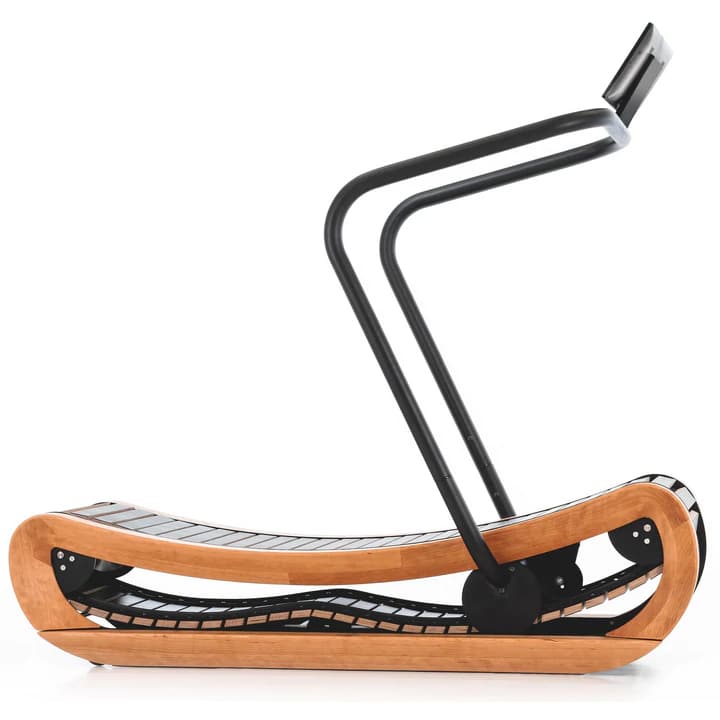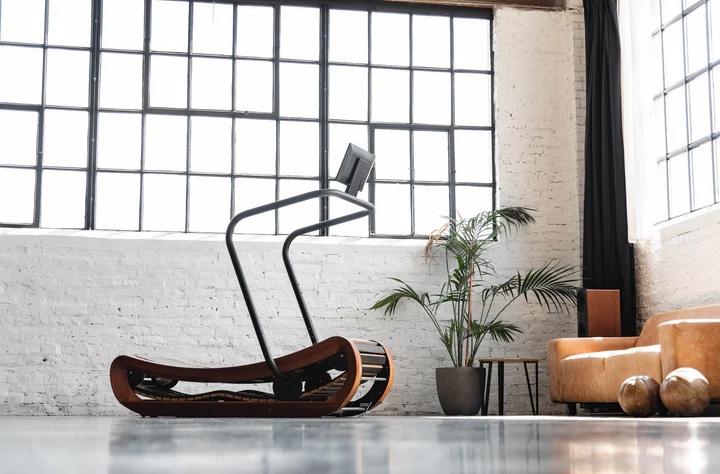 ---
Overview
This Sprintbok Treadmill is unique, it's eye drawing and its function, if you're the right kind of runner, will be irresistible. Its curved running surface combined with its cushioned deck makes one of the Best nonmotorized treadmills I've ever seen.
We've mentioned this treadmill many a time and for good reason.
It's amazing for space-saving given its smaller design but that doesn't mean you won't get the most out of your running stride. With the extra space in your garage you'll be thrilled to see how easily this fits, and with the easy-going aesthetic design, how easily it blends in too.
Up there with the best curved and decent treadmills, the fact that you control the speed yourself is a great option for runners looking to burn the most calories and engage in high-intensity workouts.
And given the extra noise this curved treadmill can create, well, the word garage comes to mind. You won't be waking up your family or housemates anytime soon.
Want to know more? Read our full review of the Nohrd Sprintbok Curved Manual Treadmill here.
---
Conclusion
To conclude we've gone through a great review of some amazing treadmills for your garage.
The main aspect is space, yes, but the other features like movability and aesthetic design are important too.
Sometimes, thinking about a home treadmill can be hard. You want top-quality fitness equipment but also the best treadmills for your space, which shouldn't be considered a limitation.
It's freeing to be able to just pop onto a treadmill in the room next door, so make sure you free your time up with one of these quality machines.
Make that purchase of the best treadmill for garage gym today!
>> Read More Treadmill Guides Here<<
---
FAQ'S
Does the best Budget Treadmill hold up against the high-end treadmills?
You'll see the terms best affordable treadmill, best home treadmill or simply best treadmills for a good price.
While the high-end treadmills with all the features are there for a reason, there's nothing wrong with a compact treadmill, manual treadmills or other treadmills at all.
Budget doesn't mean bad, and if you're after a new treadmill that supports your fitness goals then honestly, most will be able to do this.
A non-motorized treadmill… why?
Forget about the ability to stream iFit workouts, trainer-led workouts, or Bluetooth connectivity or on-demand workouts, just for a second.
These are great features but we're talking running, pure running.
And there's no better way to burn calories than a machine with, well, a self-driven machine.
It makes for an intense workout and the treadmill's speed is just for you – even if you want a chilled workout then it's entirely your choice.
It also makes for a more natural running experience too.
Are walking treadmills suitable for the garage too?
Yes, walking treadmills are suitable for the garage too. They can be placed on the floor and provide a safe walking surface.
Some models have a fold-up design for easy storage. Walking treadmills are a good choice for people who want to walk for exercise but don't have access to a safe walking area outside.
---
Affiliate Disclosure
In compliance with the FTC guidelines, please assume the following about all links, posts, photos and other material on this website:
Any/all of the links on this website are affiliate links of which GymFreakz receives a small commission from sales of certain items, but the price is the same for you.
www.gymfreakz.com is a participant in the Amazon Services LLC Associates Program, an affiliate advertising program designed to provide a means for sites to earn advertising fees by advertising and linking to Amazon.com & Amazon.co.uk. Pages on this site may include links to Amazon and its affiliate sites on which the owner of this website will make a referral commission.