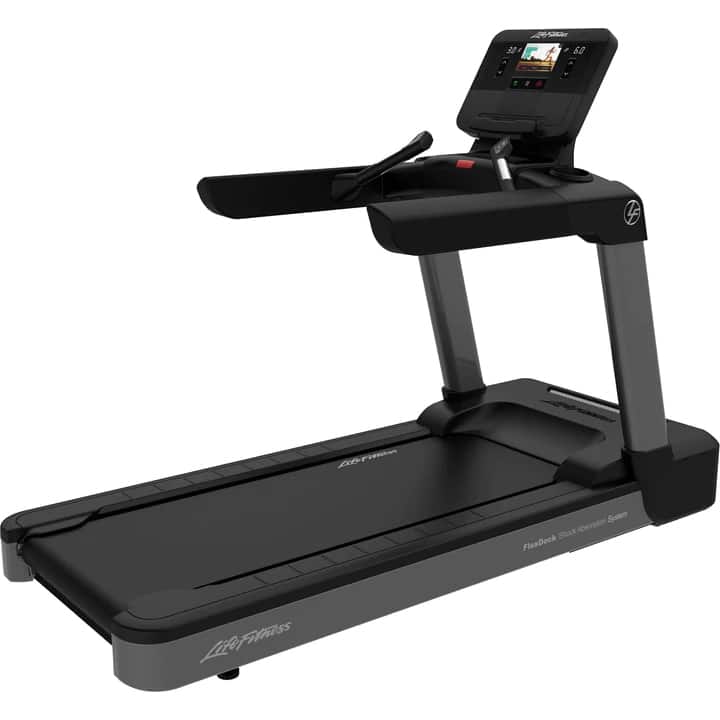 ---
---
Life Fitness Platinum Club Series Treadmill with Discover SE3HD Console
With a busy schedule who has enough time to get ready for the gym or go out for a jog? Many people skip working out because they can not manage the gym and work side by side.
Not working out and having that work/life balance may lead to greater health risks like obesity and heart diseases, but there is a solution, Life Fitness, which provides fitness solutions for people of all shapes. The brand is determined to provide the trainees with an enhanced workout experience.
Life Fitness Platinum Club Series Treadmill with Discover SE3HD Console is high-quality gym equipment with advanced training options, commercial quality built, and extensive entertainment options. In short, it is a home exercise equipment that offers club quality technology. Moreover, its interactive courses and enhanced interaction give an ultimate home workout experience.
You can now enjoy immersive outdoor adventures at home with this platinum club series treadmill. Its sleek design and tough build are an unbeatable combination. Specially designed for light commercial and at-home workouts, this life fitness equipment also helps you explore popular entertainment apps, create custom workouts, and join friends from all over the world with its connectivity options.
If you are running a small health club or you are an avid exerciser, we would suggest you use Life Fitness Platinum Club Series Treadmill with Discover SE3HD Console for an enhanced experience.
Though some people might think of it as an expensive treadmill, you really do have to focus on the fact that this is a one-time investment for your health.
Disclaimer – This website contains affiliate links. If you find the information useful and click on a product link and make a purchase, a small commission will be earned by GymFreakz and we appreciate your support.
---
Specifications
Brand: Life Fitness
Model: Life Fitness Platinum Club Series
Console: Discover SE3HD Console
Welded Steel Frame: Yes
Front Roller Lift Wheels and Rear Levelers: Yes
Maximum Speed: 12mph
Minimum Speed: 0.5 mph
Incline Range: 1-15%
Heart Rate Monitoring: Yes
Dimensions: 203 x 94 x 163 cm (lxwxh)
Running Area: 56 x 152 cm
Equipment Weight: 206 kg
Maximum User Weight: 181 kg
Integrated TV: Yes
Shock Absorption System: FlexDeck Shock Absorption System
Internet Connectivity: Yes
Adaptive Audio Coaching: Yes
Device Compatibility: Android TM, iPhone, iPad, iPod
Interactive Courses: Yes
Bluetooth: Yes
Internet Connectivity: Yes
Cup Holders: 2
Poly Telemetry: Optional Chest Strap Required
Integrated Reading Rack: Yes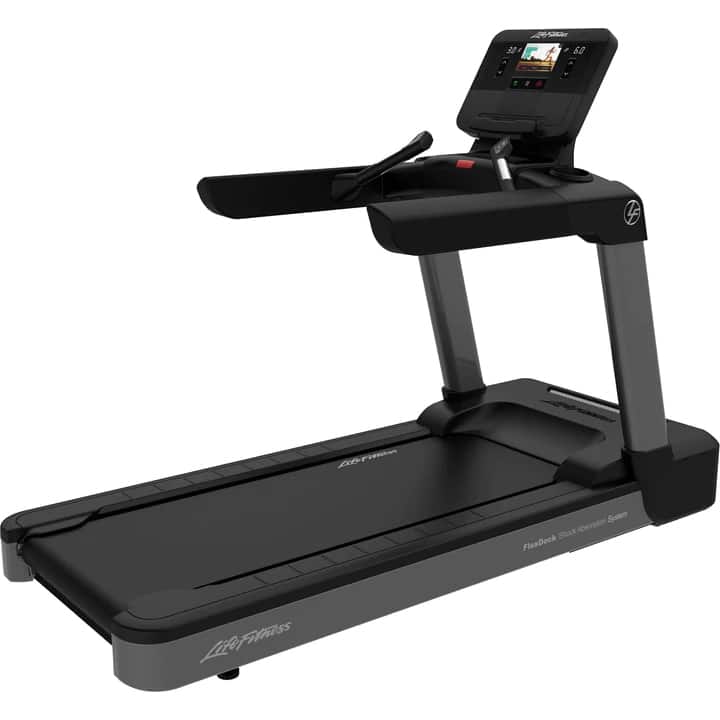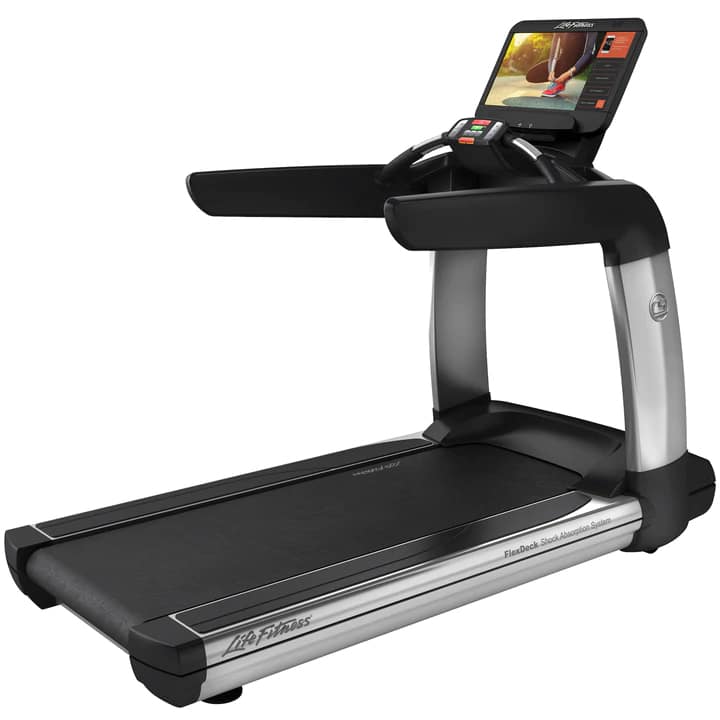 ---
Key Features:
Discover SE3HD Console:
The most highlighted feature of the Life Fitness Platinum Club Series Treadmill is the Discover SE3HD Console. The modern technology console is a sleek 19inch console mounted at eye level. The console has a standard LFConnect training app compatibility with the option to create limitless profiles.
The 42 built-in workout programs along with 8 customisable interactive workout options give a personalized touch to your workouts. Moreover, the console is compatible with popular fitness apps, entertainment websites, and portable devices and gadgets. You can also enjoy home screen customisation, and track your progress.
Shock Absorption System:
The Life Fitness Platinum Club Series Treadmill with Discover SE3HD Console comes with an integrated FlexDeck Shock Absorption System. The system is designed to make workouts comfortable and easy on bones and joints. This specialized system reduces joint stress by up to 30%. The select absorption system of FlexDeck, allows you to choose from three different surface firmness settings.
Heart Rate Monitors:
The precise heart rate monitoring by the Life Fitness Platinum Club Series Treadmill with Discover SE3HD Console makes it easier to work at an optimal heart range rate. Heart health mustn't be compromised during workouts. Without proper monitoring or target heart rate zone, one might feel exhausted and in longer terms, it may also affect the heart health.
Life Fitness Platinum Club Series Treadmill comes with multiple heart rate monitoring technologies including Polar Telemetry, which might require an optional chest strap. Also, it offers Lifepulse Digital Heart Rate Monitoring with Digital Signal Processing.
Efficient Smart Motor:
The Life Fitness Platinum Club Series has a comparatively more powerful motor than other treadmills with the same specifications. This Club Series Treadmill has a 4HP (8HP peak), MagnaDrive DC Motor. Also, it is designed to utilize energy only when in use. The smart motor system helps conserve energy.
Energy conservation contributes to the cause of the go green movement. Life Fitness is one of the first fitness brands to have incorporated this idea into the designing and manufacturing process of the Life Fitness Platinum Club Series Treadmill with Discover SE3HD Console.
---
Warranty
Life Fitness has longer warranty periods than other brands on the market. The longer warranty periods of life fitness treadmills mean greater durability and good quality build of these treadmills. Previously, life fitness offered a lifetime warranty on the frame but now it has extended its lifetime warranty to other parts of the treadmill like the motor.
The Life Fitness Platinum Club Series Treadmill with Discover SE3HD Console covers a lifetime warranty on the frame, life shock absorbers, and motor. It also has a 10-year warranty on electrical and mechanical components. Also, the Discover SE3HD Console covers a 3 years warranty with an additional 1-year warranty on labor.
*Warranty may be subject to change without notice and may differ between retailers – please check carefully before making a purchase.
---
Pros And Cons
Pros:
Connected Outdoor Experience at Home:
This Life Fitness Equipment creates a connected outdoor workout experience at home. You can connect to friends and enjoy group workout sessions through Discover SE3HD Console. Moreover, the track progress settings keep you updated with your health status and workout routine. By creating unlimited profiles on the console, many people can keep their workout records stored online and these records can easily be recalled.
Entertainment and Connectivity:
The Life Fitness Platinum Club Series Treadmill with Discover SE3HD Console keeps you entertained and focused at the same time. It has an integrated LCD touch screen, that provides on demand entertainment. You can run your favourite tv programmes, or connect to video streaming apps via the active internet connection.
Also, the Discover SE3HD Console allows you to download and follow workout plans from favourite websites from all famous world wide locations. The touch screen feature makes it feasible to access workouts, speed, TV programs, and other amazing features.
Added Convenience:
The Life Fitness Platinum Club Series Treadmill with Discover SE3HD Console provides the exerciser with all comfort levels. This Life Fitness equipment has an integrated TV, integrated reading rack, two dishwasher safe cup holders, and device connectivity options.
Generously Proportioned Running Surface:
The Life Fitness Platinum Club Series Treadmill not only has a solid platform speed but a generously proportioned running surface that allows easy body and arm movements. The surface area is ideal for runners who like to make maximum arm movement during workouts. The freedom of body movement is a property of outdoor workouts, but with a well-proportioned running surface and considerable ramp width, you can enjoy the outdoor experience at home.
---
Cons:
Requires Space:
The Life Fitness Platinum Club Series Treadmill requires a considerable amount of space for installation and use. Where the generous running surface has its benefits, it makes it difficult to fit in small spots. Moreover, it can not be folded. If you are living in a small house or a single room apartment, you might want to consider other reasonable options as this best fits in greater spaces.
Difficult to Configure:
Life Fitness has always tried to create easy to read interface for their treadmills. The Life Fitness Platinum Club Series Treadmill with Discover SE3HD Console is designed with modern technology which makes it a bit complicated for beginners to understand. It has multiple integrated features that can create confusion for newbies. The treadmill is designed for club-quality training, thus it has a slight level of complexity. But if you are a regular exerciser, this will best fit your needs.
---
Overall Verdict:
This Life Fitness Platinum Club Series Treadmill with Discover SE3HD Console is a wise investment for light commercial and home gyms. Its modern design and interactive features with experience and advanced training options, make this Life Fitness Treadmill premium quality workout equipment. With a range of connectivity and entertainment options, it makes working out at home a pleasant experience.
If compared to other similar treadmills in the market, Life Fitness Platinum Club Series beats them all in looks, quality, durability, modern technology, and connectivity. If you are an avid exerciser who likes to explore new workout options, the Discover SE3HD Console and you are a match!
---
---
FAQ's
Can Life Fitness Platinum Series Treadmill track workout progress and save it for later use?
Life Fitness Platinum Treadmill with Discover SE3HD Console's progress tracking features not only save workout data but also remember preferred workout settings and other details. These details are very easy to recall.
Can I connect Bluetooth to the Discover SE3HD Console?
Discover SE3HD Console offers a greater range of device compatibility. It Bluetooth connection process is quite simple and easy. You can connect Bluetooth, Apple devices, and Android Devices.
Does Polar Telemetry require a chest strap?
The polar telemetry may require an optional chest strap.
---
Affiliate Disclosure
In compliance with the FTC guidelines, please assume the following about all links, posts, photos and other material on this website:
Any/all of the links on this website are affiliate links of which GymFreakz receives a small commission from sales of certain items, but the price is the same for you.
www.gymfreakz.com is a participant in the Amazon Services LLC Associates Program, an affiliate advertising program designed to provide a means for sites to earn advertising fees by advertising and linking to Amazon.com & Amazon.co.uk. Pages on this site may include links to Amazon and its affiliate sites on which the owner of this website will make a referral commission.