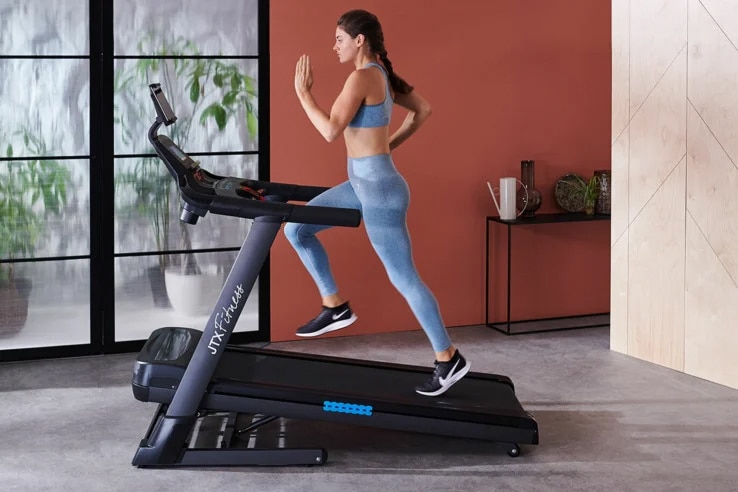 ---
---
Introduction to the JTX Sprint-7 Large motorised Treadmill
Are you worried about making the wrong decision when it comes to buying a treadmill? Well, then, your prayers are answered. In this blog, we will take you through a complete guide about JTX Sprint 7 treadmills, including their specifications, pros & cons, and our final verdict about whether you should get it.
JTX Fitness is a famous fitness equipment brand, and their venture into treadmills has added to their glory. With their commendable beginning, the introduction of JTX sprint 7 has bought praise to the company.
In summary, JTX sprint 7 is an efficient treadmill that can get you quick results in no time. With more than 43 workout modes, the treadmill provides you with a fantastic opportunity to achieve your fitness goals without considerable struggle.
The free tablet holder and high-quality components are popular features that add to the trainer's experience with the treadmill.
Are you interested in knowing more about the treadmill?
Well, then, keep on scrolling as the latter section of the blog will describe the treadmill and its specifications in complete detail.
Disclaimer – This website contains affiliate links. If you find the information useful and click on a product link and make a purchase, a small commission will be earned by GymFreakz and we appreciate your support.
---
Specifications about JTX Sprint 7
Running Area: 145 x 51cm
Cushionstep™ Deck
Maximum speed: 20kph
Incline: 12%
Suspension: 8-Point shock system
Computer Console: Advanced computer displaying
Diversified statistics monitors
Workout Programs: 43 Programs
Heart Rate Training: Via hand pulse sensors or heart rate chest strap (sold separately)
Treadmill motor: Power3 Horsepower DC Motor
Folded Dimensions: 88(w)x 120(l)x 159(h)cm
Dimensions: 88(w)x 179(l) x 159(h)cm
Floor to Deck Height: 20 cm (7.9″) (Flat deck) – 30 cm (11.8″) (Inclined deck)
Boxed Dimensions: 205(l) x 90(w) x 33(h) cm
Safety Features: Safety key for emergency stop
Speakers: Yes
Transport Wheels: Yes
Max. User Weight: 130kg (20.5 stone) (287lbs)
Machine Weight: 85kg
Boxed Weight: 95kg
Polar compatible: Built-in Polar receiver
Free Accessories: Free Tablet Holder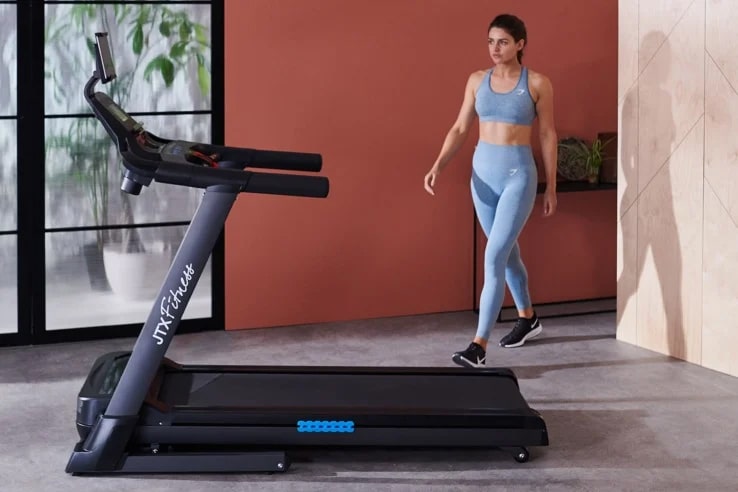 ---
Features
Cushioned deck
If you have run on a flat track in a public park, you would agree that the cement bricks transfer a greater impact at every footstrike, and it is harder to run for longer intervals. Most park tracks are made of concrete and cement, which give them a hard texture.
The toughness of the surface means that your ankles and knee joints have to suffer a serious impact on every footstrike, which in turn results in your body getting tired quickly, and in some cases, it can also lead to injuries.
Treadmills are an excellent solution to curb the problem; they come with a running deck made of polythene; thus, most of the impact is absorbed. However, JTX sprint 7 is a step ahead of all other treadmills.
While its competitors only contain a rubber belt, JTX sprint 7 comes with Cushionstep cushioning with elastomer abilities. Cushionstep is a popular treadmill belt manufacturer and is known for its products.
The added cushioning ensures that the belt absorbs every footstrike, and minimal impact is transferred to the runner.
The cushioning can also come in handy during quick speed runs. The elastomer belts in JTX sprint 7 are designed to ensure that your running posture is maintained throughout the workout, allowing you to work out longer.
8 point suspension system
While we are talking about cushioning, let's discuss another important feature related to the stability of JTX sprint 7. The treadmill comes with an advanced 8-point suspension system. Most traditional treadmills aren't designed to maintain stability, and the primary focus goes to the treadmill's performance.
Hence, the users of such treadmills often complain about spine pain and irregular posture. The problem occurs due to the lack of stability of the treadmills; however, JTX fitness has taken care of the treadmill's stability.
The modern suspension system ensures that the treadmill has little to no vibration during high speeds. A stable treadmill allows runners to maintain a good running posture that provides a productive workout session.
Impressive Build quality
As I said above, a treadmill is expensive fitness equipment; it can be costly to purchase, and if frequent faults occur, it can be expensive to maintain. No gym trainer would want an additional burden on their purse after already spending a decent amount on a treadmill.
If you think the same, then JTX sprint 7 is built for you. The running machine has a heavy gauge steel frame, which makes it incredibly strong and allows it to endure a higher maximum user weight and support your runs.
The use of high-quality equipment also means that the treadmill is your long-term partner. JTX fitness has used high-quality components in making the treadmill. The company claims that the design philosophy of the machine is kept in accordance with the need for high-intensity trainers.
It is made to allow running at top speed for long intervals. The stable deck and strong frame also ensure that the trainers won't notice any rattling noises during their training sessions.
Overall, the treadmill's frame is made with high-grade metal that ensures the treadmill lasts for a long time.
Unlike other treadmills that may vibrate excessively during runs, the heavy metal frame allows JTX sprint 7 to maintain its stability, further supported by its suspension system.
High top speed and incline settings
We are living in a fast-paced world. We want everything to complete before time; so that the other tasks of our day aren't delayed. Weight loss is a time-consuming process, and as it requires a strict diet and exercise routine, most trainers don't want to abide by it.
A survey showed that 66% of people couldn't go to a gym due to a lack of free time. They look for a solution that can get them to quick results without requiring their precious hours of the day. Are you a similar user?
Well, then JTX sprint 7 treadmills can be a good solution. Unlike most traditional treadmills, the JTX sprint 7 allows a high speed of 20 km/h and 12% incline, which means that a trainer can practice their HIIT workouts and lose weight rapidly.
The treadmill is made to support the trainer's interval training needs. The buttons for incline and speed are positioned on the frame to allow you to adjust manual speed or incline without looking down during your run. The precise positioning allows you to maintain a good form throughout the workout.
Another factor that goes hand in hand with high speeds is the heart rate and calories burned. Trainers are interested in knowing the progress of their workout and seeing whether the workout is effective or not.
The calories and pulse rate monitors allow the trainers to judge the efficacy of their exercise by providing valuable insight into the relevant details.
Experienced trainers like to train in the fat-burning zone, marked at 40-70% of the maximum heart rate. JTX Sprint 7's monitor will provide you with real-time stats about your heart rate to help you plan and effectively execute your workout.
43 workout modes
Usually, young trainers have to rely on their coaches to guide them about the next step. They are often quizzed about the pattern of the workout and fear that the wrong sequence might lead to injuries. On a busy day, waiting to listen to the coach can take longer than the exercise itself.
The delay can lead to time shortage for other tasks of the day, and the trainer won't be able to enjoy the workout fully. The solution is to use the programmed workout modes of JTX sprint 7. The treadmill comes with 43 workout modes that are suited to fit your moderate/high and low-intensity needs.
The range of workouts includes a comprehensive blend between workout intensities, and some of the workouts are programmed to help HIIT trainers. Once a trainer sets up a specific workout mode, the treadmill will alter the speed and incline based on the sequence of the workout.
If a trainer wants to practice the same training at a different intensity, they can reduce the intensity bar to suit their needs.
7inch display & Built-in speakers
Of all the gimmicks of a treadmill, the computer display is the main decider for most trainers. They want to know their progress throughout the workout to determine whether their training is helpful towards their final goal. JTX Sprint 7 contains a 7-inch smart display computer positioned precisely in keeping with the deck. The screen displays vital statistics about your body, including the heart rate, calories burned, speed, and much more.
The screen contains eight different buttons made of rubber, which makes interacting with them easier. The buttons have a high response rate and don't significantly lag. The button placement ensures that the trainer doesn't have to look down for altering their workout. JTX Sprint 7 also comes with a free tablet holder placed right at the back of the deck to ensure enjoyment during the training.
The tablet holder provides a firm base for your device, which prevents them from falling. The back of the treadmill's deck also contains built-in speakers that have admirable quality to help you enjoy your workout and avoid boredom.
---
---
Warranty
In-home warranty: 3 years
Lifetime frame warranty
10-year motor warranty
28-day money-back guarantee
*Warranty may be subject to change without notice and may differ between retailers – please check carefully before making a purchase.
---
---
Overall Verdict:
Overall, JTX sprint 7 is a recommendable treadmill that has helped thousands of individuals achieve their dreams. The range of features makes it likeable for most users, and the comprehensive warranty cover brings peace of mind.
The treadmill stands out amongst its competitors due to its incredible frame strength and impressive quality of the running belt. Forty-three workout modes, 12 incline levels, built-in speakers, and a free tablet holder are attractive features that lure trainers towards it.
I believe that the treadmill is great for losing your calories and getting into a better physical shape. However, I believe that it isn't as attractive for high-intensity trainers as it is for regular users.
We have finally come to the end of the blog, and I hope it helped you understand the treadmill in better detail, and you were able to reach a final decision.
>>This features on our "Best Treadmills Under £1000 " and "Best Treadmills For Home Use UK" roundups.<<
---
---
---
What I Liked About This Treadmill / Things That Could Have Been Better
After using the treadmill for more than the past five months, I have realized that JTX sprint 7 is a great machine to improve your health and get on the right fitness track; nevertheless, some features should be added to be applicable to a broader audience.
The most liked feature of the treadmill is its black diamond running belt. The advanced track belt can last 50% longer than ordinary belts. Its composition makes it elastic, allowing trainers to run for longer intervals without getting tired. Treadmill belts are costly, and I needed a treadmill that can serve for a long time without asking for a belt replacement.
JTX Sprint 7 stood up to the expectation, and during the past five months, the belt still looks brand new. Another feature that I liked about the treadmill was its strong frame structure. At my gym, the treadmills are constantly in use, and the constant usage causes rattling in their frame, which leads to worse stability.
So far, JTX sprint 7's heavy metal gauge frame has impressed me. Despite regular usage, the structure has stood like a wall, and I don't see it having any problems in the near future. Another additional feature of the treadmill is the 43 workout modes. Usually, I had to keep on guiding beginners about the best workouts for them, but since I have got the treadmill, the problem is over.
I would just tell them the workout mode and intensity level, and the job is done and the safety key ensures that the trainers are always safe from injuries.
However, I expected the treadmill to be a better fit for HIIT workouts, which it isn't. My gym entertains elite runners, who would like to train at 23 or 24 km/h for several minutes to prepare for their competitions; however, the 20 km/h speed limit doesn't help them in their high-end aims.
Similarly, the incline levels of the machine are restricted to 12, which isn't ideal-looking for HIIT trainers. Finally, it contains a 3 hp motor, which I doubt can't sustain hours of prolonged usage. But JTX fitness provides a 10-year warranty for the motor, which has helped me overlook this as an issue.
---
FAQ's
Is JTX sprint 7 foldable?
Yes, JTX sprint 7 is a foldable treadmill that allows you to keep it in narrow spaces around your house. However, the quality of the frame ensures that the treadmill stays stable throughout its life.
Does JTX give reliable customer service?
JTX fitness products are used worldwide, and it has made a name for its quality and customer service. The support team of JTX is easily reachable and provides good support for all types of trainers.
How did Covid Restrictions Affect Our Health and Fitness?
The COVID-19 pandemic impacted the entire planet in different ways. It confined us to our homes, and we had little to do except sit and enjoy our days. However, the time at home didn't have a good impact on most people's health. The reduced external efforts meant that the pounds we saw on our bathroom scales started rising.
A survey showed that out of 1000 adults selected at random, more than 630 of these people had an increase in their weight. More than 200 people weren't sure whether their weight had stayed the same or risen. The survey clearly represents our inference that the pandemic impacted our cardiovascular health in an unwanted manner.
However, the start of 2022 saw a move towards everyday life. The world reopened its door, and the restrictions were lifted due to improved vaccination and safety. Nevertheless, people still have an unsafe feeling about gyms, and they looked for other options that could suffice their physical needs.
The first fitness equipment that came to mind was the treadmill. Treadmills are excellent fitness equipment that can improve your weight loss and help in muscle building. It is recommended by experts all around the world and has helped innumerable people achieve their dream of a fit body.
A report published in 2019 showed that an hour of treadmill workout could burn up to 1000 calories for an average 80Kg male. The overall count may be slightly lower for women and people over 50. Nevertheless, the estimate of the calories burned is a clear indication of the effectiveness of treadmill workouts.
HIIT workouts are another amazing form of training that can help you attain a better physical shape without spending hours and hours working out. Once a trainer has decided that they need to get a treadmill, the next question that comes to their mind is "what treadmill to get?".
Indeed, it is a fair question because there are hundreds of treadmills in the market; all of them have compelling features and the right gimmicks to attract users. However, the treadmill is a hefty investment for exercise equipment. It could cost over a thousand pounds or dollars, and no trainer would want their decision to be the wrong one.
There are more than a dozen factors involved; each of them is equally vital in ensuring the right decision is made. From running decks to treadmill motors and transport wheels, there are countless parts of a treadmill, and it can get tedious to learn about them individually.
---
Affiliate Disclosure
In compliance with the FTC guidelines, please assume the following about all links, posts, photos and other material on this website:
Any/all of the links on this website are affiliate links of which GymFreakz receives a small commission from sales of certain items, but the price is the same for you.
www.gymfreakz.com is a participant in the Amazon Services LLC Associates Program, an affiliate advertising program designed to provide a means for sites to earn advertising fees by advertising and linking to Amazon.com & Amazon.co.uk. Pages on this site may include links to Amazon and its affiliate sites on which the owner of this website will make a referral commission.