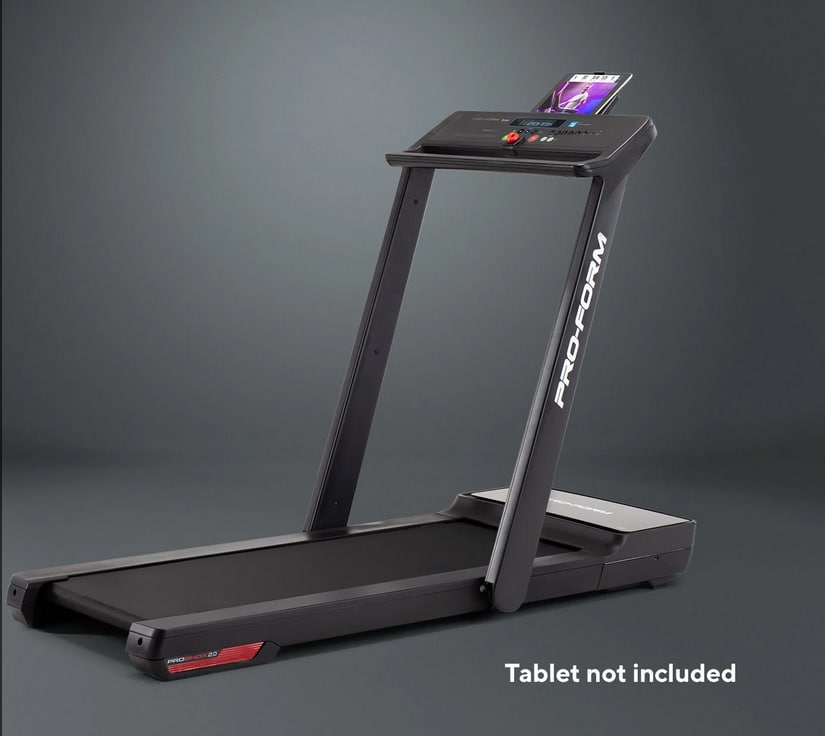 ---
---
Introduction to the ProForm L6 City Folding Treadmill
ProForm is the new fitness diva in the fitness industry giving the best combination of style and features to date. The treadmills are designed in a manner to get the most out of your workout in an effective manner. It offers multiple training options to choose from for increased training variables without going to the gym.
ProForm's range of folding treadmills is the new talk of the town to which people are obsessing over. It is the best way to make use of your limited living space due to its compact and folding design. You'll be able to run, jog or walk at your own pace while the trainers control your treadmill's speed.
Moreover, it is now easier to perform the toughest workout at home and gain the muscle strength that you need. The iFit trainers will move your transformation forward by interacting and monitoring the speed of the treadmill accordingly. You can gain access to unlimited programs to tone your muscles systematically and effectively.
In this article, we will analyse how good the ProForm L6 City folding treadmill is for fitness enthusiasts. Also, its front-mounted transport wheels make it easier to manage your space and transport the treadmill quickly.
A perfect game-changer for the treadmill industry!
Disclaimer – This website contains affiliate links. If you find the information useful and click on a product link and make a purchase, a small commission will be earned by GymFreakz and we appreciate your support.
---
---
ProForm L6 City Folding Treadmill Specifications
Dimensions: 118H x 75W x 157Dcm
Running surface: 17.5″ x 45″
Maximum speed: 0-8MPH
Max user weight: 110kg
Drive system: 2.0CHP
5" High contrast display
Integrated device shelf
Smart speed controls
Space saver design
Proshox cushioning
Transportation wheels
Certified personal trainers
1-year iFit Membership
Heart rate monitor
Bluetooth connectivity
Solid warranty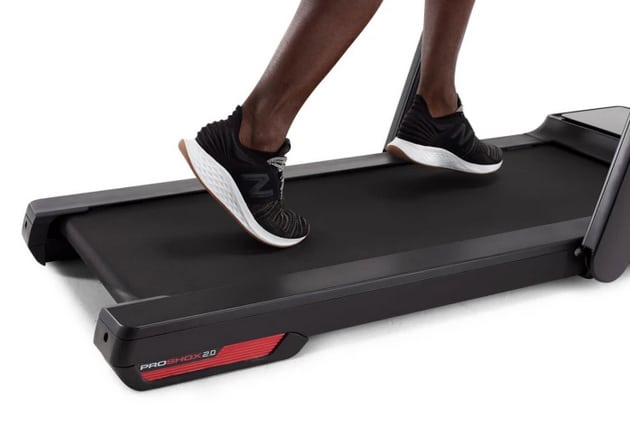 ---
FEATURES
Proshox Cushioning System
It is one of the important aspects especially for your joints and knees as they need the right amount of support. When it comes to ProForm treadmills you don't have to worry about its cushioning as it uses the finest quality support system.
The ProForm L6 City folding treadmill uses the air-based absorption system of Proshox cushioning. It is best known for its comfort and quick response to every movement no matter what the speed is. Its mechanism is designed to give effective muscle toning by keeping them engaged throughout the session.
Proshox is perfect to influence future fitness plans as it allows the user to work longer and recover faster. It also responds to the changing elevation of the deck with every step along with the reduced impact on the joints. It is best suited for those looking for comfortable walking or jogging on a treadmill with less stress over hips, knees, and ankles.
2.0CHP Drive System
The drive system with 2.0 continuous horsepower may not be as powerful as others but it is best suited for walkers. The ProForm City L6 treadmill features an innovative self-cooling motor that will prevent the treadmill from heating up. But the best part is that it offers a quiet in-home experience which is perfect if you have close neighbours or thin walls. As the motor is continuous horsepower you don't have to worry about it being heated up and you can enjoy the longer workouts without worry.
The belt of the Proform City L6 treadmill moves smoothly across the deck and with the balanced cushioning the belt produces minimal track noise. In short, the motor may not be powerful but it is perfect for the compatibility it offers and can easily handle most potential users.
Integrated Device Shelf
Experience interactive training studio classes with its integrated device shelf that allows you to power your workout with iFit. It is the best way to train with your favourite personal trainers and tone your muscles effectively. With the iFit family membership, you can transform your boring room into a dedicated fitness room where you can have an effective training session. It is helpful in securing your own tablet or smartphone when needed and enjoying your favourite routines.
It allows your trainers to adjust your speed, incline and resistance automatically. This feature is best when it comes to streaming your own entertainment and experiencing studio workouts. Be it Bootcamp, or interval training you can easily create combo training routines that best suit your fitness requirement. Even though there are no incline options on this treadmill, you can still choose from other strength training programs to intensify your workouts.
Smart Speed Controls
If you want to experience a hands-free experience for optimised workouts then this feature offers perfect motivating iFit content. It is designed to take your treadmill to 8MPH with just a touch of a button as it is designed for efficient response.
One of the benefits of having multiple training options is that you integrate variability easily without going to the gym. It also allows the trainer to provide direction to you along with other participants.
All you need to do is hit any QuickControl speed to access the adjustment where needed and as required. It allows you to control your workout with just the touch of a button. It is the best way to prevent you from losing focus or breaking your stride for continued motivation.
---
Warranty
You get a 2 years warranty with this treadmill. However, the manufacturer does not specify what parts are covered in this warranty. Regardless, it is always recommended to enquire about it from customer support when making any purchase.
*Warranty may be subject to change without notice and may differ between retailers – please check carefully before making a purchase.
---
---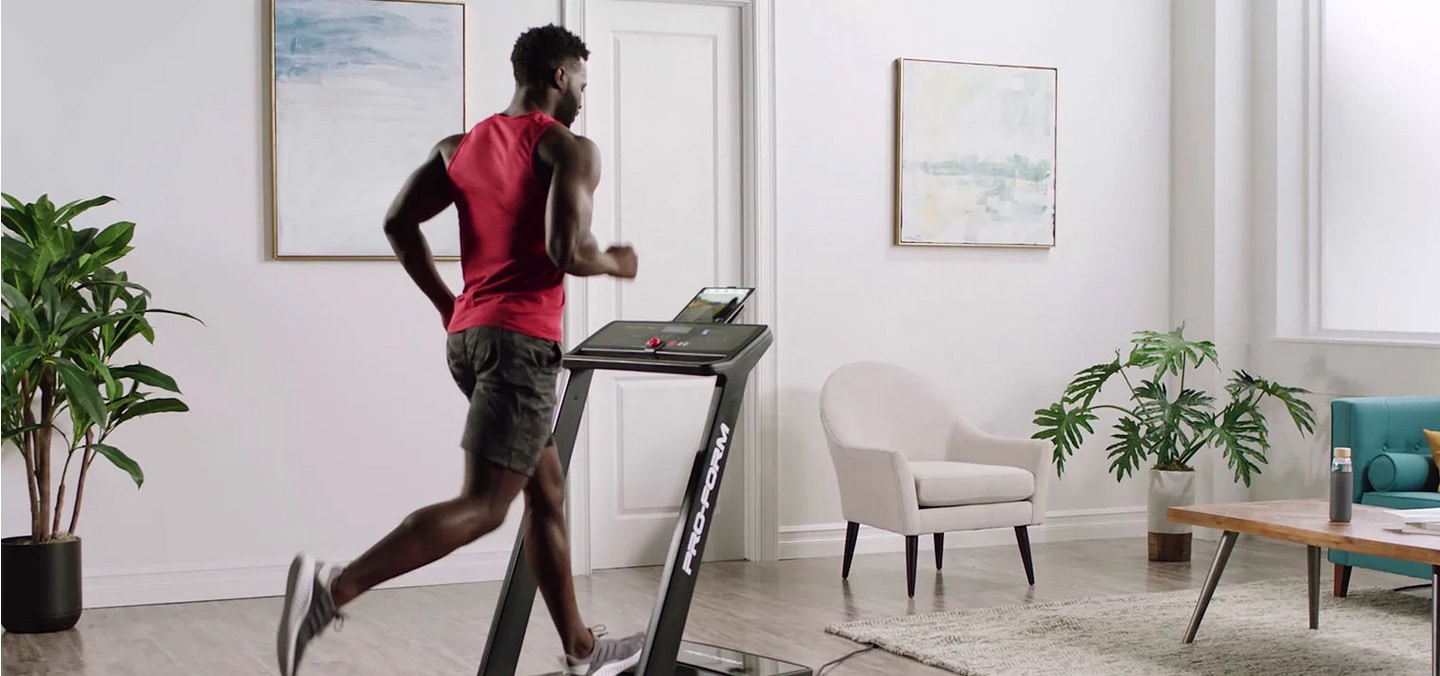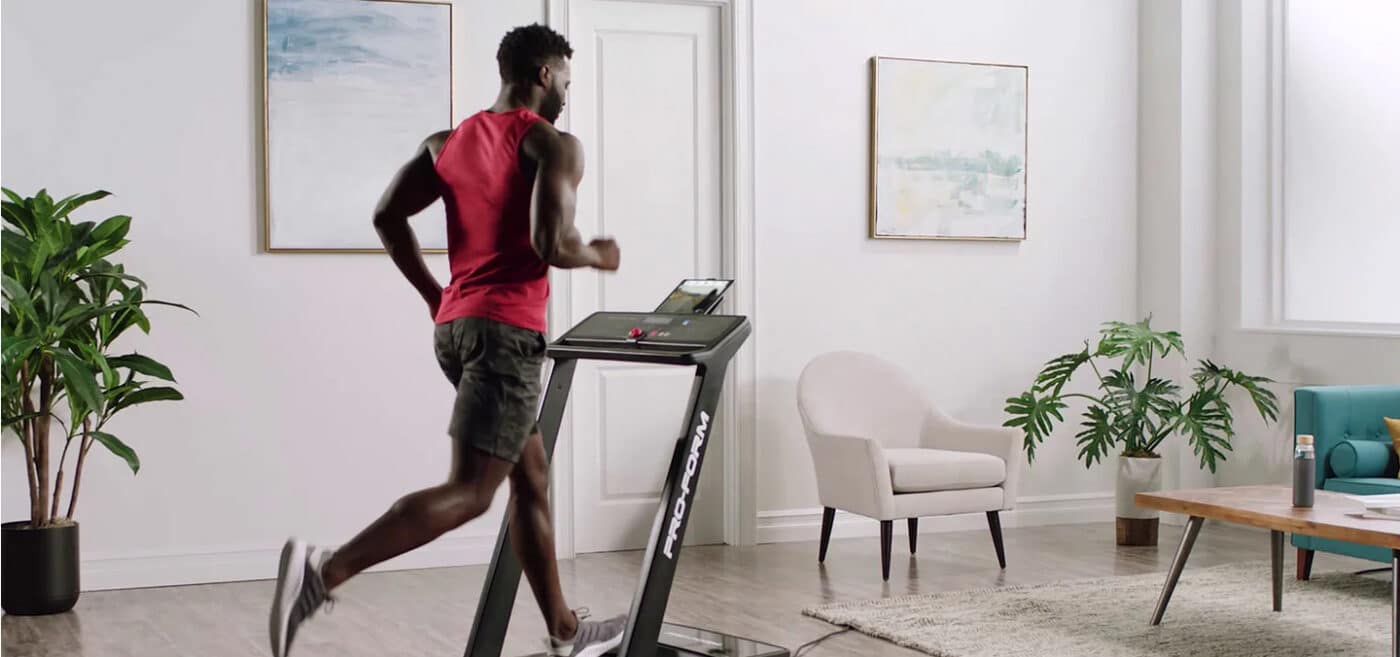 Overall Verdict:
The Proform City L6 treadmill is a more than decent treadmill compared to other ProForm's high-end models., although due to the smaller running area, the treadmill is not the ideal choice for taller users. However, if you are looking for a budget-friendly treadmill with minimal features, then ProForm l6 city folding treadmill is definitely the right choice for you.
It features an easy folding design where the console folds upright against the deck. It is perfect for those short on space and who want to get the benefit of a home use treadmill. You won't have to sacrifice your living space for your fitness habit anymore. Its convenient digital quick controls allow you to monitor your progress and stay focused on your session.
Experiencing iFit health with interactive training studio classes is the perfect way to tone your muscles correctly. It enables on-demand fitness experience with certified personal trainers via iFit subscription so that you can have a virtual outdoor experience. It is also compatible with Bluetooth so that you can easily get online workouts with constant speed changes.
It allows the user to realistically condition their body for challenging uphill routes and get the most out of their workout. Its automatic speed adjustability is designed to give your legs the best workout possible and guides you through an effective training session.
>>Check out our roundup of "Best Treadmills Under £1000" here<<
---
---
What I Liked About The Proform L6 Folding Treadmill?
The space-saving design of the ProForm City L6 treadmill is perfect for those short on space as it comes with a composite frame that can be lifted easily when needed to save more space, and its folding features are one of the unique aspects that makes this treadmill worth the purchase. It allows you to maximise your training space and with just an easy push helps to lift the deck, ready for you to fold the treadmill deck up when not in use for convenient storage.
All you need to do is squeeze two levers on the underside of the console to release and fold it down. It is specially designed for those who don't want to compromise on their living space in order to maintain fitness habits. ProForm L6 comes with an innovative folding design that is paired with a low profile that makes it the ultimate space saver.
Enjoy plenty of space to stretch your stride comfortably with its 17.5″ x 45″ tread belt. It allows comfortable walking and is recommended for runners under 6 feet tall. To ensure its durability, the belt has gone through laboratory testing for one million cycles that are double the user weight.
The tread belt is designed in such a manner with respect to its support system which makes it stable. It gives a balanced stride without losing your focus or momentum of the workout. It is perfect for minimal footprint as its weight capacity is perfect. It also gives comfortable elbow room to ensure that your ProForm treadmill is one of top-quality.
If you want to experience studio class workouts and gain your strength in an effective way then this feature is for you. It is the best way to tone your muscles with trainer-led studio sessions for required fitness tips. Unlike other treadmills, the ProForm L6 does not have incline/decline options but with iFit automatically you can have unlimited access from its iFit Library to have the best suitable workout experience.
iFit experience allows you to walk, or jog in exotic outdoor locations and enjoy the breathtaking scenery. It is one of the best ways to connect you and your ProForm with online interactive training tools. It also allows you to choose your personal trainer and have a combination of routines to make your workout more exciting. Getting studio class training experience at home is one of the things that most people wish for. If you want to save yourself from the hassle of going to the gym, then investing in a Proform L6 city folding treadmill is more than worth it.
---
Things That Could Have Been Better
The Profrom L6 City folding treadmill lacks an intuitive display. The size is small and may not suit the people with short on vision. It would be more easy to read the screen if it was just a little larger.
---
FAQ's
Can You Use The Treadmill As An Under Desk Treadmill?
Yes, it can be used as an under desk treadmill, just measure the desk or get a treadmill specifically designed for such use. You can also check out our reviews of best under desk treadmill.
Can You Use The Treadmill Without Ifit Family Membership?
Yes, it is an optional feature where users can bypass it and use the treadmill separately. However, they can use the tablet holder to access other programs.
Who Would Suit This Treadmill?
The treadmill is best suited for users under 6 ft. Taller users might have to shorten their stride as the running area is perhaps not quite big enough. This treadmill is also suitable for people who are low on budget and looking for a decent treadmill to train at home. 
---
Affiliate Disclosure
In compliance with the FTC guidelines, please assume the following about all links, posts, photos and other material on this website:
Any/all of the links on this website are affiliate links of which GymFreakz receives a small commission from sales of certain items, but the price is the same for you.
www.gymfreakz.com is a participant in the Amazon Services LLC Associates Program, an affiliate advertising program designed to provide a means for sites to earn advertising fees by advertising and linking to Amazon.com & Amazon.co.uk. Pages on this site may include links to Amazon and its affiliate sites on which the owner of this website will make a referral commission.