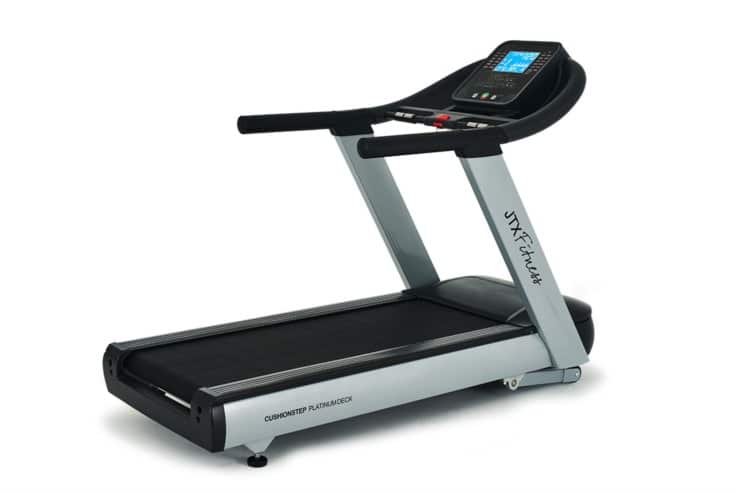 ---
---
Introduction to the JTX Club-Max Commercial Treadmill
With a rise in the popularity of transformational fitness videos, everyone wants to get into a better physical shape, and their first choice is to start running on a treadmill. Commercial treadmills are popular among gym owners; their high reliability and incredible strength make them perfect for consistent use. However, the wide range of treadmill options makes it challenging for users to determine which commercial treadmill will be the best for them.
Commercial treadmills are made to endure high-performance use; they come with a wide range of workout modes that help the trainers in maximizing their weight loss. A broad running belt, firm structure and powerful motor are salient traits of a commercial treadmill. The use of high-quality components in the treadmill makes it less vulnerable to repairs or faults.
Hence, despite their comparatively high costs, commercial treadmills are an excellent long-term prospect. Nevertheless, it isn't easy to identify which treadmill should be our ultimate choice. There are thousands of high-end treadmills updated with the latest features that make the selection process even harder.
Fortunately, you won't have to worry anymore. In this blog, we will talk about a popular commercial treadmill- JTX club max.
JTX club max was launched in 2020 and is amongst the top-selling commercial treadmills. It is equipped with multiple features that make it perfect for customers' use. With a maximum user weight of 180Kg, it is suitable for most treadmill trainers; the expansive running deck also allows comfortable exercise space that helps in weight loss.
Users have enjoyed a comfortable experience on the JTX club max treadmill due to its cushioned running deck; the running belt is cushioned by cushionstep- a renowned provider of quality treadmill products. The treadmill comes with a powerful motor that provides horsepower as high as 6hp. The motor's increased capacity prevents the treadmill from heating up after some hours of use.
There is a lot more to know, so let's talk about the specification of the outstanding club treadmill.
Disclaimer – This website contains affiliate links. If you find the information useful and click on a product link and make a purchase, a small commission will be earned by GymFreakz and we appreciate your support.
---
Specifications
Running area: 154cm x 58cm
Cushionstep deck
Maximum speed: 25 Kph
Incline: 0-15% or 15 levels
Suspension: 8 points commercial shock system
Computer console: 10-inch LCD display
Clutter-free display
Workout programs: 24 different workout modes + 3 custom
Heart Rate Training: Yes
Power: 6 Horsepower AC motor
Safety Features: key for emergency stop
Speakers: Yes
Transport Wheels: Yes
Max. User Weight: 180 kg
Machine Weight: 215 kg
Boxed Weight: 236 kg (Box 1 – 186kg, Box 2 – 50kg)
Polar compatible: Built-in Polar receiver.
Folded Dimensions: Fixed,
Non-Folding Dimensions: 93 (w) x 212 (l) x 150 (h) cm
Floor to Deck Height: 32cm (flat deck)
Boxed Dimensions Box: 1 – 225 x 94 x 42 cm Box 2 -148 x 98 x 32.5 cm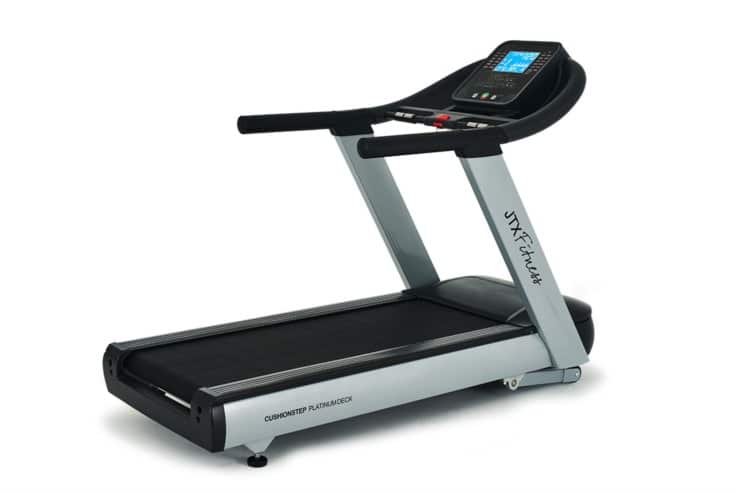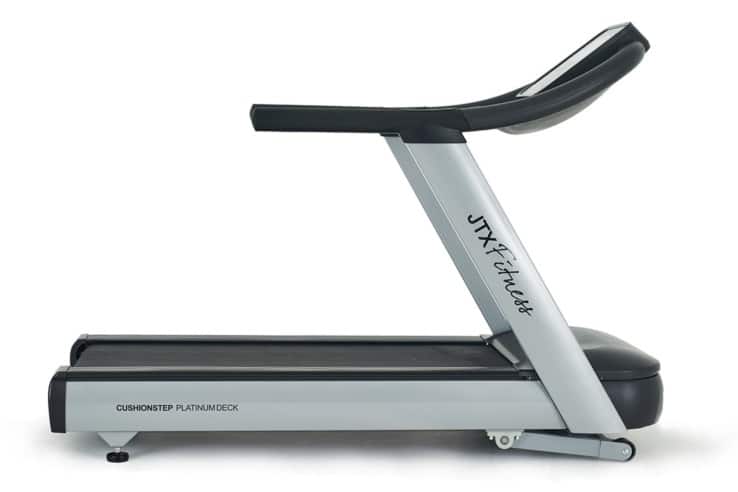 ---
JTX Club Max Features
High power motor
JTX club max is a commercial treadmill, ideal for use in health clubs and gyms. The treadmill is equipped with a 6hp AC motor that is optimal for consistent use. The specification of the motor is above the yardstick- 4hp- for commercial treadmills.
The increased capacity of the treadmill motor would ensure that the treadmill can perform at its best without overheating or malfunctioning. A high-horsepower motor also ensures that the treadmill is immune to frequent faults or repairs. Experts believe that a treadmill motor malfunctions due to regular lapses of maximum power use.
The high 25 Kph speed provided by the motor means that most trainers would be using the machine below its maximum output.
Cushionstep running deck
If you have been a regular gym user, you will know that a poorly cushioned treadmill is as awful as it gets. It impacts every footstrike, which leads to terrible ankle pain that goes as high as our knees. (See our list of the best treadmills for bad knees)
Experts also believe that poor cushioning can impact your upper body that may affect your posture. JTX fitness treadmills can be your messiah; they come with a cushioned running deck that absorbs your footstrike and exerts the most negligible impact.
To add to the stability, the JTX club max treadmill is equipped with an 8 point suspension system which ensures that the machine stays stable during your high-intensity training sessions. It shall help you maintain a proper running form without falling into injuries.
The reputable cushioning by cushionstep and 8 point suspension ensures that the commercial treadmill is fit for athletic training facilities and allows high-intensity training without compromising the health of the users.
---
---
Intuitive Computer LCD
For a regular treadmill user, an essential feature in any treadmill is the LCD display. It helps you track your fitness ratings and progress throughout the workout. The multiple options embedded in the computer allow the user to analyze the intensity of their training and determine the optimal workout combination.
The heart rate monitor on the LCD allows a user to judge the intensity that pushes their body into the fat-burning zone.
JTX club max comes with a massive 10 inch LCD that includes a wide range of options, including a heart rate monitor, time, and incline buttons. The LCD is made super responsive to ensure that every command from the user is followed instantly. The lag is reduced to a minimum.
The LCD has incline and speed buttons attached to it. Any change in the respective categories is transmitted with utmost accuracy without considerable time delay.
The JTX club max treadmill is a recent launch of 2020, and the size of its LCD follows the design philosophy of the overall machine. The LCD allows you to watch videos, connect your phone to the treadmill, or monitor your workout progress. The LCD is made of high-quality components and contains water-proofing measures that ensure that the computer stays protected.
Lifetime frame warranty
The worst aspect of expensive fitness equipment is their costly repairs and faults. No user would like to have an additional burden on their pocket after spending a hefty amount on the treadmill. JTX club max can be a great choice if you want to avoid paying for repairs every other day. It comes with multiple industry-leading warranties for its motors, parts, and frames.
Three years in-home warranty allows the buyer to enjoy free repairs of the treadmill for the first three years. It includes all the labour and parts costs.
The machine also entails a lifetime frame warranty and ten years warranty of the motor, which means that if you notice rattling or abnormal heating, you can get your treadmill fixed with no excess cost. The extended warranty period of the treadmill motor is a perk that usually goes unnoticed, but it can come in handy during regular use.
A treadmill motor is amongst the most costly equipment of the treadmill, and its repairs can be quite expensive for most trainers. Hence, the ease of the warranty means that you won't have to entertain any additional burden on your purse.
Similarly, JTX club max also includes free treadmill lubricant and free assembly service that can be used to keep the motor, belt and deck in good condition; thus, the trainers can enjoy their workouts.
24 workout modes
Previously, most trainers were at the mercy of their coach to guide them about effective workouts. If the coach had a busy day, the waiting time would take more than the workout. However, JTX club max is a solution for all such trainers. It comes with a wide range of exercises modes that can satisfy your workout needs.
It has pre-installed 24 workout modes that contain a mix of high/low and moderate-intensity workouts. The intensity of the exercises can be altered to fit your physical needs. Similarly, the treadmill also lets users create three custom workout modes depending on their fitness objectives. The custom modes allow you to streamline training efforts, thus simplifying the workout for better efficiency.
The workout modes also provide flexibility to workout without worrying about changing your training intensity; the treadmill would change the incline and speed according to your custom settings. Some pre-installed workouts may require additional information to ensure their full effectiveness.
As the machine only displays the name of the workout and its incline/speed settings, you might not be able to differentiate between normal and lateral walking or long strides workouts. Nevertheless, you can seek help from the coach at your commercial gym. If you are using the treadmill at your home gym, you can use the integrated LCD to find more about the workout and how it is performed.
Optimum for heavy-duty requirements
A user expects a treadmill to satisfy their fitness goals, and these goals would require more than just walking. If a treadmill can't take spans of high intensity, the purchase ultimately ends in regrets. JTX club max offers a heavy-duty steel frame that can work on its maximum capacity at a user load of 180 Kg. The treadmill can run at a fast pace of 25 Kph and 15% incline that shall help trainers burn calories like never before.
A JTX professional treadmill is handy for trainers looking to practice HIIT workouts. The treadmill is designed to ensure that the trainer can maintain a good posture and running form during their workout. The speed/incline buttons, fitness trackers and other monitors are placed optimally to help trainers in making the most of their treadmills without risking their health.
---
Warranty
Frame warranty: Lifetime
Home repairs warranty: 3 years
Commercial use warranty: 2 years
Motor warranty: 10 years
28 days money-back guarantee
*Warranty may be subject to change without notice and may differ between retailers – please check carefully before making a purchase.
---
---
Overall Verdict:
Overall the treadmill turned out to be a great purchase; it has everything that I expected. Its features help make my workout sessions unforgettable. JTX club max is a commercial treadmill, and it suffices the need for consistent heavy-duty performance.
The wide range of workout modes are closely designed to fit the needs of multiple trainers, and the flexibility to change their intensity makes it applicable for a wider audience. The monitors provide crucial details about your body's reception to the workout; it helps trainers achieve the desired heart rate zone and make the most of their workout.
Finally, if anything malfunctions in the machine, the customer support team is incredibly responsive and willing to hear and solve any problems. The procedure to file for a warranty claim is simple and doesn't serve as a barrier to your workout routine. To sum it up, JTX club max is an excellent commercial treadmill applicable to most users.
>>JTX Club-Max Commercial Treadmill made it onto our list of the best treadmills for garage gym in 2022<<
---
---
---
What did I like About This Treadmill?
I have been a regular user of the treadmill for the past eight months, and I must say that it has impressed me. The treadmill comes with a 6hp treadmill motor and a high continuous duty rating, making it appropriate for long high-intensity intervals.
Unlike other treadmills, the JTX club max doesn't heat excessively even after long workout sessions. A commendable feature of the treadmill is its stability. The 8point suspension system and cushionstep's cushioning have helped the treadmill's stability, and you won't notice any rattling during your high-paced running.
The suspension ensures that the impact of your foot strike isn't translated back to your foot, helping prevent injuries. Another perk that made me a fan of the running machine is its 10 inch LCD screen that allows you to monitor your stats and stream workout videos. It has helped multiple trainers at my gym, as I don't need to cater to all of their workout needs; instead, they can take help from the workout modes and videos.
However, I had a problem when the machine was delivered. It had a faulty part that gave up working after the initial sessions. Fortunately, the team was courteous to replace it for me. The visiting engineer guided me regarding the steps to prevent any such problems in future and keep the treadmill in its best condition.
---
FAQ's
Is the treadmill foldable?
If you are selecting JTX club max, you will have to compromise on your valuable floor space. The treadmill comes with a large running deck that allows trainers to make the most of their workout. However, it is non-foldable.
Is it easy to assemble the treadmill?
Assembly of the JTX club max treadmill isn't a difficult task; it has a manual that provides sufficient guidance to assemble the treadmill. Additionally, it comes with a free assembly service, so you won't get a weary head trying to replace it.
How long will the treadmill last?
Understandably, most users are concerned about how long their treadmills will last before making the purchase. JTX club max will last for ten years easily if proper care is taken. The company offers a lifetime frame warranty and ten years motor warranty, which suggests that the treadmill's life is extensive.
---
Affiliate Disclosure
In compliance with the FTC guidelines, please assume the following about all links, posts, photos and other material on this website:
Any/all of the links on this website are affiliate links of which GymFreakz receives a small commission from sales of certain items, but the price is the same for you.
www.gymfreakz.com is a participant in the Amazon Services LLC Associates Program, an affiliate advertising program designed to provide a means for sites to earn advertising fees by advertising and linking to Amazon.com & Amazon.co.uk. Pages on this site may include links to Amazon and its affiliate sites on which the owner of this website will make a referral commission.