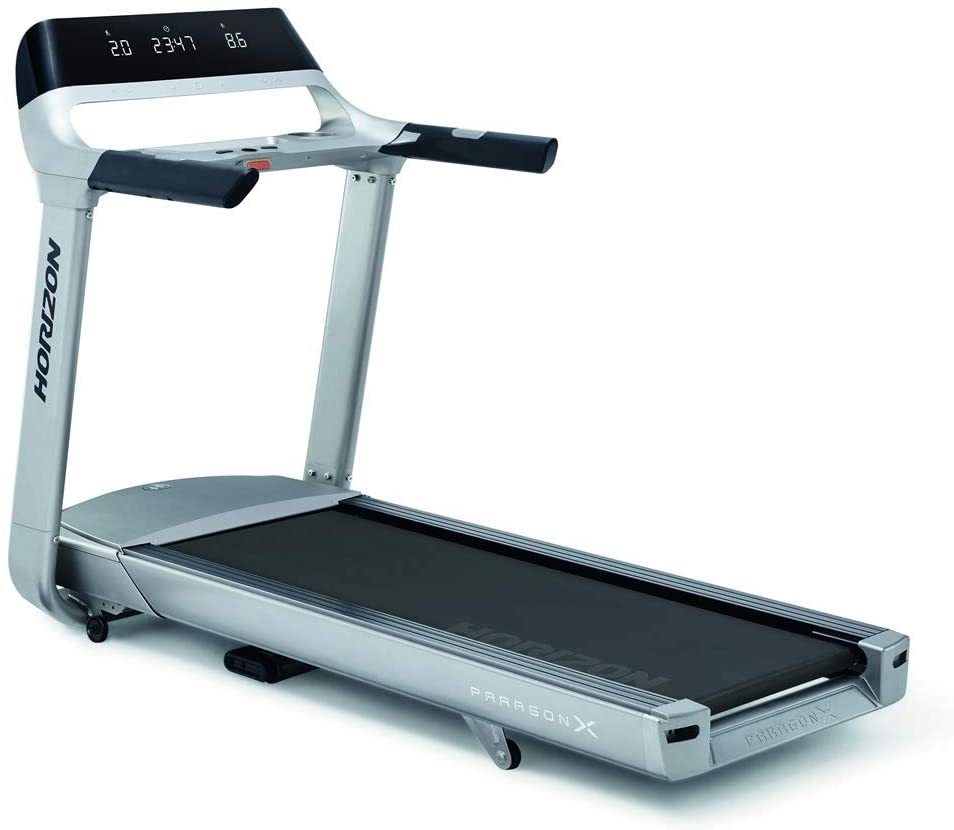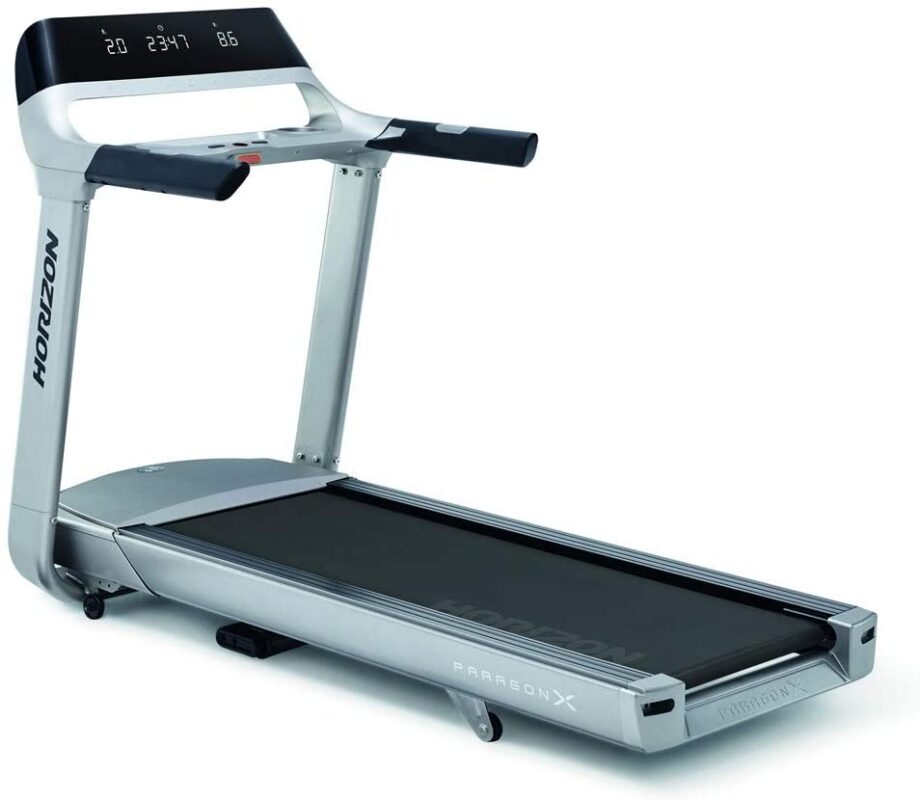 ---
---
Introduction to the Horizon Paragon X
The latest addition to the line of Horizon treadmills is the new Horizon Paragon X Folding Treadmill! This machine leaves no excuses for you to not do your workouts while staying in the comfort of your own home!
The technology used for this treadmill is one of a kind and so fun and unique that it'll make sure that you won't ever think of missing another workout ever again! The air train technology combined with 10 challenging programs simulate real trail running in your home!
The Paragon X is the only treadmill designed specifically for runners who want to experience trail training and even if you've only just started out, you'll still be able to make great use of this treadmill from the start. It also comes with a deck that inflates according to the programs you choose! Even as trail running beginners you can get so much from this treadmill since there are so many options to choose from!
Let's take a look in more detail about this product and its key specifications!
Disclaimer – This website contains affiliate links. If you find the information useful and click on a product link and make a purchase, a small commission will be earned by GymFreakz and we appreciate your support.
---
Specifications
Partial self-assembly required
It does not come with built-in speakers.
Console position is fixed.
Dimensions are height is 147 cm, width is 97cm and in diameter, it is 206 cm.
There are no downloadable contents on this treadmill.
You can monitor your heart rate via chest strap but it is not included in the treadmill.
You can also monitor your heart rate via hand sensors through handgrip pulse measurement.
Incline is 0 to 15 percent.
This treadmill is made out of steel.
Maximum user weight allowed is 180 kilograms.
There are 37 programs/settings that come with this treadmill.
It is polar compatible.
The running surface is 56 x 153 cm.
It comes with a colored LCD screen.
Speed is 0.8-20 km per hour.
The weight of this treadmill is 125 kg.
It does not come with a workout fan.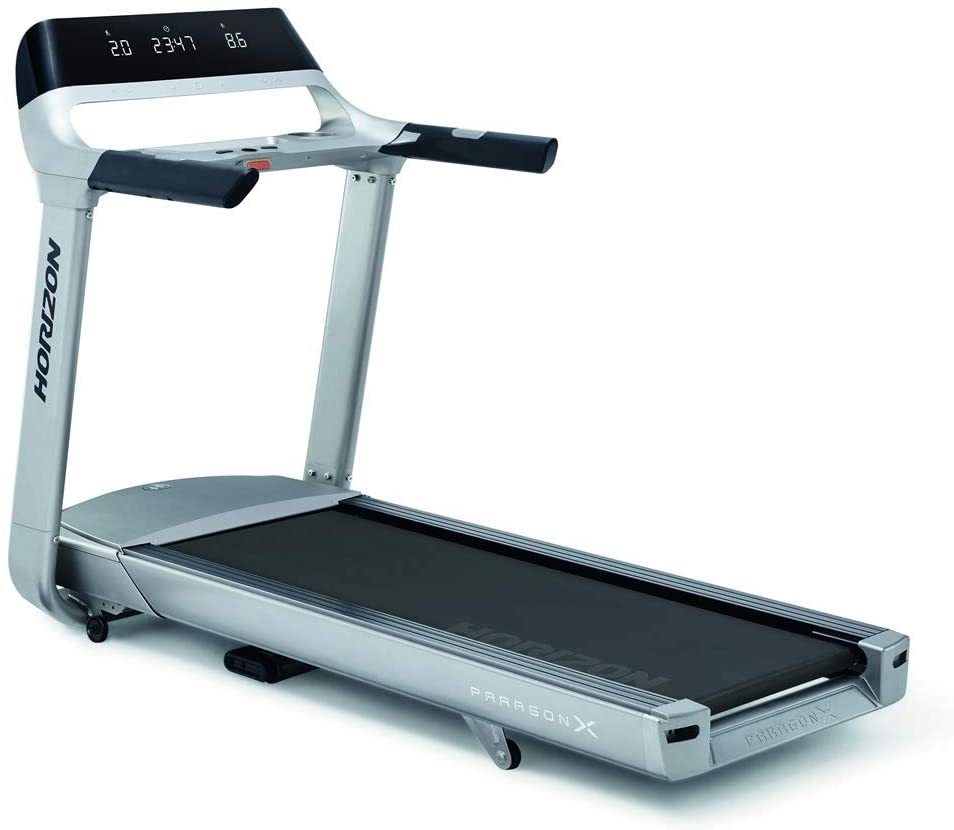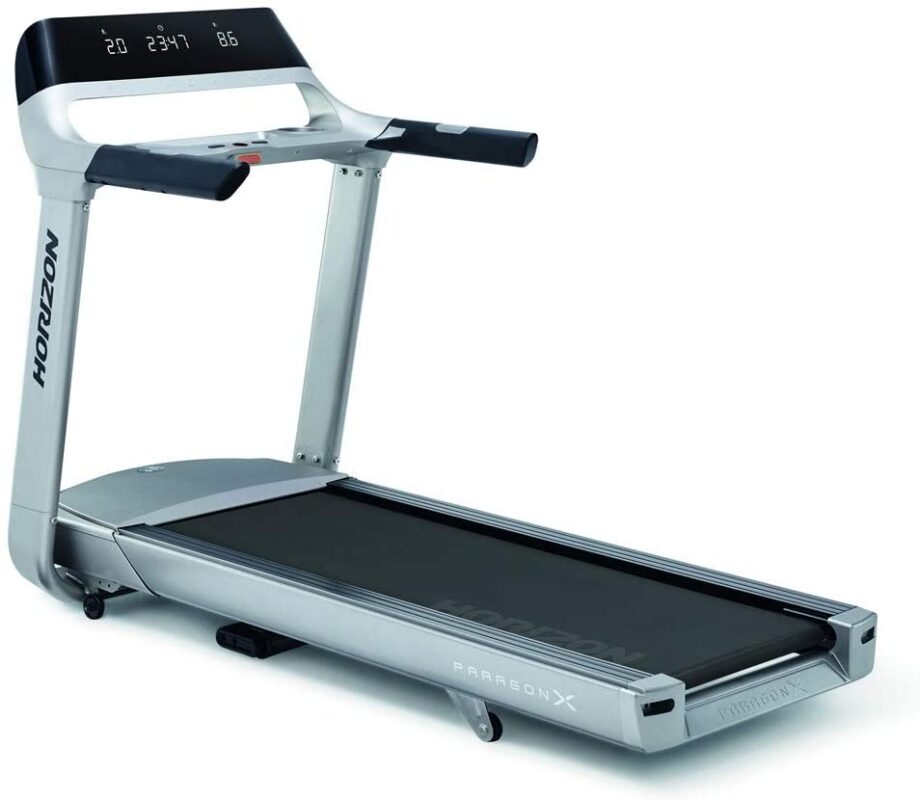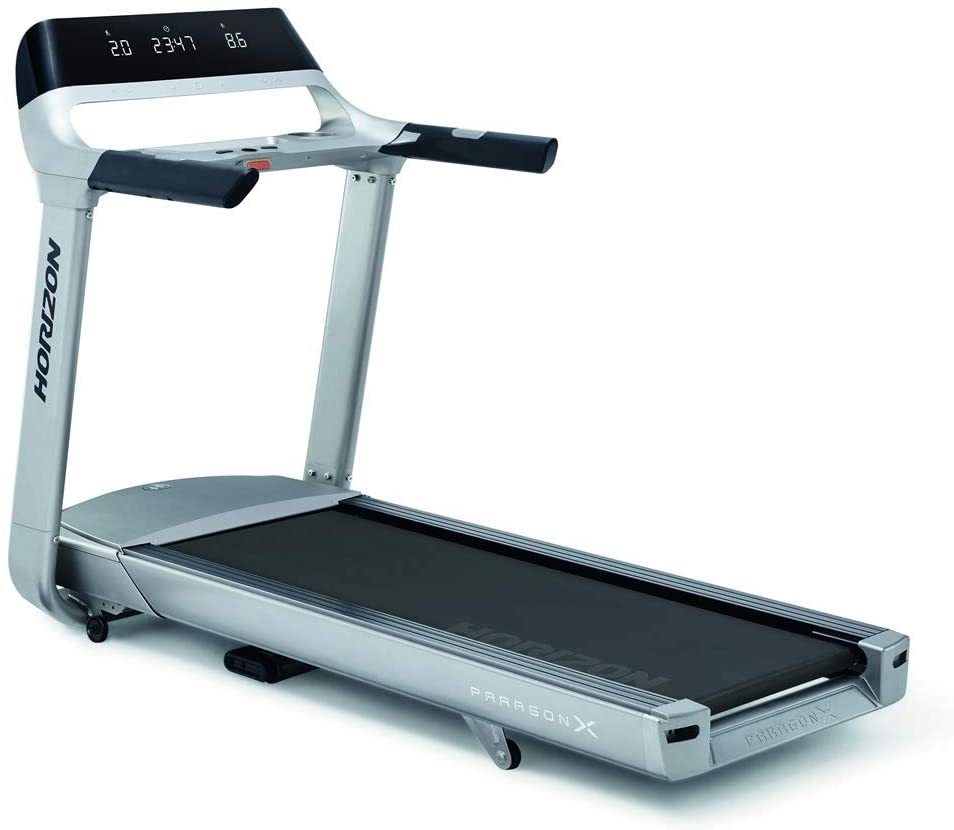 ---
FEATURES
The new Paragon X Treadmill comes with many new features and the latest technology. Let's take a look at all of them in detail!
Air Train Technology
This added feature in Horizon Treadmills lets you experience trail running in a one of a kind way – it has an air cushioning technology system beneath the deck!
It inflates according to the programs that are pre-programmed according to incline base and speed and is based on 10 real trails that are located across America, Europe and Asia. There are many options to choose from including, dirt, grass, gravel and stone terrain settings to make your workout harder or easier according to how you like it!
It lets you reach your peak interval before bringing your heart rate right back down again!
FeatherLight Folding System
The folding system of this treadmill will make sure that you don't ever have to worry about its storage. Since once you are done with your workout you can just fold it and put it away thanks to the effortless hydraulic folding system. Even if you are short of space don't worry, the Horizon Paragon X Folding Treadmill has got you covered!
Johnson Drive System
The motor of this treadmill runs at low RPM's which ensures that you can use this treadmill anywhere in the house because of its minimal noise plus it enhances durability. The responsive digital drive system lets you maintain your rhythm with each footfall.
Sprint 8
With one of a kind HIIT workouts, you can now achieve your weight loss goals in just 20 minutes by burning fat faster and quicker with Sprint 8. It is a proven HIIT workout that reduces body fat by up to 27 per cent in just eight weeks.
Fitdisplay app
The Fitdisplay app lets you connect your device with your treadmill using Bluetooth. You can now work out however you want to and you can choose your favorite workouts or any app that motivates you to work out harder and better!
The fitdisplay app will keep you on track with your fitness goals and with applications like Zwift and Kinomap you can have an amazing virtual experience through your device while working out from your home!
Motor
This Treadmill Paragon X comes with a powerful motor of 3.25 HP plus it has a wide deck that will ensure that you have ample space to run on evenly for more intense workouts like HIIT or even an intense trail!
No matter whether you're a beginner or a pro at trail running this treadmill Paragon X is the treadmill you've been looking for!
Design
This treadmill has an ultra-modern styling and design. It comes with an open frame, curved console, streamlined i shaped folding frame and chrome-accented design details. The air cushion system also makes it extremely easy for you to meet your speed target as well as your distance target.
Bluetooth
Advance Bluetooth options lets you enjoy your favorite shows, videos or music while working out which will give you an enhanced experience. Its one-touch control starts and stops at the push of a button. Bluetooth will also count your heart rate and syncs data with your favorite fitness apps!
Device Holder
The device holder will let you stream entertainment throughout your workout and will also let you experience on-demand workouts! It also has a contact grip that gives you accurate heart rate feedback!
Programs
The Horizon Paragon X Treadmill has a lot of programs to offer and choose from. From the console, you can choose between Sprint 8, or select a distance, whether you want to do 1k, 5k, 10k or half marathon.
You can also check your calories, performance and heart rate. From the FitDisplay app you can choose from Beat, Contest, Sprint 8, Virtual active, Distance target, Speed target, calories target, heart rate target, intervals and manual.
Horizon Fitness Paragon X and air cushion system beneath
Horizon Fitness is known for its treadmills and with its air cushioning system beneath the deck makes it have an unrivalled variable response. It helps simulate realistic trail running and the Johnson Drive System maintains not only its name but also its reputation when it comes to Treadmill Horizon Paragon!
It's simply one of the best mid-range foldable treadmills out there! It's also one of the most affordable as well.
---
Warranty
The Horizon Paragon X Folding Treadmill has a great warranty just like all the other products by Horizon! Let's take a look at the warranty for this treadmill.
Parts: 2 years
Labour: 2 year
*Warranty may be subject to change without notice and may differ between retailers – please check carefully before making a purchase.
---
Pros and Cons
We all know that everything we buy comes with pros and cons and this treadmill is no exception. So, let's dive right into it and look at some pros first!
---
What I Liked About This Treadmill
There were a lot of things I loved about this fitness equipment! Its strong and powerful yet quiet motor lets you enjoy your workouts with ease! The AirTrain technology gives you a one of a kind experience that allows you to enjoy your trails as if you were in Europe or Asia from the comfort of your own home!
The intuitive controls adjust speed and are also very easy to use and with a lot of options like grass, dirt or gravel, makes sure that your trial runs become not only enjoyable but also burn a lot of calories!
Another great thing to point out is your exercise experience becomes more enjoyable as you see maximum results in a short amount of time and this is all highlighted with the WeChat compatibility that connects with Bluetooth for an enhanced exercise experience!
This machine also makes sure that you reach your calories target with its exclusive AirTrain technology whilst the crystal clear display panel shows everything clearly making it easier to watch your chosen entertainment while working out.
The speed interval will ensure that you reach your weight loss goals in no time and finally, the adjustable air cushioning system puts less stress on your feet and that reduces the chances of injuries!
>>Check out our list of best treadmills for apartments here<<
---
What I Didn't Like About This Treadmill?
The one thing I did not like about this treadmill was that it's potentially too heavy for one person to move around due to its weight. Plus since it does not come with built-in speakers you have to connect to another speaker to be able to listen to music or watch videos which could make things more difficult than they need to be while exercising.
Also due to there being no downloadable content, you have to use other devices to connect it with the LED screen of your treadmill. And since it doesn't come with a workout fan it can get very hot and stuffy while exercising.
If it did come with a fan it would have been easier to work out on this treadmill but that may be just my personal preference!
---
Overall Verdict:
This treadmill is worth investing in if you're looking for trail running. So whether you're a beginner or a pro at trail running this treadmill could well be the best choice for you!
The responsive air cushioning lets you enjoy your workout and makes sure that you don't get injured while working out! The air cushioning beneath the deck inflates along with pre-programmed changes in speed and incline based on demanding exercise classes and also 10 real trail running experiences.
With this treadmill, you can achieve your calories target in minimum time and also get an enhanced experience synced with its advanced Bluetooth option! It also syncs workout data and the button advanced Bluetooth technology lets you connect any device which doesn't come with a traditional treadmill.
The Horizon Paragon X lets you run a half marathon and also makes you virtual active by showing you different trails around the world!
It is a unique fusion of different workouts together and you can also change the speed and incline with just one touch.
In short, this fitness equipment is not your average machine but an award-winning treadmill design
The Horizon Paragon X is featured on our "Best High-End Foldable Treadmill" roundup here.
---
FAQ's
Who manufactures Horizon treadmills?
The Horizon Paragon X Folding Treadmill is manufactured by Johnson Health tech which has a headquarters in Taiwan. It is also the parent company of Horizon Fitness and is one of the worlds leading manufacturers of treadmills.
How much does the Horizon Paragon X Folding Treadmill weigh?
This machine weighs around 125 kilograms and has a modern design. This machine is very user friendly and even if you're a beginner you can still use this treadmill straight out of the box!
Can one person move this treadmill?
Since this treadmill has wheels you have the potential to move this machine even if you're alone but it might get a little difficult due to its weight. That's why it is better to ask someone to assist you if you want to move it. Have one person stand at the end on both sides. One person should grip one side of the treadmill and the other should grip the other part. You will also have to fold your treadmill before you move it to make it easier for you to carry it. By having one person standing next on each side of the treadmill you can then just push the treadmill to move it.
---
Affiliate Disclosure
In compliance with the FTC guidelines, please assume the following about all links, posts, photos and other material on this website:
Any/all of the links on this website are affiliate links of which GymFreakz receives a small commission from sales of certain items, but the price is the same for you.
www.gymfreakz.com is a participant in the Amazon Services LLC Associates Program, an affiliate advertising program designed to provide a means for sites to earn advertising fees by advertising and linking to Amazon.com & Amazon.co.uk. Pages on this site may include links to Amazon and its affiliate sites on which the owner of this website will make a referral commission.