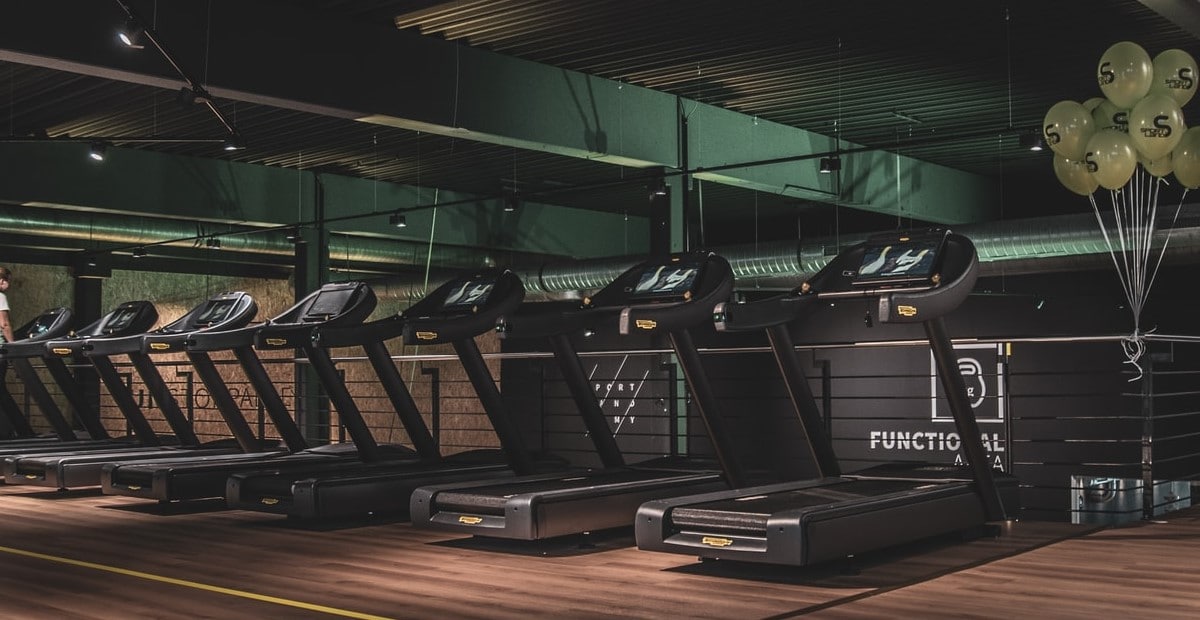 ---
---
Treadmills to help you lose weight, machines to help save space, or a cheap treadmill for your entire family – a general treadmill buying guide.
Sometimes, we don't know what we want. In a world filled with quality everything… well, quality treadmills are no different. You could be buying a commercial treadmill for a big space, perhaps you're very specifically looking at the treadmill motor, with the sole goal of going fast and losing weight quicker, or perhaps, just maybe you still have no idea what machine is right for you or your wallet.
The fitness world is filled with variety and with variety comes confusion, and different people will have different entry levels. If I were to say the words, 'you want to look for the right treadmill, with the right treadmill deck made from hard wax and a shock absorption system, oh and a soft drop system too, and to top it off look for an iFit subscription and 40+ programs, or you're basically wasting our time'… you may just be even further from finding the best treadmill for you.
Thankfully, all you need is the right treadmill buying guide. And that's exactly why we're here. In this list, we're going to break down my personal top pick, the best entry-level treadmill for beginners, the best-curved treadmill, and more.
Let's get running!
Disclaimer – This website contains affiliate links. If you find the information useful and click on a product link and make a purchase, a small commission will be earned by GymFreakz and we appreciate your support.
In A Rush?
| | MY TOP PICK: | BEST TOP END: | BEST ENTRY LEVEL: | BEST CURVED: | BEST FOR UNDER 1K: |
| --- | --- | --- | --- | --- | --- |
| Brand | Spirit | Life Fitness | Nordictrack | Nohrd | ProForm |
| Model | CT850 | Platinum Club Series | Elite 7.0 | Sprintbok Curved | Carbon T7 |
| Photo | | | | | |
| Max. Speed | 19 kph | 12 mph | 20 kph | n/a | 16 kph |
| Max. Weight | 204 kg | 181 kg | 125 kg | 160 kg | 135 kg |
| Running Area | 159 cm x 59 cm | 56 cm x 152 cm | 51 cm x 140 cm | 160 cm x 45 cm | 51 cm x 140 cm |
| PRICE* | £5,496.00 | £12,045.00 | £1,199.00 | £5,295.00 | £999.00 |
| | | | | | |
| Check Prices | | | | | |
*Prices correct at the time of writing
---
My Top Pick (for a home treadmill):
Spirit CT850 Treadmill (£ 5,496.00)
Key Features
4HP AC Motor
Running surface 60" x 22" (159cm x 59cm)
Speed 0.5-12 mph (0.8-19 km/h)
Incline 0-15%
Integrated Accessory Tray with bottle holder
Multi-ply Habasit ® Commercial Belt for superior belt life
Hard wax deck
Electronic Package
Tri-coloured LED Display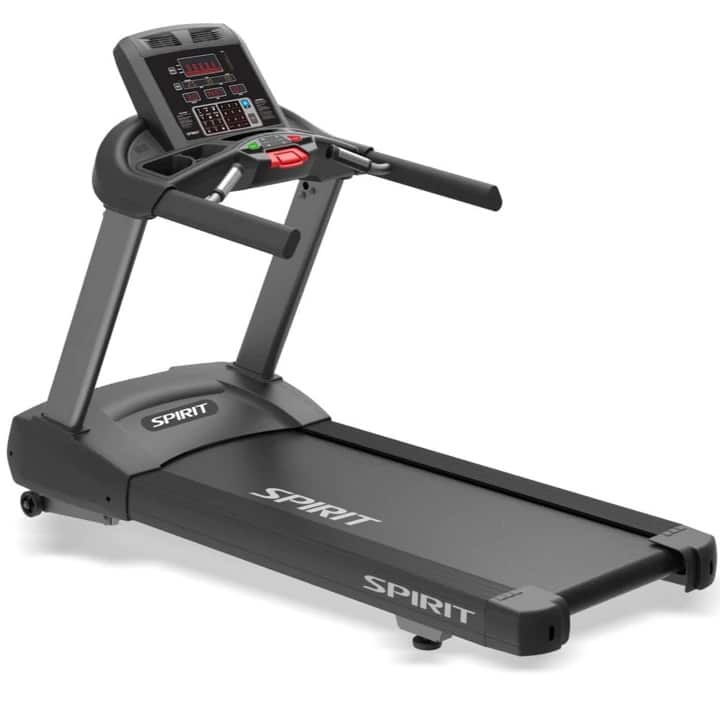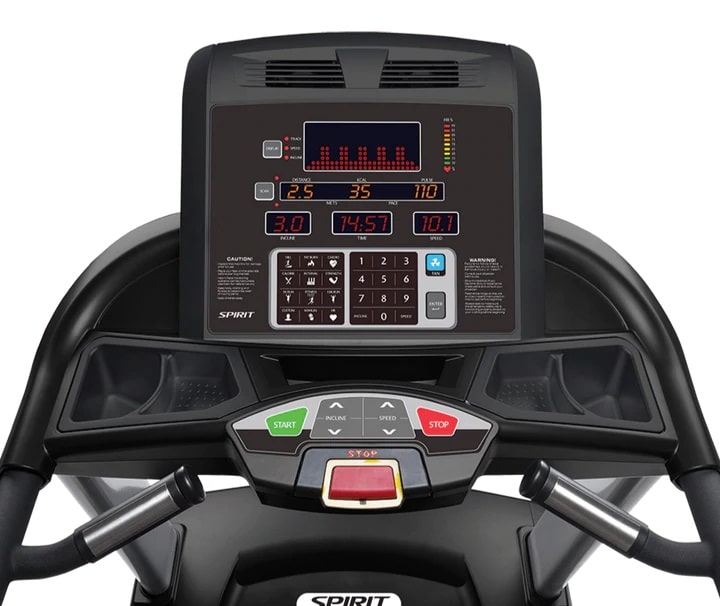 ---
Overview
The Spirit CT850 is a great treadmill. Hands down, this is my favourite sturdy build with reasonable dimensions that give you a great high-quality treadmill, with home gym applications.
The long-lasting belt and deck give you more value for money. Whether you're light jogging, working hard or marathon training this machine will see you through for years on end.
Its price range is a little higher than average but the manufacturers knew what they were doing here, and given the treadmill on a whole, the price is more than fair.
A lot of treadmill companies promise to help you on your fitness journey with great treadmill technology; LCD Display, 40+ programs and a terrain systems… while these are great, they often take precedence over the treadmill build quality. Here, this isn't the case.
A great all-round treadmill, up there with some of the sturdiest and long-lasting commercial treadmills on the market, and if you're looking for treadmill workouts that help you run… (not start a tech company!) then this is the machine for you.
---
Best Top End Home Treadmill:
(if you have the room, is the best of the best of all treadmills!)
Life Fitness Platinum Club Series Treadmill with Discover SE3HD Console (fixed) (£12,045.00)
Key Features
Brand: Life Fitness
Model: Life Fitness Platinum Club Series
Console: Discover SE3HD Console
Welded Steel Frame: Yes
Front Roller Lift Wheels and Rear Levelers: Yes
Maximum Speed: 12mph
Minimum Speed: 0.5 mph
Incline Range: 1-15%
Heart Rate Monitoring: Yes
Dimensions: 203 x 94 x 163 cm (lxwxh)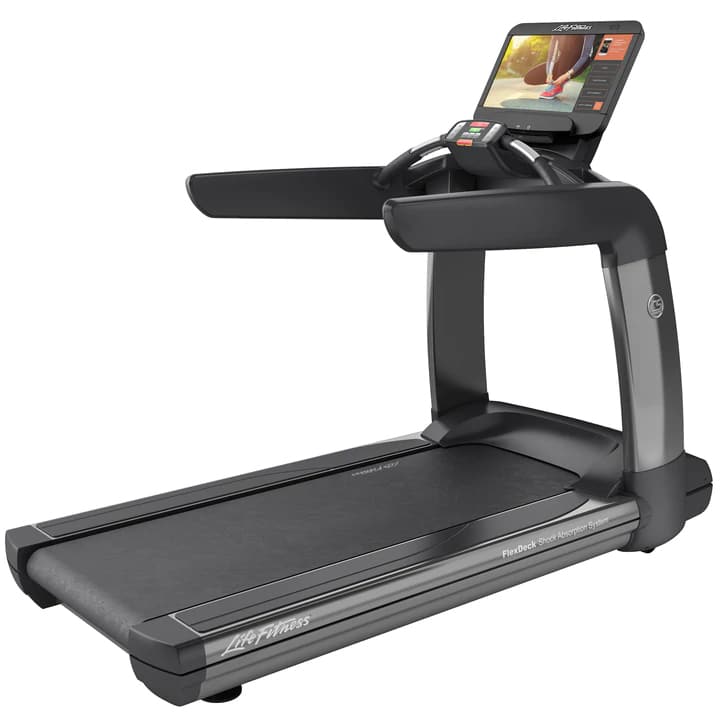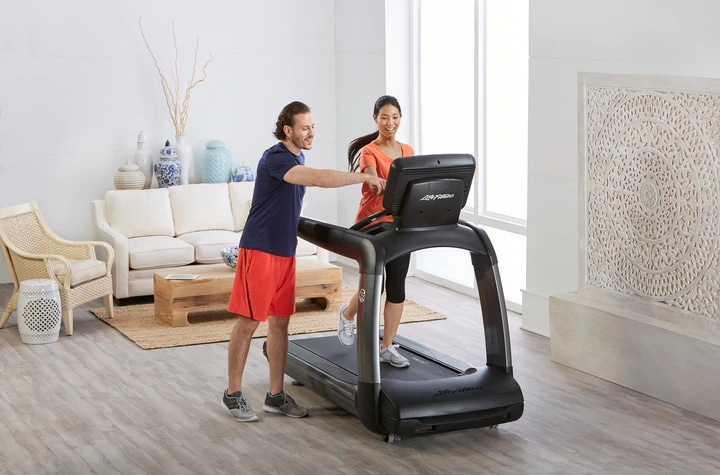 ---
Overview
This Life Fitness Platinum Club Series Treadmill with Discover SE3HD Console is a wise investment for commercial and home gyms. But that doesn't mean it's wise for your wallet.
It's an expensive machine, and in my opinion, and for my situation, that price is more than justified. I need plenty of space, something that a folding treadmill wouldn't usually offer, a sturdy build (treadmill belt, treadmill frame etc) for hard workouts, and enjoy all of the premium features that make me want to work out more.
So what features am I talking about? Well, the group workout capability is great. It lets you connect with friends and share stats. The workout data tracking with this machine is great too, clearly displaying your workout routine and health stats.
Its modern design and interactive features with experience and advanced training options, make this Life Fitness Treadmill premium quality workout equipment. With a range of connectivity and entertainment options, it makes working out at home a more than pleasant experience.
Want to know more? Read our full review of the Life Fitness Platinum Club Series Treadmill here.
---
Best Entry Level Home Treadmill For Beginners / Intermediate Runners:
Nordictrack Elite 7.0 Treadmill (foldable) (£1,199.00)
Key Features
5-inch iFit LCD
30-Day iFit Family Membership Included
EKG Handgrips
Dual 2-Inch Speakers
Flex Select Cushioning
51 x 140 cm Tread Belt
2.75 CHP Motor
0 – 10% Incline
0 – 20 km/h Speed
1.9″ Rollers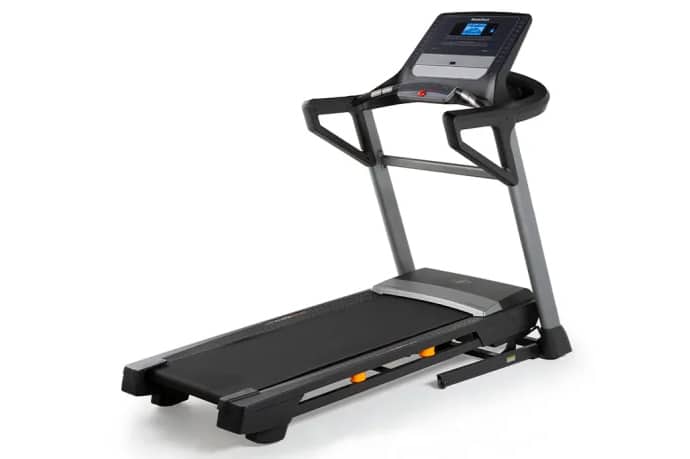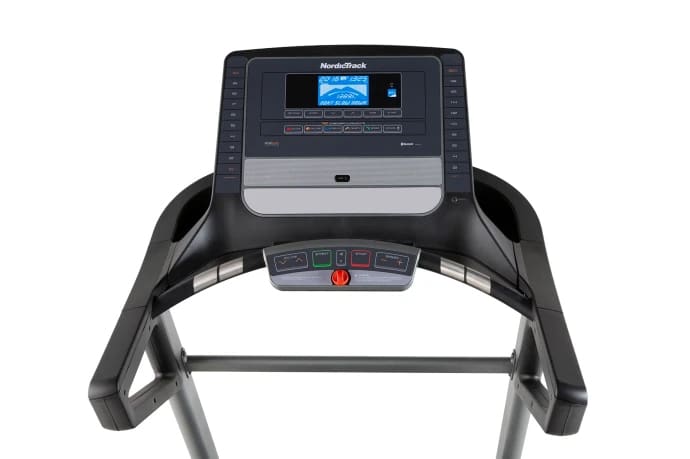 ---
Overview
The Nordictrack Elite 7.0 is a great treadmill for its price and offers many features that you might not find in other treadmills at the same price.
This should be a strong contender when considering buying a treadmill. It's the top end of a budget treadmill but still gives you way more than other cheap treadmills can offer.
The built-in transportation wheels and Easy Lift assist feature help with enabling convenient repositioning of this treadmill which definitely makes it stand out. And convenience is important here. Motorised treadmill, electric treadmill, manual treadmill… you're going to be tired either way and if you need to move the thing, then moveability should absolutely be a consideration.
The motor is not the most powerful but it is still decent enough, the incline range is also pretty good and offers a challenge even to athletes. Moreover, the space-saver design makes this machine ideal for small apartments or places where space is an issue, combined with the space-saving, this machine is a great fit in your cardio equipment range too.
This fitness equipment comes with a certified personal trainer and also has many other integrated features. With a balanced non-flex roller you can now get a great workout in without worrying about injuries.
Want to know more? Read our full review of the Nordictrack Elite 7.0 Treadmill here.
---
Best Curved (for 2022 home treadmill):
Nohrd Sprintbok Curved, Manual Treadmill £5295.00
Key Features
Manual treadmill, no power source required
No speed limit
17.2" (43.6cm) high definition Touch Screen
Available in a variety of woods
Slats are made from Birch plywood and high-quality rubber for superb cushioning
Running surface 63" x 18' (160cm x 45cm)
Grease life high-quality bearings
Transport wheels
Maximum user weight 25 stone (160kg)
Size L x 175cm W x 86cm H x 160cm
Treadmill weight 120kg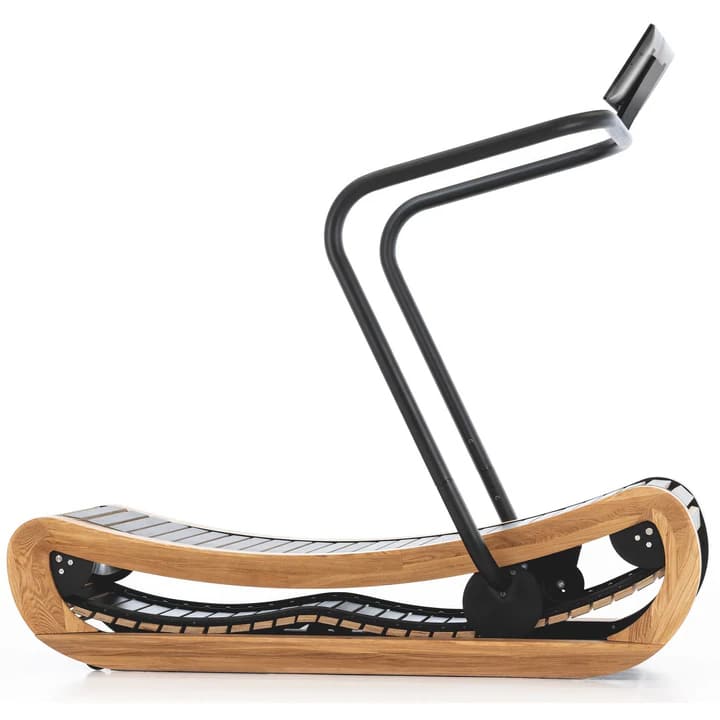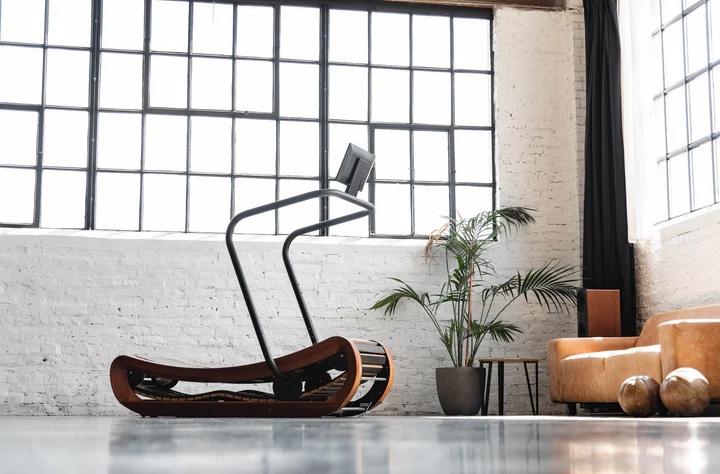 ---
Overview
For some runners, modern treadmills have to come with a powerful motor. For others, treadmills don't have to come with a motor at all, and this curved treadmill is exactly up their street.
The Nohrd Sprintbok is one of the better quality treadmills on this list, but not because it's powerful or from a trusted brand; the fitness alternatives it allows for can be hard to resist.
This machine, like most manual treadmills, requires your motivation as the fuel for its running. You control the speed, you control the length of run and you're the one that'll burn more calories as a result.
The Sprintbok lets you achieve your fitness goals through its well-built running deck, max user weight, and floor space-saving design. Because it's a manual treadmill, and you may find yourself working harder, it's also important that it uses high-quality rubber and birch plywood for superb cushioning.
Overall, just like all of the premium treadmills on this list, this machine is a top-notch bit of gym equipment. If you like the unique design and the ability to control your speed yourself then you'll be ignoring other treadmill brands for the rest of your running career.
Want to know more? Read our full review of the Nohrd Sprintbok Curved Manual Treadmill here.
---
Best For Under 1K (best home treadmill for under £1000)
ProForm Carbon T7 Folding Treadmill (£999.00)
Key Features
iFit Enabled, 30-Day Membership
2.75 CHP2 Motor
51 x 140 cm Treadmill Belt
ISO Flex Cushioning
1.9″ Precision-Balanced Rollers
0 – 16 kph Digital Quickspeed Control
Dual 2″ Speakers
CoolAire Fan System
Max Weight – 135 kg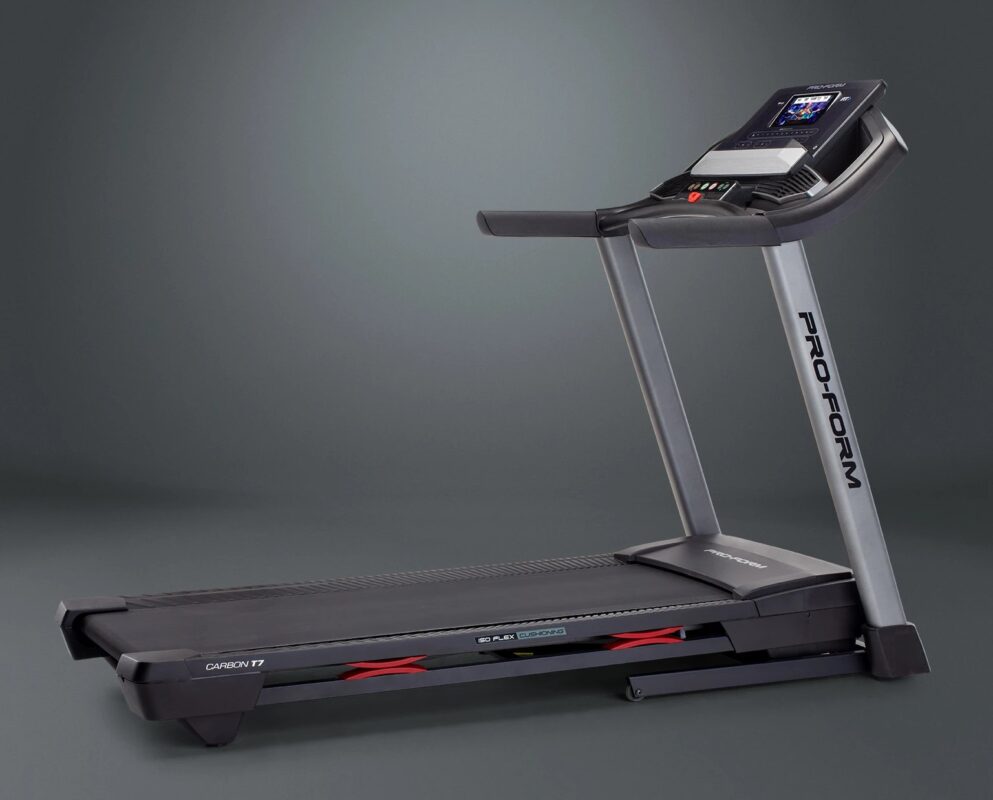 ---
Overview
Let's start with the fact that this treadmill folds. Unlike non-folding treadmills, the value added for home gyms from a folding treadmill is incredible. It's easy to pack away, no matter how much space you have. And because you can fold this machine it means you can instantly create space for other home workout routines if you need.
Space-saving aside, this machine comes with great extras like a reasonable warranty and an iFit membership for 30 days. These kinds of inclusions mean the treadmill manufacturers are really thinking about you here. That said, it would be nice to have a longer iFit membership so you could explore the options further, instead of focussing on the fact it's a foldable treadmill.
The motor isn't the most powerful in the world, but you don't need power for home gym equipment; so much of the appeal is due to ease of use, and this treadmill is up there with the best in that category. With decent enough speed and incline options, you get all the good stuff and the ease of folding.
Want to know more? Read our full review of the Proform Carbon T7 Folding Treadmill here.
---
Conclusion
Fitness levels are the result of your hard work but finding the right tools won't make you work less, in fact, it often makes you work harder. The way a treadmill runs undoubtedly affects your fitness journey and helps you burn calories; curved treadmills can target different muscle groups, whilst powerful motors with maximum speed help you run faster and longer, and so on.
While the perfect treadmill may not exist, the best one for you does. Most treadmills will result in a good machine, but prospective treadmill owners should always look for the right stuff, and with this list, I think you've done exactly that.
>> Take a look at more of our helpful round up's here. <<
---
FAQ'S
How quickly do treadmill belts wear?
This completely depends on the manufacturer's decision in material use, dimensions, what motor it's paired with, the size of the runner and many more factors. Generally, price is correlated to quality; the more expensive a treadmill, the higher the chance of treadmill belt quality. Look for things like hard wax decks (these are a personal favourite) and be sure to check out the material of the belt before purchasing, if this is a concern for you.
What really counts as powerful or fast treadmill motors?
The line between powerful and weak is largely subjective. However, I think we can agree that a 2.5 hp motor is pretty weak, especially when compared to a 5hp motor (or more commonly upper 4s). The power of the motor is important but even with a weaker motor you can still burn plenty of calories; your power is more important here.
---
Affiliate Disclosure
In compliance with the FTC guidelines, please assume the following about all links, posts, photos and other material on this website:
Any/all of the links on this website are affiliate links of which GymFreakz receives a small commission from sales of certain items, but the price is the same for you.
www.gymfreakz.com is a participant in the Amazon Services LLC Associates Program, an affiliate advertising program designed to provide a means for sites to earn advertising fees by advertising and linking to Amazon.com & Amazon.co.uk. Pages on this site may include links to Amazon and its affiliate sites on which the owner of this website will make a referral commission.