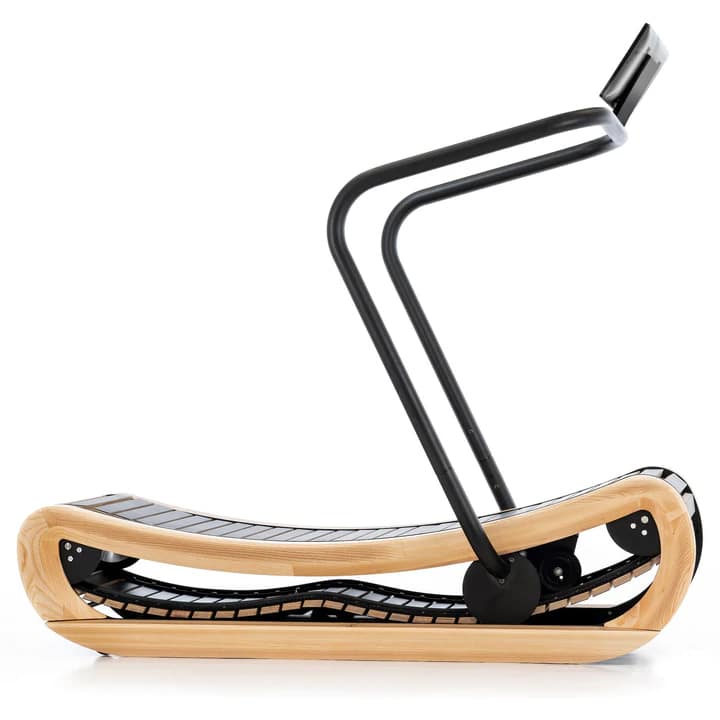 ---
---
Introduction to the Nohrd Sprintbok Curved Manual Treadmill
Why burn electric units while burning calories? Nohrd Sprintbok is a manual treadmill designed for a self-determined running workout. The whole energy used to run the slatted belt is produced by the user's legs.
Manual treadmills can respond to your pace, require no electricity, and burn calories faster with more effective running training. Norhd Sprintbok Curved Treadmill is a classic sprintbok with impressive new features.
Norhd Sprintbok Curved Treadmill is designed to adjust to a users running style. The curved frame design is an appealing aesthetic feature. So, not only does the curved treadmill look elegant, but it has amazing functionality too.
The impressive new features include the scenery runs, high definition touch screen console, cyber running, free run, app compatibility, and new sprintbok app login. If you want to run freely at your own pace, Nohrd Sprintbok Curved Treadmill is the one you are looking for.
Disclaimer – This website contains affiliate links. If you find the information useful and click on a product link and make a purchase, a small commission will be earned by GymFreakz and we appreciate your support.
---
Specifications
Brand: Nohrd (Sport in Style)
Model: Sprintbok Curved Manual Treadmill
Material: Wood Frame
Dimensions: 175cm x 86cm x 160cm (lxwxh)
Running Surface: 160cm x 45cm
Equipment Weight: 120kg
Maximum User Weight: 160kg
Transport Wheels: Yes
Touch Console: Yes
Screen Size: 17.3 inches
Speed: No Speed Limits
Total Wooden Slats: 62 Movable Wooden Slats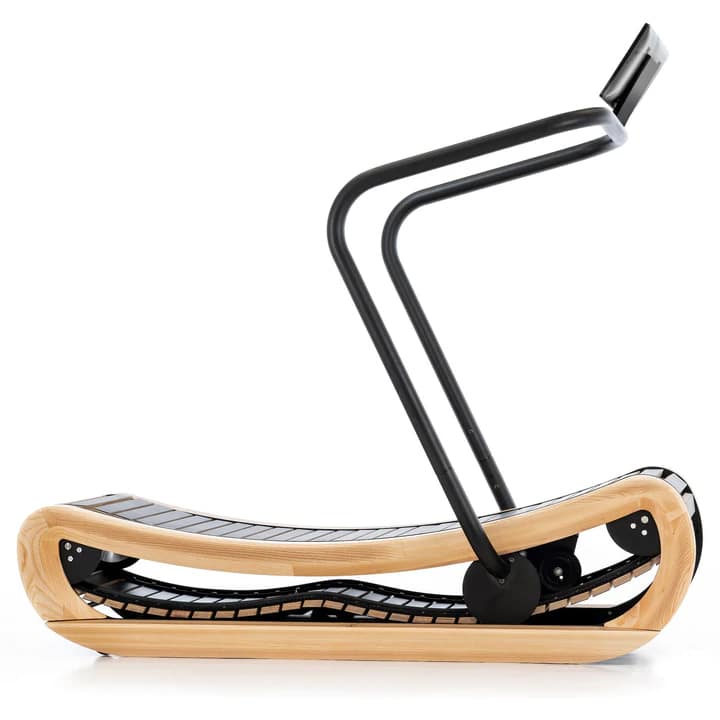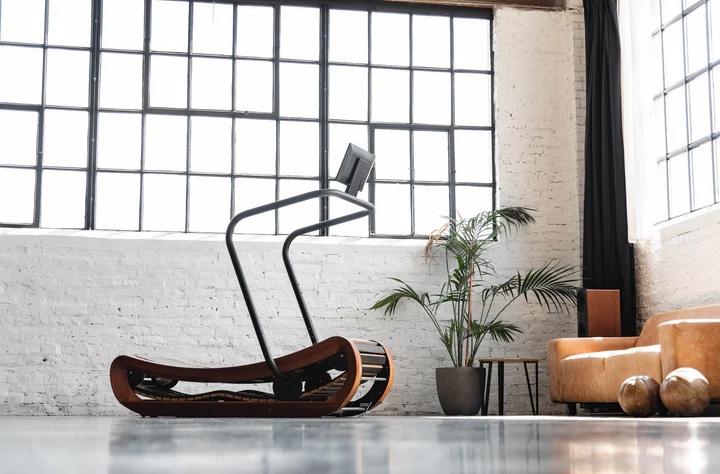 ---
KEY FEATURES
Natural and Durable Properties
Nohrd stands for quality and durability. This Sprintbok by Nohrd knows to adjust to natural energy input and pace. Classic Sprintbok presents a natural running experience with a 30% higher calorie burn and can immediately adjust to the user's pace.
Its natural and durable properties are not limited to flexible wooden slats or the sturdy handlebar as this Sprintbok by Nohrd also knows how to track performance data and provide an incline for better running training.
Quality Wooden Frame and Modern Design
The Sprintbok has far better structure and design than a conventional treadmill aesthetic. The elegant wood frame and flexible wooden slats make it one of the sleekest and most aesthetically appealing treadmills on the market today. The smooth wooden frame contributes to its durability and strength but moreover, the frame plays a vital role in vibration reduction during workouts.
The curved frame design and sturdy handlebar guarantee the strength of the treadmill. Nohrd Sprintbok curved is famous for its elegant wood frame and unique to conventional treadmill aesthetic properties and this unique design has led to it winning the Concours Lépine Design Award.
Running Deck and Smooth Belt
The smooth running is facilitated by the wooden slats. The slatted belt consists of 62 movable wooden slats and strong ball bearings and it's because of this that the Sprintbok is superior to other curved manual treadmills available.
The Sprintbok treadmill belt consists of precision ball bearing engineering integrated into the belt to help reduce shock absorption. Moreover, the ball-bearing slatted belt offers smooth running and vibration reduction. Also, the belt tightening can vary the running rhythm whist the precision ball bearing engineering has elevated shock absorption and contributed to quieten running noise.
Sprintbok Training
The Sprintbok is designed to facilitate more effective running training. The idea of the curved manual treadmill is to use the user's energy to push the wooden slat belt backwards. This effort requires energy and burns calories faster. Moreover, it promotes health and perfect body form.
Nohrd stands for and is committed to the promotion of efficient running workouts. Thus the incline delivers a higher level of intensity and the slat belt helps to immediately adjust to the user's speed.
Pre Designed Running Workouts and Console
The console rests in the middle of the wooden frame. Exercisers can select pre-designed running workouts, track performance data, select scenery runs, and calculate the time and calories burnt. You can also connect the treadmill to the Sprintbok app.
Nohrd Sprintbok Curved Treadmill made it onto our lists of:
---
Warranty
The Nohrd Classic Sprintbok presents itself with a five-year warranty on the frame and a three years warranty on parts. The warranty is justified as usually, wooden or manual treadmills do not come with such warranty periods. The durability and strength are promised with the warranty periods more than conventional treadmills.
*Warranty may be subject to change without notice and may differ between retailers – please check carefully before making a purchase.
---
Pros and Cons
Curved Shape
The curved form of the Nohrd Sprintbok Curved Treadmill promotes better training. Exercisers know that working out on a curved surface activates muscles for a longer time. The curved form helps you attain the perfect shape. Moreover, the Nohrd Sprintbok Curved is designed to strengthen the gluteal muscles along with giving a smooth tone to your calves and shins. The curved shape of the treadmill and the incline delivers up to a 30% higher calorie burn.
Scenery Run and Cyber Running
This modern Sprintbok by Nohrd knows how to keep the exercisers connected. You can use the new Sprintbok app, to select your running style from pre-recorded running training. Scenery run offers a virtual run through the most exotic locations around the world.
Energy Saving
You can save energy as the curved manual treadmill does not require power connections. The treadmill uses the user's strength input to work. This way, this is a one-time investment towards your health. Moreover, with increasing electricity costs and usage, it is important to conserve power and save the planet. The treadmill reduces energy usage and utility bills. Moreover, this is a maintenance-free machine, so requires no extra power or energy.
Limited Personal Running Capacity
As the sole source of energy are the user's legs, the user's strength input may sometimes affect the training and therefore the limited personal running capacity is one of the cons of the Nohrd Sprintbok Curved treadmill. If you are a potent exerciser, you can enjoy working out at the desired speed limits on this treadmill.
**This features as the best curved for 2022 home treadmill on our "Treadmill Buying Guide" and "How To Buy A Treadmill" articles.
---
Overall Verdict:
Nohrd Sprintbok Curved Treadmill is Concours lépine design award-winning treadmill best suited for athletes who prefer self-determined running workouts. The treadmill draws power from the user's own legs and the solid hardwood frame and aesthetic are a bonus to its amazing functionality.
If you are looking for good quality and efficient manual treadmill, Nohrd Sprintbok Curved Treadmill is a wise choice.
>>Nohrd Sprintbok Curved Treadmill is featured on our "Best Treadmills UK " and "Best Treadmills For Home Use UK" roundups<<
---
---
FAQ's
Is the price not too high for a curved manual treadmill?
The Nohrd sprintbok may seem a bit expensive but with all the new features and a high-quality slatted belt, it is possibly the most reasonably priced treadmill on the market.
Does Norhd Curved Treadmill require any maintenance?
The curved treadmill is a maintenance-free machine, designed to facilitate user comfort.
Do Nohrd manual treadmills allow belt tightening?
The Nohrd Sprintbok allows the tightening of the belt along with ball bearing engineering.
>>Take a look at our helpful guide to the best treadmills for apartments here<<
---
Affiliate Disclosure
In compliance with the FTC guidelines, please assume the following about all links, posts, photos and other material on this website:
Any/all of the links on this website are affiliate links of which GymFreakz receives a small commission from sales of certain items, but the price is the same for you.
www.gymfreakz.com is a participant in the Amazon Services LLC Associates Program, an affiliate advertising program designed to provide a means for sites to earn advertising fees by advertising and linking to Amazon.com & Amazon.co.uk. Pages on this site may include links to Amazon and its affiliate sites on which the owner of this website will make a referral commission.