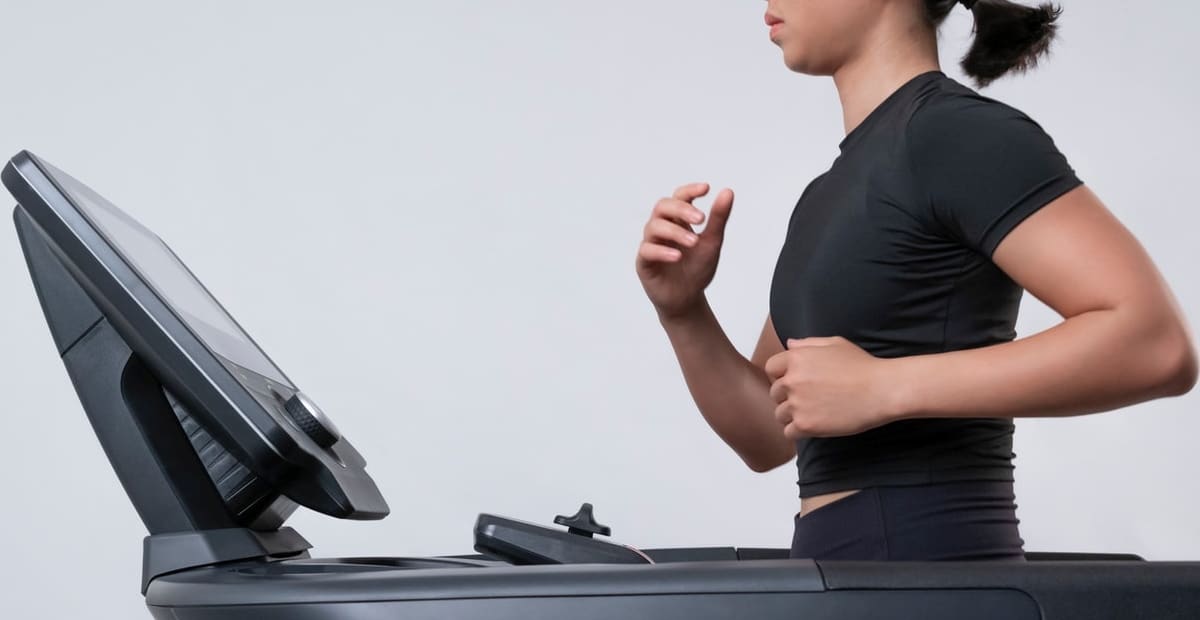 ---
---
Running deck, speed and incline, running surface, weight capacity – all you need to find the best treadmill for sprinters
Whether you're an Olympian athlete or a casual runner, sprinting is one of the best ways to burn calories. Serious running training is often over long distances, but just because you're a serious runner doesn't mean you're doing all that you can to stay in optimal shape.
Sprinting, whilst difficult and tiresome of course, is far better for more muscle groups and, when you combine it with interval training, will have you getting the most out of your treadmill in the most efficient time possible.
And that's one of the main points to consider; if you're reading this and are presumably thinking about buying a treadmill then my bets are that you're more strapped for time than someone who has all day to go to the gym. Therefore, finding the best treadmill for sprinting, let alone buying a treadmill for your home gym in the first place, will see you smashing targets and seeing results from the get-go.
Most commercial treadmills can accommodate for sprinting but that doesn't mean all exercise equipment in this category is the most ideal for it.
Key features like weight capacity, running surface, speed and incline – they're all to be considered if you want to sprint safely and conveniently.
So let's break them down.
Disclaimer – This website contains affiliate links. If you find the information useful and click on a product link and make a purchase, a small commission will be earned by GymFreakz and we appreciate your support.
In A Rush?
| | My Top Pick: | Best of the best: | Best Mid Range: | Best Buy On A Budget: | Best Manual Curved: |
| --- | --- | --- | --- | --- | --- |
| Brand | Spirit | Life Fitness | Sole | Branx Fitness | Nohrd |
| Model | CT850 | Platinum Club Series | S77 | Elite Runner Pro | Sprintbok Curved |
| Photo | | | | | |
| Max. Speed | 19 kph | 12 mph | 20 kph | 21 kph | n/a |
| Max. Weight | 204 kg | 181 kg | 150 kg | 160kg | 160 kg |
| Running Area | 159 cm x 59 cm | 56 cm x 152 cm | 56 cm x 152.4 cm | 140 cm x 48 cm | 160 cm x 45 cm |
| PRICE* | £5496.00 | £12,045.00 | £2199.00 | £999.99 | £5295.00 |
| | | | | | |
| Check Prices | | | | | |
*Prices correct at the time of writing
---
My Top Pick (top speed of 12 mph but comes at a price):
Spirit CT850 Treadmill (£5496.00)
Key features
4HP AC Motor
Running surface 60" x 22" (159cm x 59cm)
Speed 0.5-12 mph (0.8-19 km/h)
Incline 0-15%
Integrated Accessory Tray with bottle holder
Multi-ply Habasit ® Commercial Belt for superior belt life
Hard wax deck
LED Display
Hard wax deck system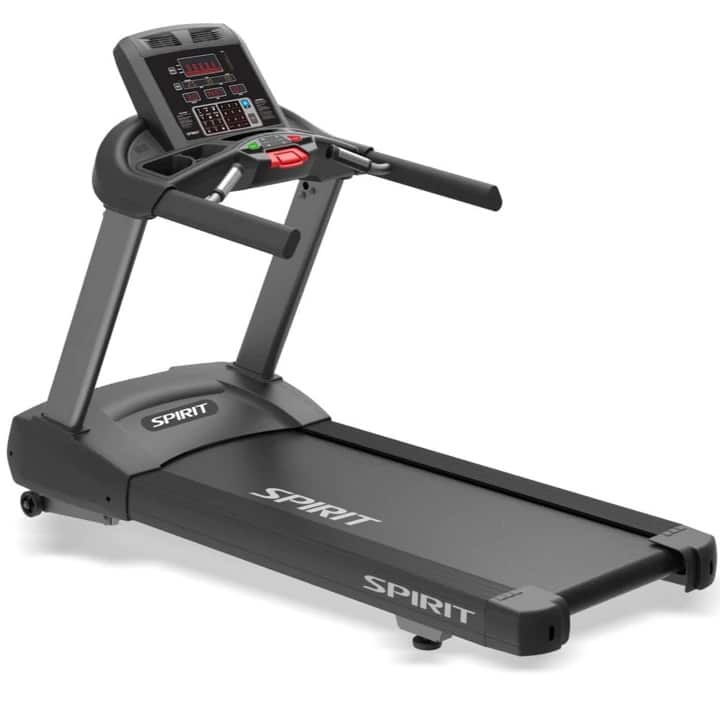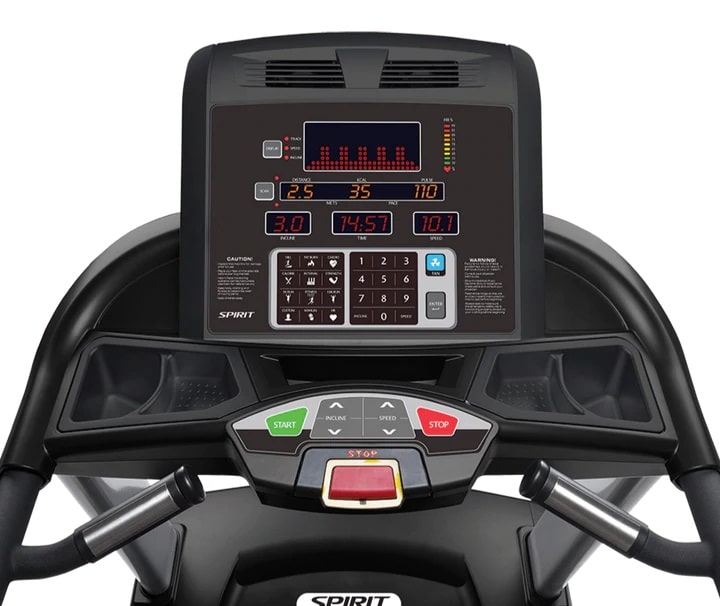 ---
Overview
This Spirit treadmill is my top pick for a reason. And it's as heavy-hitting as it is heavy-duty. This sturdy treadmill is great for sprinting. It has a spacious running deck (good for stride length) and a well-built running belt for effective and reliable sprinting sessions.
The max incline makes for a tricky challenge if you're wanting to go quick resulting in higher calories burned and trickier treadmill workouts. With a decent max user weight, the CT850 will make sure you can run without having to worry about the impact you're having on its wear.
While it's far from being a budget treadmill, it is very close to being one of the best high-end machines for a great home treadmill with optimum sprinting capability.
And sprinting aside, it's one of the best treadmills going, in my opinion. And because you're here reading this then presumably my opinion is the one you're after.
If you're searching for the best sprinting treadmill, well, you may have just found it.
---
Best of the best (if you have the room + the budget):
Life Fitness Platinum Club Series Treadmill with Discover SE3HD Console (fixed) (£12,045.00)
Key Features
Model: Life Fitness Platinum Club Series
Console: Discover SE3HD Console
Welded Steel Frame: Yes
Maximum Speed: 12mph
Incline Range: 1-15%
Heart Rate Monitoring: Yes
Dimensions: 203 x 94 x 163 cm (l x w x h)
Running Area: 56 x 152 cm
Equipment Weight: 206 kg
Maximum User Weight: 181 kg
Shock Absorption System: FlexDeck Shock Absorption System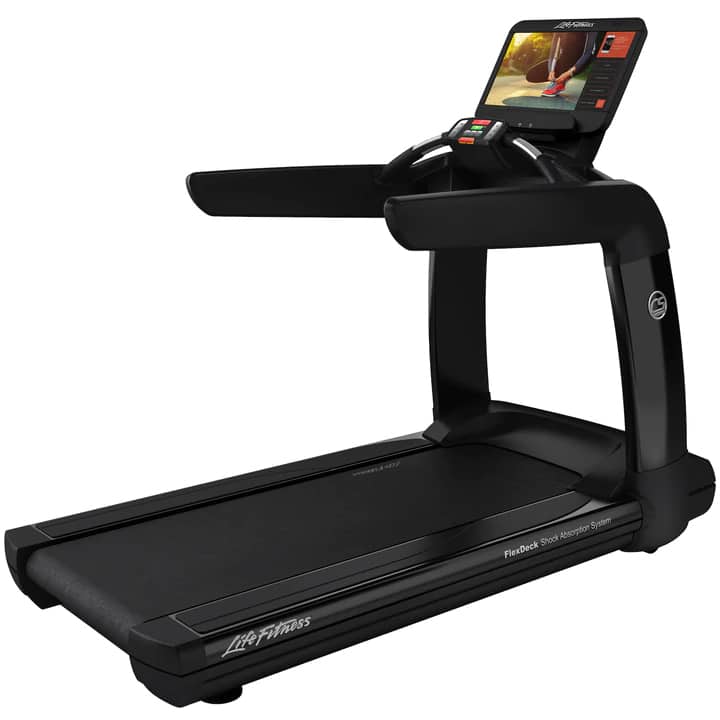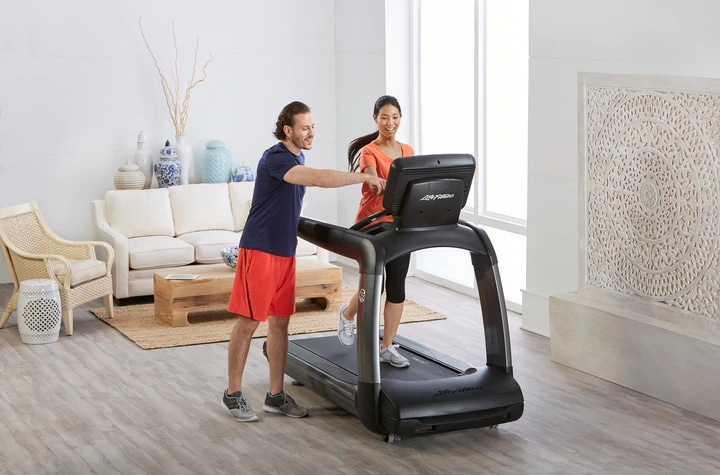 ---
Overview
This Life Fitness Platinum Club Series Treadmill with Discover SE3HD Console is a wise investment for commercial and home gyms alike. But just because it's good for home gyms doesn't mean it's not suitable for heavy workouts.
Gym treadmills are usually made with durability in mind, despite them being generally sturdy doesn't mean they're suitable for sprinting. This motorized treadmill (with a great motor by the way) will have you simulating hill training and sprints in no time. Its running belt and deck are reliable and can withstand a lot of impact.
If compared to other similar treadmills in the market, Life Fitness Platinum Club Series beats them all in looks, quality, durability, modern technology, and connectivity.
If you are an avid exerciser who likes to explore new workout options, the Discover SE3HD Console and you are a match!
Want to know more? Read our full review of the Life Fitness Platinum Club Series Treadmill here.
---
Best Mid Range Price:
Sole S77 Non-Folding Treadmill (£2199.00)
Key Features
Non Folding
Console 10.1″ TFT LCD Graphic Display
4.0 HP Motor
Speed 0.5- 12mph (1-20km/h)
Incline 0-15 levels
10 Standard programmes
Incline and Speed Quick Keys on console and handlebars
USB Charging Station
Running Surface 56cm x 152.4cm (22″ x 60″)
User Weight 23.5 Stone (150kg)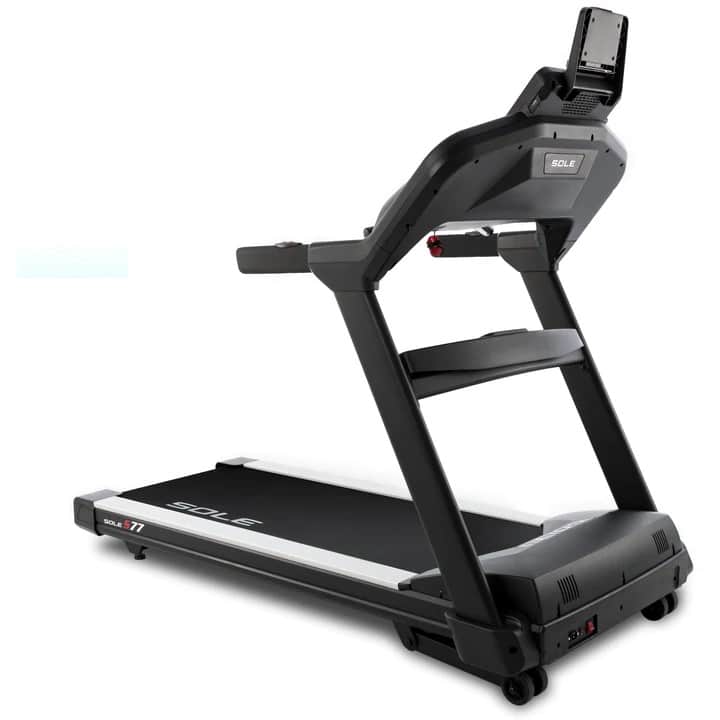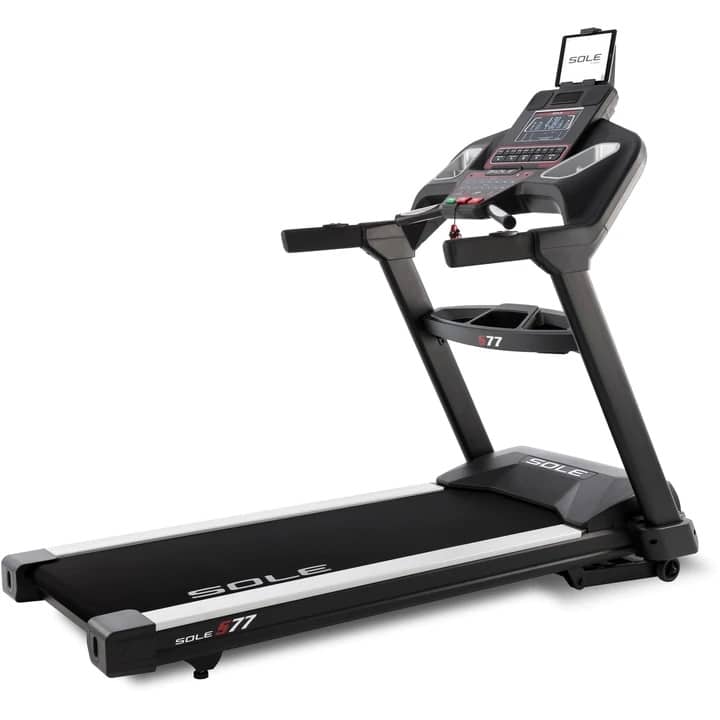 ---
Overview
The Sole S77 is a sturdy treadmill suitable for most sprinting speeds. Its motor is fine and max speed is good but if you want to really push it you may have to go for distance sprinting rather than more intense sprinting.
Other treadmills can offer things like folding, more media hook-ups and ease of use, but if we're here to sprint then this treadmill has got everything you need. Fitness apps, training apps, tablet holder, workout programs – none of these features really matter if we're here to sprint. (I've heard it's very hard to watch TOWIE whilst sprinting anyway). We're here for sturdy builds, maximum speeds and HIIT training accommodations.
As you'd expect the treadmill belt is well built with great durability for those who are looking to sprint for a long duration. It'd be nice if it had a slightly higher level cushioned running deck for extra comfort, but you'll find that the Cushioned Flex Whisper running deck available is good enough for most runners.
Home gym equipment just wouldn't look right without a treadmill like this.
And if you're worried about it not being the right treadmill then look again as its price vs quality justifies its inclusion on this list, and your presumed desire to lose weight in the comforts of your own home should help confirm the decision for you.
---
Best Buy On A Budget:
Branx Fitness Foldable 'Elite Runner Pro' Soft Drop System Treadmill (£999.99)
Key Features
Motor: 3.5CHP (6.5HP) fan cooled
Speed Range: 0-21km/h = 0-13mph
Running Area: 140cm (Length) x 48cm (Width)
Maximum User Weight: 160KG
1.9mm running belt thickness
19mm running deck thickness
22 Level Auto Incline
24 Built-in Programs
Slow Drop System – for safety when unfolding
Heart Rate Measurement – Hand Pulse
4 Transports Wheel – for easy movement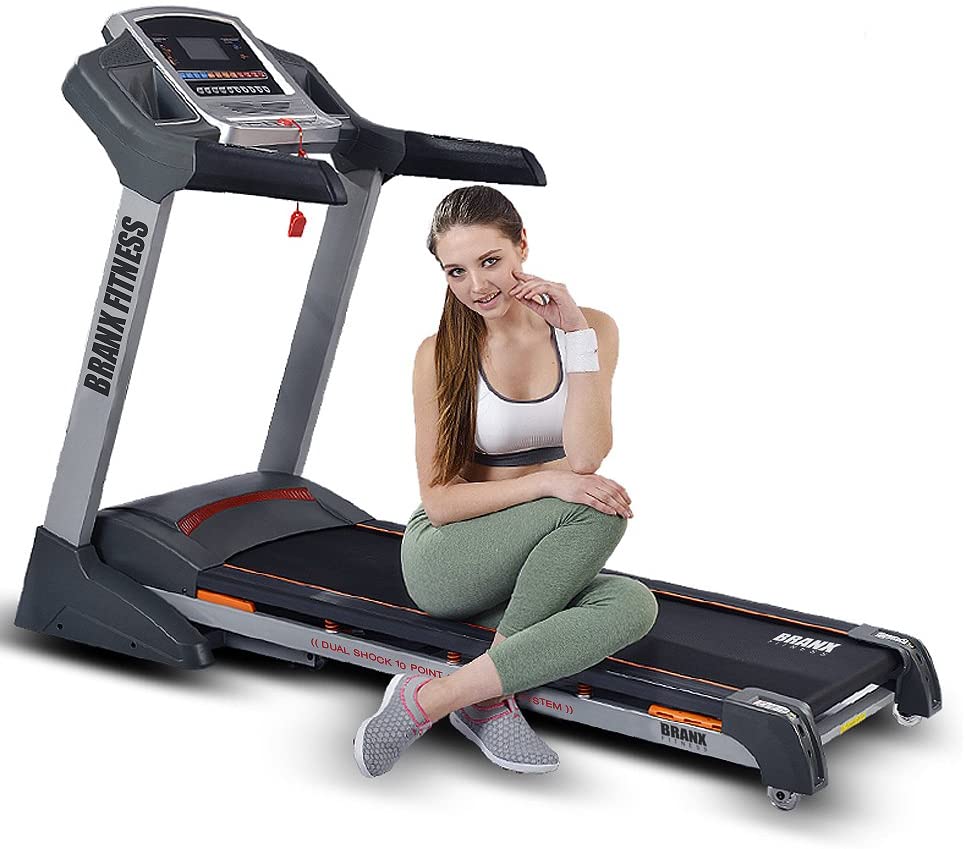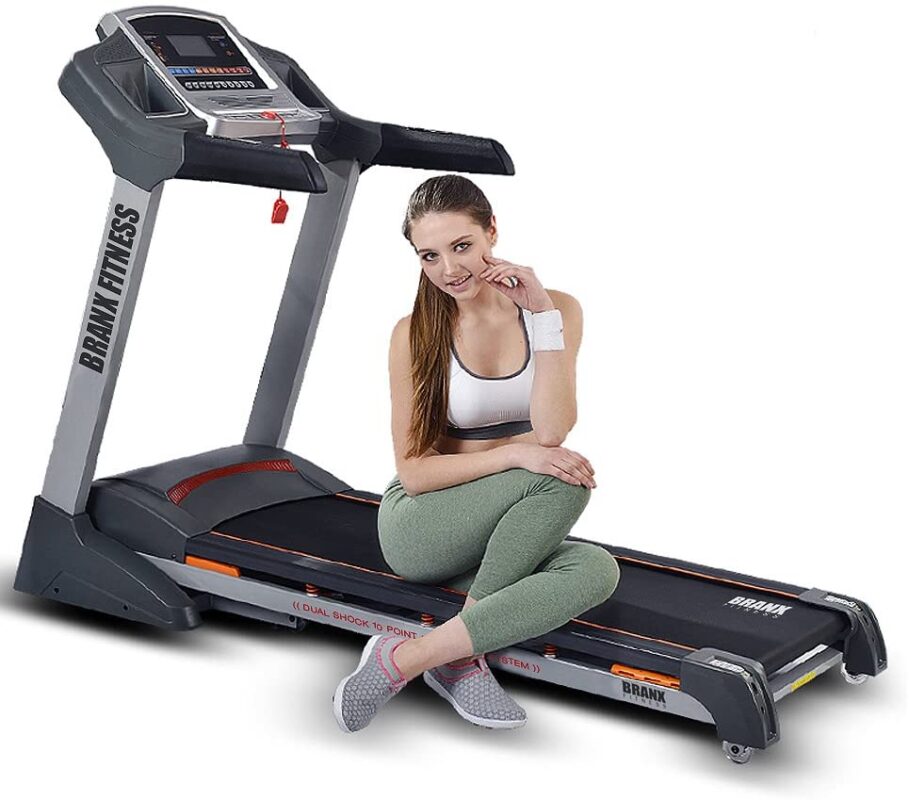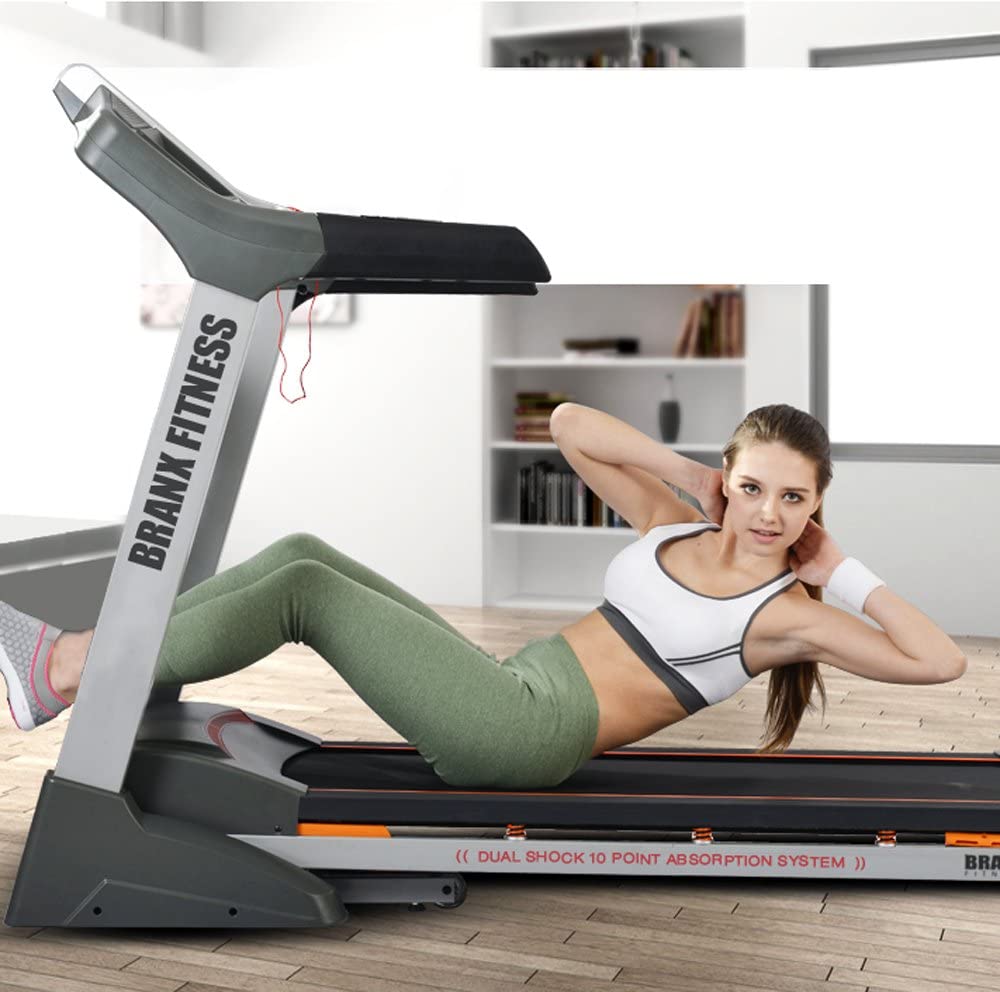 ---
Overview
As mentioned earlier, the Branx Fitness Foldable Elite Runner Pro is the top of the line model, it is the most expensive one as well. However, like many commercial treadmills, it has a pretty fair price tag. But, with a high price tag, you get what you're paying for – a commercial grade treadmill, and if you want to read about the best budget treadmills then head over to that list now.
If not, then Branx Fitness offers you many extra features that you may not find in other models. A Pause Button, Gym Fit App integration, and the same features you'll find in a lot of other top of the line treadmills.
Like many treadmills, this running machine also has its advantages and disadvantages. But for a sprinting treadmill, well, this is certainly one to consider. the feel of the running belt felt great for me personally. Sometimes, I feel a little uncomfortable with treadmills that make too much noise or belts that feel like they dip too much. But with the Branx fitness foldable elite runner pro, I was very far from feeling uncomfortable.
Most treadmills that offer this level of comfort don't come in the foldable treadmill range, which this does impressively, folding away into a reasonably compact treadmill for something so solid.
And with its range of incline and great top speed, it can be used as intensely of that of a curved treadmill.
Giving you this higher focus on your muscular range it'll certainly put you to the test.
Want to know more? Read our full review of the Branx Fitness Elite Runner Pro Treadmill here.
---
Best Manual Curved – unlimited top speed:
Nohrd Sprintbok Curved, Manual Treadmill £5295.00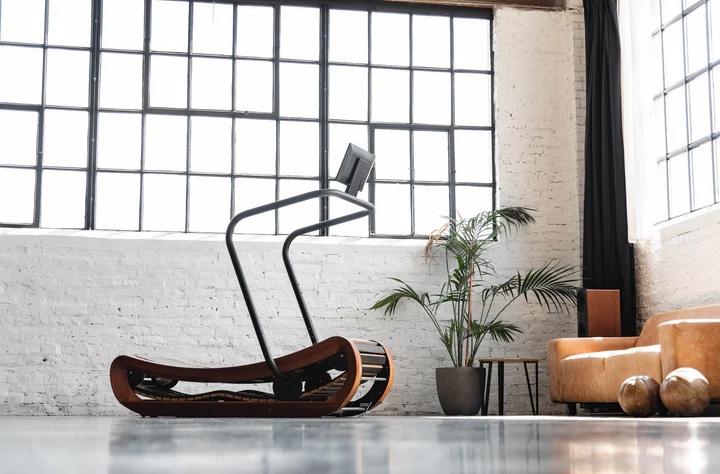 ---
Overview
We've featured the Sprintbok a lot here on this site, and for good reason.
I love the way it demands a higher level of physicality to your workout, and because it's manual it'll be giving you great sprinting results due to its high sprinting demands. In other words, you get out what you put in.
If you're looking for an intense training experience with the ability to track workout data then this treadmill is the one for you. Unsurprisingly it has a great max user weight (ideal for hard workouts with those wanting to lose weight quick) and gives you more feedback than motorized treadmills, reminding you that you're working hard.
This running treadmill is ideal for pros and fresh starters alike.
Whatever your category, sprinting with this treadmill is a wake-up call, a call that denotes hard work being the best way forward.
Want to know more? Read our full review of the Nohrd Sprintbok Curved Manual Treadmill here.
---
Conclusion
In conclusion, the treadmills listed above are all great for sprinting. They have been selected due to a variety of reasons but the main ones being that they all offer excellent top speeds, have high user weights and are stable at high speeds.
But as to which is best suited to you, this comes down to your individual needs.
Do you require space-saving and movability, key features and data tracking, do you need it to accommodate a different running style? I hope, we covered them all…
Happy sprinting!
>> See More Helpful Treadmill Guides Here <<
---
FAQ'S
Are treadmill workouts really that good? Surely a hard workout is all about max speed?
Absolutely for the first, and not at all for the second. Treadmills are incredibly versatile offering a great range of workout options.
From styles to speeds, treadmills can give you different weight loss approaches and cardio fitness maintenance choices.
Max speed is obviously good and yes intense but long distance is important too, as well as HIIT training and other styles, all that can be done on a treadmill.
---
Affiliate Disclosure
In compliance with the FTC guidelines, please assume the following about all links, posts, photos and other material on this website:
Any/all of the links on this website are affiliate links of which GymFreakz receives a small commission from sales of certain items, but the price is the same for you.
www.gymfreakz.com is a participant in the Amazon Services LLC Associates Program, an affiliate advertising program designed to provide a means for sites to earn advertising fees by advertising and linking to Amazon.com & Amazon.co.uk. Pages on this site may include links to Amazon and its affiliate sites on which the owner of this website will make a referral commission.