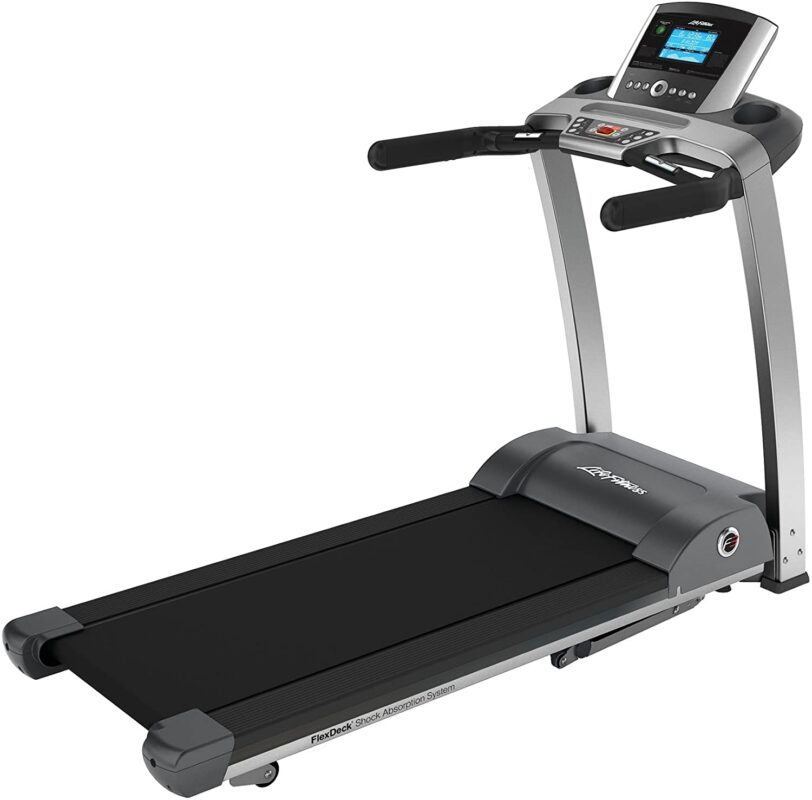 ---
---
Introduction to the Life Fitness F3 Folding Treadmill with Track Connect Console
Are you worried about less home space for your gym equipment? Well, the great quality with space efficiency makes Life Fitness Treadmills a great choice for your home workout zone. Home decor and fitness can go side by side with the foldable treadmill. Over the years, Life Fitness has provided fitness solutions for people of all different shapes and ages.
Life Fitness F3 Folding Treadmill with Track Connect Console is one of the finest gym equipment designed for creating fitness solutions as per customers' demand. Its sleek design and track console make it highly efficient., whilst the high-quality components ensure safety, durability, and excellent performance.
The Life Fitness F3 Folding treadmill with track connect console comes with various workout programmes, flexdeck shock absorption system, entertainment options, three different incline positions, and much more. It is heavy-duty gym equipment with convenient storage, creating an engaging workout experience and promoting healthier lives.
Also, if you are buying fitness equipment for home it should qualify to support multiple user usage. F3 folding treadmill is specifically designed to support multiple users by creating a personalized workout experience for each. If you are struggling to find the best folding treadmill with track connect console, the F3 Folding treadmill is a great choice.
Disclaimer – This website contains affiliate links. If you find the information useful and click on a product link and make a purchase, a small commission will be earned by GymFreakz and we appreciate your support.
---
Specifications
Brand: Life Fitness
Model: F3 Folding with Track Connect Console
Min Speed: 0.5 mph
Top Speed: 10 mph
Incline Increment: 0.5 %
Integrated Accessory Tray: Yes
Ergobar: Yes
Shock Absorption: FlexDeck
Walk, Jog, Run: Yes
Mode: Folding
Dimensions: 78.5 in x 34.5 in x 58.5 in (lxwxh)
In built workout options: 15
Android Compatible: Yes
iPhone Compatible: Yes
Integrated Reading Rack: Yes
Equipment Weight: 120 kg
Maximum User Weight: 159 kg
Running Track Size: 55″ x 20″
Motor System: 3.0 HP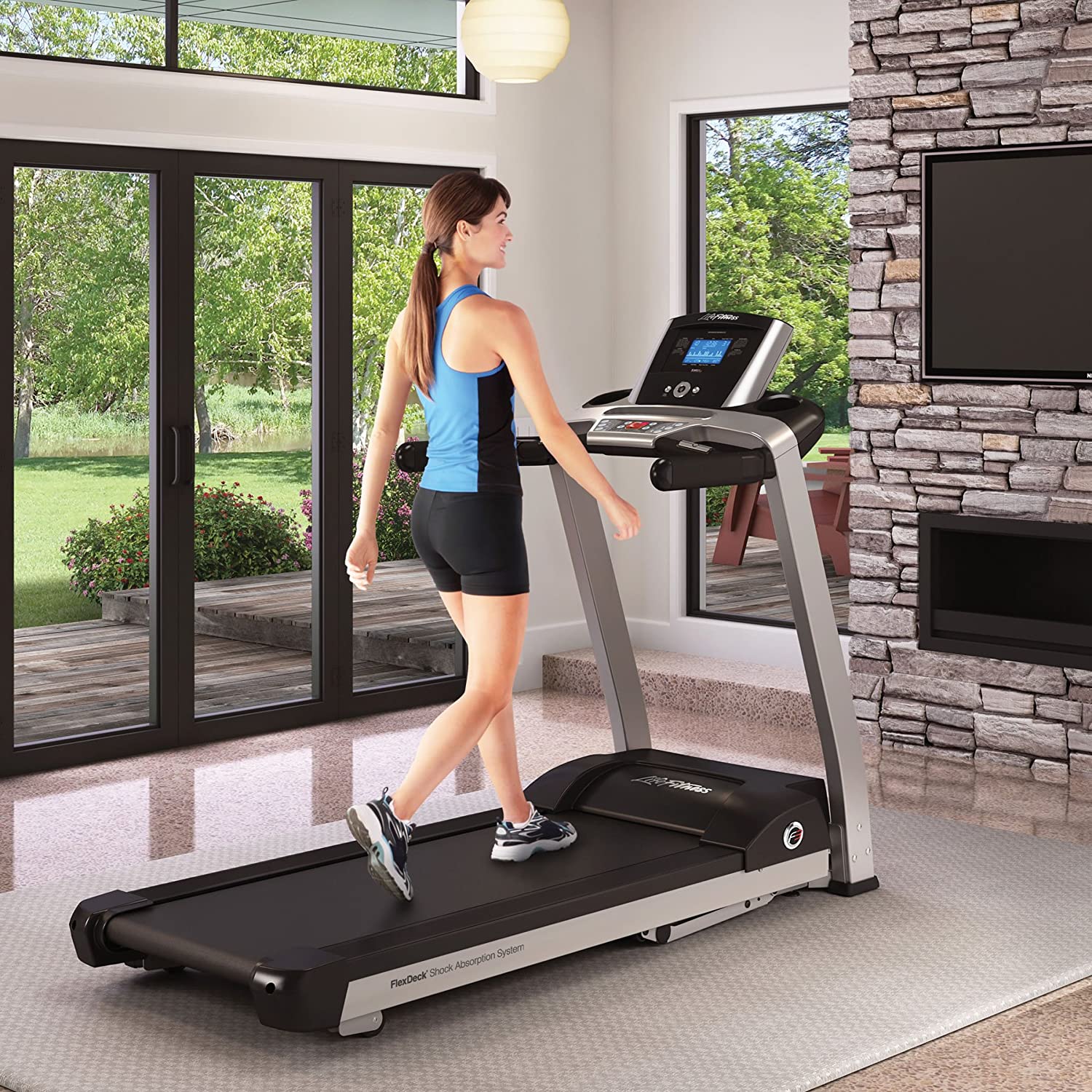 ---
Key Features:
Flex Deck Shock Absorption – Makes Life Fitness Treadmills Safest
The Life Fitness F3 Folding treadmill with track connect console comes with flexdeck shock absorption system. This life fitness equipment is one of the safest on the market due to its shock resistance that reduces shock up to 30%. This feature makes it premium gym equipment. The shock absorption system improves joint health by reducing joint stress.
The flex deck feature is highly designed to make sure you reach your fitness goals without causing any stress on the body. These allow high-intensity workouts without causing possible health damages.
Quality and Durability:
The Life Fitness F3 Folding Treadmill is made of the highest quality components. Both the electrical and mechanical parts of the treadmill are strong and integrated such that the quality of the treadmill is maintained. The high quality components contribute to the durability, and efficiency.
The folding treadmills are generally believed to have lower-quality components but the Life Fitness F3 Folding treadmill does not sacrifice quality. Apart from making the treadmill a perfect fit for the convenient storage area, the manufacturers provide a comparatively longer warranty than other foldable treadmills on the market.
Various Workout Programs
The Life Fitness F3 Folding Treadmill with track connect console provides various workout programs including custom workouts. The diversity and efficiency of these workout programmes helps you achieve fitness goals. These programs include sport training, fat burn, cardio, and much more. Also, you can create your own workouts and the F3 folding treadmill can remember your preferred walk speed and incline. It not only allows you to work according to your will but also saves time.
Entertainment and Connectivity
The F3 Folding treadmill keeps you entertained and connected. The compression rack securely holds all electronic devices and is located at eye level for comfort and feasibility. It allows you to connect to multiple devices. Connecting the Life Fitness f3 folding treadmill with track connect allows you to access various compatible apps, including apple health. Also, the panel has a front mounted accessory tray that has oversized dual cup holders. It also serves as a built in reading rack.
Dual Panel Design and Connect Console
The dual-panel design of the Life Fitness F3 Folding Treadmill with track connect console provides an exclusive experience. The upper half is the entertainment zone and the lower control pad provides in-workout control. The Life Fitness F3 Treadmill has panels that enable high-intensity workout options. Also, the connect console allows feasible connectivity to various apps and presents you with different workout opinions. Moreover, it allows proximity login, manager menu options, plenty of efficient exercises.
---
Warranty
The F3 folding treadmill comes with a lifetime warranty on the frame. Moreover, the lifetime warranty also covers the flex deck cushioning. The efficient DC motor has a warranty of 10 years. Whereas, the company takes responsibility for the electrical and the mechanical parts for 5 years. Also, it should be noted that these warranty clauses are valid only for UK residents. Warranty terms may differ in other countries.
*Warranty may be subject to change without notice and may differ between retailers – please check carefully before making a purchase.
---
Pros And Cons
Pros:
Heart rate Monitoring
The F3 Folding treadmill comes with a dual heart rate monitoring system. The treadmill comes with a wireless chest strap and touch monitors for the heart. This allows the Life Fitness F3 treadmill to monitor the heart and ensures you perform your workout effectively within the optimal range of heart rate. This feature is impressive because heart health should not be compromised during workouts.
Convenient Storage
The top benefit of the Life Fitness F3 Folding treadmill with track connect console is its convenient storage. You can place it in any corner of your home and use it when required. It takes minimal space and goes perfectly with your house interior. Also, you can move it easily with the help of integrated roller lift wheels. This Life Fitness Treadmill is easy to move, store and use.
(See our list of treadmills ideal for apartments here.)
Energy Saving DC motor
The Life Fitness F3 Treadmill with track connect console comes with an energy-efficient motor. It withdraws minimal power and saves energy by using it only when required. The treadmill has MagnaDrive smart motor. It analyzes the user's weight and draws power accordingly. The more the user weighs more the energy is used. Also, when the treadmill is stationary and not in use, the motor draws zero power. These features make it highly energy-efficient and these not only save energy but also reduce your electricity bills.
Virtual Trainer App
The Life Fitness Virtual trainer app allows you to access plenty of exercises. This is an advanced feature enabling proximity login and connectivity to partner apps. The Life Fitness virtual trainer is suitable for multiple users. It remembers your settings and your preferred workout options for each user.
The virtual trainer app has been used by many users and is loved for its feasibility ad efficiency. It gives complete user autonomy to modify workouts. Also, apart from the app, the treadmill has 16 inbuilt workout options that are highly effective and easy to use
---
Cons:
Short Running Track
Though the Life Fitness F3 Folding Treadmill with track connect console does not sacrifice quality, it does come with a short running surface. The running area is 55″ x 20, which some people might find too short for running. Though the running surface width is not a problem, the length could be a problem for people who like running or high-intensity workouts.
---
Overall Verdict:
The Life Fitness F3 Folding Treadmill with track connect console is one of the best home fitness equipment that allows high-intensity workouts and takes minimal space. The welded steel frame, heart rate monitoring, flex deck cushioning, virtual trainer, multiple inclines, various exercise options make it the best fit for discerning exercisers. Also, its high efficiency and use of convenient storage area makes F3 treadmill superior to other ordinary treadmills.
If you are looking for a perfect fit for your home, this Life Fitness equipment is all you need.
>>Check out our list of the best mid-range foldable treadmills and treadmills for beginners. <<
---
---
FAQ's
Does Life Fitness F3 treadmill measure heart rate?
Yes, it monitors heart rate with the help of a wireless strap that you can wear around your chest. The sensors detect the heart rate and transmit signals to the panel, the rate is then displayed on the LED on the track console. Moreover, the handles of the Life Fitness F3 treadmill have sensors that are used for a similar purpose. They detect the pulse and monitor it closely. This feature allows you to work in a monitored heart rate range and reduces the risk of any medical heart condition.
What are the benefits of Flex Deck Cushioning?
The flex deck cushioning reduces the risk of joint stress and crushing stress on the spine. Extreme workouts without precautions usually affect the joints, knees, and spine. With the help of the Flex deck cushioning system, these risks are reduced by 30%. Each step you take is safe and stress-relieving. Moreover, this is an advanced cushioning system that is rarely a part of home fitness equipment but Life Fitness makes sure that your bone health is not compromised during workouts.
What workout programs are offered by the F3 folding treadmill?
The Life Fitness F3 folding treadmill with track connect console allows multiple workout options. It has a wide range of program exercises starting with a simple jog, run, walk options at the go console. Also, it allows you to create custom workouts with preferred incline, speed, and intensity. Moreover, you can connect different apps to its connect console and enjoy your daily workout sessions.
Which apps can I connect to Life Fitness F3 folding treadmill with track connect console?
The Life Fitness F3 folding treadmill with track connect console supports multiple app connectivity. You can use the Virtual Trainer app by Life Fitness or the Apple Health. You can also connect the treadmill to Jawbone, FitBit, and RunSocial.
Is Life Fitness F3 folding treadmill with track connect console safe for homes with children and pets?
The Life Fitness F3 treadmill is extremely safe for homes with children and pets as it comes with a security lock. There is a key-dependent safety lock. You can fold and lock it when you are not using the equipment.
---
Affiliate Disclosure
In compliance with the FTC guidelines, please assume the following about all links, posts, photos and other material on this website:
Any/all of the links on this website are affiliate links of which GymFreakz receives a small commission from sales of certain items, but the price is the same for you.
www.gymfreakz.com is a participant in the Amazon Services LLC Associates Program, an affiliate advertising program designed to provide a means for sites to earn advertising fees by advertising and linking to Amazon.com & Amazon.co.uk. Pages on this site may include links to Amazon and its affiliate sites on which the owner of this website will make a referral commission.