---
---
Sometimes, running serious lengths requires going just as far – heavy duty treadmills will help you run for longer
Sturdy builds, reliable frames, and what is essentially a longer life span – heavy-duty treadmills could change your workout routines and fitness lifestyles for years on end.
Specifically, we look at heavy-duty machines for things like treadmill weight capacity, strong treadmill belt builds, built-in speakers, heavier-duty screens for workout stats and a higher range of features.
Having bigger machines generally allows for more room to integrate features and pack in loads of goodies to add value, so while the price tag can look high, rest assured, the added value is far from fantasy.
Either way, treadmills aren't the only things with heavy-duty builds – other users that might be used to powerlifting could benefit from these machines too. So if you're a person looking to lose a lot of weight or somebody simply wanting to maintain their built-up physiques then these are the treadmills for you (there's a reason you won't see a walking only treadmill today)
Oh, and don't forget about the entire family… I think we've all been worn down by family from time to time so if you think your treadmill's going to be used frequently then heavy duty is the way forward.
Disclaimer – This website contains affiliate links. If you find the information useful and click on a product link and make a purchase, a small commission will be earned by GymFreakz and we appreciate your support.
In A Rush?
| | JTX: | Spirit: | Life Fitness: | Nordic- track: | Branx: |
| --- | --- | --- | --- | --- | --- |
| Brand | JTX | Spirit | Life Fitness | Nordictrack | Branx Fitness |
| Model | Club-Max Commercial | CT850 | Platinum Club Series | Commercial 2950 | Elite Runner Pro |
| Photo | | | | | |
| Max. Speed | 25 kph | 19 kph | 12 mph | 22 kph | 21 kph |
| Max. Weight | 180 kg | 204 kg | 181 kg | 136 kg | 160 kg |
| Running Area | 154 cm x 58 cm | 159 cm x 59 cm | 56 cm x 152 cm | 56 cm x 152 cm | 140 cm x 48 cm |
| PRICE* | £5,999.00 | £5,496.00 | £12,045.00 | £2,699.00 | £999.99 |
| | | | | | |
| Check Prices | | | | | |
*Prices correct at the time of writing
---
Best Heavy Duty JTX Treadmill:
JTX Club-Max Commercial Treadmill (£5999.00)
Key Features
Running area: 154cm x 58cm
Cushionstep deck
Maximum speed: 25 Kph
Incline: 0-15% or 15 levels
Suspension: 8 points commercial shock system
Computer console: 10-inch LCD display
Clutter-free display
Workout programs: 24 different workout modes + 3 custom
Heart Rate Training: Yes
Power: 6 Horsepower AC motor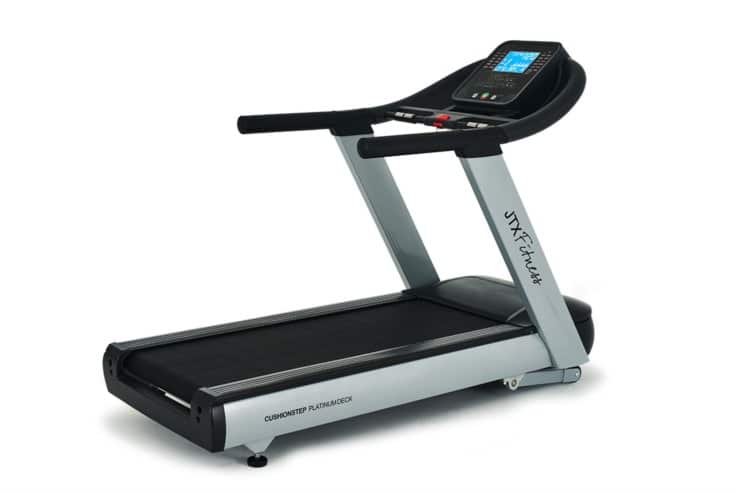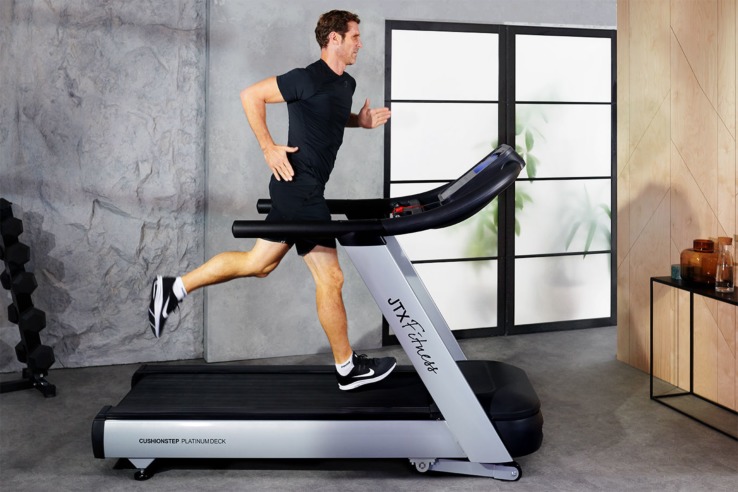 ---
Overview
Overall the treadmill turned out to be a great purchase; it has everything that I expected. Its features help make my workout sessions unforgettable. JTX club max is a commercial treadmill, and it suffices the need for consistent heavy-duty performance.
So what specifically about its heavy duty performance makes it.. well a worthwhile heavy duty machine?
Besides the obvious user weight limits omitted by a great weight capacity, the powerful motor resulting the treadmill's speed (25km/h) and the incline settings make this machine well worth the purchase.
Because of the heavy duty mechanics, you're able to combine speed and incline range to support intense workouts, again, getting the most out of the treadmill's potential if you want it.
However, pushing these to the limit will probably be enjoyed by those who like fitness tests and maximising their weight loss journey/fitness lifestyle. If you want a lighter workout, then think of the life span that a heavy duty machine provides.
Want to know more? Read our full review of the JTX Club-Max Commercial Treadmill here.
---
Best Heavy Duty Spirit Treadmill:
Spirit CT850 Treadmill (£5496.00)
Key Features
4HP AC Motor
Running surface 60" x 22" (159cm x 59cm)
Speed 0.5-12 mph (0.8-19 km/h)
Incline 0-15%
Integrated Accessory Tray with bottle holder
Multi-ply Habasit ® Commercial Belt for superior belt life
Hard wax deck
Tri-Coloured LED Display
Turbo Cooling System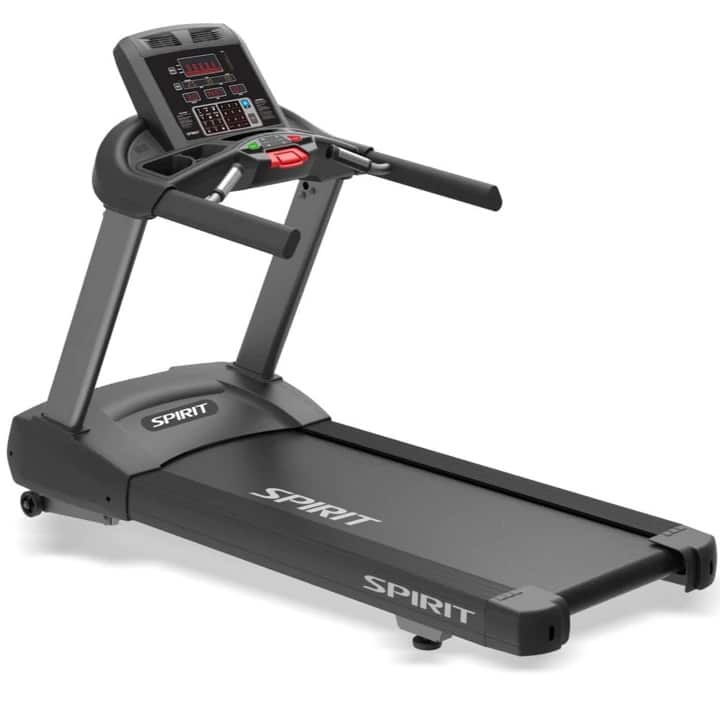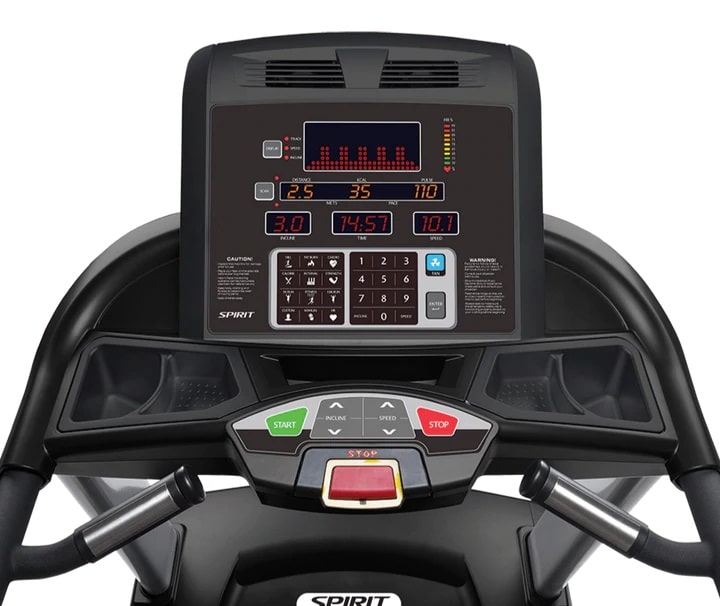 ---
Overview
The CT850 is a top class treadmill with heavy-duty capabilities. Its motor and top speed are fine, part of the reason it's mid range in price, but the reliable and long lasting build is one strong reason it's here.
The running platform and running deck are most notable when it comes to the life span of this heavy duty treadmill. A hard wax deck system is well reveered in the world of fitness equipment for it's ability to, simply, result in a long lasting and durable component. And that's something we have to think of here.
Life span is value for money. Every time you step onto this machine you're making your back through efficient use, so if the machine could last up to five years + then you'll be making your money back in no time.
That's what I love about the CT850 – it;s not the most powerful heavy duty treadmill, but it is one of the most durable that I've experienced. And if you're looking to walk the line between a heavy duty and a compact treadmill then I'd check it this out.
---
Best Heavy Duty Lifefitness Treadmill:
Life Fitness Platinum Club Series Treadmill with Discover SE3HD Console (fixed) (£12,045.00)
Key Features
Brand: Life Fitness
Model: Life Fitness Platinum Club Series
Console: Discover SE3HD Console
Welded Steel Frame: Yes
Front Roller Lift Wheels and Rear Levelers: Yes
Maximum Speed: 12mph
Minimum Speed: 0.5 mph
Incline Range: 1-15%
Heart Rate Monitoring: Yes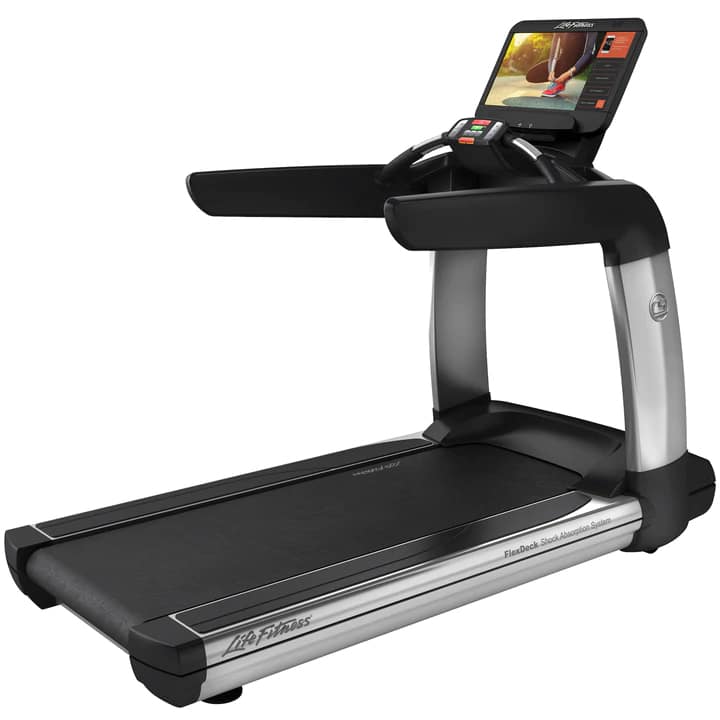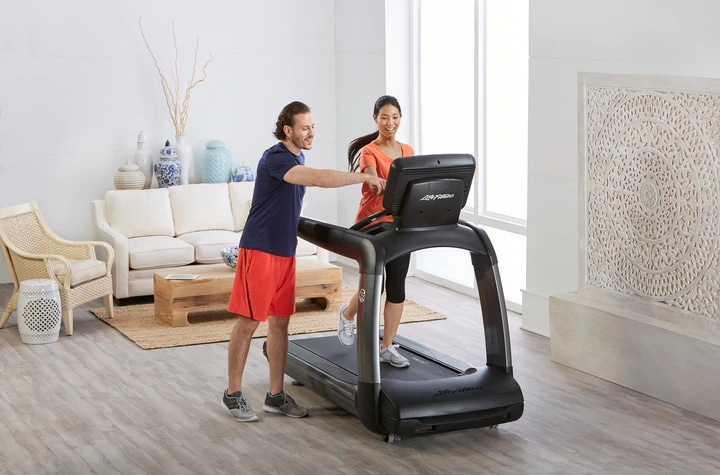 ---
Overview
Not working out and having that work/life balance may lead to greater health risks like obesity and heart diseases, but there is a solution, Life Fitness, which provides fitness solutions for people of all shapes. The brand is determined to provide the trainees with an enhanced workout experience, and that's exactly why Life Fitness is one of my favourite brands.
There's a reason this is a more significant treadmill, and it's not just because it's a high capacity treadmill. The Life Fitness Platinum Club Series Treadmill with Discover SE3HD Console is high-quality gym equipment with advanced training options, commercial quality build, and extensive entertainment options.
In short, it is a home exercise equipment that offers club quality technology. Moreover, its interactive courses and enhanced interaction give an ultimate home workout experience.
There's no way you could create this machine without it belonging to the heavy duty class, and while I would have liked to see at most a few extra features, the range of running supports that come with purchase is amazing.
Want to know more? Read our full review of the Life Fitness Platinum Club Series Treadmill here.
---
Best Heavy Duty Nordictrack Treadmill:
Nordictrack Commercial 2950 Treadmill (£2699.00)
Key Features
Partial assembly required
Built-in speakers with Bluetooth connectivity
Adjustable console position
Height 165 x width 100 x depth 200 cm
Dimensions when folded height 189 x width 100 x depth 100 cm
Foldable? Yes
Heart rate monitor via hand grips
Heart rate monitor via hand sensors
Incline 15 percent
Decline -3 percent
Maximum user weight 136 kg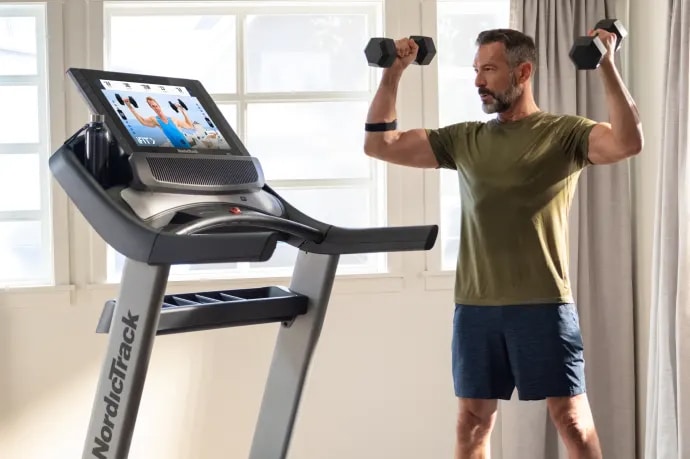 ---
Overview
Before stating anything else, this Nordictrack treadmill has an incredibly powerful motor. Some of the other machines on this list are incredibly well built but in places they lack the power that i'd expect and want from heavu duty machine… especially for the price.
With a cheap treadmill, you can expect a lower motor power and less reliable build, but with a machine that I'm purchasing for intense workouts, and the option to perform different workouts at speed, I'm going to need that motor – the Nordictrack 2950 is the right choice here.
It has a speed of 22kph from a 4.25 CHp motor. And that's going to see me through intense workouts and high calories burnt, without a shadow of a doubt. And with high powered motors you need a decent running experience elsewhere.
This machine has a great cushioning system and cooldown fans to help keep you going. Not to mention all of the amazing extras that are always undervalued in high intensity regimes. mental game is important here and that's why extras like an integrated tablet holder can go a long way.
Want to know more? Read our full review of the Nordictrack Commercial 2950 Treadmill here.
---
Best Heavy Duty Branx Treadmill:
Branx Fitness Foldable 'Elite Runner Pro' Soft Drop System Treadmill (£999.00)
Key Features
Motor: 3.5CHP (6.5HP) fan cooled
Speed Range: 0-21km/h = 0-13mph
Running Area: 140cm (Length) x 48cm (Width)
Maximum User Weight: 160KG
1.9mm running belt thickness
19mm running deck thickness
22 Level Auto Incline
24 Built-in Programs
Slow Drop System – for safety when unfolding
Heart Rate Measurement – Hand Pulse
4 Transports Wheel – for easy movement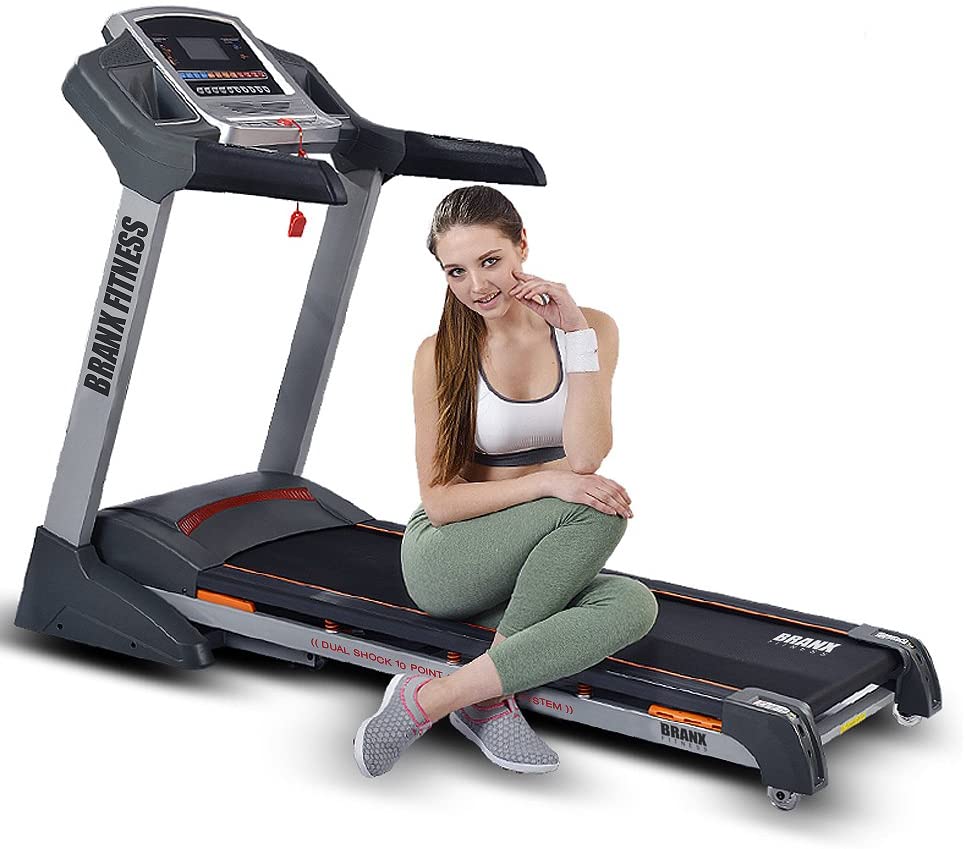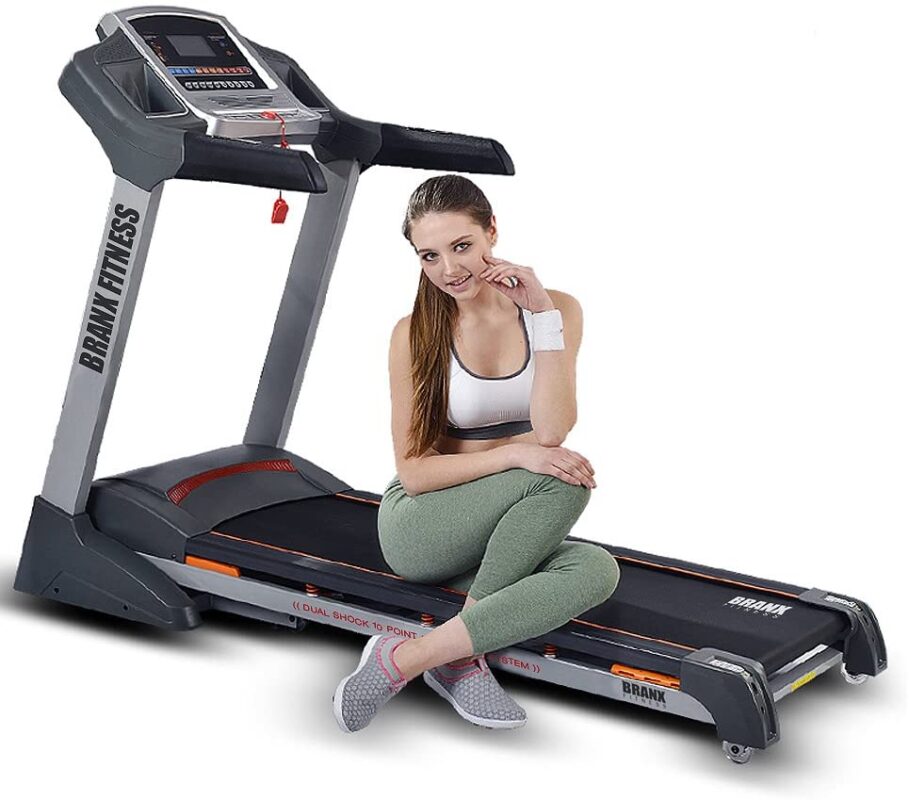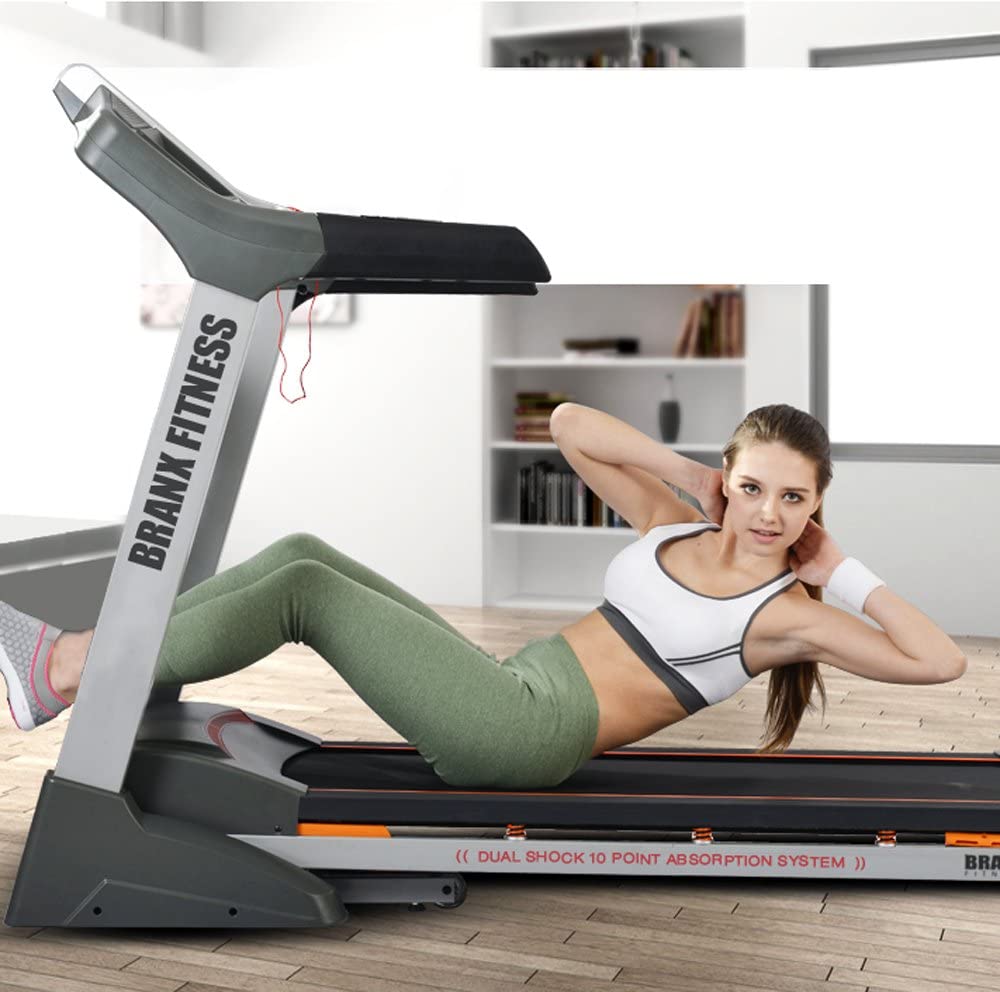 ---
Overview
With the words heavy duty comes a few questions that follow. Namely, 'how am I going to move this thing, let alone assemble it?'
Well, this is exactly why I've included this machine in the list of the best heavy duty treadmills for you to buy. And when you buy this machine you'll be pleased to know that it comes (mostly) assembled, saving you hassle of putting it up yourself.
Now, to the features of this incredible machine. Cheap treadmills have a bad reputation for the quality of their features, not necessarily the number. So, when you see a lot of feature inclusion and a cheap price don't just be tempted to go on that alone. Branx's Elite Runner Pro doesn't not fall into that category. In fact, Branx's quality builds are the reason they get put on this list time and time again.
The treadmill's motor and weight capacity aside, the safety buttons/features and large, 6″ display are incredible quality – certainly something to look out for when it comes to safety features…
And lastly, if you read the title, yes you can have foldable heavy duty treadmills, and Branx's folding treadmill is one of the best you can get.
Want to know more? Read our full review of the Branx Fitness Elite Runner Pro Treadmill here.
---
Conclusion
To conclude, the weighty machines we've found here today are sure to make an impact on your fitness routines. From maximum weight to the power of a treadmills motor, we know how much difference a heavy duty treadmill can make.
If you want to lose weight fast or maintain a good level of cardio ability we've found the best heavy-duty treadmill for you. Max weight capacity should never be a problem, no matter your size which is why this list of exercise equipment opens up so many options for you.
Most treadmills come with a price, and while the best treadmills are often connected with the price it doesn't make them the best for you. So if you've had enough of inexpensive treadmills with low life spans then these heavy-duty treadmills are here for you to pick.
>> Why not take a look at more of our helpful guides here. <<
---
FAQ'S
A treadmill might be heavy-duty but is the treadmill belt a guaranteed part of that?
Not always. Just because something is built doesn't mean it's well built. The high weight capacity/weight limit is always a good sign but even then, the amount of components that any one machine can have is more than surprising. You may not have these issues with walking treadmills, the perfect treadmill is far from being made out of badly built parts. In short, make sure to check the materials for different parts of the treadmill to see whether that price tag is because of flashing lights, or machinery that could last you a life time.
---
Affiliate Disclosure
In compliance with the FTC guidelines, please assume the following about all links, posts, photos and other material on this website:
Any/all of the links on this website are affiliate links of which GymFreakz receives a small commission from sales of certain items, but the price is the same for you.
www.gymfreakz.com is a participant in the Amazon Services LLC Associates Program, an affiliate advertising program designed to provide a means for sites to earn advertising fees by advertising and linking to Amazon.com & Amazon.co.uk. Pages on this site may include links to Amazon and its affiliate sites on which the owner of this website will make a referral commission.